Hawthorn Football Club has a strong connection to grassroots football and by assisting junior clubs, the Hawks are playing their part in the development of youngsters into the game.

Hawthorn's Affiliated Clubs wear the Hawks' colours of brown and gold and are known as the Hawks, while the Club also offers alignment to clubs that either play in brown and gold or call themselves the Hawks.

Affiliated Clubs
Big River Hawks
Katherine, NT
Formed in 2010, the Big River Hawks offer the opportunity for the young men of Katherine and surrounding communities to play in the Darwin based NTFL.

Hawthorn Football Club enjoys a strong relationship with the Big River Hawks, attending training and matches on the visits to Katherine.

Check them out at bigriverhawks.com.au or be social and follow them on twitter or visit their facebook page.


Frankston Rovers Junior Football Club
Bruce Park – Margate Avenue Frankston
Contact The President Terry Simpson, 0419 103 728

Frankston Rovers play in the Frankston Junior Football League and are dedicated to the development of junior children from 8years up to 16 years of age. Their focus is to give children a healthy and safe environment to develop their social skills as well as football skills.
http://www.frankstonrovers.com.au

Hawthorn Citizens Junior Football Club
95 Rathmines Road East Hawthorn
Contact the President Tim Murray 0419 885 416 emailpresident@hawthorncitz.com.au

Hawthorn Citizens caters for all age groups starting from Under 9s with modified rules through to Under 17s. The Club is a member of the Yarra
Junior Football League. The League was formed in 1997 through amalgamation of the former Doncaster & Districts Junior Football League and the Hawthorn Districts Football League and is now one of the largest Junior Leagues in Melbourne. Matches are played on Sundays with the Under 9s and 10s starting between 9am and 10am with the older age groups playing later in the day.
http://www.hawthorncitz.com.au


Mossgiel Park Junior Football Club
Barry Simon Reserve, Gleneagles Drive Endeavour Hills
Contact the President Colin Beech 0417 361 058
Or Secretary Dianne Richards richards@spacelink.com.au

Mossgiel Park Junior Football Club is a Club that encourages children of all abilities to join and have fun. Starting from Under 9s through to Under 17s. They have several children who cannot play for health reasons but are encouraged to participate in other areas, they believe that being part of a club does not mean you have to play the game, its all about team spirit and getting families and friends to enjoy spending time with each other as well as watching the other children play the game.


Rowville Hawks Junior Football Club

Eildon Parade & Tyers Road Rowville
Contact the President Justin Grose 0429 105 244
justin.grose@rowvillefc.org.au

Rowville Hawks Junior Football Club Inc (RHJFC) is based at Eildon Park, Rowville (Cnr Eildon Parade & Tyers Crescent). The club is proudly affiliated with Hawthorn Football Club. The club fields teams into the Junior competition of the Eastern Football League. Non competitive teams participate in Under 8, 9 & 10. These teams are selected based on school and friendship groups. Competitive teams play in Under 11,12,13,14,15 and 17. RHJFC has over 400 kids playing Football, and with normally 2 or more teams entered in each age group, all skill and development levels can be accommodated.

RHJFC also has a vibrant social scene with Trivia nights, player medal nights, guest speakers and a variety of Sunday night meals.

http://www.rowvillehawks.com.au


Waverley Park Hawks
Columbia Park, Columbia Drive Wheelers Hill
Contact Paul Deegan, 0419 150 272

The Waverley Park Hawks are a local community football club offering the opportunity for all children to play football in a safe and friendly environment. The Club is a member of the Moorabbin Saints Junior Football League (MSJFL) and they field teams from under 9s to under 17s as well as Auskick. They are very much a Family Club with a weekly after match on Sunday nights where all age groups come together to compare the days results and socialize.
http://www.wphawks.org.au


Baulkham Hills Hawks (NSW)
Charles Mc Laughlin Reserve
Crestwood Drive Baulkham Hills Contact President Ms Kim Roughan 0419 356 872 or
Secretary Derek Lath 0413 623 801

The Baulkham Hills Australian Football Club (BHAFC) was formed in 1976 and is one of the largest and most consistently successful junior AFL clubs in NSW. The club is managed by experienced administrators and all our coaches are AFL accredited. Located at Baulkham Hills in north western suburbs of Sydney at Charles McLaughlin Reserve, Crestwood Drive, Baulkham Hills, the "Baulkham Hills Hawks" participate in the Sydney Harbour competition playing Sunday football. Boys and girls from 5 to 16 years of age are welcome to participate.
http://www.baulko.org.au


Hawthorn Monash University Cricket Club
Monash University - Wellington Rd, Clayton.
Play in the Victorian Premier League
Contact Mr Petar Ivetic (President) 0419 385 366

The Club was established d in 1860 (East Melbourne 1860 - 1920, Hawthorn-East Melbourne 1921 - 1990, Hawthorn-Waverley 1991-2002, Hawthorn-Monash University 2003 - current day) . The Club has four teams, with 60 registered players who all play on turf.
The Hawks have won 28 1st X1 Premierships and have had 17 players play for the Australian Test team, with 2 as Captain (Tom Horan and Henry Scott). Our last test player was Bob Cowper, who played 27 tests from 1964 to 1968, another famous name that played at the Club was former Premiership player Ian 'Liberty' Law, Ian was also President for 10 years.

Hawthorn Cricket Club
Contact Stuart Stockdale on 0414 236 222

Hawthorn Cricket Club (formally West Hawthorn Cricket Club) is a family oriented cricket club, affiliated with the Eastern Cricket Association that formed in 1947.

The Club's first and second 11s play at Rathmines Road Reserve, thirds and fourths at St James Park and fifths and sixths at Auburn Road Quarry Reserve.

New players are welcome; seniors play on both turf and synthetic pitches and juniors play on synthetic only. Season 2009/2010 fielded sic senior teams and seven junior teams.


Heathcote Engadine Junior Australian Football Club
Heathcote Oval, Wilson Parade, Heathcote
Contact the president Dave Fry 0412 449 348
president@heathcotehawks.org

Heathcote Hawks play in the Sydney South league run as part of the Greater Sydney Junior competitions. The club was formed in 1957 and caters for Auskick players and teams from Under 10s up to Under 16s. It encourages and offers the opportunity for boys and girls of all abilities to learn and play Australian Rules Football.



Prospect Hawks Junior Football Club (Tas)
Prospect Park, Harley Parade, Prospect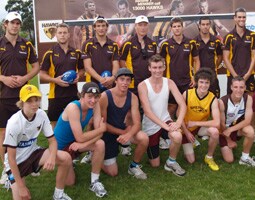 Contact president Daniel Smedley 0418 114 414

Prospect Junior Football Club was established in 2005 and is the Auskick, junior and youth football club of the Western Suburbs of Launceston and the Meander Valley, providing an opportunity for all young footballers in the Northern Tasmanian Junior Football Association and senior state and community football.

The club has grown quickly and now looks after more than 300 players aged from five to 16 years. The Club recently entered into an agreement with Hawthorn Football Club and re-branded as the Hawks. The players, coaches, parents and supporters are excited to be part of the Hawks family and look forward to a positive and successful future.


Tuggeranong Hawks FC (ACT)
Contact David Graham Football Manager 0408 328 753

The Tuggeranong Hawks Football Club is based in Canberra and is part of the both the new NEAFL State League competition where we take on the best side from throughout the ACT, NSW, QLD and NT, we also filed teams in the AFL Canberra competitions in all grades from U/14 through to Seniors in both men's and women's competitions, we take pride in our club and in our colours and are pleased to be an Affiliation Partner of the Hawthorn Football Club, we welcome recruits in all grades of football as we strive to improve the quality of our playing lists to ensure our continued success www.tuggeranongfc.com.au


Northern Hawks Netball Club (Tas)
Contact John Pitt, President 63 912163 or 0417 565 110

The Northern Hawks Netball Club participates in the Tasmanian Netball League which is a state wide competition. Previously known as Northern Saints, the club has competed in the competition since 1987. It now has Open and 19 and Under teams.

The club also promotes Junior Development and have 17 and Under and 14 and Under Development Squads.

The club is a member of the Northern Tasmania Netball Association which has over 2000 junior and senior netballers and our affiliation with Hawthorn Football Club will be beneficial to all participants as we promote a healthy lifestyle and also the Northern Hawks Netball Club as an avenue for those athletes to strive to the highest level of participation in Tasmania.

The club is extremely proud and excited to be affiliated with Hawthorn Football Club for the next five years and look forward to promoting both clubs to the community of Northern Tasmania.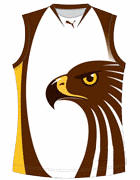 Boroondara Hawks Junior Football Club Inc.
Contact The President Neil Bowman 0413 014 389

Boroondara Hawks was formed to provide an opportunity for the youth of the Boroondara area to participate in Australian Rules Football thereby enhancing their health and wellbeing through organised sport.

To provide a high quality, inclusive football development program leading to continual improvement for all and foster a positive club culture and create an environment for friendships for both players and families.


Woodend Junior Football Club
Contact Jane Crozier 5427 2590
registrar@woodendhawks.com.au

Woodend Junior Football Club is a family orientated football club putting the development of its children first and foremost with a strong parental following.

Aligned Clubs

Victoria
Apollo Bay Football Club
President Wayne Roberts 0419 141 925
apollobayfc@hotmail.com

Monbulk Junior Football Club
President Mark Manners W 9794 8316
radical@radicalrecords.com.au


New South Wales

Southern Highland Hawks
Development Officer Tilsa Collings 0409 867 405
Tilsa.collings@aflnswact.com.au


South Australia

West Croydon Hawks
Sharon Bandick 0403 532 294
Bandick@optusnet.com


Tasmania
Central Hawks Football Club
President Nick Webb 0427 333 665
wendy&nickwebb@bigpond.com


Western Australia
Applecross Junior Football Club
President Andrew Browne 0413 787 441
andybrowne@gmail.com

Noranda Hawks Junior Football Club
Secretary Robert Credaro 08 6488 1633
robert.credaro@uwa.edu.au

Sorrento Duncraig Junior Football Club
President Mark Lawler 0400 747 673
Sorrento_Duncraig_JFC@bigpond.com