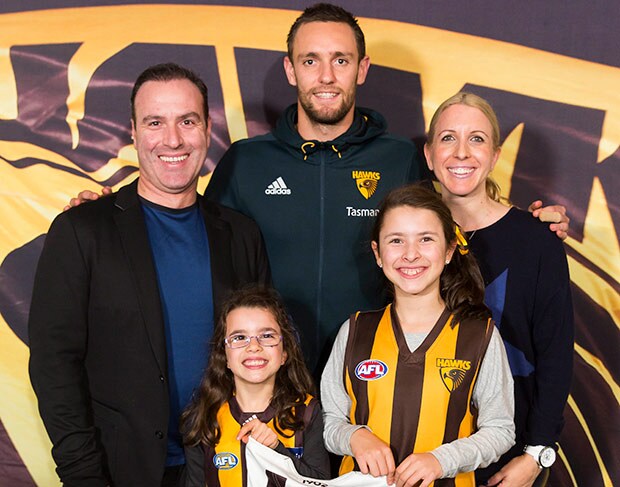 *2019 player sponsorship information will be updated shortly*
The 2018 Hawthorn Football Club Player Sponsorship program is focused on delivering supporters and business networks the opportunity to engage with the inner sanctum of the club.
This great program offers direct and exclusive contact with the playing group and coaching staff, fantastic networking opportunities, brand and name exposure within the Hawthorn community via club magazines and hawthornfc.com.au, while providing access to important Club events and products.

Package Inclusions:
● Welcome letter from your sponsored player
● Hawthorn gift, presented & signed by your sponsored player
● Photograph with your sponsored player
● Half yearly GPS data of your player
● Recognition in the 2018 Yearbook and on our website
● First right of refusal for 2019
● 6 x President's Function tickets Rnd 4 Hawks v Demons
● 2 x guests to a private dinner seated with your sponsored player
● 2 x Official HFC Season Launch
● 4 x Player Sponsor's Function
● 2 x Guests to attend an open training session hosted in the Corporate Suite
Total Investment: $7,000
The 2018 Hawthorn Football Club Player Sponsorship program has undergone some changes. After considering your feedback from season 2017, we have recognised a need for change. We see these changes resulting in a positive outcome for both our Player Sponsors and also the club. Ultimately, we have added extra value to the program at no additional cost.
That being said, we would now like to make the player sponsorship program more available to the wider Hawthorn Family, and as such will now offer both Gold and Silver sponsorships to be dually purchased for each listed player.
How does this affect you and your experience with your player? In short, we strongly feel that there will be no implications.
With a newly improved program including some new inititatives, we trust that you will enjoy a much stronger program than in years gone by.

Package Inclusions:
● Hawthorn gift, presented and signed by your sponsored assistant/development Coach
● Personalised and signed photograph with your sponsored coach
● 2017 lithograph signed team poster
● Recognition in the 2017 Hawthorn Yearbook and on hawthornfc.com.au
● First right of refusal for 2018 sponsorship of your coach (expires 2 December 2017)
Corporate Hospitality:
● (x4) Guests - President's Function - Rd.12 Hawthorn v Gold Coast
● (x4) Guests – Private lunch with coach with presentation
● Tour of Ricoh Centre hosted by Peter Knights
● (x2) Guests - Official Player Sponsors cocktail function - TBC (coach not in attendance)
Investment: $4,400

Package includes:
● Welcome letter from your sponsored player
● Hawthorn gift, presented & signed by your sponsored player
● Photograph with your sponsored player
● Half yearly GPS data of your player
● Recognition in the 2018 Yearbook and on our website
● First right of refusal for 2019
● 4 x Hawthorn Lounge passes Rnd 4 Hawks v Demons
● 2 x Official HFC Season Launch
● 2 x Player Sponsor's Function
● 2 x Guests to attend an open training session hosted in the Corporate Suite
Total investment:
Peter Crimmins Top 10 (2017) $2,800
Remaining Players $2,300

Package Inclusions:
● Welcome letter from your sponsored player
● Hawthorn gift, presented & signed by your sponsored player
● Photograph with your sponsored player
● Half yearly GPS data of your player
● Recognition in the 2018 Yearbook and on our website
● First right of refusal for 2019
● 2 x Official HFC Season Launch
● 2 x Player Sponsor's Function
Total investment:
Peter Crimmins Top 10 (2017) $1400
Remaining players $1250
Rookie player $1000