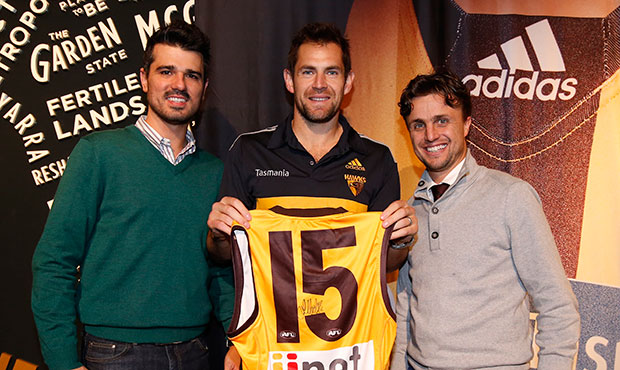 The 2016 Hawthorn Football Club Player Sponsorship program is focused on delivering supporters and business networks the opportunity to engage with the inner sanctum of the club.
The program offers direct and exclusive contact with the playing group and coaching staff, fantastic networking opportunities, brand and name exposure within the Hawthorn community via club magazines and hawthornfc.com.au, while providing access to important Club events and products.
There are four packages available.


Platinum Sponsorship
Package inclusions:

● 2016 Hawthorn Guernsey, numbered and signed by your player
● Personalised and signed photograph with your sponsored player
● 2016 lithograph signed team poster
● Recognition in the 2016 Hawthorn Yearbook and on hawthornfc.com.au
● First right of refusal for 2017 sponsorship of your player (expires 23 December 2016)

Corporate Hospitality:

● (x6) Guests - President's Function - Rd.2 Hawthorn v West Coast
● (x2) Guests – Private dinner, seated with your sponsored player
● (x2) Guests - Official Player Sponsors cocktail function – Tuesday 24th May, 2016

Total investment $6,995


Coaches Ambassador
Alastair Clarkson N/A for 2016
Assistant Coach $4,000
Development Coach $3,500
Package Inclusions:

● 2016 Hawthorn Guernsey signed by your assistant/development Coach
● Personalised and signed photograph with your sponsored coach
● 2016 lithograph signed team poster
● Recognition in the 2016 Hawthorn Yearbook and on hawthornfc.com.au
● First right of refusal for 2017 sponsorship of your coach (expires 23 December 2016)

Corporate Hospitality:

● (x6) Guests - President's Function - Rd.2 Hawthorn v West Coast
● (x2) Guests – Private dinner, seated with your sponsored coach
● (x4) Guests - Official Player Sponsors cocktail function - Tuesday 24th May, 2016




Gold Sponsorship
Package inclusions:

● 2016 Hawthorn Guernsey, numbered and signed by your sponsored player
● 2016 team poster
● Photograph with your sponsored player
● Recognition in the 2016 Hawthorn Yearbook and on hawthornfc.com.au
● First right of refusal for 2017 sponsorship of your player (expires 23 December 2016)

Corporate Hospitality:

● (x4) Guests – MCG Hawthorn Lounge function – Rd.11 Hawthorn v Melbourne
● (x2) Guests - Official Player Sponsors cocktail function - Tuesday 24th May, 2016
Top 10 players $2,800
Listed players $$2,300

Silver Sponsorship
Package inclusions:

● 2016 Hawthorn Guernsey, numbered and signed by your player
● Photograph with your player
● Recognition on the locker room honour board
● Recognition in the 2016 Hawthorn Yearbook and on hawthornfc.com.au
● First right of refusal for 2017 sponsorship of your player (expires 23 December 2016)

Corporate Hospitality:

● (x2) Guests - Official Player Sponsors cocktail function -Tuesday 24th May, 2016

Top 10 players - $1,400
Listed players - $1,100
Rookie Listed - $950


Peter Crimmins Medal - Top 10
Josh Gibson – 204
Cyril Rioli – 194
Sam Mitchell – 192
Luke Hodge – 171
Shaun Burgoyne – 165
Ben Stratton – 152
Grant Birchall – 149
Luke Breust – 146
Isaac Smith – 145
Jack Gunston – 144
For more information and to become a player sponsor contact the sales team on 9535 3034 or email sales@hawthornfc.com.au