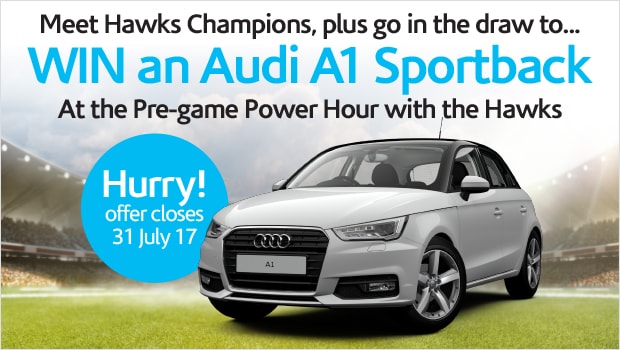 Celebrate six decades of success
The Pre-game Power Hour
At the Pre-game Power Hour, before our Round 23 clash with Western Bulldogs, we will be celebrating six decades of Hawthorn success.
Attendees will be able to have a chat with some of our Club's past champions, grab their autograph and snap a selfie with the premiership cups. Snacks and refreshments will be served and this intimate event will be open only to customers on the Simply Energy Hawks Plus 2017 offer.
Want a guernsey to this event?
Switch your home electricity and gas to Simply Energy and you will receive:
An invite to the Pre-game Power Hour

Celebrate six decades of Hawthorn success at an exclusive event where you can mix with Graham Arthur, Peter Hudson and other with champions of the Club.

Chance to win a major prize

Someone at the Pre-game Power Hour will win an Audi Glacier White A1 Sportback 1.4L TFSI Sport S tronic including S1 style pack and on road costs. Valued at $37 000.

Up to $50 Online Welcome Credit

If you sign up your electricity and gas online, you'll get an additional $50 credit.

Up to $150 Anniversary Credit

Receive a $75 credit for each of your electricity and gas accounts on the 12 month anniversary of being on this energy plan

Discounts

30% discount of Simply Energy's electricity usage charges and 15% discount of Simply Energy's gas usage charges when you pay on time
This offer is only available for a limited time, so get on board and reserve your spot now.
Full terms and conditions apply.
Offer is available to residential customers in Victoria. Not available in all areas. Gas is only available in conjunction with electricity. Discounts only apply to the usage component of your market contract rates and do not apply to other charges such as supply charges. If you're an existing customer, the rates may not be the same as the rates of your current offer. Ongoing contract with 24 month benefit period.
Online credit: A $25 credit will be applied to the first electricity and gas bill you receive after you accept this energy plan online. Customers who only sign up their electricity will get a $25 credit. Not available to customers who have a solar PV system.
Anniversary credit: A $75 credit will be applied to your next electricity and gas bill after the 12 month anniversary from when we started selling you the respective fuel under this energy plan. Customers who have only their electricity on the 12 month anniversary, will get a $75 credit. The credit(s) will be applied prior to GST and are not redeemable for cash.
Meet these Hawks champions
Graham Arthur

Born: June 9, 1936
First game: Round 1, 1955
Final game: Round 20, 1968 Games: 232 Goals: 201
Guernsey Number: 2 (1955 - 1964, 1966 - 1968) 28 (1965)
Best & Fairest: 1955, 1958, 1962 Coach: 1964 - 1965 (36 games)
Legend of the Club: 2005
AFL Hall of Fame Inductee: 1996

Peter Hudson

Born: February 19, 1946
First game: Round 2, 1967
Last game: Preliminary Final, 1977
Games: 129 Goals: 727
Guernsey Number: 26 (1967-74), 1 (1977) Best & Fairest: 1968, 1970
Leading Goal Kicker: 1967 (57), 1968 (125), 1969 (120), 1970 (146), 1971(150), 1977 (110)
Legend of the Club: 2009
AFL Hall of Fame Inductee: 1996
More Hawks champions to be announced!