If you are a dedicated and passionate Hawthorn member and would like to support your team with fellow members, then the Hawks cheersquad is for you.

The cheersquad adds to the voice and colour on match-day, with its members chanting and cheering on the Hawks from seats behind the goals.

It is a family-friendly squad who is committed to supporting the Hawks in any way it can both on match-day and throughout the week in preparing for game day.
By becoming a member of the cheersquad, you also have the opportunity to bond with fellow Hawks fans over the making of the team's banner each week.
It is one of the best ways to cheer on the players week in, week out.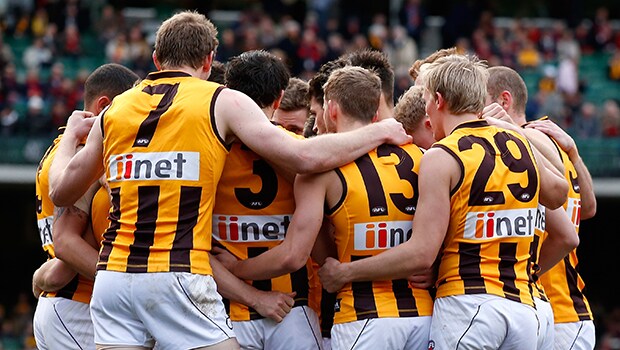 Banner Coordinator
We are seeking expression of interests from members to co-ordinate the weekly activities relating to the Team's banner. If you have some spare time particularly on a Friday night and would like to get involved, please email us at cheersquad@hawthornfc.com.au
Cheersquad membership
The Cheersquad has membership packages to cater for everyone, and is the only internal group, which is able to provide seating for all matches.

In addition, Hawthorn members who have a home or home and away game membership will be able to apply for a Grand Final seat within the Cheersquad allocation*

2018 Cheersquad memberships will be available soon.

Hawks Cheersquad
PO Box 829 Mt Waverley VIC 3149
Membership options
Gold Pass membership (Limited to 100 members), $240

Our Gold Pass membership is tailored for passionate Hawthorn members, dedicated to supporting their team at every game during the 2017 season and provides the following benefits

● Reserved seat at every Home and Away game in Melbourne
● Guaranteed seating within the Cheersquad allocation at interstate games**
● Guaranteed access to Finals seating in the Cheersquad allocation**
● Guaranteed Grand Final ticket within the Cheersquad allocation**
● Use of Cheersquad equipment

General membership Adult $130, Concession $100, Junior $40

Our general membership category provides the following benefits;

● Reserved seat at Hawthorn home games (Level 1, Bay M3)
● Access to seating at Away games*
● Access to Cheersquad seating at interstate venues**
● Access to Cheersquad allocation for Weeks 1-3 of the Finals Series**
● Ability to apply for a Grand Final ticket should the team quality to participate**
● Level 1 seating at Etihad Stadium*
● Use of Cheersquad equipment

* Subject to capacity
**Additional fees apply.

Membership cards will be mailed to members early March.
Connect with the cheersquad
Stay in contact with fellow cheersquad members and keep up-to-date with the latest cheersquad news by joining the Facebook group.


Receive up-to-date information on the cheersquad by following the Twitter account.