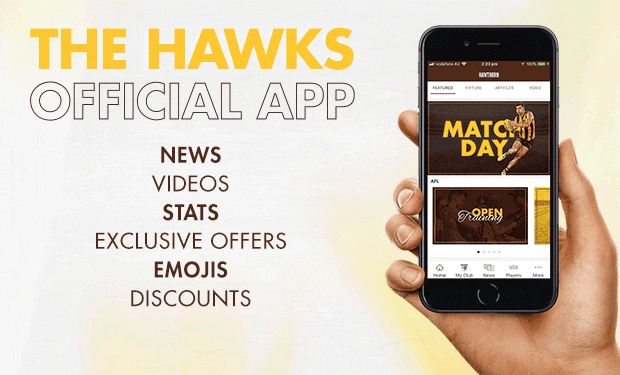 The Official app of the Hawthorn Football Club will bring you closer than ever to the Hawks.
Access the latest news, player profiles, live match statistics, team announcement and match start alerts, exclusive app offers plus loads more.
Fans are encouraged to turn "notifications" on to receive breaking news, team announcements, injury updates and first siren notifications!
Free of charge, the Hawks app includes:
- Hawks latest news and HawksTV video direct from the club
- Match Centre featuring live scores, match and player stats
- Profiles of all current players
- Team selection alerts as they're announced
- MyHawks login feature, exclusive to members and MyHawks account holders. FREE to create an account.
- Includes ticket offers, emojis, face filters, wallpapers and ringtones, with more to come.
- Season information including fixture, results and ladder
- Team song with lyrics
- Visit HawksNest or purchase a membership
- TicketMaster match ticketing, scan in at the game! Download today and take the Hawks with you everywhere you go.
iPhone is a trademark of Apple Inc., registered in the U.S. and other countries. App Store is a service mark of Apple Inc.