Alastair Clarkson - Senior Coach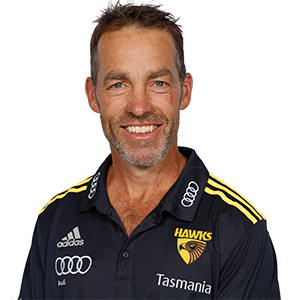 Coaching career
Regarded as one of the best coaches in the AFL, Clarkson has coached the Hawks to four premierships, in 2008, 2013, 2014 and 2015.
He arrived at the Club at the end of 2004 following a long apprenticeship that included time spent as a runner with Melbourne in 1998 and as an Assistant to Tim Watson at St Kilda in 1999.

In 2000, he coached VFL side Werribee before coaching SANFL side Central District to a premiership in his first year, 2001.

He returned to the AFL in 2003, where he was served as an Assistant to Mark Williams at Port Adelaide before landing the Senior Coaching role at Hawthorn at the end of 2004.

Never afraid to make the hard decisions, it took Clarkson just two years to take the Hawks back to the finals in 2007, before tasting the ultimate success a year later.

A master tactician who loves to innovate and learn from other sporting codes, Clarkson has in many ways changed the game of AFL through the development of zones and "clusters" and leading the way in developing versatility among players.
He is the second longest serving coach of the club, behind John Kennedy (299 games).
Coach Sponsorship: Mortimer Petroleum

Damian Carroll - Head of Coaching and Development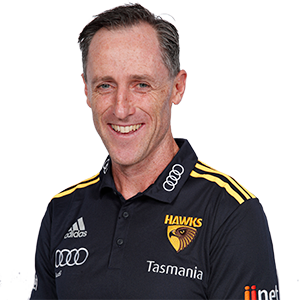 Coaching career
Damian Carroll was appointed Box Hill Senior Coach in 2010 after establishing a strong resume both as a player and coach.

He is the Casey Scorpions games record holder - having played 233 games with the VFA/VFL club - and was named in the 1990 VFL team of the decade.
His coaching career began with TAC Cup side Gippsland Power in 2008, taking them to the finals in his second and final season as coach in 2009.
Carroll coached Box Hill to a senior premiership in 2013, before being appointed Hawthorn's Head of Development Academy.
After two seasons in charge of the academy, Carroll was appointed to an assistant coaching role at the end of 2015.
He will look after the Hawks' midfield group in 2016.

Scott Burns - Assistant Coach
Coaching career
Since retiring from AFL in 2008, Burns has been an assistant coach at West Coast Eagles and most recently Collingwood Football Club, where he previously played 264 games across 14 seasons.
Burns has been Collingwood's midfield coach since 2014 after returning to the Pies following a five-year stint coaching under John Worsfold at the Eagles from 2009 to 2013.
He captained the Pies in 2008 and was inducted to their Hall of Fame in 2012.
Burns' midfield playing and coaching experience will be a great asset to the Hawks for 2018.

Darren Glass - Assistant Coach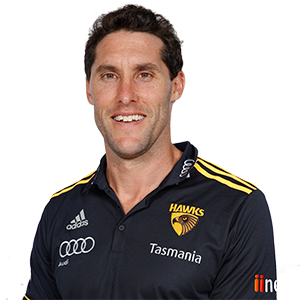 Coaching career
Darren Glass joined the Hawks at the end of the 2017 season bringing with him a wealth of football knowledge from a career that stretched across 15 seasons.
Glass was most recently working as a business strategy consultant in Western Australia, having attained a Masters of Business Administration at the completion of his playing career.
He retired from AFL football after 270 games for the Eagles between 2000-2014. Glass was a premiership player with the Eagles in 2006 and captained the club from 2008 to 2014. He also won the West Coast best and fairest three times throughout his career and was selected in the All-Australian team in 2006, 2007, 2011 and 2012.
The 36-year-old also spent the 2015 season working part-time with Adelaide Football Club as a leadership coach.

Brett Ratten - Assistant Coach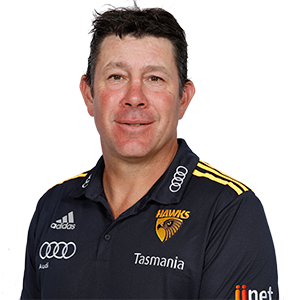 Coaching career
Ratten joined the Hawks as an Assistant Coach in 2013, following his position as Senior Coach of Carlton.

A highly regarded football person, Ratten brings with him a wealth of knowledge of the modern game and has been lauded for his tactics and ability to relate to players.
He spent two years at Melbourne before returning to his former club, Carlton as an Assistant Coach in 2007. In that same year, Ratten took over the coaching reigns at the Blues as caretaker, before being appointed as the official Senior Coach at the conclusion of the 2007 season.
He took the Blues to the finals in 2009 - his second season at the helm and the first time that club had seen September action in seven years. Carlton reached the finals between 2009-2011 under the tutelage of Ratten before an injury-plagued season in 2012 ended that run.
Ratten will be in charge of the forward line in 2016, after spending three years as stoppages coach.

Adem Yze - Assistant Coach
Coaching career
Yze was promoted to Assistant Coach at the end of 2014 after establishing himself as a respected teacher at Hawthorn.
Originally, Yze joined the Hawks at the end of 2011 as a specialist coach, working particularly with the forwards on their goal-kicking before being appointed as a Development Coach at the end of 2013.

To his roles at Hawthorn he has brought with him knowledge of a variety of positions on the field, which has seen him become a respected part of the coaching team.

Yze enjoyed a successful 14-season career with Melbourne that spanned from 1995-2008. In that time, Yze spent his footballing career showing his versatility, playing in a number of roles including half back, midfield and forward.
Yze will look after the Hawks' defence in 2016, for the second season.
Assistant Coach Sponsorship: The Drain Man

Marco Bello - Football Academy and Development Coordinator

Coaching career:
Marco Bello joins the Hawthorn coaching group to head the club's development program. Bello served as Box Hill Senior Coach for three seasons, leading the team to VFL Grand Finals in 2014 and 2015.
He played three seasons with Box Hill as a playing assistant coach from 2008-2010, before becoming Senior Coach of Box Hill's Development side in 2011, where he also worked with Hawthorn's development coaches.
He held that position for two years and coached the side to successive Grand Final appearances in which the team won the premiership in 2011.

Damian Monkhorst - Ruck Coach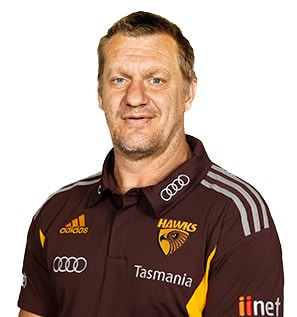 Coaching career:
Damian Monkhorst joined the club as Ruck Coach in 2010, following a stellar career at AFL level.

Known as one of the league's best and toughest ruckmen to play against during his career with both Collingwood and St Kilda, Monkhorst has passed on his knowledge to Hawthorn's ruck stocks since his arrival.
A member of the Collingwood's 1990 premiership team, Monkhorst played 215 games and kicked 45 goals between 1988 and 2000 and twice represented Victoria in State of Origin.
Monkhorst was inducted into the Collingwood Hall of Fame in 2014.