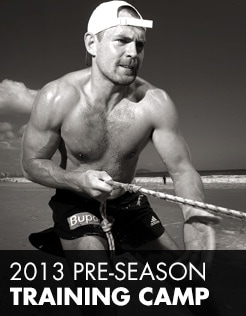 It was a big day of training for the players on day two of its pre-season training camp on the Sunshine Coast, hitting Mooloolaba beach.
There wasn't any sunbaking for the players though, with gruelling circuit of sand wrestling, boxing, push-ups and pulling tyres across the hot sand on the agenda.
The boys sweated it out under the hot sun under the guidance of its coaching and fitness staff.
After a quick bite to eat, it was back into the business of the trip, heading to the gym in Maroochydore.
The players completed set strength programs to prepare their bodies for another high pressure, high intensity football season in 2013.
Defender Ben Stratton had a Go Pro camera with him during the session at the beach, providing up close and personal shots from what was a big day of training for the playing group. View photos from the camera below.
Lance Franklin gets to the boxing section of the circuit.
Jarryd Roughead uses his entire body to pull the tyre across the sand.
Ben Stratton and Xavier Ellis somehow found the time to build a Hawks sandcastle.
Go Pro with Ben Stratton: Bradley Hill shows his determination in the boxing element of the circuit.
Go Pro with Ben Stratton: Xavier Ellis brings down Jonathan Simpkin and his medicine ball.
Go Pro with Ben Stratton: Mitch Hallahan dives to shore.
Liam Shiels was exhausted after the gruelling session on the beach.
Jack Gunston and Ben Stratton spot David Hale in the Maroochydore gym.
This guy is determined to make it back in 2013.