Membership and HawksNest will have times of closure during the upcoming Christmas/New Year period.
The call centre for all membership purchases and enquires will be available at 13000 HAWKS (1300 042 957) on the following dates and times:
- 22 December, 9am-midday
- 27-28 December, 10am-2pm
- 31 December, 10am-2pm
- 2-4 January, 10am-2pm
The call centre will then re-open from Monday 7 January 2013.
HawksNest merchandise
will be closed at both Waverley Park and Glenferrie at 2pm on Christmas Eve.
The merchandise outlet at Waverley Park will re-open at a temporary location - two doors down from its usual location at the Ricoh Centre. The store will re-open on Monday 7 January from 9am–5pm.
The Glenferrie store will remain closed until Monday 11 February 2013.
While the stores may be closed, HawksNest merchandise will continue to be available for purchase via
HawksNest Online
. Make sure you visit the online store from Boxing Day for some great deals and discounts in the
HawksNest Holiday Sale, with selected items up to 80% off!


adidas guernseys have arrived!
Come into HawksNest at the Ricoh Centre to get your hands on a home or away 2013 adidas guernsey! If you are a 2013 Hawks member, don't forget your 10% discount entitlement at HawksNest.
*Guernseys are also available at the Glenferrie store.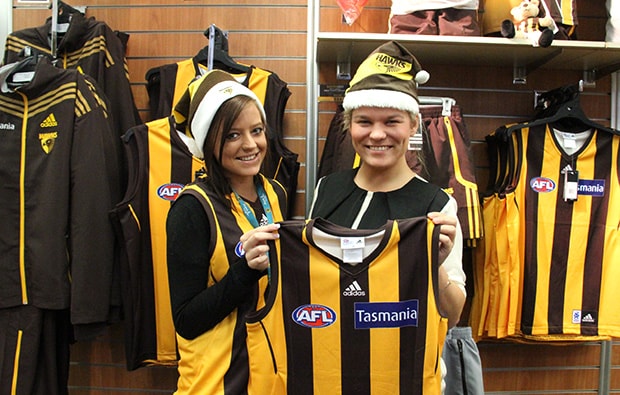 Sarah and Courtney from HawksNest have welcomed the 2013 home guernsey into the store at the Ricoh Centre.


Please note: Pre-ordered guernseys will be mailed via express post on Wednesday 19 December, however, next day delivery cannot be guaranteed.
*Youth short sleeved guernseys are not yet available.


Merry Christmas!