With the NAB Cup competition just over three weeks away, training at the Ricoh Centre is hitting top gear.
The drills are longer, the challenges tougher and even the conditions on Wednesday morning proved difficult as Melbourne turned on a hot summer's day for the players to compete in their first full ground match simulation of 2013.
Up first though, the players warmed up their bodies and their skills with hand-balling and kicking drills - including a full ground drill where their foot skills were put to the test by coaches.
Players then split into three groups to participate in different training blocks.
The ruckmen spent their time with Ruck Coach Damian Monkhorst, as two teams pitted against each other in half ground match simulation. The last group practiced set shot goal-kicking and snap shots under pressure at the other end of the field.
The playing group was then split into two teams of 18, decked out in their 2013 playing kits, as they got accustomed to the intensity of matches once more.
There were tackles, bumps, elite skills and pressure around the ball - the intensity and voices of the players well and truly stepped up a gear.
Speedster Isaac Smith said the intensity was evident.
"It was good, the guys lifted their defensive efforts which was a lot better and just the intensity around the contest lifted with NAB Cup only three weeks away," Smith told
hawthornfc.com.au
after the session.
"The boys are definitely starting to get prepared for it."

Before training got underway, Jack Gunston helped Jarryd Roughead with his GPS device.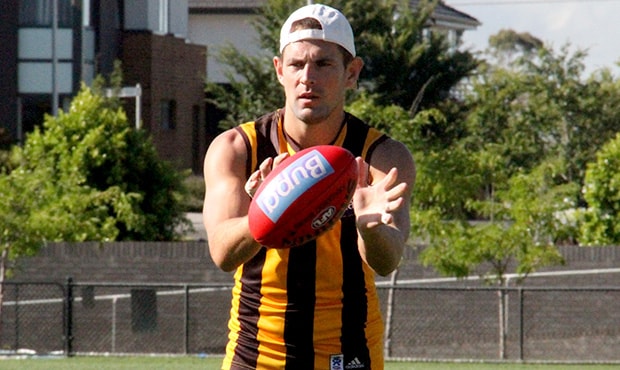 Luke Hodge certainly had his eyes on the ball during a hand-balling drill.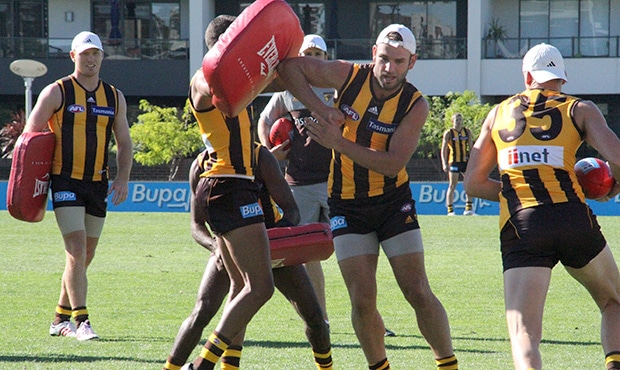 We've seen this before - Brent Guerra lays a bump on a teammate who is probably thankful he didn't take the full brunt of it.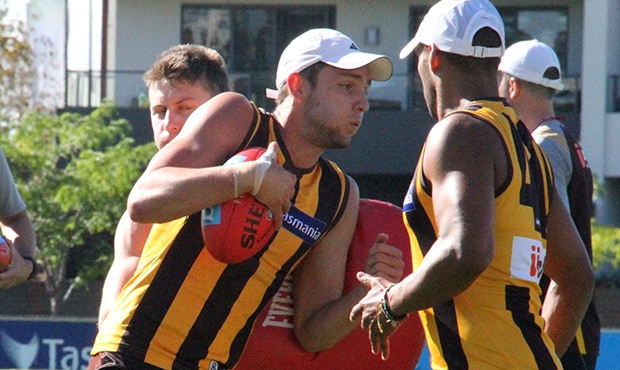 Liam Shiels tries to lay a bump on Gunston, who uses his body to shield the footy.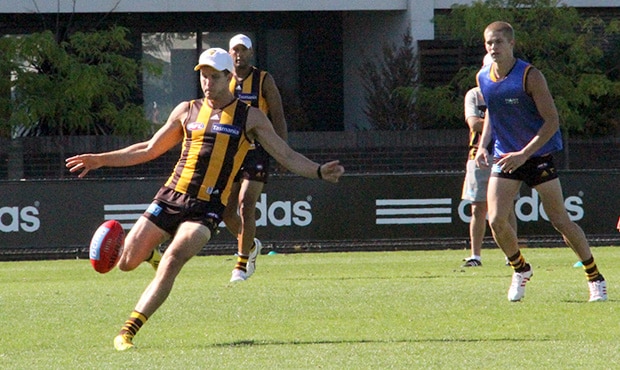 Luke Breust uses his right boot to deliver a pass to a teammate.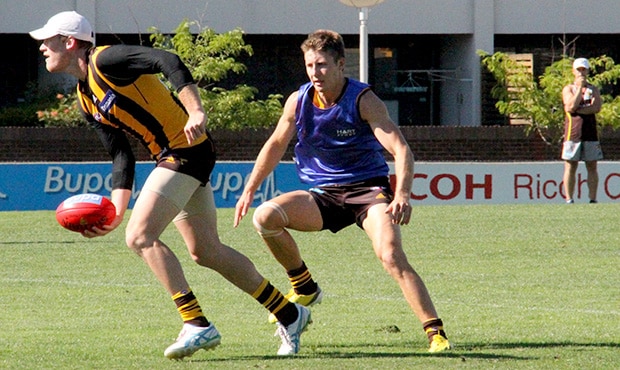 Roughead looks to dish off a quick handball before he gets wrapped up by Shiels.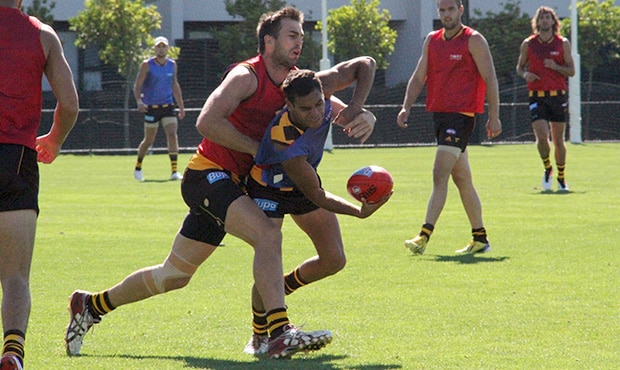 Recruit Brian Lake throws his weight around as Derick Wanganeen feels it full force.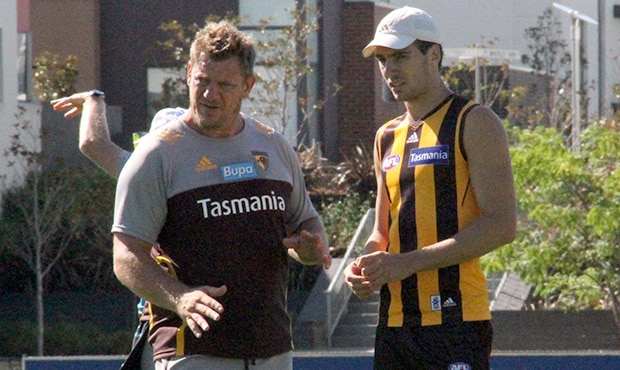 Ruckwork 101 with Damian Monkhorst and Jonathon Ceglar.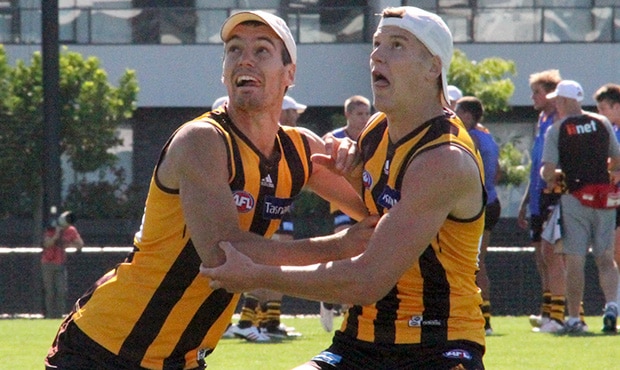 Ceglar puts what he learnt from Monkhorst to the test against Sam Grimley.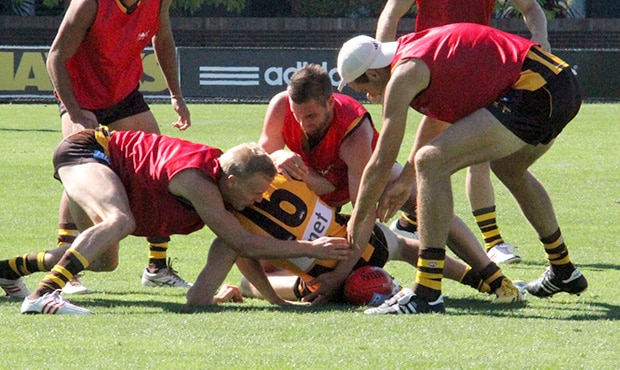 Somewhere under there is Isaac Smith who was brought down during the 18-on-18 match-play.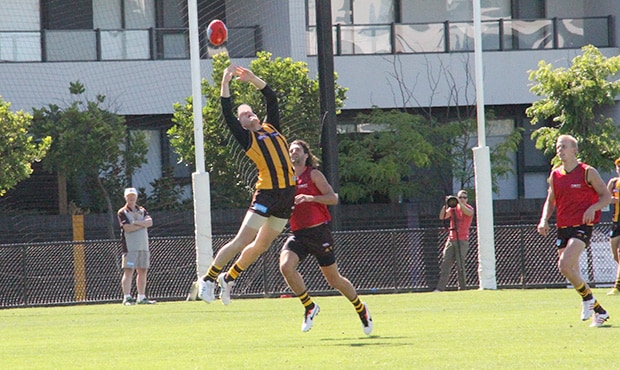 Roughead flies for a mark while all Matt Spangher can do is watch.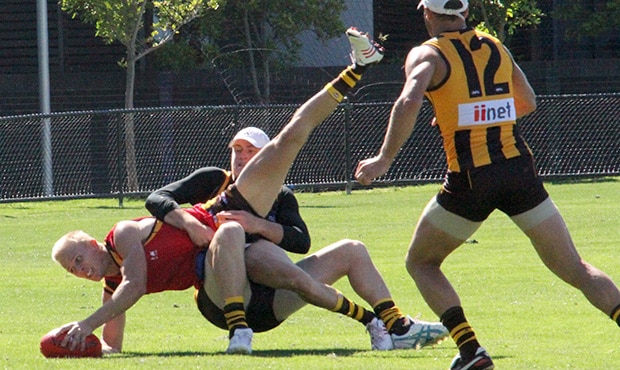 Then Roughead shows he's just as good on the ground as he is in the air.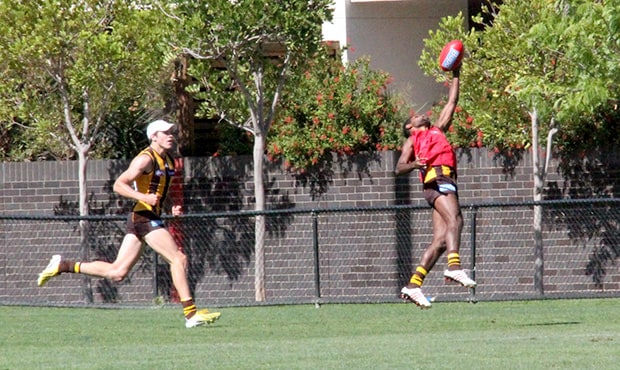 Amos Frank with a party trick - taking a great one handed mark.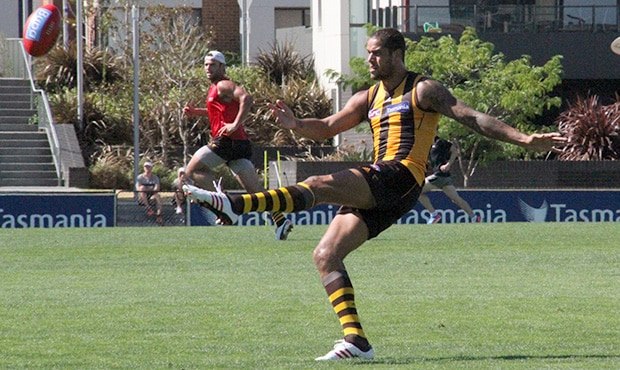 Lance Franklin kicks across his body for goal.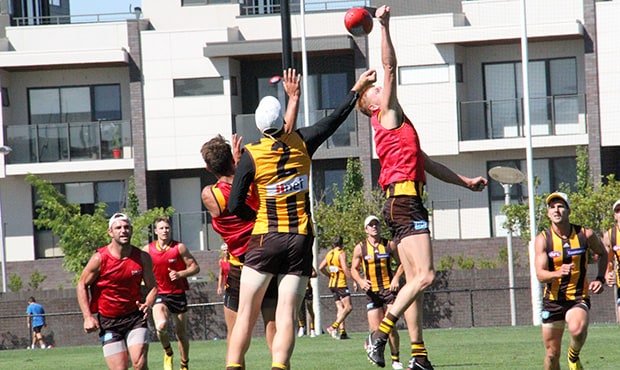 Rookie Andrew Boseley shows he's got courage, floating across an oncoming Roughead and Angus Litherland.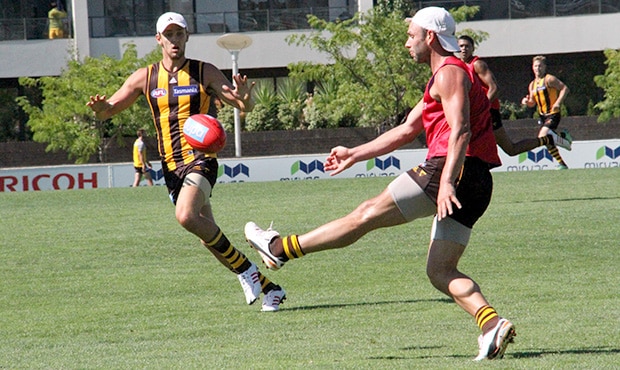 Guerra puts his left boot to the test as Gunston tries to effect a smother.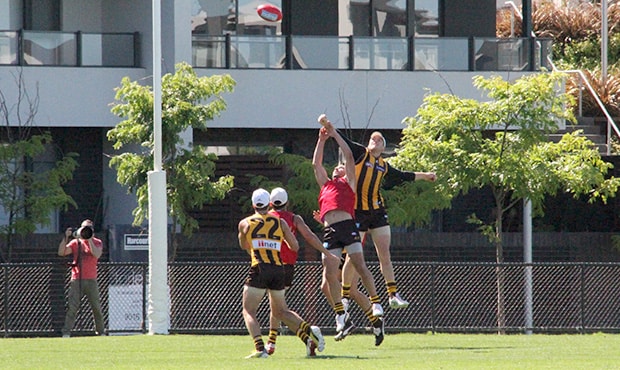 Roughead again works his magic in the air, this time acting as a defender as he's caught behind.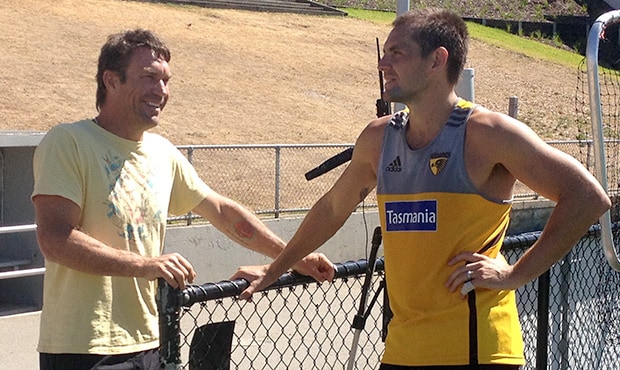 Look who dropped by to catch a bit of training. The great Pat Cash exchanges Always Hawthorn stories with Luke Hodge.