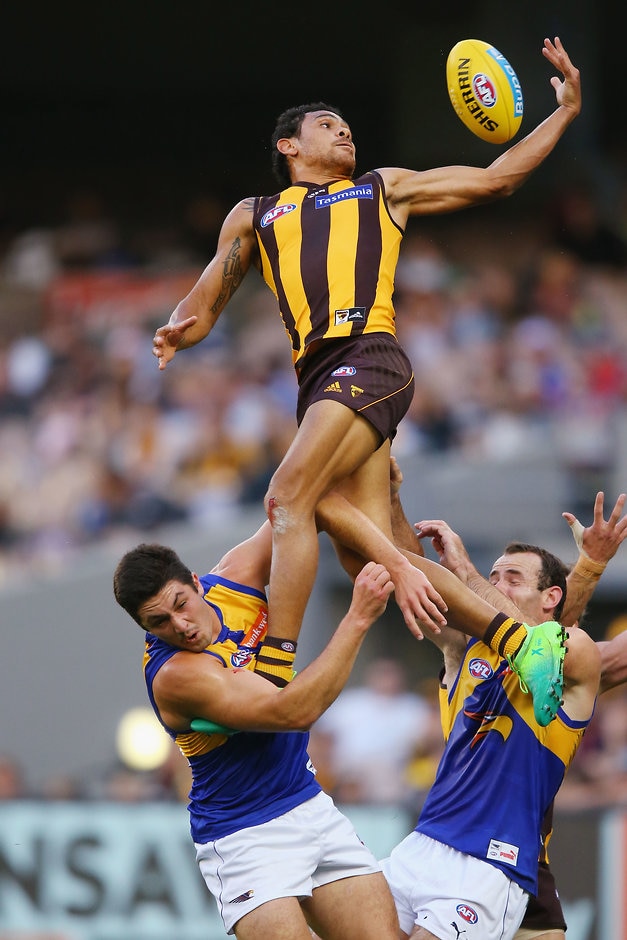 By his own admission, Cyril Rioli had been quiet throughout his first month of 2017 football, and lacking that usual match-winning magic fans have come to expect of him.
When the Hawks took on West Coast in a Sunday twilight clash at the 'G, all that changed.
Rioli was everywhere; tapping it cleverly to his teammates' advantage, leaping onto shoulders to set up some big pack marks, and even 'nutmegging' his opponent as he cheekily handballed the football through Liam Duggan's legs.
When asked after the match what had inspired such a rapid return to form, Rioli's response was poignant.
"Before the game, I wanted to remind myself why I love football," said the four-time premiership player.
"Losing hasn't been great, and sometimes it can draw a bit of the fun out of the game.
"This morning I just thought back to when I was a kid, running around kicking the football, and I always had so much fun.
"I tried to focus on those memories, and it definitely drove me to perform today."
Rioli finished with one goal and 15 touches, statistics that don't give justice to the true impact the small forward had on the game.
A defining moment came when Rioli intercepted an Andrew Gaff handball, shook the tackle and kicked deep inside the 50. He then ran 50 metres to collect his own ball before dishing off to James Sicily in the open goal square. The commentators knew it, the crowd knew it, his teammates knew it; Cyril was back.
"I was just playing off instinct," said Rioli.
"For the past few weeks I haven't really been doing that, so it was great to get out there, play my natural game, and finally get the win."
"The monkey's off the back."
The views in this article are those of the author and not necessarily those of the AFL or its clubs