A CROWD of doctors and physiotherapists circled Ryan Burton with the sort of curiosity usually reserved for high-priced yearlings at a Magic Millions sale.
The date was Friday, October 16, 2015. Medical assessment day had arrived at the NAB AFL Draft Combine. It is considered one of the most important on the recruiting calendar.
About 200 prospective AFL footballers go through the process in numbered order each year at the national or state combines. They walk into a room and their medical background flashes on to a big screen.
Representatives from each AFL club, including Hawthorn doctor Michael Makdissi, swarmed the medical bench Burton sat on to pepper him with questions and put him through physical tests.
Burton was a touted top-five draft pick – maybe even No.1 – before a horrific left leg break, with accompanying ligament and joint damage, in a school match 14 months earlier.
Former Adelaide footballer-turned-orthopedic surgeon Matthew Liptak warned the teenage star there was a chance he would never play football again.
"I felt like a piece of meat, but a lot of people saw it as my biggest test of the week," Burton told AFL.com.au at the time. "The doctors are the ones who are going to tell the recruiters if I'm fine or not, so I was pretty nervous about it."
Read: Five talking points from Geelong v Hawthorn
Burton wound up at the Hawks with the 19th pick in the 2015 draft. Now, in just his second AFL season, he is the favourite to be this year's NAB AFL Rising Star.
It has become a familiar story, going back to the 2001 super draft. Future dual Brownlow medallist Chris Judd's twice-reconstructed shoulders contributed to him being chosen behind Luke Hodge and Luke Ball.
There is also the case of Joel Selwood, who slid to seventh in the 2006 edition, because of a serious knee injury that ruined his draft year. A season earlier, he was an AFL Under-18 All Australian and captained an AFL Academy squad that included the player, Marc Murphy, who was the first selection in 2005.
"Joel Selwood would have been a contender for No.1 had he been eligible that year, based on what we'd seen," the AFL's national talent manager Kevin Sheehan said. "But when he didn't play the next year … there must have been some doubt."
Former North Melbourne recruiting boss Neville Stibbard spoke three years later of his regret at not drafting Selwood at No.3, where Lachlan Hansen went instead.
The Roos' medical staff warned not to take Selwood, possibly still wounded after taking repeat hamstring sufferer David Trotter with the ninth pick of the 2003 draft. Trotter played only seven games in four seasons between further hamstring issues.
North Melbourne also sidestepped Hawthorn's eventual No.22 draftee Beau Muston in 2005, with the talented Shepparton lad still on the comeback trail from a knee reconstruction.
Further surgery after the draft cost Muston the entire 2006 season, then he re-injured the reconstructed knee in 2008. He finally made his AFL debut in 2009, but was delisted a year later after 13 games.
The Hawks also punted on Beau Dowler with the No.6 selection in the same draft. Dowler was an outstanding junior fresh from being an Under-18 All Australian. But he fractured his pelvis in a car accident a month before the draft.
Dowler scattered 16 games across four years, putting him in the same boat as ex-Eagle Tom Swift and Crow Troy Menzel, both multiple pre-draft knee victims and first-round picks who never reached their potential. Menzel, who was drafted by Carlton, still has a chance to do that, but time is running out.
Burton, a decade later, is justifying Hawthorn's return to the draft roulette table.
The Brisbane Lions' national recruiting manager Stephen Conole told AFL.com.au the extreme pressure of making first-round choices count was a factor in clubs sometimes playing it safe.
"Definitely with the boys going at that high end of the draft – Chris Judd and that type – you'd want to be really confident you know what you're bringing in," Conole said.
Conole, like Stibbard and others in the recruiting caper, has missed out on players based on medical judgments, but the Lions have taken risks down the draft order.
They used a top-25 pick last year on Alex Witherden, who was not long recovered from a broken leg, but is already rewarding them. Lewis Taylor, the 2014 NAB AFL Rising Star, slipped to the Lions at No.28 in 2013 after foot stress fractures.

Alex Witherden has shown plenty in his three senior games. Picture: AFL Photos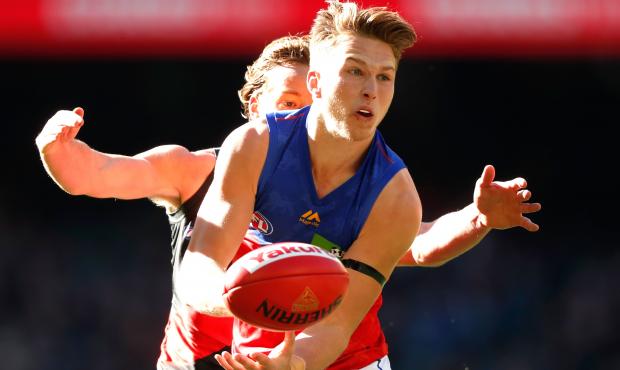 Key-position prospect Sam Skinner had a knee reconstruction before joining AFL ranks and was a speculative Lions selection at No.47 in 2015. Unfortunately, Skinner sustained another significant knee injury last year, but is on the way back.
The recruiting process demands clubs inspect prospective draftees with a fine-tooth comb, with the medical side only one, albeit key, element. But with that comes opportunity.
The 2001 draft is remembered fondly for the megastars that came out of it: Hodge, Ball, Judd, Gary Ablett jnr, Jimmy Bartel, Sam Mitchell, Nick Dal Santo and more. A future triple premiership player could have missed out that year, if not for the Western Bulldogs' due diligence.
Brian Lake – or Harris, as he was known then – was a rebellious kid, but AFL clubs' greatest problem with him was his lethargy in the second half of his draft season, and habit of falling asleep in interviews, then waking up and saying something inappropriate.
Lake had sleep apnoea, an unfamiliar condition at the time that caused most recruiters to draw a line through his name. The Bulldogs dug deeper, using their wider medical network, and discovered it was curable – and that they could draft him as late as required.
"That was probably the level of surveillance back then," Sheehan said.
"Clubs make their own decisions on whether a player's long-term potential will be affected, but they can't do any other medical enquiries, otherwise they'll be fined.
"They can enquire to (AFL doctors) Anik (Shawdon) or Nick (Ames) to, say, get another X-ray done, but that will be shared with all clubs. You can't do anything by yourself, and it's to make it fair on the kids."
Not even the increased recruiting thoroughness has prevented the trend of elite kids being bypassed by multiple clubs.
The Burton case is not the only modern one shining a spotlight on how footballers with a sketchy medical history are judged on draft day.
Essendon captain Dyson Heppell, another Rising Star winner, spoke publicly in the days before the 2010 draft to try to allay recruiters' concerns about his groin. The Bombers got wind of other clubs' wariness, interviewed Heppell the night before that year's pick-fest and selected him at No.8.

Dyson Heppell has proven to be a steal at No.8. Picture AFL Photos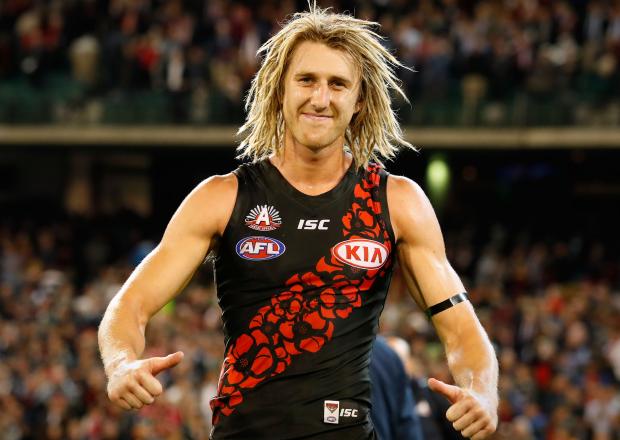 Others include Bulldog Jake Stringer (No.5, broken leg), Crow Jake Lever (No.14, anterior cruciate ligament), Demon Sam Weideman (No.9, ankle stress fracture) and Roo Jy Simpkin (No.12, broken leg). Lever is now fielding $800,000-a-year offers and considered captaincy material.
"Sam Weideman had a significant injury history, so the amount of work I put in with the medical department … was enormous," Melbourne's national recruiting manager Jason Taylor said.
"I've never had that experience on a player before. He hadn't had much continuity, so there were some things we needed to check, because it was a pretty important pick.
"We knew he'd take time when he came in, but we thought he might be a good-enough player if we get everything right."
Sheehan argues the reason for clubs' doubt on injured players is as much about their medical past as not being able to see their development in their top-age season. Relying on footballers' previous performances is an inexact science.
Taylor's take on the situation and the mounting examples of young players bucking pre-draft setbacks is all about perspective.
"I think it's case by case, but maybe don't jump at shadows," Taylor said.
"I've got a saying, 'Learn from your past, but don't be dictated to by it' and I reckon that can hold you in good stead. You learn from what your experiences are, but if you're so one-eyed and unmovable with your experiences – good, bad or indifferent – you're getting dictated to.
"You just need to remain open-minded. Young players get injuries like old players get injuries. If they're not career-ending, that's fine."