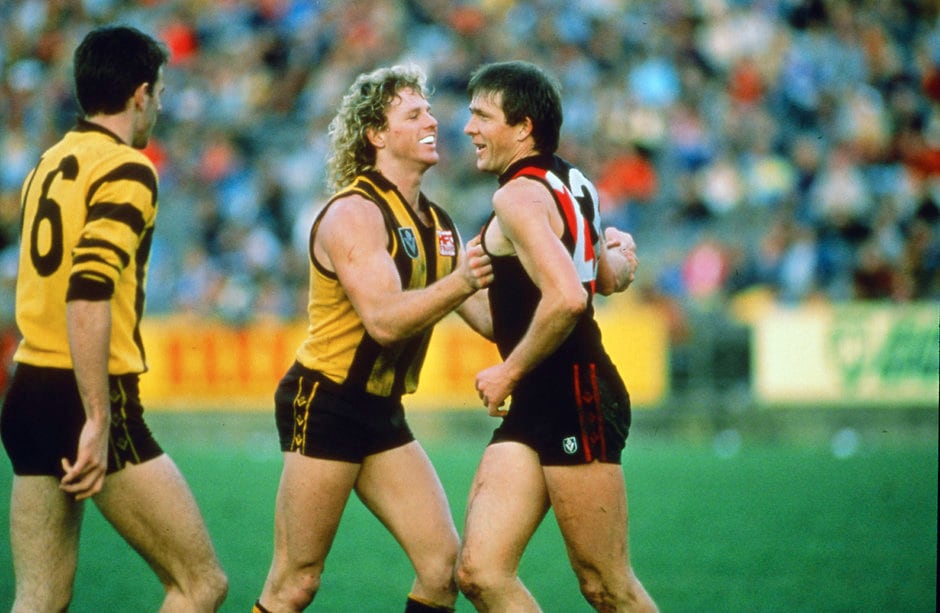 It's approaching that time of year when Santa Claus makes his list and checks it twice, so it's time to find out which of our Hawks have been naughty, and which have been nice!


Cheesy, we know.
We're talking about suspensions of course, with some Hawthorn players having felt the wrath of the tribunal more often than others.
Heading the Hawks' naughty list, it should come as no surprise that Dermott 'The Kid' Brereton has missed more games through suspension than any of his fellow clubmen. The famous No.23 coincidently sat out a total of 23 games after receiving 14 separate charges during his decorated career in the brown and gold. Brereton added another 16 games to that tally in the final two years of his career – 14 weeks from two separate incidents in his lone year at the Swans, and two weeks from a single incident at Collingwood.
On the other end of the scale, Michael Tuck, former AFL games record holder, managed 426 outings without missing a single game through suspension. He was charged on one occasion, but received a reprimand only.
The only player with perhaps a better record than 'Tucky' is teammate Peter Knights. Knights played 264 games in the brown and gold, and did not have a single run in with the MRP throughout his entire 17-year career.
The Hawks' 'nice' duo were duly rewarded, with the gift of 10 premiership medallions and two Hawthorn 'Legend' statuses between them.
Hawthorn's current list has a relatively clean record, with just seven of a possible 46 men having missed games through suspension.
Veteran Shaun Burgoyne has been penalised the most (five games from two incidents), while Grant Birchall has played the most games without suspension (245).
If the MRP were fashioning their own 'naughty' and 'nice' lists, here's what Hawthorn's might look like.
Read: Lessons from a first year


Naughty list 😈
(Top 10 for most games suspended)
Player

Games susp'd

# of charges

1

Dermott Brereton

23 games

14 charges*

2

Robert DiPierdomenico

18 games

9 charges

3

Campbell Brown

15 games

10 charges*

4

Wal Williams

12 games

1 charge

5

Don Scott

11 games

11 charges

6

Luke Hodge

10 games

18 charges

7

Richard Vandenberg

10 games

7 charges

8

Shane Crawford

9 games

17 charges

9

Jordan Lewis

9 games

14 charges*

10

Anthony Condon

8 games

4 charges

*Strictly Hawthorn matches only, suspension for other clubs not included.
Nice list 🤗
(Top 10 most games played without suspension)
| | | | |
| --- | --- | --- | --- |
| | Player | games played | # of charges |
| 1 | Michael Tuck | 426 | 1 charge, reprimand only |
| 2 | Peter Knights | 264 | never reported |
| 3 | Grant Birchall | 245 | 4 charges, 3 fines, 1 reprimand |
| 4 | Chris Mew | 230 | never reported |
| 5 | Rodney Eade | 229 | 1 charge, not guilty |
| 6 | David Parkin | 211 | never reported |
| 7 | Geoff Ablett | 202 | never reported |
| 8 | Des Meagher | 198 | 1 charge, reprimand only |
| 9 | John Hendrie | 197 | 1 charge, not guilty |
| 10 | Bert Mills | 196 | never reported |
The views in this article are those of the author and not necessarily those of the AFL or its clubs