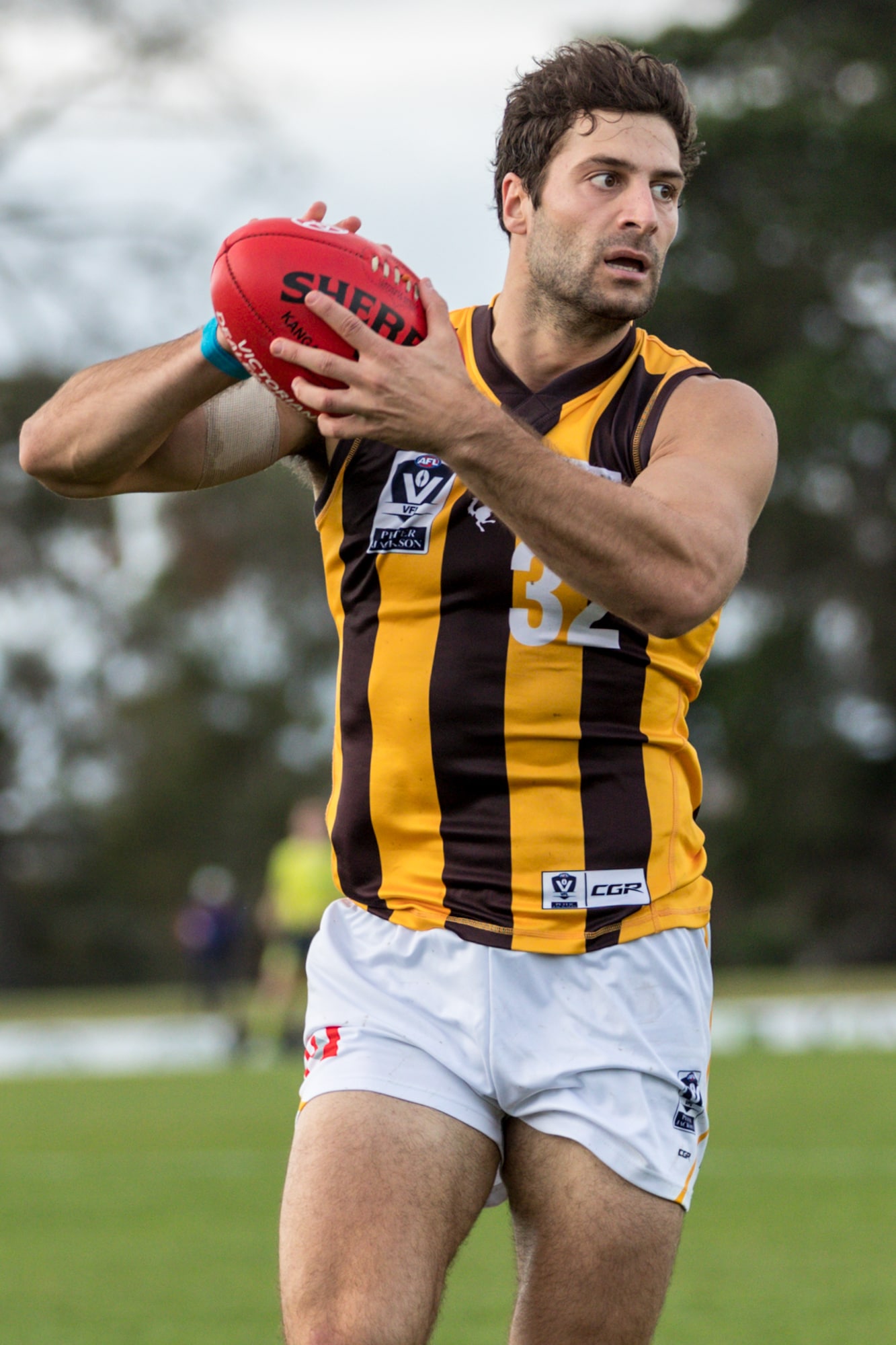 The Box Hill Hawks fell to their first loss of the season as the Casey Scorpions defeated the Hawks by 39 points at Casey Fields on Sunday.
With a side full of AFL experience, Casey simply proved too strong for the Hawks on the day.
Read below as Hawks coach Chris Newman reviews every AFL-listed player's performance.
David Mirra
22 disposals, 8 marks, 1 tackle
"He was probably our best player for the day. His kicking was pretty good throughout but his ability to take marks off the opposition was even better. He backed himself in, he's got really good hands when he plays tall. He is still playing as a second tall back for us, so he has been able to do a pretty good job for us. He does set us up offensively as well." CN
James Cousins
22 disposals, 4 marks, 8 tackles
"He was doing a bit of a role for us in the first three quarters and then we let him off the chain and let him play his own game in the last. He probably learned a lot of valuable lessons with the role he played for us in the first three quarters but then he probably had his most influential quarter in the last. He really helped us set up quite a few goals in that last quarter. He was one of the main reasons we were able to get back into the game in the final term. He tried hard all day." CN
Jonathan O'Rourke
22 disposals, 4 marks, 10 tackles
"It probably wasn't his most influential game. He tried hard but I thought their mids certainly got the better of ours as a whole on the day. They were much more effective. I throughout our effort was there, and Jono's effort was there on the day, but he didn't have his most effective game. He did have six clearances so he was decent enough." CN
Harrison Jones
17 disposals, 5 marks, 1 tackle
"Harry played back for us. It was the first time he played half-back and he was really good. So, hopefully we've found a position for him to try and build on and develop with over the next however many weeks. His defensive stuff was quite good. He is a natural competitor anyway so we weren't really worried about his defensive stuff. But I think he is going to find a bit of the footy as well. So, that might be something that we look to keep doing with him and hopefully he can keep getting better and better." CN


Dallas Willsmore
21 disposals, 8 marks, 1 tackle
"He probably had a better start to the game than his finish. He played off half-back again and then finished the game on the wing. He used the ball pretty well and he helped set us up on our offensive drive." CN
Jackson Ross
7 disposals, 1 mark
"It was his first game back for a while. He had seven disposals, he still has a lot of development left in him not only with his footy but with his body. He is just trying to put a little bit more size on at the moment. He played forward for us and his opportunities will come, he just needs to try and work out the pace of the game." CN
Mitchell Lewis
4 goals, 10 disposals, 3 marks, 4 tackles
"He's finished with four goals, with three of them coming in the last quarter. So, he was one of the main reasons why we got back into the game. His hands are looking strong and he is presenting pretty well. He is in pretty good form. Before the last quarter he was reasonably quiet, but that's a good reflection of his character to just keep driving through and get some reward in the last quarter." CN
Ollie Hanrahan
1 goal, 11 disposals, 3 marks, 3 tackles
"Ollie also returned from injury this week. He played three quarters and had 11 disposals. He's pretty clean when he gets the ball. He played forward for us, he didn't get a lot of on-ball time. He helped to create a few scores. He finished with a goal, a soccered goal off the ground. He just needs a bit of game-time I think." CN
Teia Miles
12 disposals, 6 marks
"Played on Melbourne forward Jeff Garlett. Milesy finished with 12 disposals, which is quite low for him, but I think the value from him came from his defensive stuff on Jeffy a few times. Garlett didn't have a huge day. He's a pretty crafty player but I thought Teia did well on him." CN
Conor Glass
1 goal, 15 disposals, 6 marks, 2 tackles
"Played on a wing. It wasn't a day where he could break the game open and use his legs but he tried to as much as possible and his running patterns were really good on the wing. I think that position is something that we can explore more for Connor. He kicked a goal himself as well. So, we were pretty happy with the return we got from him. We'd like him to continue to kick the ball as much as he can." CN
Conor Nash
13 disposals, 2 marks
"Conor played on the opposite wing, which was a first for him. He's played back and forward but never really on-ball. With his athleticism, we just felt we could play him on the wing where he could get up and down the ground. He cracks in hard and he has a crack in the air as well. I thought he was more influential with his stuff off the ball than with it. But it is something that we will explore again." CN
Marc Pittonet
40 hit outs, 1 goal, 15 disposals, 4 marks
"He has been in pretty good form. He is very, very aggressive. He loves his tackling, I think he weighs about 105 kilograms so he is a heavy unit and I think he is playing that way. I thought he probably won the ruck battle. It was probably just at ground level we failed to capitalise as I think we lost clearances on the day but that wasn't through a lack of the ruckman's efforts. He kicked a goal too." CN
Jonathon Ceglar
33 hit outs, 1 goal, 15 disposals, 8 marks
"Cegs was the other ruckman. He kicked a goal and his hands are looking really strong at the moment. The best thing about Cegs' game is that he got through unscathed again which is really, really good. He played across the full game but was probably still limited across the game in his actual playing time. So, he will be getting up to full game-time next week I think." CN
Kaiden Brand
11 disposals, 4 marks, 1 tackle
"He can play a bit better than what he did. But I think the way we defended across the ground, it didn't really help our backs at all. We gave Casey quite a lot of space to work into so we made it really difficult for our backs to impact. Brandy had a few good moments with a few good spoils but it probably wasn't his best game." CN
Kieran Lovell
16 disposals, 6 marks, 2 tackles
"He had his moments too throughout the game. He is so hard to tackle when he gets on the move and when he uses his legs. He is a really agile player. 16 disposals isn't too bad considering he played a little bit on-ball but definitely majority of the game in the forward line. He would have liked to hit the scoreboard though." CN
Ryan Schoenmakers
1 goal, 15 disposals, 5 marks, 2 tackles
"His effort is outstanding every week. He tries his hardest. He probably didn't get the reward on the scoreboard like last week. But he is really important to us, if the ball hits the deck he follows up really hard. He provides leadership as well. So, he is in pretty good touch at the moment." CN
Images courtesy of Kadek Thatcher photography
The views in this article are those of the author and not necessarily those of the AFL or its clubs