Looking After ME draws on expert knowledge from Deakin University students and beyondblue experts in the nutrition and mental health field, allowing Hawthorn to develop a program containing relevant and suitable information and activities for students aged 8-10 years old.

Looking After ME's messaging is around good health and nutrition, wellness habits, positive thoughts and mental health, addressing areas of the Victorian Curriculum, Year 3&4 Personal, Social and Community Health and Movement and Physical Activity.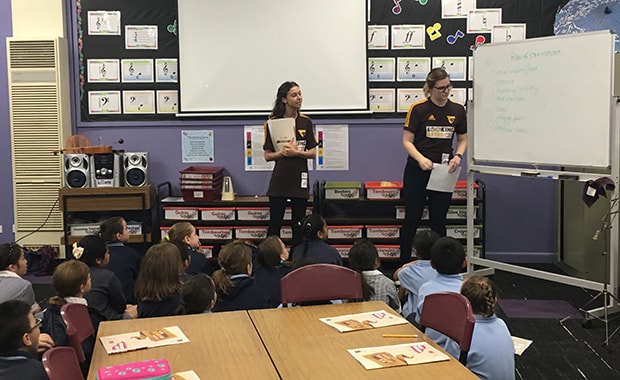 Week 1 focus – Nutritional health
(delivered by Bachelor of Food and Nutrition Science and Bachelor of Nutrition and Health Science students)
With 1 in 4 primary school children overweight or obese, Looking After ME aims to reduce this through curriculum linked workbook activities targeted at improving the students' diet. Students complete a series of activities with the facilitators including identifying the five food groups, creating a healthy lunch box, staying hydrated and building a weekly health diary.
Week 2 focus – Mental health
(delivered by Bachelor of Psychology and Bachelor of Psychological Sciences students)
Statistics show 1 in 7 primary school children have a mental illness and 1 in 4 primary school children are overweight or obese. With these statistics in mind, Looking After ME aims to improve the physical and mental health of primary school children, helps them to develop an appreciation for themselves and helps students develop an understanding of what they need to help their bodies to function properly.
Week 3 focus – Physical activity
(delivered by Bachelor of Exercise Science students)
Students learn about the important role physical activity plays in maintaining a positive state of wellbeing. They participate in minor games aimed at increasing levels of movement and learn about the skills required to play AFL football. By the end of week 3, students will be able to see the links between nutritional health, mental health and physical activity, and will have the tools to ensure they can achieve a positive state of health and wellbeing.
Enquiries and program registrations
Contact Oscar Anderson at;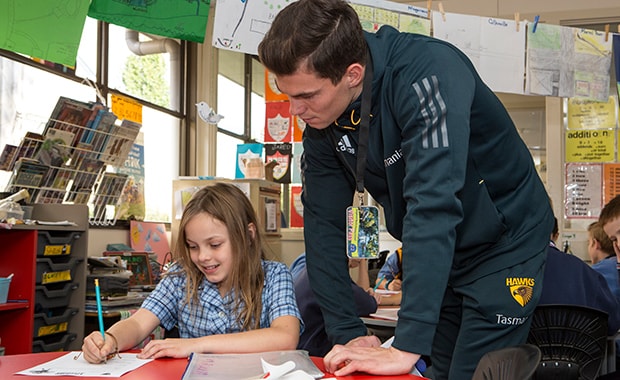 Please note, player appearances are not part of the standard Looking After ME program.