Hawthorn Indigenous Program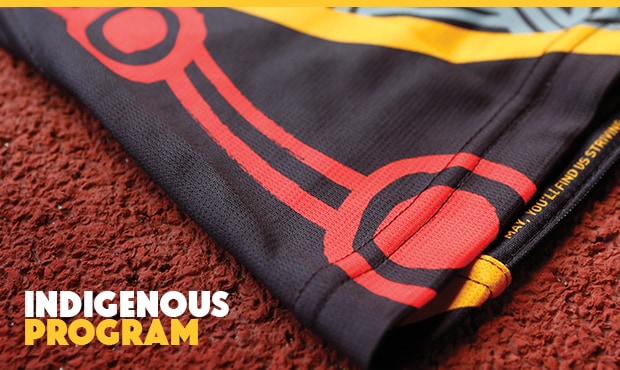 In May 2015, Hawthorn Football Club received an extraordinary donation of $1 million over five years for the club's Indigenous program from Epic Good Foundation's co-creators Stuart Giles and Cathie Reid.
This generous donation has enabled the club to facilitate and cultivate its Indigenous Program through mentorship, lifestyle and participation programs in Indigenous communities with a focus on Indigenous children and youth, providing meaningful outcomes and change throughout Indigenous communities across Australia.
An 'Epic Good' Year
Hawthorn Football Club is proud of the partnership with the Epic Good Foundation and is truly grateful for the opportunities offered as part of the Hawthorn Indigenous Program.
Hawthorn aims to improve educational and health outcomes in Indigenous communities. We engage with the Indigenous communities in and around Katherine, NT, and Indigenous communities in the Eastern Melbourne corridor and out to the Gippsland region where we focus on achieving these positive outcomes.
All of Hawthorn's Indigenous Programs are made possible with the wonderful support of the Epic Good Foundation.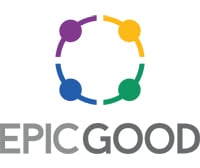 Big River Hawks
The Big River Hawks is an under 18 football team based in Katherine, Northern Territory who compete in the Darwin-based NTFL. Established in 2010, the Big River Hawks aim to increase Indigenous participation in study or work, using team selection as a reward.
Being part of the Big River Hawks provides motivation to further develop their own skills on and off the field. Hawthorn Football Club recognises the hard work players put in with the Big River Hawks and proudly offers various incentives and rewards to encourage their great work.
Annual cultural trip
Each year, Hawthorn Football Club flies 10 players from the Big River Hawks Football Club from Katherine to Melbourne to experience life and football at the home of the Hawks.
With the introduction of the Big River Hawks women's team in the 2016/2017 season, we were thrilled to include five women's players as part of the 2017 trip to Melbourne.
Hawks in Katherine
For many years, Hawthorn Football Club has engaged with the Katherine community to inspire and engage the community, hosting a large number of events including community camp, football clinics and Next Generation Academy activities.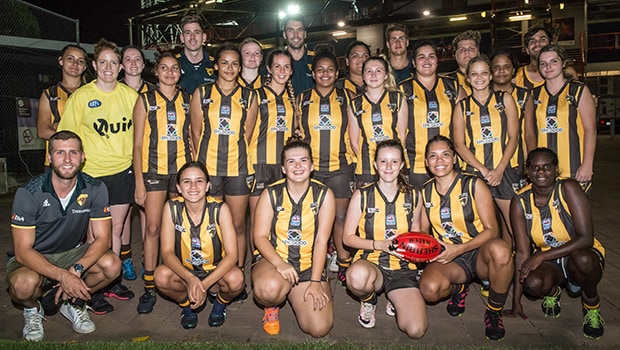 Big River Hawks womens team with Hawthorn players, Jonathon Ceglar, Daniel Howe, Kaiden Brand & Jonathan O'Rourke.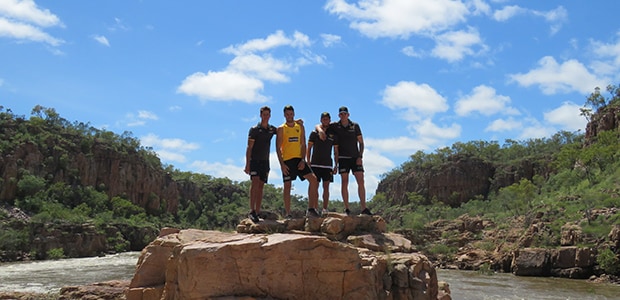 Hawthorn players, Jonathon Ceglar, Daniel Howe, Kaiden Brand & Jonathan O'Rourke at the Katherine Gorge.

Indigenous Auskick Exchange Program
In conjunction with Hawthorn Auskick Centre, Indigenous children from remote communities in the Northern Territory get the opportunity to visit Melbourne and experience the culture and unique programs that Melbourne has to offer.
In 2017 Hawthorn Football Club welcomed six Indigenous children from the Kalkarindji community, 6.5hrs South-West of Katherine.
Together, Hawthorn Football Club and Hawthorn Auskick Centre provide the kids with special experiences so they may strive to better themselves leading to healthier and stronger role models for their community.
Staying with billet families from the Hawthorn Auskick Centre, the kids also attended a day of school at Auburn Primary School along with their billet families.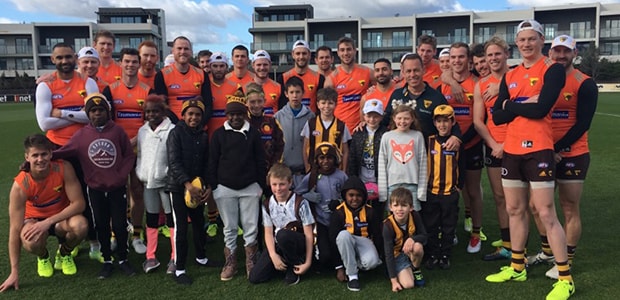 Auskick exchange participants from Kalkarindji posing for a photo with Clarko and the team.

Indigenous Literacy Foundation
Hawthorn Football Club has a special partnership with the Indigenous Literacy Foundation which assists in providing remote communities with books to improve literacy skills of the remote Indigenous population.

In 2017 the Hawthorn Football Club auctioned all match-worn jumpers from Sir Doug Nicholls Indigenous Round against the Sydney Swans at the SCG. $10,624.80 was donated to the ILF to assist ILF with their amazing community work.

The Hawthorn Football Club greatly values this partnership and continues to work closely with ILF to ensure that literacy doesn't remain an issue in Indigenous communities.

Hawks donate to Indigenous Literacy Foundation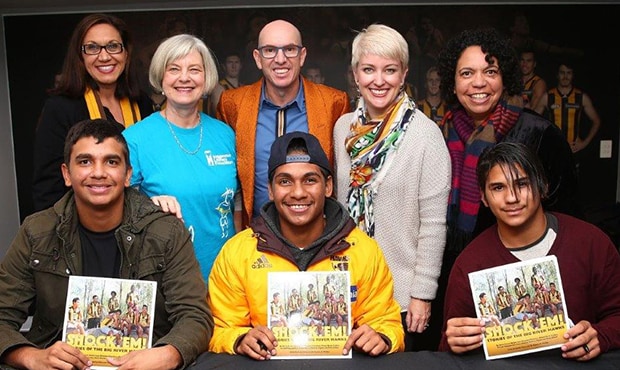 The launch of "Shock 'Em" written by Big River Hawks players in conjunction with the ILF.

Lady Eaglehawks
Based at Worawa Aboriginal College in Healesville, Victoria, the Lady Eaglehawks is an under 16 team competing in the Eastern Regions Girls Football League.
Worawa Aboriginal College is a boarding school for Indigenous females from years 7-10 with the participants coming from a range of Indigenous communities from all over Australia.
Through a common love of football, Worawa Aboriginal College has been able to encourage young Indigenous women to commit more time to their education and strive towards achieving their goals in the classroom and on the field.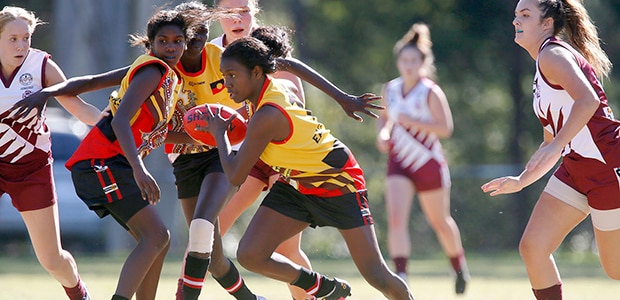 Stephanie Williams leading the pack for the Lady Eaglehawks in the Eastern Region Girls Football League

Cyril surprises the Lady EagleHawks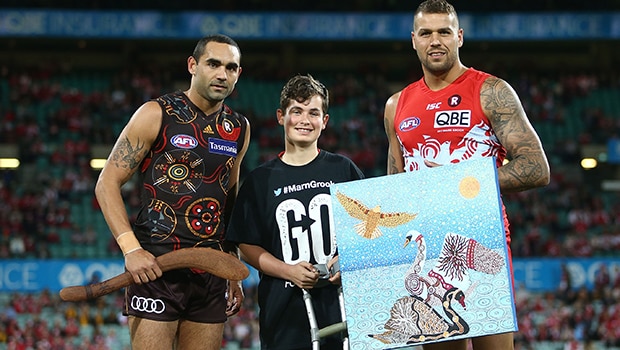 Shaun Burgoyne & Sydney's Lance Franklin exchanging Indigenous gifts in the Sir Doug Nicholls Round in 2017. The painting on the right was designed by 3 Lady Eaglehawks players.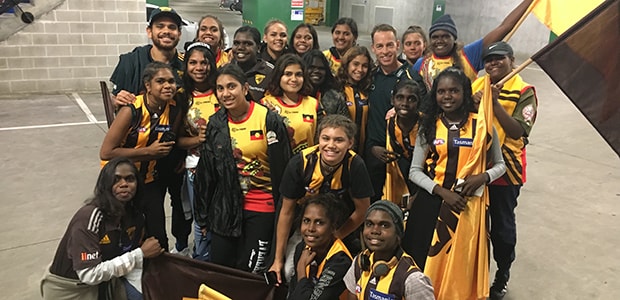 Worawa Lady Eaglehawks catching up with Cyril Rioli and Alastair Clarkson before their Round 15 NAIDOC Week clash with Collingwood at the MCG.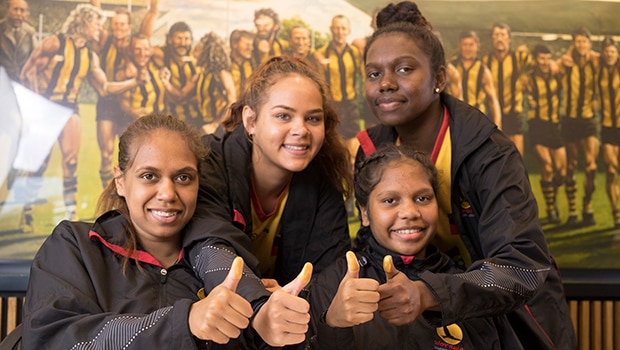 Worawa Lady Eaglehawks players making their mark on the Hawthorn Football Club's AFLW submission.

NAIDOC Week
NAIDOC Week is a very important week in the Indigenous calendar with the week signifying the proud history, culture and achievements of Indigenous Australians.
As a Club that has boasted some of the most prolific Indigenous players to play the game, the Hawthorn Football Club celebrates NAIDOC Week to recognise the achievements that Indigenous players have made to our game and providing us with some of the greatest Hawthorn memories.
Indigenous artist, Thomas Day, facilitated a cultural painting workshop at the Hawthorn Football Club for players and staff during NAIDOC Week.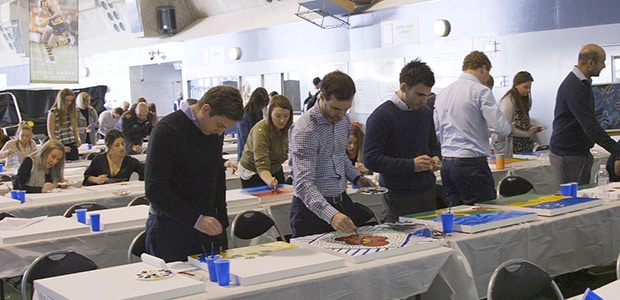 Hawthorn Football Club staff members creating their own works of art during NAIDOC Week.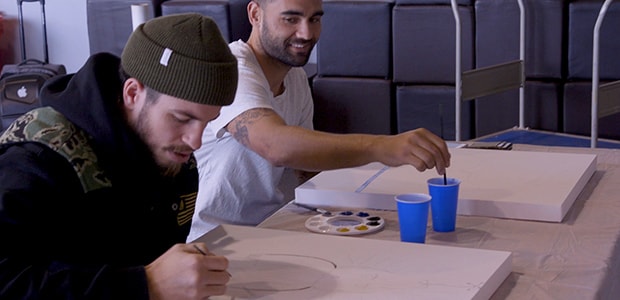 Shaun Burgoyne & Ben Stratton joined in on the activities and had a fun morning celebrating Indigenous culture.

Sir Doug Nicholls Indigenous Round
In 2017 the club travelled to Sydney for Sir Doug Nicholls Indigenous Round.
Hawthorn's 2017 Indigenous guernsey includes original artwork created by Yorta Yorta/Wiradjuri artist Jirra Lulla-Harvey who also designed the Club's first Indigenous guernsey in 2014. This year's edition features personal motifs inspired by life experiences of players including Shaun Burgoyne and Cyril Rioli.
For this match, Shaun Burgoyne wore the number '67' which marked 50 years since the 1967 referendum which allowed the constitution to be altered and to recognise Indigenous Australians in the Census and to ensure their inclusion in Federal laws.

Shaun's significant guernsey

Indigenous guernsey
All match-worn guernseys were auctioned off post-match with all proceeds going to the Indigenous Literacy Foundation which totalled $10,624.80.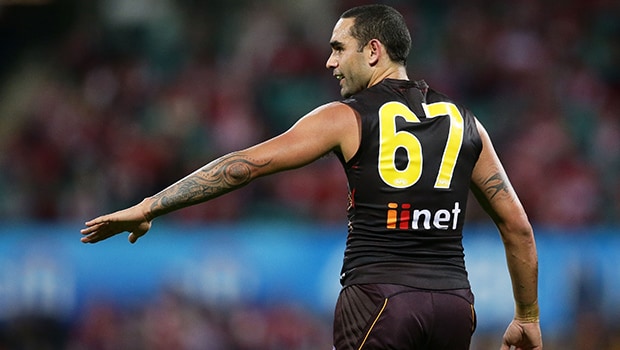 Shaun Burgoyne wearing the number 67 during the Sir Doug Nicholls Indigenous Round to commemorate the 1967 referendum.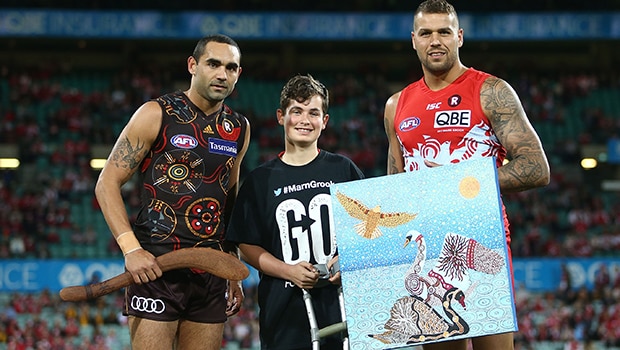 Shaun Burgoyne and Sydney's Lance Franklin exchange cultural gifts before the bounce.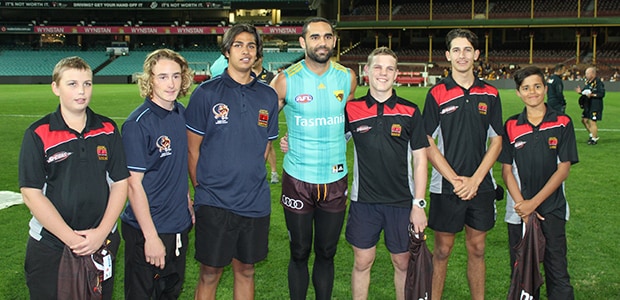 Clontarf students met with players at training the day before the Round 10 clash with Sydney.