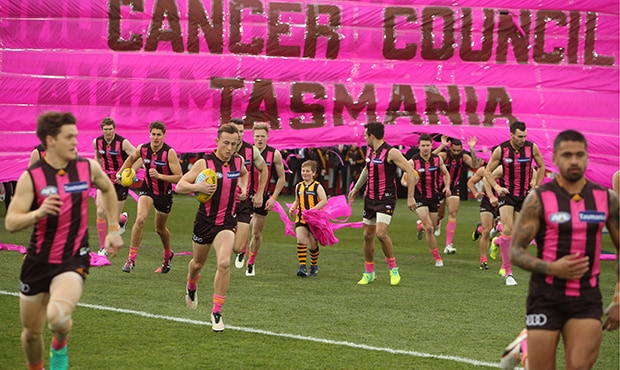 In 2016 Hawthorn Football Club directly supported the efforts of over twenty charitable and community organisations across Tasmania. The Club recognises that there are some social challenges that are felt more deeply in Tasmania than in other parts of Australia we feel a genuine responsibility to contribute in any way we can. Our focus on the importance of continuing education, healthy and active living, mental health and improvements in Tasmania's rate of literacy have seen the Club work with a diverse group of committed organisations from Beacon Foundation, Rural Alive and Well and St Vincent de Paul, to the Department of Education, the Migrant Resource Centre and a host of schools across the state.
Our most enduring community partnership is with Cancer Council Tasmania. Each year, the club celebrates its community partnership with CCT by holding an annual 'Pink Ribbon game' in Launceston.
The message is clear - wear a splash of pink to show your support, and the Tasmanian community certainly do not disappoint.
In 2016 a pre-match guard of honour featuring 100 people affected by breast and women's cancers welcomed the team onto the ground, with players donning a special pink jumper and socks to shine a light on their support for the cause.
"Cancer Council Tasmania is 90% funded by the generosity of the Tasmanian community. Fundraising events such as the Pink Ribbon Game go towards support services, health and cancer prevention programs and also contributes to cancer research with all funds raised being spent in Tasmania." Cancer Council Tasmania CEO, Penny Egan.
On average, 8 Tasmanians are diagnosed with cancer each day, thus highlighting the importance of this partnership to strive for a cancer free future.

Return to Community in Tasmania