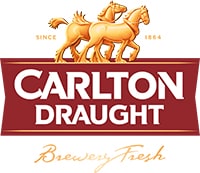 Carlton Draught has been supplying the AFL with frothy top lips and fresh perspectives for years.
This sponsorship has weathered black and white team photos, a handful of wars and more questionable haircuts than you can shake a perm at.
To put it in perspective, our beer-sport partnership was around before the flag – not the premiership flag, the Australian flag.
And it's for all these reasons we'd like to raise a glass to years more of being an amber icon of Australian Rules.
The official beer of the AFL: Carlton Draught. Cheers!