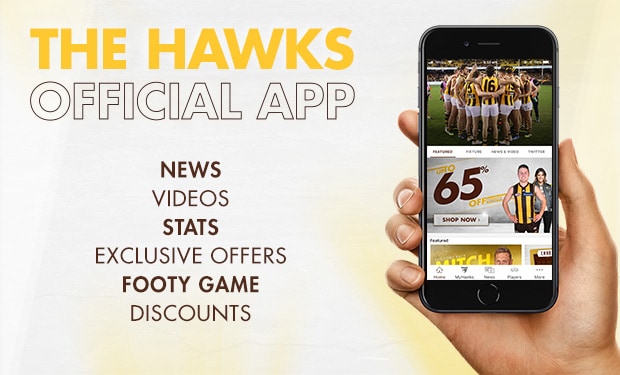 The Official app of the Hawthorn Football Club will bring you closer than ever to the Hawks.
Access the latest news, player profiles, live match statistics, team announcement and match start alerts, exclusive app offers plus loads more.
Fans are encouraged to turn "notifications" on to receive breaking news, team announcements, injury updates and first siren notifications!
Login to our MyHawks section with your account (or create a free one!) for exclusive features, games and offers. If you login through Telstra, you will not have access to member features.
NEWS & VIDEO

We all know the main reason why you'd want the Hawks app, all the latest news and video! We've got it in one place, well, actually two. You can access news and video on our main menu or down the bottom on our navigation.

FIXTURE & STATS

Stats, stats and even more stats. Not only do we have live in game stats, but check out all our opponents throughout the season and our players' stats! The JLT fixture and Toyota AFL Premiership season fixture will be there for your daily needs!

PERSONALISED NEWS

Have a favourite player? Or perhaps a few? Well you can personalise your newsfeed with your favourite players! This feature is only available to those fans who are logged in with their MyHawks account! Don't have one? Create one, it's free!

SHARP SHOOTER

Think you've got what it takes to be Hawthorn's sharpest shooter? Well this is your opportunity to show Jack Gunston what you've got! Flick the football with your finger to try and score as many goals as possible. There are bonus questions for 10 points! This feature is a login feature only.

EXCLUSIVE FEATURES

Now for the fun stuff. We have a range of exclusive features in our login section. This includes a photobooth, face filters, emojis, wallpapers, ringtones and more! Login and have a play around.