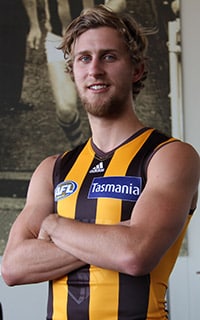 During the free agency and trade periods and at the 2014 National and Rookie Drafts, Hawthorn welcomed eight new players to the Club, with five joining the primary list and three the rookie list.
Over the Christmas period, hawthornfc.com.au is giving you the chance to get to know the Club's new players on both a football and personal level.
What kind of player are you: I'm a midfielder who can play inside and outside.
What are your strengths: I'd say my endurance and my ability to find space as well as my kicking.
What can you work on: You can work on all parts of your game so for me, I want to get more consistency in my game week in, week out.
Team supported growing up: Richmond
Childhood or current sporting hero (non-AFL): That's a tough one…I'd probably say Roger Federer
AFL hero: Chris Judd
Player you believe you play like most: That's always a tough question; I never really picked any player I play like. Growing up following Richmond though, I always watched Trent Cotchin and those kind of midfield players. You try and watch them play and take bits out of their game.
Favourite meal: I'd say a roast…roast lamb.
What is your pump-up song before games: I like house music as well as some rap music as well.
Favourite band or performer: I don't really have one…I don't mind Kanye West.
Best band or performer you've seen live: I went and saw Swedish House Mafia up in Sydney a few years ago and that was pretty good.
Favourite TV show: Entourage
Favourite character in a TV show and why: I don't mind Seinfeld every now and then so maybe Kramer.
What are your hobbies: In my spare time I like getting to the beach and having a surf and then catching up with mates and relaxing.
What is your signature dish: I'm no good in the kitchen so I keep it simple. I'd say a butter chicken or something like that…maybe chicken and rice.
Food you miss most during the season: I'd probably have to say a Zinger burger or something like that from KFC haha.
What is your favourite thing to do in your spare time: Catching up with mates and playing some PlayStation and then heading to the beach.
Favourite movie and why: Happy Gilmore. I used to watch it all the time as a kid, it's so funny.
Dream holiday destination: I haven't been to New York yet but I've heard many wonderful things so I wouldn't mind getting there.
Best country or city you have visited and why: I spent a bit of time in Hawaii last year and that was good fun, so I'd probably say that's been the best so far.
Chocolate or vanilla: Chocolate
Fruit or vegetables: Fruit
iPhone or Android: iPhone
PlayStation or Xbox: PlayStation
Cats or dogs: Dogs
Summer or winter: Definitely summer
What are your goals for 2015: To learn as much as I can off the players here and hopefully improve my game in all areas.