Hawthorn Football Club – Indigenous Players
Below is a list compiled, in chronolgical order, of every indigenous player that has represented the Hawthorn Football Club. Note only Hawthorn stats listed, Box Hill players listed as appendix,

also includes two players from the 1973 Under 17s team and the 1975 Under 19s team.
1 – Cyril Collard (First Indigenous player)
Born September 20, 1934 – Died December 20, 2011
Recruited Subiaco
Played 1957-1958
Guernsey 4
Debut Order 478
First game Round 1, 1957
Final game Round 8, 1958
Games 13
Goals 3
Cyril Collard has an important place in Hawthorn history as the first indigenous player to represent the club. This aspect of the club's history was the subject of a major feature in The Age in April, 2008, on the occasion of Chance Bateman becoming the first indigenous player to reach the 100 game milestone at Hawthorn. That article explained how the club in Collard's Western Australian home town of Brookton refused him a game because of his race, but he made his mark at Subiaco in the WAFL.
Collard finished third in Subiaco's Best & Fairest award in 1954 and second in 1955. He headed to Victoria in 1956 and originally trained at Collingwood for five weeks. However, when Hawthorn official, Arthur Ramsay, arranged a job for him at Pelaco, he decided to throw his lot in with the Hawks.
The only problem was that Subiaco refused to give Collard a clearance and he was only able to play in 1957 after a successful appeal to the Australian National Football Council. Despite not being able to play, he attended every Hawthorn match and training session in 1956, winning lots of fans with his obvious enthusiasm.
After his year out of football, Collard's Round 1 1957 debut was eagerly anticipated. One report of the game at Carlton described Collard as "fearless and determined" and prophesised that he "should do well".
Collard played ten of the first eleven games of the 1957 season, only missing Round 2 when a late withdrawal through injury. Later in the season, his only appearance was in Round 15 against Melbourne, when he was a late inclusion in the selected side, but then had to be replaced in third quarter. He managed two further Senior appearances in Rounds 5 and 8, 1958.
The main features of Collard's game were electrifying pace and an excellent stab passing. He developed the former skill by training at Central Park, Malvern, where he met John Landy and Herb Elliott. He ended up deciding to give up football and focus on professional foot running, where he was good enough to make three Stawell Gift finals.
Collard played nine games for Camberwell in the VFA in 1962. He lived in Noble Park for many years and worked in the Metropolitan Fire Brigade between 7 February 1958 and 3 June 1988 reaching the rank of Senior Fire Fighter.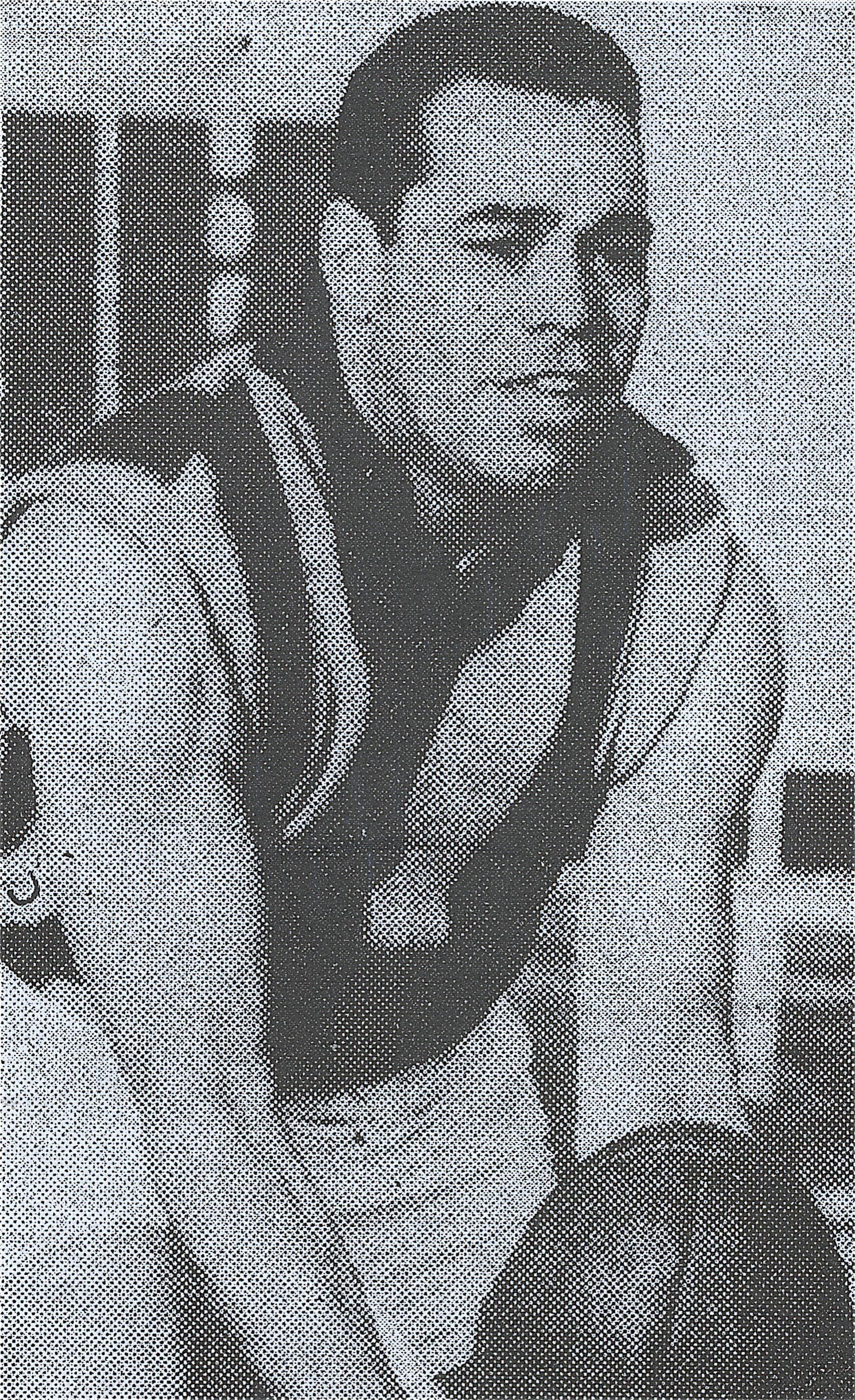 2 – Percy Cummings (note need photo)
Born September 5, 1946
Recruited Vermont
Played 1964-1965
Guernsey 50
Debut Order 541
First game Round 13, 1964 v Carlton
Final game Round 15, 1965 v Fitzroy
Games 5
Goals 1
Grandson of Joe Johnson, the first recognized Indigenous Australian to play in the VFL/AFL. Percy's son Trent played 27 games with Fitzroy (1994-96) then 2 games with the West Coast Eagles (1997) before retiring with a knee injury. An older brother, Robert playrd 1 game with Fitzroy in 1990. In later years Cummings returned to Hawthorn as a member of the recruiting team.
3 – Chance Bateman
(First indigenous player to play 100 games, play in a premiership, to receive HFC Life Membership)
Born June 21, 1981
Recruited Perth
Played 2000-2012
Guernsey 10
Debut Order 795
First Game Round 3, 2000 v Brisbane Lions
Final Game Round 21, 2012 v Gold Coast
Games 177
Goals 67
Premiership 2008
Life Member 2010
Bateman learnt his football during his formative years in York and then with Perth in Westar Rules. He was an Under 18 All-Australian and in the squad for the Westar state side in 1999.
Drafted by Hawthorn at pick 48 in the 1999 draft, the Hawks considered themselves lucky as they thought he would have been picked up earlier. His light frame made him a longer-term prospect as he would require further physical development. His early career was interrupted by a variety of injuries. Each time he bounced back and became a key member of the team.
Bateman said the true sense of worth for Aboriginal players was founded on their family's values and strength and that fact provided him with his toughest times when he lost his sister Candace in a tragic train accident in 2001. He was desperate to return home to be with his parents and was shattered when he could not work a trade with West Coast or Fremantle.
"I'd stay at Hawthorn for as long as they'd have me, they've been fantastic for me. You don't really think too much about the milestones as they're coming up, but as you pass them you sort of look back with a bit of pride. I'm our first indigenous life member and to have had a small part in the club's history is pretty special."
In 2006 he managed to play 21 games and came 12th in the Best & Fairest award. Bateman was known for his trademark dreadlocks. He developed into one of Hawthorn's most valuable players, his speed and hardness at the ball while playing on the wing allowed the team to play a free flowing brand of game. Bateman averaged 20 possessions a game in his 21 games in 2006 and was hitting top form just before the 2007 season. His elite speed was recognized and he was named in the 2006 International Rules side to tour Ireland.
Bateman said a major career highlight was when he captained the Hawks in an indigenous round victory over West Coast at Launceston in 2007 when the Eagles were led by David Wirrpunda.
Bateman kicked Hawthorn's first goal in the 2008 Grand Final. He had his dreadlocks cut off for charity after the Grand Final victory. The money was donated to the Rioli Fund, set up to improve Aboriginal health throughout Australia.
Along with captain Sam Mitchell, Bateman was the only Hawthorn player to play in all games in 2009. He missed the first game of 2010 because of a one-game suspension for striking Matthew Lloyd of Essendon in the last game of the 2009 season. Bateman was put on Hawthorn's veterans list in 2011.
He is currently the development coach with the West Coast Eagles.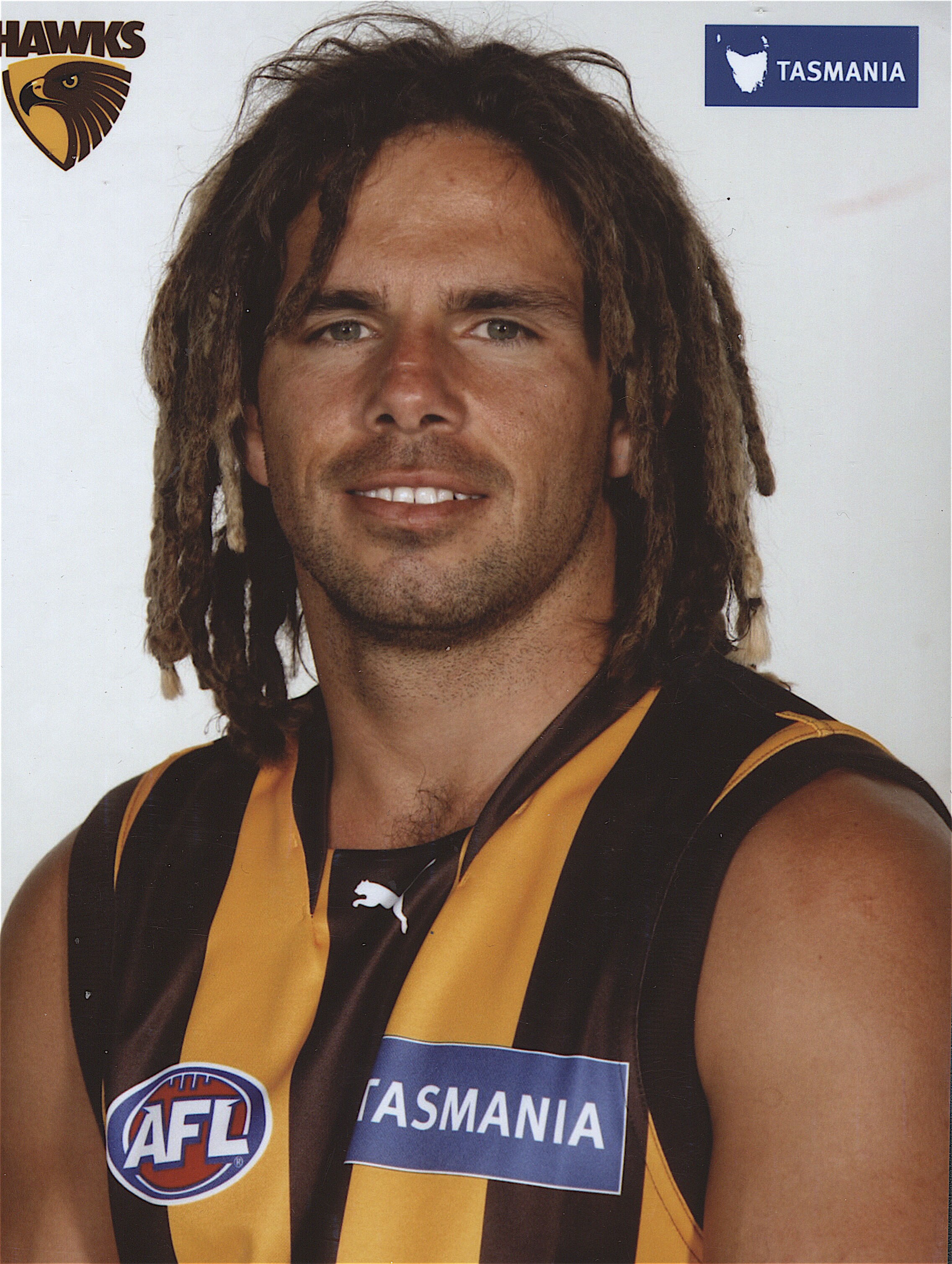 4 – Mark Williams (first Indigenous player to top the club's goal kicking award, 2005)
Born April 13, 1983
Recruited South Fremantle
Played 2002-2009
Guernsey 6
Debut Order 808
First game Round 1, 2002 v Melbourne
Final game Round 13, 2009 v West Coast Eagles
Games 111
Goals 242
Premiership 2008
Leading Goalkicker 2005, 2006
Drafted by the Hawks at pick 43 in the 2000 AFL Draft, Mark Williams made his debut in 2002. A small forward, he came of age in 2005 when he was used as a full forward where his 63 goals made him the leading goal kicker of the club. Known for his flamboyance, pace and use of the "shotgun", the trademark celebration he used after kicking a goal.
Williams finished 2006 with a total of 60 goals and again was the leading goal kicker at the Hawks. A knee injury cut short his 2007 season after only four games.
Williams attracted controversy in 2008 when he made a choking gesture targeted at the Port Adelaide coach, Mark Williams. This was in reference to the the Port Adelaide coach's famous choking gesture during the Power's 2004 Premiership. Williams was warned that he would be shown the door if such action occurred again. He did apologise to his Port Adelaide namesake after the game, which Hawthorn won convincingly.
In the 2008 Grand Final, Williams and Stuart Dew kicked four goals in three minutes to put Hawthorn in a winning position late in the third quarter. Williams' three goals were the most by any player during the Grand Final.
In 2009, Williams injured his knee and missed almost half of that season's games.
The 2009 post-season trade week saw Williams traded to Essendon in a complex trade involving four clubs. In the twilight of his career, Williams was unable to gain senior selection and played with Essendon's VFL affiliate the Bendigo Bombers until his retirement which was announced in July 2011.
Williams later played with Ballan in the Central Highlands Football League for 2012 and 2013. He was the inaugural coach of Western Region Football League club, Newport Power at the end of 2015. In his first season in charge, he steered the club to premiership success.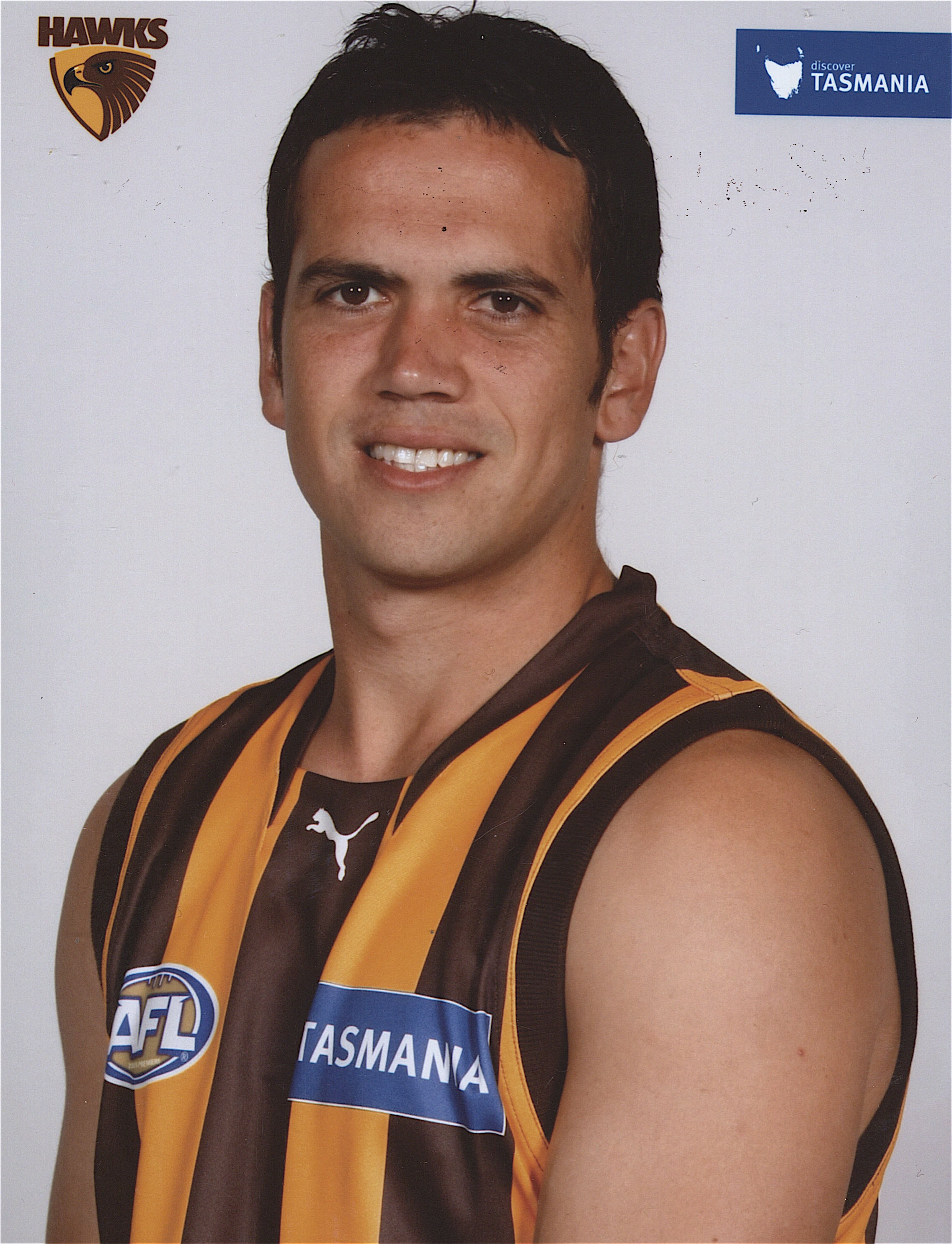 5 – Lance Franklin (first Indigenous player to win the Peter Crimmins and Coleman Medals)
Born January 30, 1987
Recruited Perth (WA)
Played 2005-2013
Guernsey 38 (2005), 23 (2006-2013)
Debut Order 826
First game Round 1, 2005 v Sydney
Final game Grand Final 2013 v Fremantle
Games 182
Goals 580
Premierships 2008, 2013
Peter Crimmins Medal 2008
Coleman Medal 2008, 2011
Life Member 2012
Franklin was born in Perth, Western Australia, into a family of Indigenous Australian heritage, Noongar-Wajuk and grew up in Dowerin supporting the Melbourne Football Club. Franklin's father, Lance Sr., lived in Melbourne and played hockey for Victoria before moving to Western Australia at the age of 21, later representing the state in field hockey. His mother, Ursula née Kickett, is Aboriginal Nyoongar. His sister, Bianca Giteau played in the ANZ Championship for the Adelaide Thunderbirds. Franklin is a cousin of Melbourne forward, Jeff Garlett and former Fremantle defender, Dale Kickett.
At the age of 15, he won a sports scholarship and boarded at Wesley College, WA. He played one senior game for the Perth Football Club in 2004, kicking one goal, and represented Western Australia at the 2004 AFL Under 18 Championships.
After attending draft camp and showing promise, Hawthorn selected Franklin with their second pick, number five overall, in the 2004 AFL Draft. Franklin made his debut in Round 1 of the 2005 season against Sydney at the Sydney Cricket Ground and showed a strong presence up forward throughout the year, kicking 27 goals in 20 games.
After injuring his ankle and hand early in the 2006 pre-season, Franklin made his way back to senior level through the VFL and returned in Round 9 against the Sydney Swans. In Round 12, he kicked six goals against Richmond, in what was his breakout game.
In 2007, Franklin finished the home-and-away season with 63 goals, finishing third in the Coleman Medal. Franklin's tally included a career-high nine goals against Essendon in Round 6. However, in Round 21 against the Western Bulldogs, he kicked eleven behinds with his two goals. He was instrumental in Hawthorn's elimination final win over the Adelaide Crows, kicking seven goals in his finals debut, including the match-winning goal from outside fifty metres with seven seconds remaining in the game. Hawthorn were eliminated from the finals the following week by North Melbourne.
Franklin finished the season with an equal-third finish in Hawthorn's Best & Fairest award, the Peter Crimmins Medal, and was Hawthorn's leading goal kicker for the first time in his career.
2008 saw Franklin establish himself as one of the elite players in the competition, in what proved to be his career-best season. He won his first Coleman Medal with 102 goals in the home-and-away season. His season-high haul of nine goals came once again against Essendon in Round 11. He also played for the Dream Team in the AFL Hall of Fame Tribute Match, kicking four goals.
Franklin kicked his 100th goal for the home-and-away season against Carlton in Round 22 at Etihad Stadium becoming the first player to kick 100 goals in a season since Tony Lockett in 1998 and the first Hawthorn player since Jason Dunstall in 1996. He also was the first player of Aboriginal descent to achieve this feat. Upon reaching the milestone, thousands of supporters stormed the field and formed a large huddle around Franklin, who was promptly ushered from the field and into the change rooms until the supporters had cleared. He then added to his tally by kicking another eight goals in the qualifying final against the Western Bulldogs, equaling Dermott Brereton's record for the most goals kicked by a Hawthorn player in a finals match. He kicked just one goal against St Kilda in the preliminary final, before Hawthorn went on to win the premiership. Although Franklin did not play a large part in the grand final, his two goals brought his season tally up to 113 goals. Franklin was named as full forward in the 2008 All-Australian team, his first ever selection; he then received his first Peter Crimmins Medal for his outstanding season.
Franklin missed the 2009 NAB Cup after undergoing surgery on his thumb and his shoulder in the off-season. On his return to senior football, his form fell well short of his 2008 performances. He played his 100th game in Round 19 against St Kilda at Aurora Stadium in Launceston.
In Round 21, Franklin was suspended for two matches as a result of a hip-and-shoulder against Richmond midfielder Ben Cousins. Hawthorn appealed the decision, but failed. As a result, Franklin missed Hawthorn's final home-and-away match against Essendon, which the Hawks lost, and they, therefore, missed out the finals, causing Franklin to miss Round 1 of the following season.
Franklin missed three of the first seven matches of 2010, all through suspension, as Hawthorn lost six consecutive matches after Round 1. However, Franklin was back to his best form in Round 9 against Carlton at Etihad Stadium, when he led Hawthorn to a 50-point win with five goals.
In Round 13, Franklin effectively dragged Hawthorn over the line for a win against their arch-rival in Essendon. He kicked five goals for the match, but his last two were inspirational, the final one in particular, a goal from the boundary line on a tight angle after having run from half-back, which was later chosen as Goal of the Year. In Round 22, Franklin kicked six goals against Collingwood, helping the Hawks clinch a three-point come-from-behind victory against the eventual premiers. It was the first time that he had kicked more than five goals since 2008. He was named as centre half-forward in the 2010 All-Australian team his second selection.
Franklin had a consistent start to the 2011 season. In Round 8 against the Sydney Swans at the SCG, Franklin kicked his 400th goal for Hawthorn in a six-goal outing as the Hawks beat the Swans by 46 points. He continued his consistent goalkicking form for the remainder of the year, including a season-high eight goals in a club-record 165-point win against a young Port Adelaide side at the MCG in Round 21. Franklin went on to win his second Coleman Medal that year with 71 goals, despite spending a significant amount of time further up the ground. He was named in the 2011 All-Australian team, his third selection and second as full forward.
Come Round 10 of the 2012 season, Franklin kicked a career-high thirteen goals in a 115-point drubbing of North Melbourne at Aurora Stadium. Franklin was also among one of the five players that year to reach the milestone of 500 career goals, which occurred in a 162-point demolition of newcomers Greater Western Sydney in Round 15. Franklin played a minor role in the finals series that year, but kicked a goal late in the last quarter of the preliminary final against the Adelaide Crows which sealed the game for the Hawks, allowing them to qualify for the Grand Final against the Sydney Swans, where Franklin kicked three goals in a losing side. He was named in the 2012 All-Australian team, his fourth selection and second as centre half-forward.
Franklin kicked 60 goals during the 2013 season, the first time since 2006 that he had kicked fewer than three goals per game. He became less of a focal point in the Hawthorn forward line, while teammate Jarryd Roughead enjoyed a career-best season with 72 goals, earning him the Coleman Medal. Franklin played in the 2013 AFL Grand Final in which Hawthorn defeated Fremantle; this was the second time that he had played in a Hawthorn premiership-winning side. Despite this, his season was dominated by media speculation over his contract situation, and playing in a second premiership at Hawthorn only strengthened rumours of his impending departure, with many believing that he was set to finish his career at Hawthorn on a high note.
Franklin played in two premierships, he gained four All-Australian selections, two Coleman Medals and a Peter Crimmins Medal in his time at Hawthorn. He was Hawthorn's leading goalkicker for six consecutive seasons prior to his final season at the club in 2013, and also kicked the AFL Goal of the Year on two occasions, 2010 and 2013. He also received a nomination for the 2005 AFL Rising Star award in round 4 of the 2005 season. After winning his second premiership at Hawthorn in 2013, Franklin moved to Sydney via free agency on a nine-year, $10 million deal at the end of the season, before representing Australia in the 2013 International Rules Series.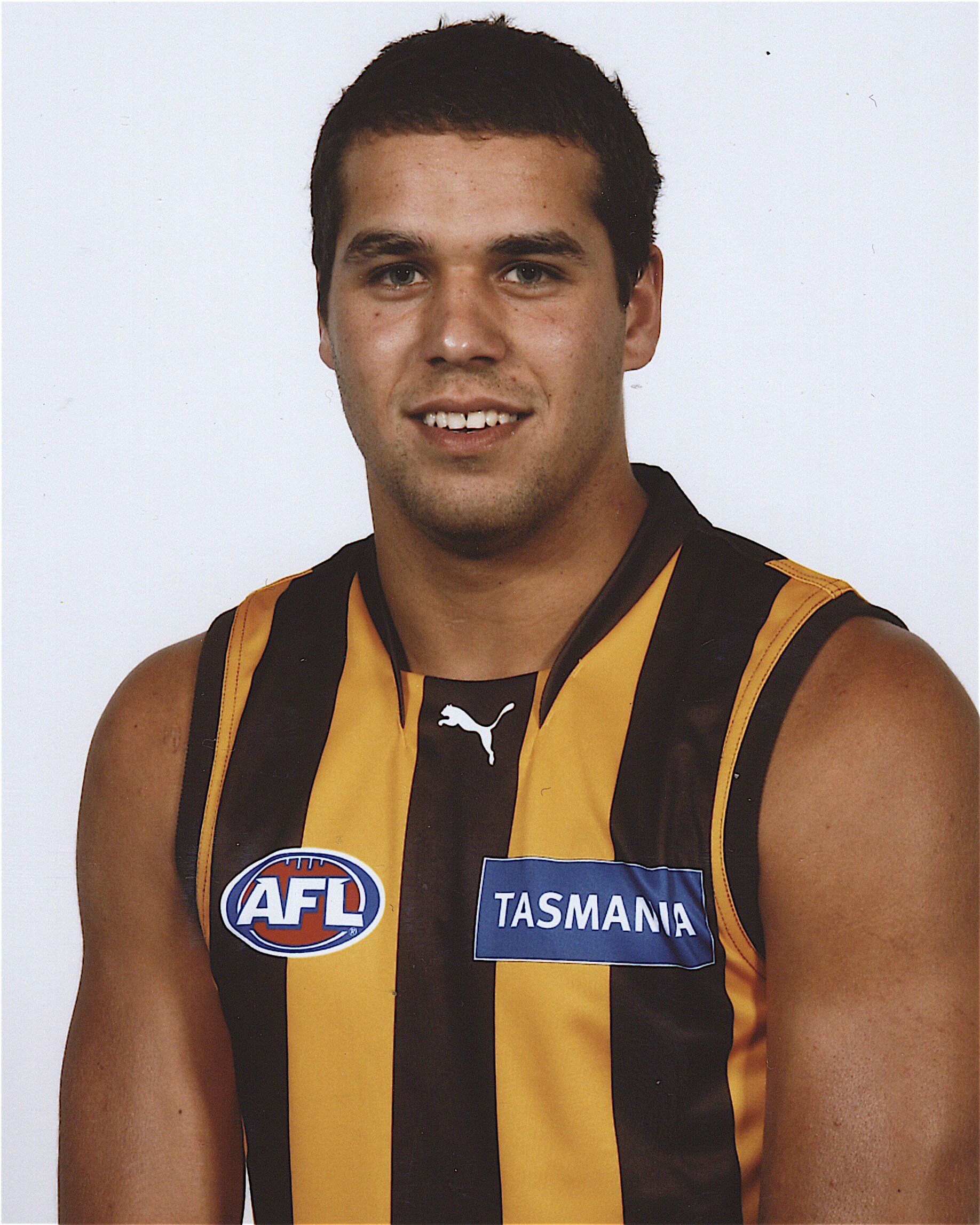 6 – Harry Miller
Born June 11, 1985
Recruited Port Adelaide
Played 2005-2006
Guernsey 14
Debut Order 827
First game Round 1, 2005 v Sydney
Final game Round 15, 2006 v Adelaide
Games 18
Goals 13
Harry Miller was born in Port Lincoln, South Australia and was selected at pick 25 in the 2003 AFL National Draft. Miller was a small forward who played 14 games in the 2005 season, and another four in 2006. He kicked four goals in the narrow loss to Richmond near the end of the 2005 season and earlier that year had his most productive match statistically, with 19 disposals in Hawthorn's comprehensive win over Brisbane.
Miller was delisted at the end of the 2006 season and returned to the South Australia to play with the Port Adelaide Magpies. He is the cousin of the Burgoyne brothers, Peter and Shaun, and also Daniel Wells.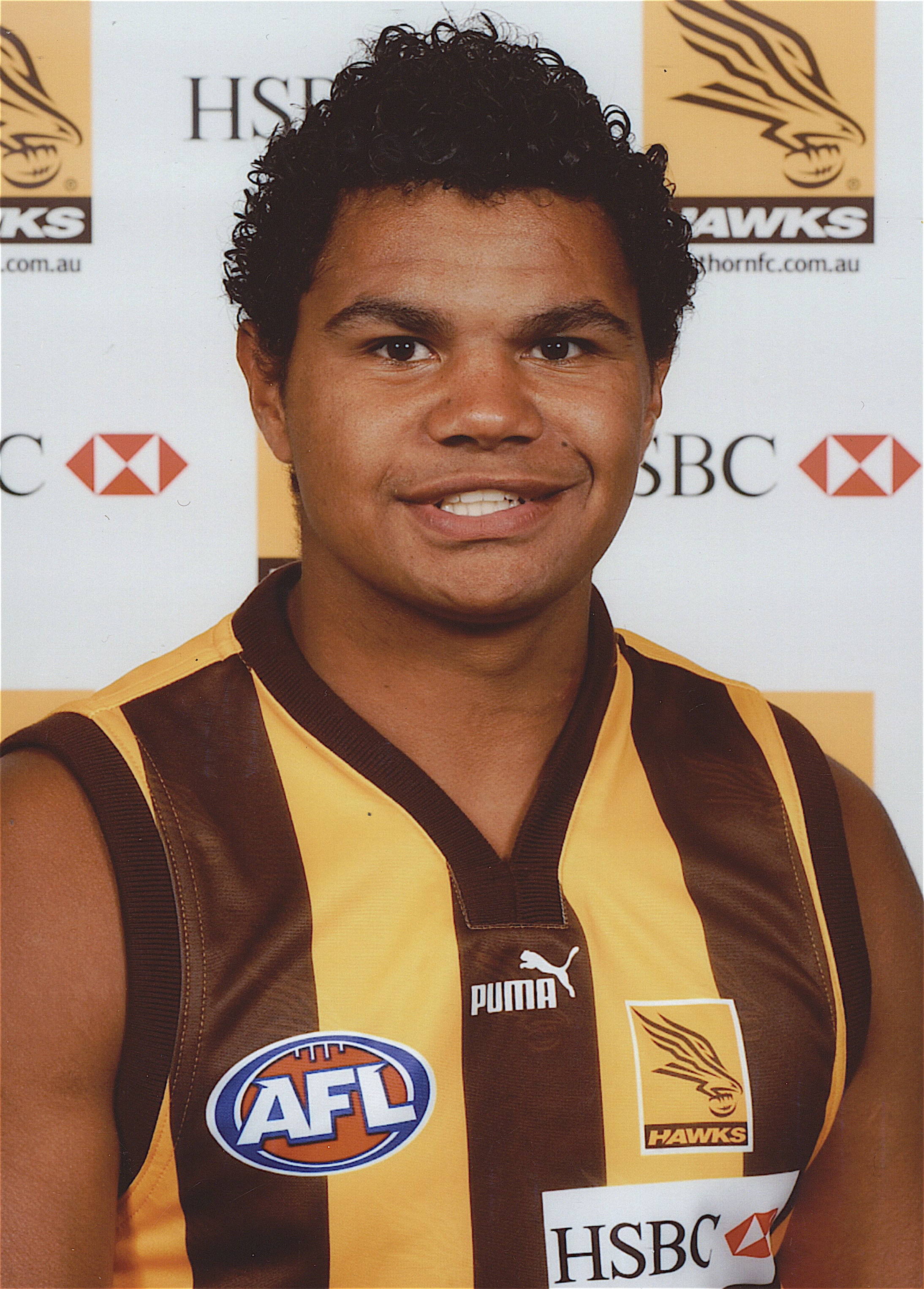 7 – Cyril Rioli
Born July 14, 1989
Recruited St Mary's (NT) / Scotch College
Played 2008-2018
Guernsey 33
Debut Order 849
First game Round 1, 2008 v Geelong
Final game Round 4, 2018 v Melbourne
Games 189
Goals 275
Premierships 2008, 2013, 2014, 2015
Norm Smith Medal 2017
Life Member 2015
Born to Cyril Jr. and Kathy in 1989, Rioli comes from a bloodline of talented footballers. His father Cyril Jr. was a champion footballer in the Northern Territory and the brother of the late Richmond Norm Smith Medalist Maurice Rioli. Cyril Jr. played for Northern Territory Football Club, St Mary's where he won 12 premiership medallions and the 1995-96 Nichols Medal as the league's best and fairest player. His mother Kathy is the sister of Essendon two-time premiership player and 1993 Norm Smith Medalist, Michael Long. Another former footballer, Dean Rioli is his cousin. After the 2015 season, his nephew Daniel was drafted to the Richmond Football Club.
He spent the first eight years of his life in the Tiwi Islands before moving with his family to Darwin in the Northern Territory, playing his younger years at St Mary's.
Rioli moved to Melbourne in 2004 as a 14-year-old, where he attended and boarded at Scotch College for four years while playing for the school's football team. The move came about after a decade-long relationship between the school and Indigenous communities of the Northern Territory. Dr. Rob Smith, a teacher at Scotch College, had expanded the school's four-week exchange program for talented Indigenous footballers into a full scholarship program. Rioli was the first selected to the program. He originally made the trip alongside his cousin, Steven. After just three days in Melbourne, the two re-packed their bags with the intention of returning home. In an effort to retain the boys, Smith phoned Michael Long, who came out to the school with Derrick Kickett and Sibby Rioli, another uncle. Long said he knew Cyril was making a life-defining choice at just 14; "That was the big moment, whether he'd tough it out or go". Steven returned home and Cyril persisted in Melbourne. Nicknamed "Junior" or "Junior Boy", he shone in his final season with Scotch College, despite suffering injuries throughout the season; including a broken collarbone and a severely damaged ankle. He developed somewhat of a cult following while playing for the school after a video clip of his highlights was uploaded to YouTube.
Rioli was also a standout performer in the 2007 AFL national under 18 championships, becoming the only Northern Territorian to earn All-Australian honours following a seven-goal performance in a match against Queensland. He was tipped to go high in the national draft - anywhere from pick five to twenty-five. In this final year of junior football, he was one of five players to be chronicled in the book The Draft: Inside the AFL's Search for Talent, by The Age journalist Emma Quayle.
The Hawks used their first-round draft pick, the number 12 pick overall to claim Rioli.
Just four days after being drafted by the Hawks, Rioli was ordered to urgently organize a passport so he could attend the club's trek of the Kokoda Track. He covered 90% of his first pre-season schedule for the club; a very high volume of work for a first-year player according to the head fitness coach, Andrew Russell. Russell said, "Nobody that I worked with in the last four years at Hawthorn did that much in their first pre-season."
Rioli made his AFL debut at the MCG in Round 1, 2008. He built a reputation around his ability to chase and pressure the opposition as they attempted to rebound from the forward line. In Round 6, he was nominated for the AFL Rising Star Award, after his display against Richmond, he received a nomination for Goal of the Year. Rioli appeared in every game in his debut season, including an inspirational performance in Hawthorn's defeat of Geelong in the 2008 AFL Grand Final. His impact on the game was described as instrumental in the club's first premiership since 1991. Rioli assisted in a couple of first quarter goals and kicked two goals for himself in the final quarter. After the game Hawthorn coach Alastair Clarkson said, "We knew Cyril was a beauty, but you just never anticipate that they're going to play every game of the season and be able to play in a grand final". With nothing but praise for Rioli, Clarkson also made mention of his achievements in 2008, "He's got a premiership medal now, but he's been in contention for mark of the year, goal of the year and the rising star and he's been very, very consistent. He's a 15-possession, five-tackle a game player with a goal or two – he's been a sensational acquisition to our club.
In February 2009, Rioli was selected for the Indigenous All-Stars that played a pre-season match against Adelaide. Following his successful debut season and a promising start to his second season, he was compared to Gary Ablett Jr., who also began his career as a small forward with the potential to become a "dominant, match-winning midfielder". This was due to the "sublime skills" he displays, and his "ability to make something out of nothing with vision and an instinct for the game."
Following 36 consecutive games after being drafted, Rioli tore his hamstring in round 11 2009 against the Sydney Swans. Missing his first regular season match in Round 12, he spent a month on the sidelines before returning against North Melbourne in Round 15. The Hawks were defeated in all three games he missed. Following his return, it was announced that Rioli had re-signed with Hawthorn for a further three years.
Approaching the end of the 2009 season, Rioli declared his allegiance to spending his whole career with Hawthorn, he also revealed his intentions to help bring more players down from the Northern Territory; "That's the real goal for me, to get more kids drafted from the Northern Territory." After Hawthorn's demise in 2009, Rioli gave his support to a project which aims to teach Indigenous people in remote areas about the damage drugs and alcohol can do to the brain. An image of him is used in flip charts developed by the Menzies School of Health Research as an example of a person with a healthy brain. Sheree Cairney, the lead researcher at Menzies School, says there is a lack of knowledge in remote communities about how to treat drug and alcohol addiction, with the problem being "very, very widespread". At the end of 2009, he was awarded the AFL Coaches Association award for Best Young Player, covering his first two years in football. He also received the Phil Manassa Medal (Goal of the Year award) for his Round 7 effort against Essendon, and came second in the Peter Crimmins Medal behind the club's captain Sam Mitchell. When Rioli kicked the goal of the year, commentator Bruce McAvaney described him as a "delicious young footballer" and the description "delicious" has become strongly associated with both Rioli and McAvaney.
In 2014 Rioli had hamstring issues and missed most of the season, he was a surprise selection for the Grand Final, his ability to act as a decoy helped his teammates kick a winning score.
In 2015 Rioli was part of the Hawthorn three-peat and capped of the year. The Grand Final crowd chanted 'Cyril, Cyril, Cyril' after the final siren in recognition his outstanding game and was rewarded with the Norm Smith Medal. (Best on Ground)
In 2017 he started the season slowly, then injured his right PCL while leaping for a mark against the Brisbane Lions in Launceston and that ended his season.
2018 would be his last season, he had an interrupted pre-season as Cyril asked for and was given leave to visit family in the Northern Territory, his father had been very ill. He returned to Melbourne and played the opening game and was injured during a round 4 match against Melbourne. He asked for and was given leave to visit family in the Northern Territory, while there his took time to consider his future.
On the 4 July 2018, Rioli announced his retirement from football effective immediately and that he would be moving back to Darwin to be with his family. Rioli married his childhood sweetheart, Shannyn Ah Sam on 19 October, 2014 at the George Brown Darwin Botanic Gardens.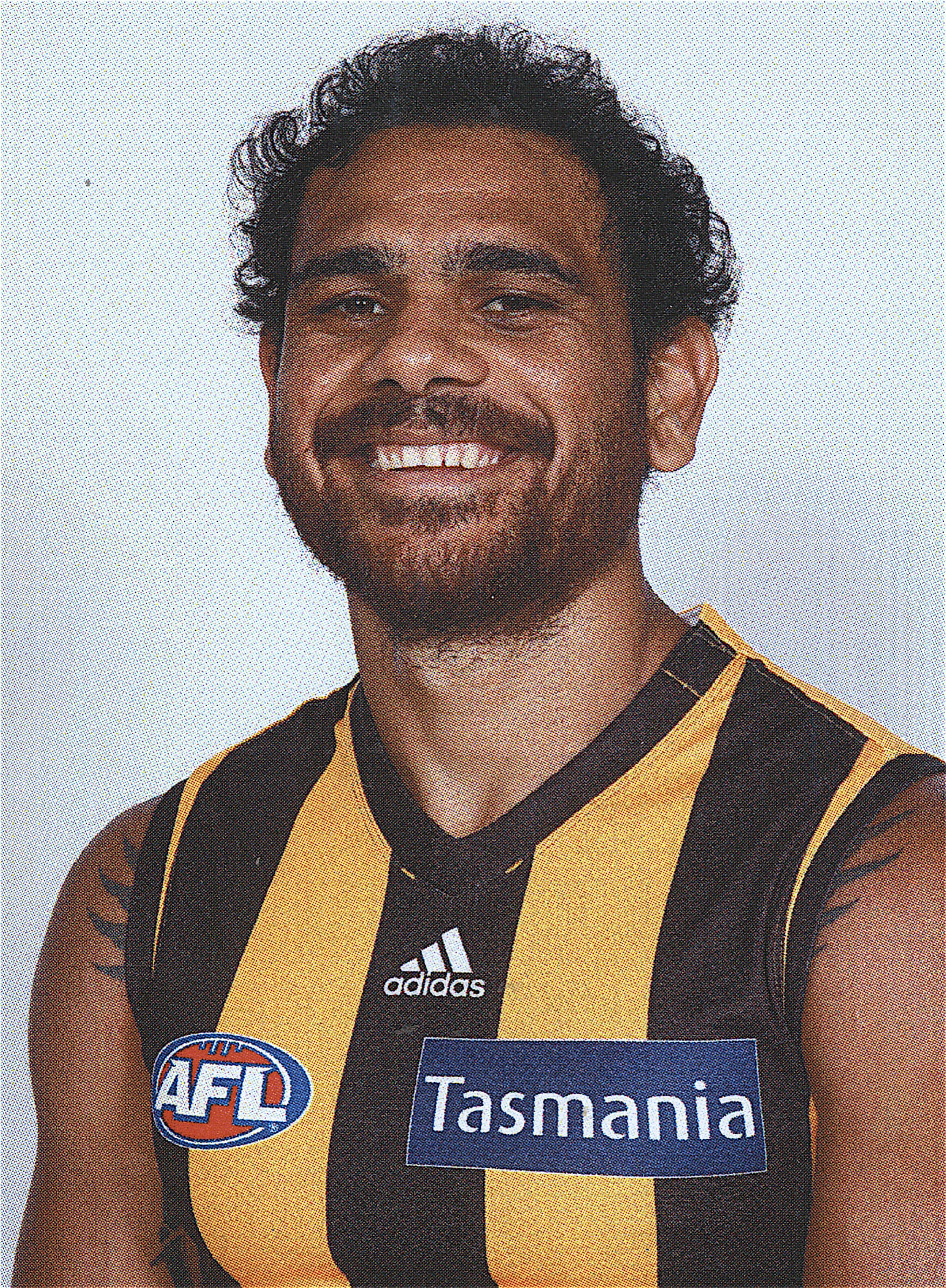 8 – Cameron Stokes
Born July 2, 1989
Recruited Darwin (NT)
Played 2008-2010
Guernsey 44
Debut Order 850
First game Round 1, 2008 v Melbourne
Final game Round 8, 2010 v Richmond
Games 20
Goals 8
Stokes was recruited to the Hawks via the 2007 AFL rookie draft, selected at pick 54. He made his AFL debut in the opening round of the 2008 AFL season, alongside fellow Northern Territorian, Cyril Rioli. Stokes played all his junior football with the Darwin Football Club in the Northern Territory Football League. Stokes is a former captain of the Northern Territory under age state team.
Stokes relatives are his father's maternal cousin, Andrew McLeod and his father's paternal cousins Greg, Gilbert and Adrian McAdam. His father Steven and great-uncle Don Stokes are both former Nichols Medal winners, the best and fairest award in the NTFL.
After playing nine games in 2008, including the qualifying final, he missed out on the preliminary and Hawthorn's 2008 Grand Final victory due to a hamstring injury. Stokes played 10 games in 2009 but again had hamstring and shoulder problems and then ruptured his ACL at the end of the year with Box Hill. He was in rehab for most of the 2010 season, and subsequently delisted at the end of 2010.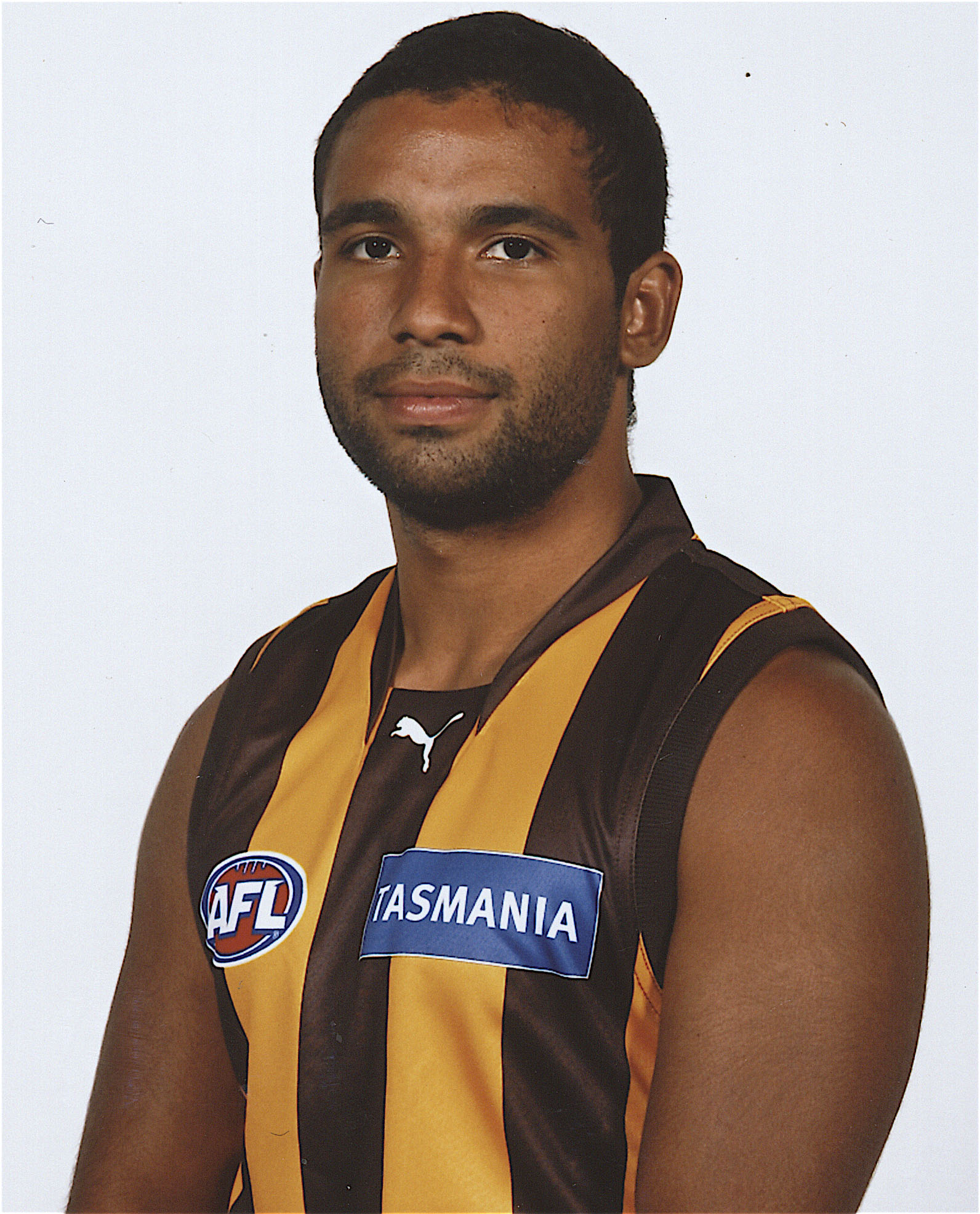 9 – Shaun Burgoyne (Highest number games for an Indigenous player, Adam Goodes, Sydney Swans, 372 AFL games, second place Shaun Burgoyne* 365 AFL games, *still playing)
Born January 29, 1978
Recruited Port Adelaide
Played 2010-present
Guernsey 9, 67 (2017)
Debut Order 866
Guernsey 4
First game Round 8, 2010 v Richmond
Final game (still playing)
Games 203
Goals 112
Premierships 2013, 2014, 2015
Life Member 2017
Burgoyne is the younger brother of former Port Adelaide player Peter Burgoyne and the son of former Port Adelaide (SANFL) player Peter Burgoyne Snr. His ancestry can be traced to the Kokatha clan.
Burgoyne made his AFL debut in 2002. He had been a steady contributor across the forward line before becoming a rebounding defender to great effect. He played 157 games, and kicked 171 goals and played in Port Adelaide's first AFL Premiership success in 2004.
As vice-captain, he shocked the football club by requesting to play for a Victorian team in 2010 after his brother had retired. Port traded him to Hawthorn in a complicated deal involving four clubs, with Essendon and Geelong also involved. He was allocated former Club Champion and Captain, Shane Crawford's No. 9 guernsey.
After having surgery on his knee during the off-season, delaying his preparation for the 2010 season, Burgoyne suffered a broken jaw while playing for Box Hill. He made his debut against Richmond in Round 8, 2010. Burgoyne played the last sixteen games of the season.
During 2011 Shaun Burgoyne played excellent football for the Hawks, showcasing his silky disposal and hard running. He was part of a side that lost the preliminary final to eventual runners-up Collingwood by 3 points.
Burgoyne was part of Hawthorn's losing side against the Sydney Swans in the 2012 AFL Grand Final.
In 2013, Burgoyne's performance in the Preliminary Final against Geelong saw him kick 3 goals and also provide goals assists, with his final goal putting Hawthorn back in front late in the fourth quarter. The match ended the 11 game losing steak against Geelong, in effect since the 2008 Grand Final win.
On 28 September 2013 Burgoyne became a dual Premiership player after Hawthorn defeated Fremantle in the Grand Final in front of 100,007 fans at the MCG. Burgoyne was the only player to remain completely in his game outfit when the players were presented on stage following the conclusion of the post-match concert.
With Hawthorn's win in the 2015 Grand Final, Burgoyne became a quadruple Premiership player.
On 24 May 2017 it was announced that he would wear number 67 on his guernsey, rather than his usual 9, for the Round 10 Sir Doug Nicholls Indigenous Round game against Sydney. This was to commemorate the 1967 referendum, which recognized Indigenous Australians in the census.
On 28 August 2017 Burgoyne signed a one-year contract extension with Hawthorn keeping him at the club until the end of 2018. In November, he was appointed captain of the Australian International Rules Football Team for the 2017 series
Burgoyne signed another contract extension to cover the 2019 season in August 2018.
Off the field, Burgoyne has become an important representative for the indigenous Australian sporting community. He was an inaugural member of the Indigenous Players Advisory Board when it was established in 2011 and was appointed Chair of the Board in 2016.
He is also a regular guest on The Marngrook Footy Show.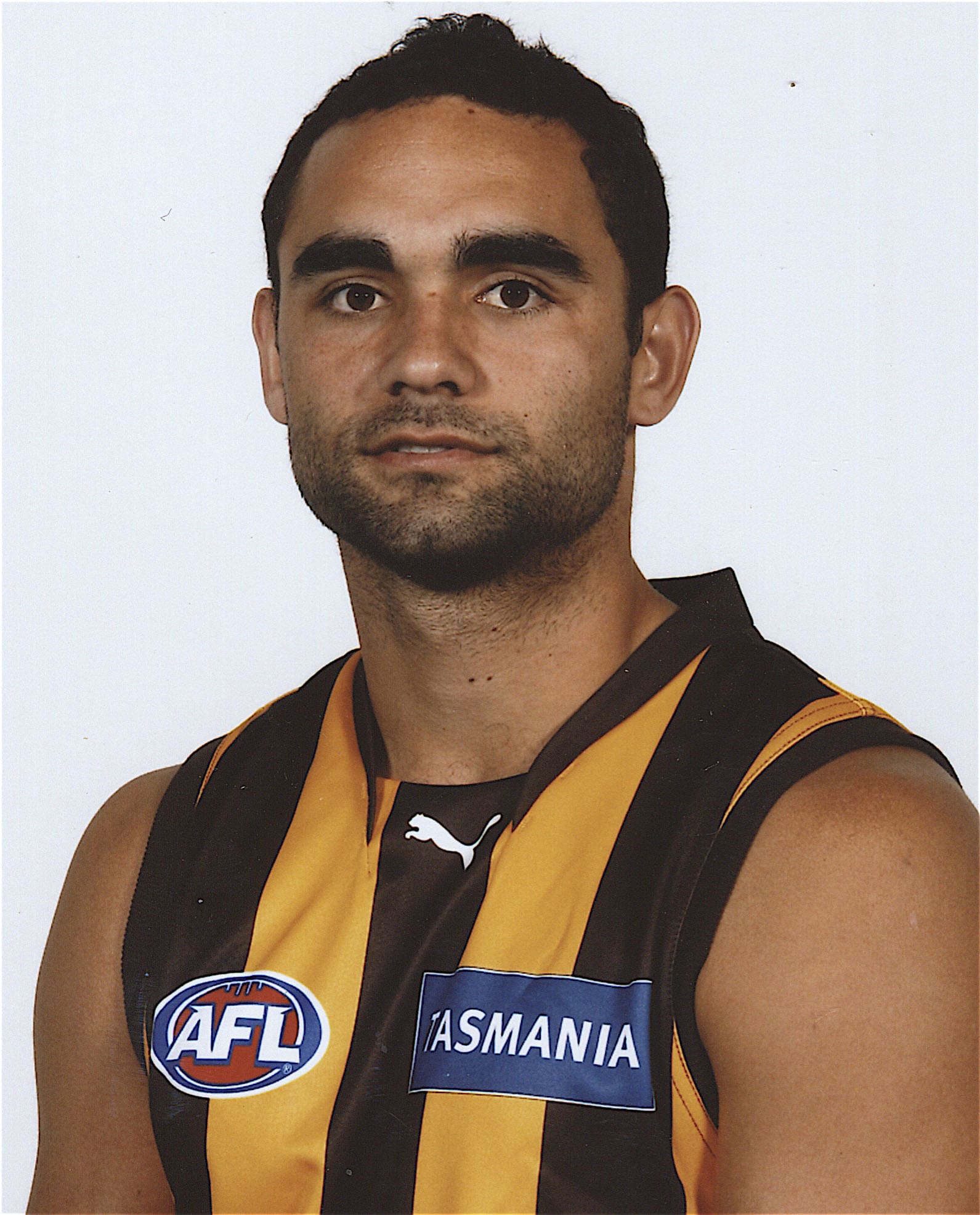 10 – Rhan Hooper
Born January 8, 1988
Recruited Mt Gravatt (Qld) / Brisbane Lions
Played 2010
Guernsey 4
Debut Order 862
Guernsey 4
First game Round 1, 1957
Final game Round 8, 1958
Games 6
Goals 7
In the 2009 National Draft, Hawthorn used pick 58 to snare Hooper. He would play six games for the Hawks and kick seven goals, showing sheer signs of brilliance, in particular in Round 22 against Collingwood where he single-handedly kept Magpies game-breaker Dale Thomas to five disposals for the game. Hooper also kicked a very valuable goal in the final quarter as the Hawks won the game by three points.
Despite the resurgence of his career, on 6 October 2010, Hawthorn announced Hooper had quit the club and returned home to Queensland to start a family. Hooper is now a senior player at the Springwood Pumas A.F.C, south of Brisbane.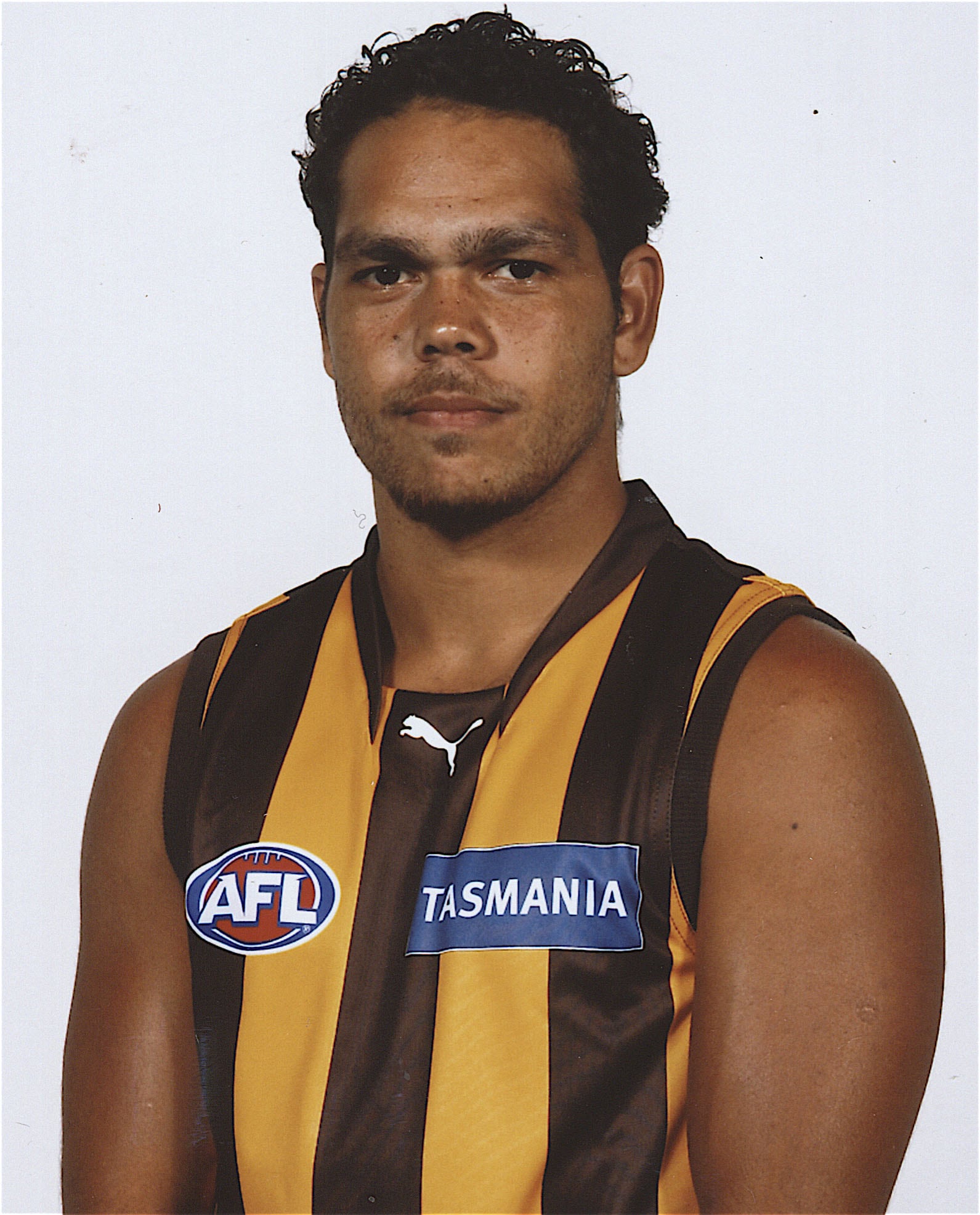 11 – Carl Peterson
Born July 3, 1987
Recruited St Mary's (NT)
Played 2010
Guernsey 48
Debut Order 863
First game Round 1, 2010 v Melbourne
Final game Round 22, 2010 v Collingwood
Games 17
Goals 13
Peterson was born in Meekatharra, Western Australia and moved to Kununurra when he was two. He moved to Perth to finish Year 12, where he trained and played football with the Clontarf Football Academy. He was then recruited by Claremont in the Western Australian Football League. He played five games for Claremont in 2006, including two finals.
Peterson was originally drafted by Richmond in the 2006 AFL Draft. He was a fourth round pick, number 60 overall, but he was delisted by the Tigers at the end of the 2007 without playing a game. Following this, he joined St Mary's in the Northern Territory Football League and was in the Saints' 2007/08 premiership side. He was then redrafted into the AFL by Hawthorn with the 61st overall of the 2009 Rookie Draft.
He made his AFL debut in the opening round, 2010 and performed well, kicking a goal and gathering 15 disposals in the first half before copping a heavy knock early in the second half. He played 17 games for Hawthorn, all in 2010.
In 2012, Peterson signed to play for the Victorian Football League team, the Northern Blues.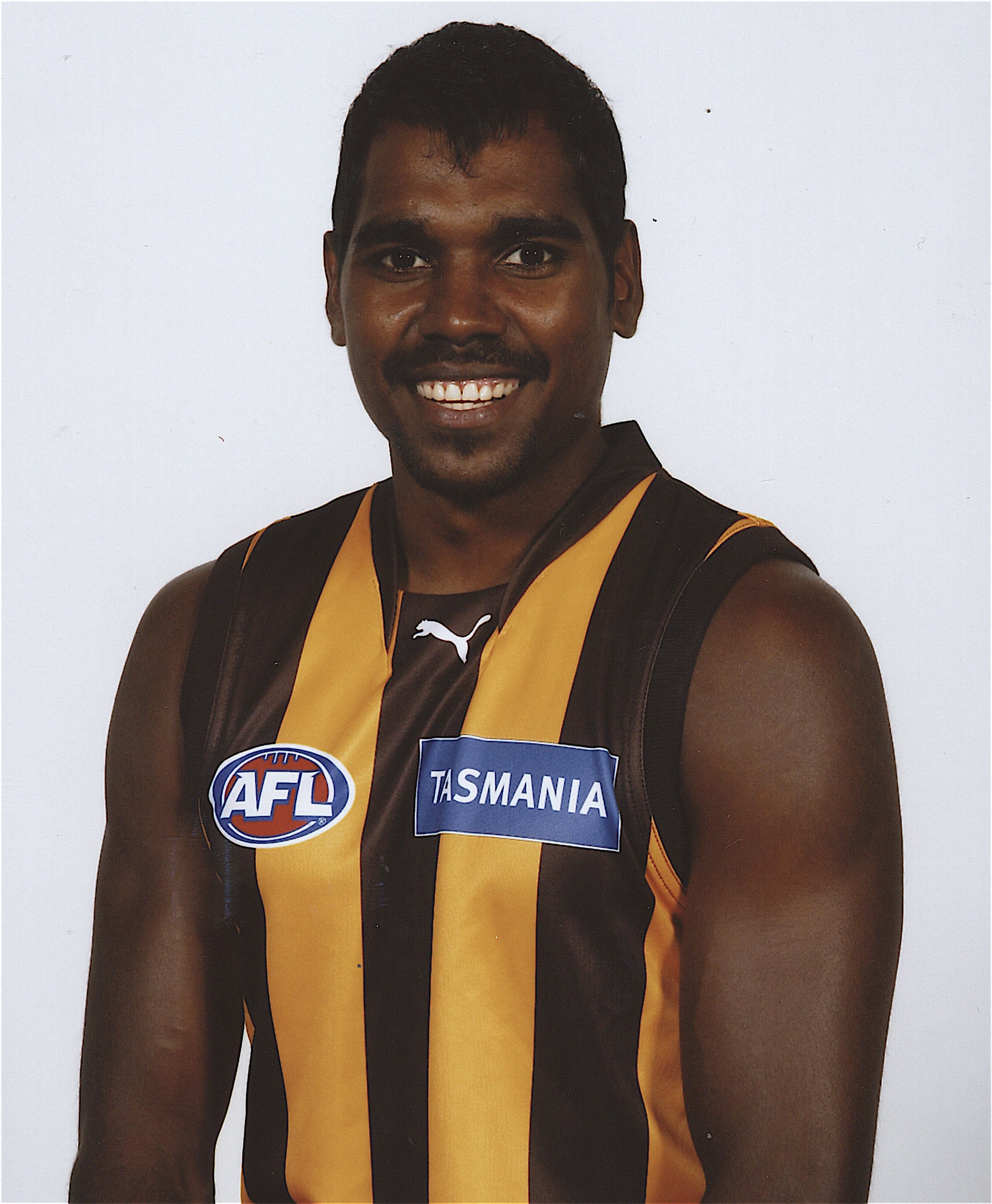 12 – Bradley Hill
Born July 9, 1993
Recruited West Perth
Played 2012-2016
Guernsey 32 (2012), 10 (2013-2016)
Debut Order 879
First game Round 4, 2012 v West Coast Eagles
Final game Semi Final 2016 v Western Bulldogs
Games 95
Goals 58
Premierships 2013, 2014, 2015
Hill was drafted to Hawthorn with the 33rd selection in 2011 AFL draft from West Perth in the WAFL. He is the younger brother of Fremantle's Stephen Hill, and the second cousin of former West Coast forward, Josh Hill.
He made his debut for Hawthorn against West Coast in Round 4, 2012. He was the substitute player and replaced David Hale in the final quarter. Hill kicked 3 goals in his 5 matches for the year.
In the 2013, Hill switched to the number 10 guernsey and cemented his spot in the starting line-up, playing 24 out of 25 games and kicking 18 goals. The performance that won him a 2013 AFL Rising Star nomination was his 17 disposal and two goal effort in Hawthorn's thrilling win against the Crows at AAMI Stadium in Round 6.
Hill's good form continued and he was selected for Hawthorn in the 2013 AFL Grand Final at the M.C.G. in front of 100,007 people. In the first quarter, Hill passed the ball from the boundary to Jack Gunston in front of goals, which then provided Hawthorn with the first goal of the game. He then repeated the trick in the 3rd quarter when Gunston pounced upon the spilt ball to spin around and kick his 4th goal to re-establish Hawthorn's lead going into the final stanza. Hill also kicked the sealer halfway through the final quarter, running into an open goal thus giving Hawthorn a 5-goal lead that Fremantle could not overcome. The Hill brothers, Stephen and Bradley became the first siblings to play against each other in a Grand Final since the 1912 VFL Grand Final.
He also played in the 2014 and 2015 Premierships, but in mid-2016 asked to return home to play with his brother at Fremantle. Returning home, Hill continued his outstanding form, winning the 2017 Doig Medal Fremantle's best-and-fairest award, in his first season at the club.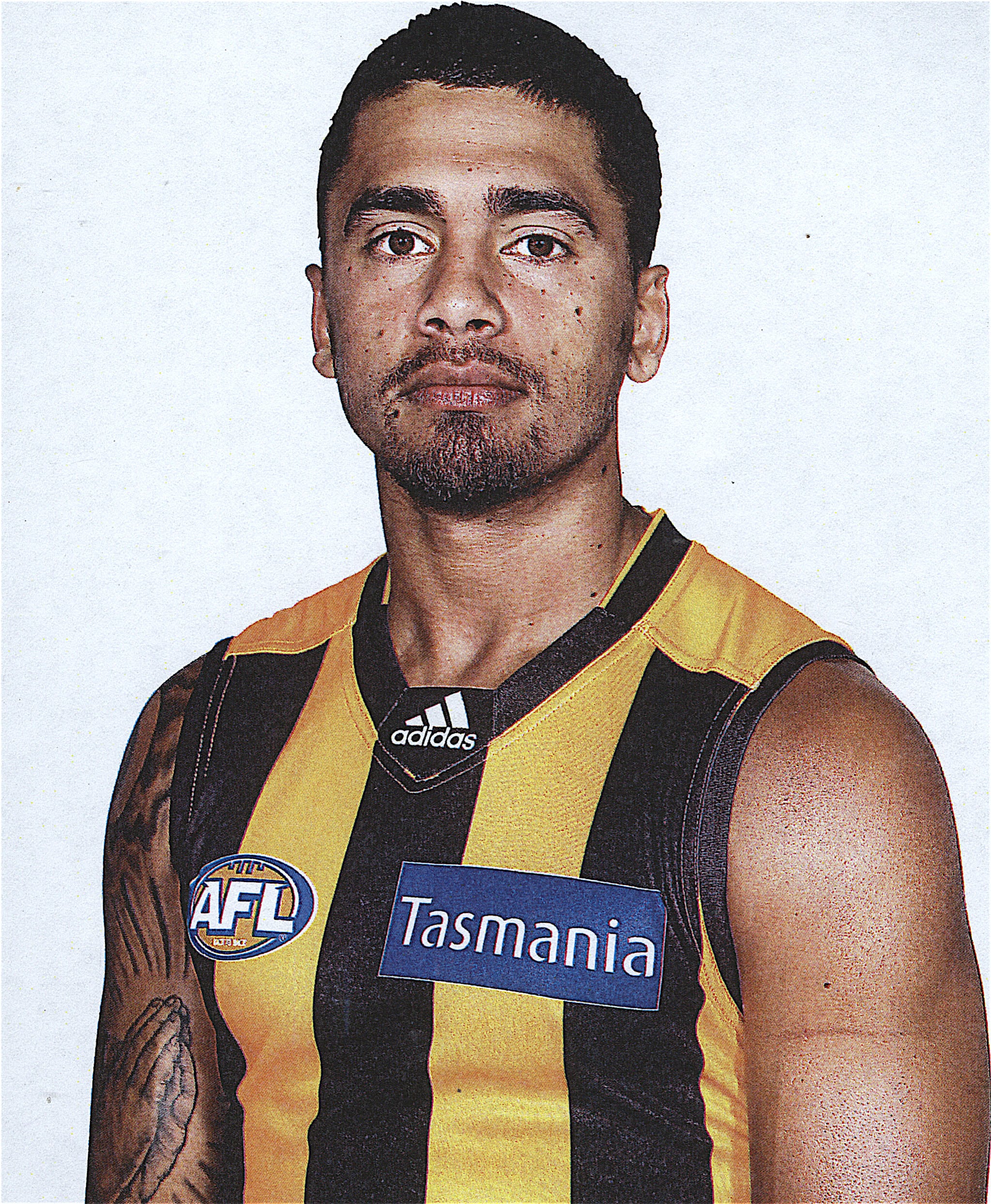 13 – Jed Anderson
Born February 2, 1994
Recruited Greater Western Sydney
Played 2013-2015
Guernsey 37
Debut Order 880
Guernsey 4
First game Round 1, 2013 v Geelong
Final game Round 6, 2015 v GWS
Games 10
Goals 4
Premiership Box Hill 2013
Anderson was pre-listed by Greater Western Sydney and traded to Hawthorn for 2008 premiership player Stephen Gilham. Anderson made his senior debut for the Hawks in Round 1, 2013 against Geelong. He was the Round 3 AFL Rising Star nominee for 2013 following his performance against Collingwood in which he kicked his first goal. After an injury layoff, he played for Box Hill until his form saw his return to the Hawthorn line-up in round 22. He played as the substitute and kicked a vital goal against Sydney in both round 23 and the qualifying final. He was named in the Best Players in the Box Hill 2013 Premiership.
Anderson had a delayed start to the 2014 pre-season after contracting pneumonia while on end of season leave in Darwin. He had been wading at Howard Swamps, southeast of Darwin, in search of geese. He resumed training with the club in January. In the first game of the VFL season against Williamstown, Anderson hurt his shoulder. That was eventually operated on and he was out for the rest of the season.
Anderson who was contracted until the end of 2016 requested a trade, moving to North Melbourne to get more opportunities for regular senior football.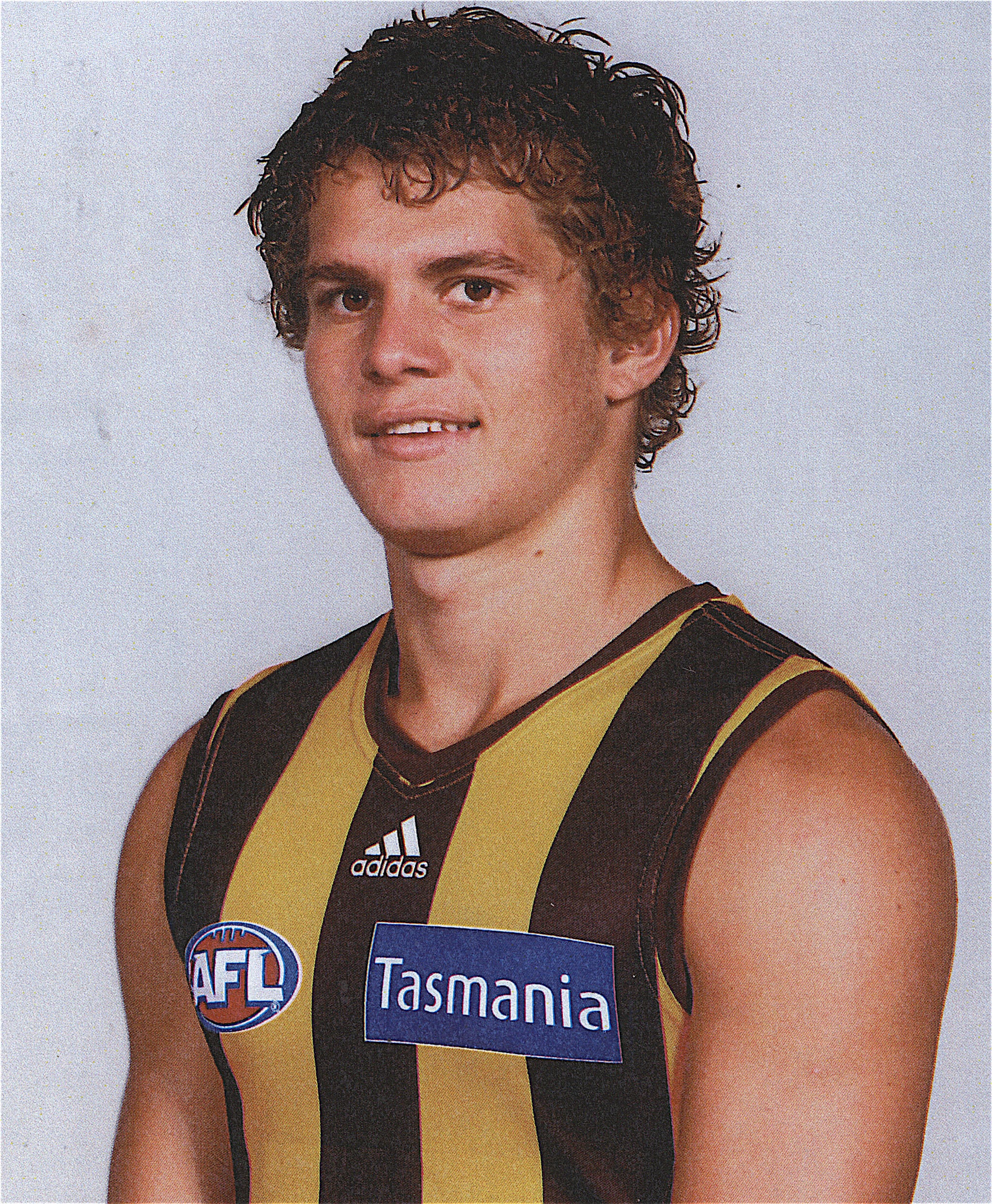 14 – Derick Wanganeen
Born February 5, 1991
Recruited Mallee Park via Port Adelaide
Played 2014
Guernsey 36
Debut Order 890
First game Round 1, 2014 v Brisbane Lions
Final game Round 1, 2014 v Brisbane Lions
Games 1
Goals 0
Premiership Box Hill 2013
Drafted via the 2011 Rookie Draft, he was unable to find consistency as a small forward in his early career. He found his niche with a late switch to the backline and showed natural ability to read the play and then set up teammates with his disposal.
Wanganeen spent the maximum three years on Hawthorn's rookie list, but had to be delisted at the end of the 2012 season and then re-selected via the Rookie Draft at number 33.
He spent 2013 developing in the VFL and was rewarded with a Box Hill premiership. His development as a player was noticed by the Hawthorn coaching staff. After an impressive pre-season, he was upgraded onto the primary list in place of the injured Brendan Whitecross. He made his AFL debut in Launceston against the Brisbane Lions and was delisted at the end of season 2014.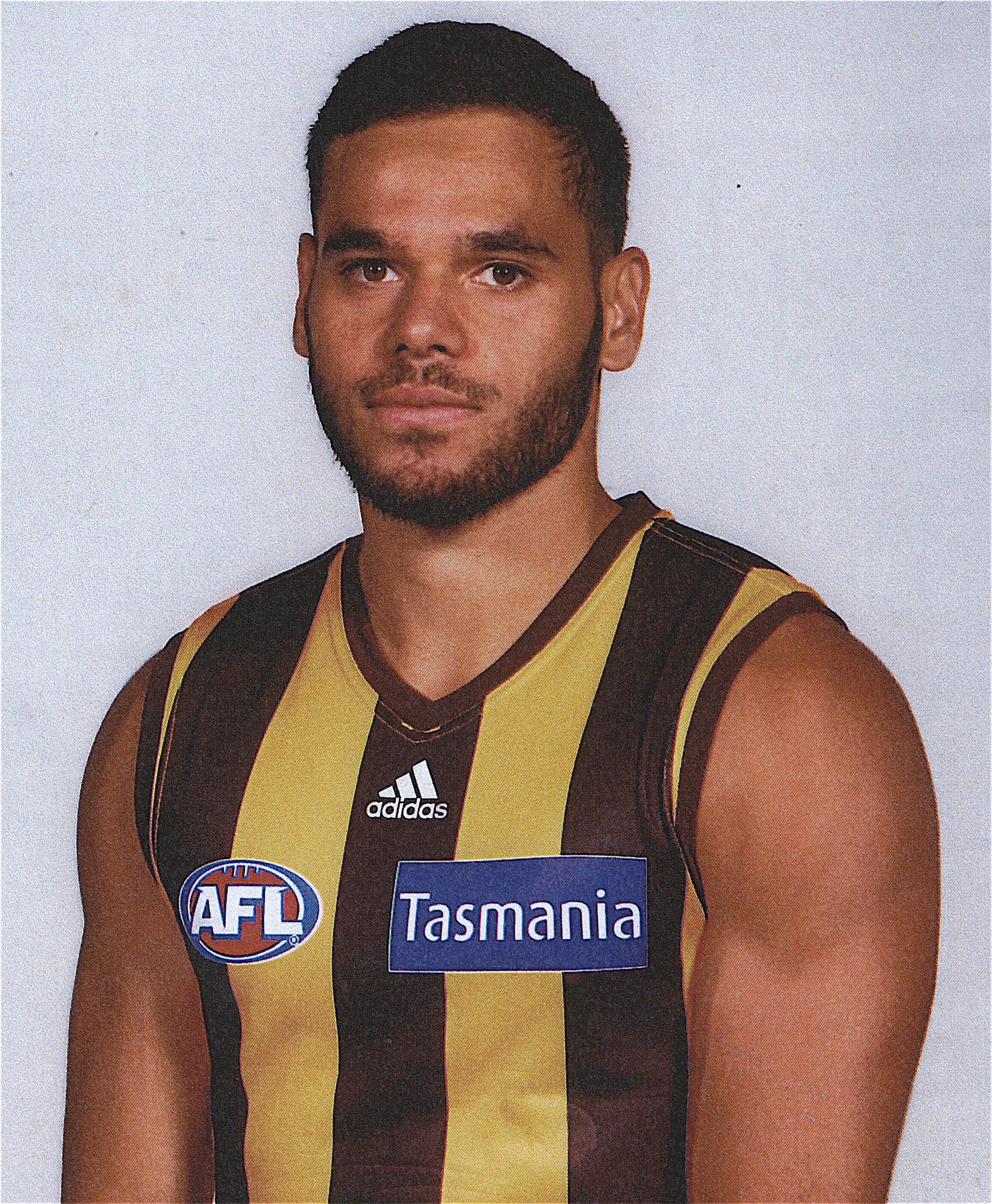 15 – Kieran Lovell
Born May 16, 1997
Recruited Kingborough (Tasmania)
Played 2016
Guernsey 36
Debut Order 903
First game Round 6, 2016 v GWS
Final game Round 7, 2016 v Richmond
Games 2
Goals 0
Kieran Lovell played for the Kingborough Tigers in the Tasmanian State League. He played a strong 2015 season and won the Tasmanian MVP and All-Australian Under-18 honours after impressive performances in the NAB AFL Under-18 Championships. With strong skills when it comes to the in and under ball, he has been compared to former Hawthorn captain, Sam Mitchell. Lovell spent three years on Hawthorn's list, making his senior debut for the Hawks against GWS Giants at Spotless Stadium in Round 6, 2016. He had 6 kicks and 5 handballs, but the Hawks lost by 75 points. Lovell suffered a shoulder injury at the beginning of the 2017 season requiring surgery. He was able to return to senior football with Box Hill and helped them play in the finals. He was delisted at the end of season 2018.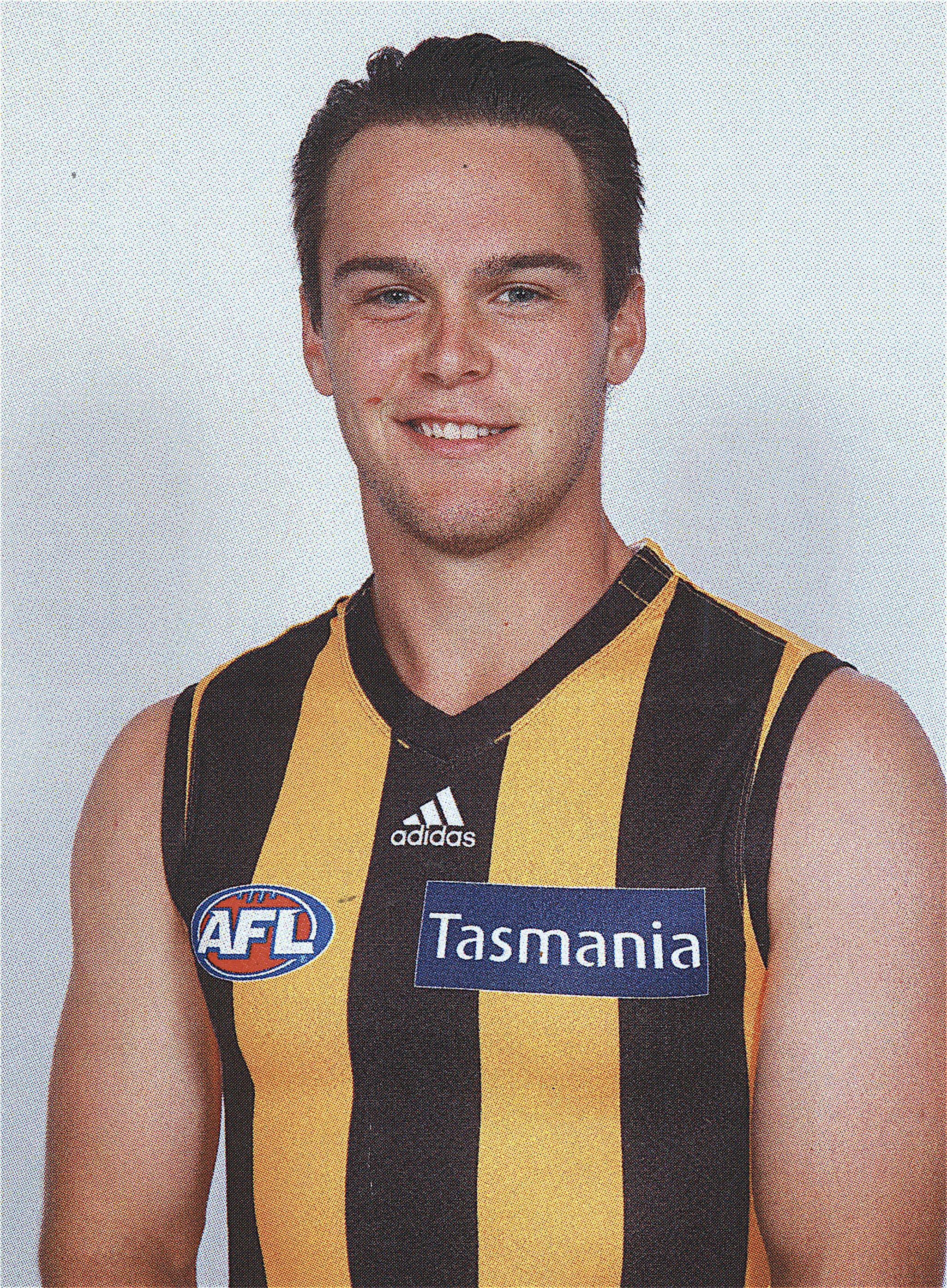 16 – Jarman Impey
Born July 9, 1995
Recruited Port Adelaide
Played 2018-present
Guernsey 4
Debut Order 918
First game Round 1, 2018 v Collingwood
Final game
Games 35
Goals 14
Originally from Shepparton, Impey played for the Murray Bushrangers in the TAC Cup and represented Victoria Country at the 2013 AFL Under 18 Championships.
Impey was drafted by Port Adelaide with their first selection, pick 21, in the 2013 AFL draft. He made his AFL debut against Carlton in the first round of the 2014 season. Since making his debut, Impey has been used as a back pocket shut down roll on small forwards. 2016 saw Impey move into Port Adelaide's forward line where he excelled as a small forward.
Wanting to return home to Victoria to support his sister, he was traded to Hawthorn at the end of the 2017 season. He was selected to play his first game with the Hawks in round 1, 2018 and has not looked back since, playing the next 34 games consecutively, either forward or back.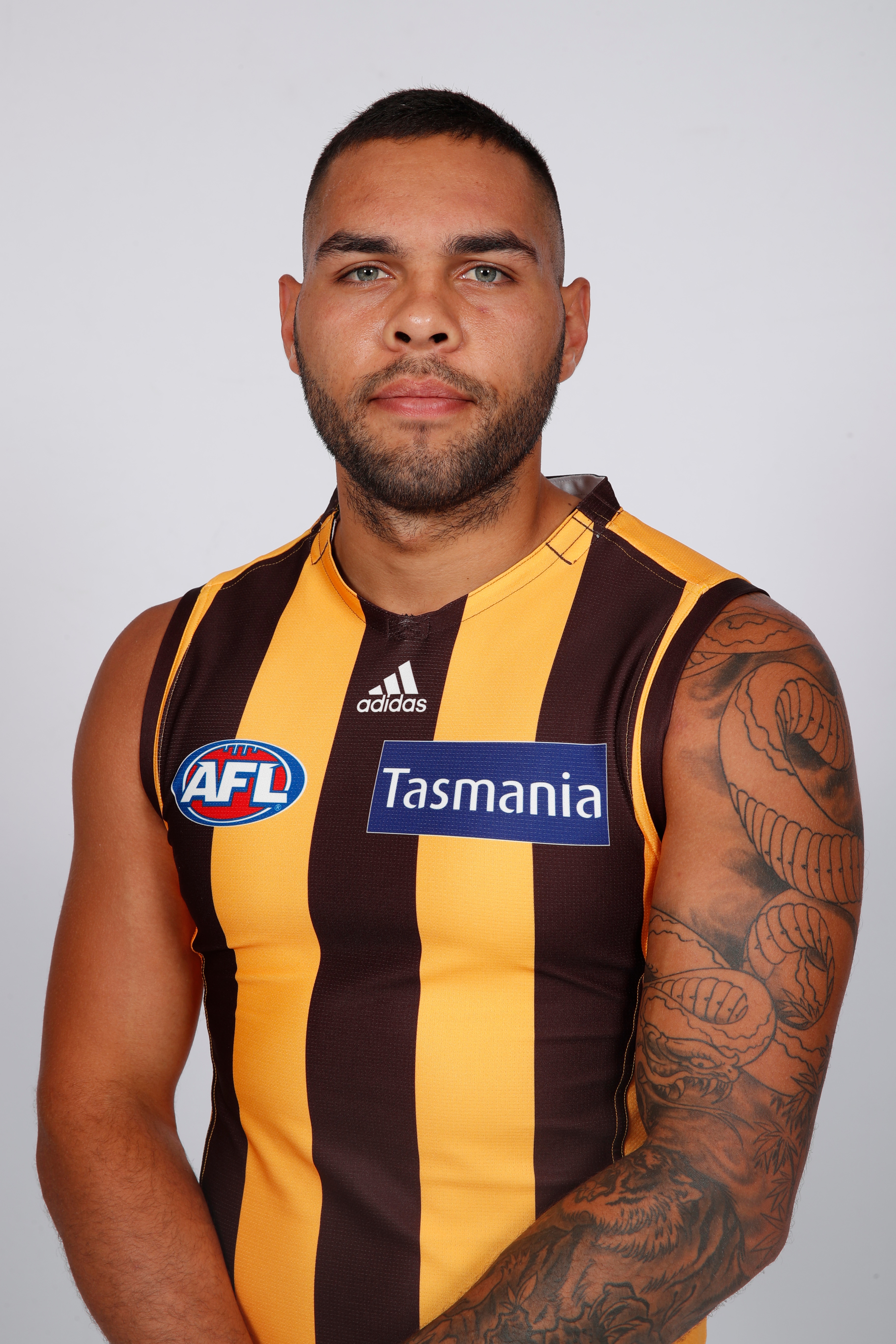 17 – Chad Wingard
Born July 29, 1993
Recruited Port Adelaide
Played 2019-present
Guernsey 20
Debut Order 925
First game Round 3, 2019 v North Melbourne
Final game
Games 7
Goals 7
Wingard was born in Murray Bridge, South Australia. His father Trevor is part of the Indigenous Australian Kaurna people and his mother Julie is Irish. Chad has an older brother and a younger brother, as well as five younger foster siblings. At the age of 16, Wingard was a member of Murray Bridge's 2009 Imperial Football Club league team that won the River Murray Football League premiership. In that game, he kicked five goals. Wingard also played basketball, and was the captain of South Australia's under-16 basketball team.
He was the Power's first pick at the 2011 national draft. An exciting midfielder who always looked to be unfussed on the field and got better every week. In 2013 he achieved a sustained level of excellence and played a superb year, winning the John Cahill Medal (Best & Fairest) and earning All-Australian
At the conclusion of the 2018 season, Wingard sought a trade from Port Adelaide. He eventually requested a trade to Hawthorn.
Hawthorn traded their first round pick and promising youngster Ryan Burton to get Chad Wingard. During the preseason Wingard developed a calf complaint that forced him to miss all the warm up games and the first two games of the 2019 season. He made his debut for his new club against North Melbourne and kicked three goals to help win the match.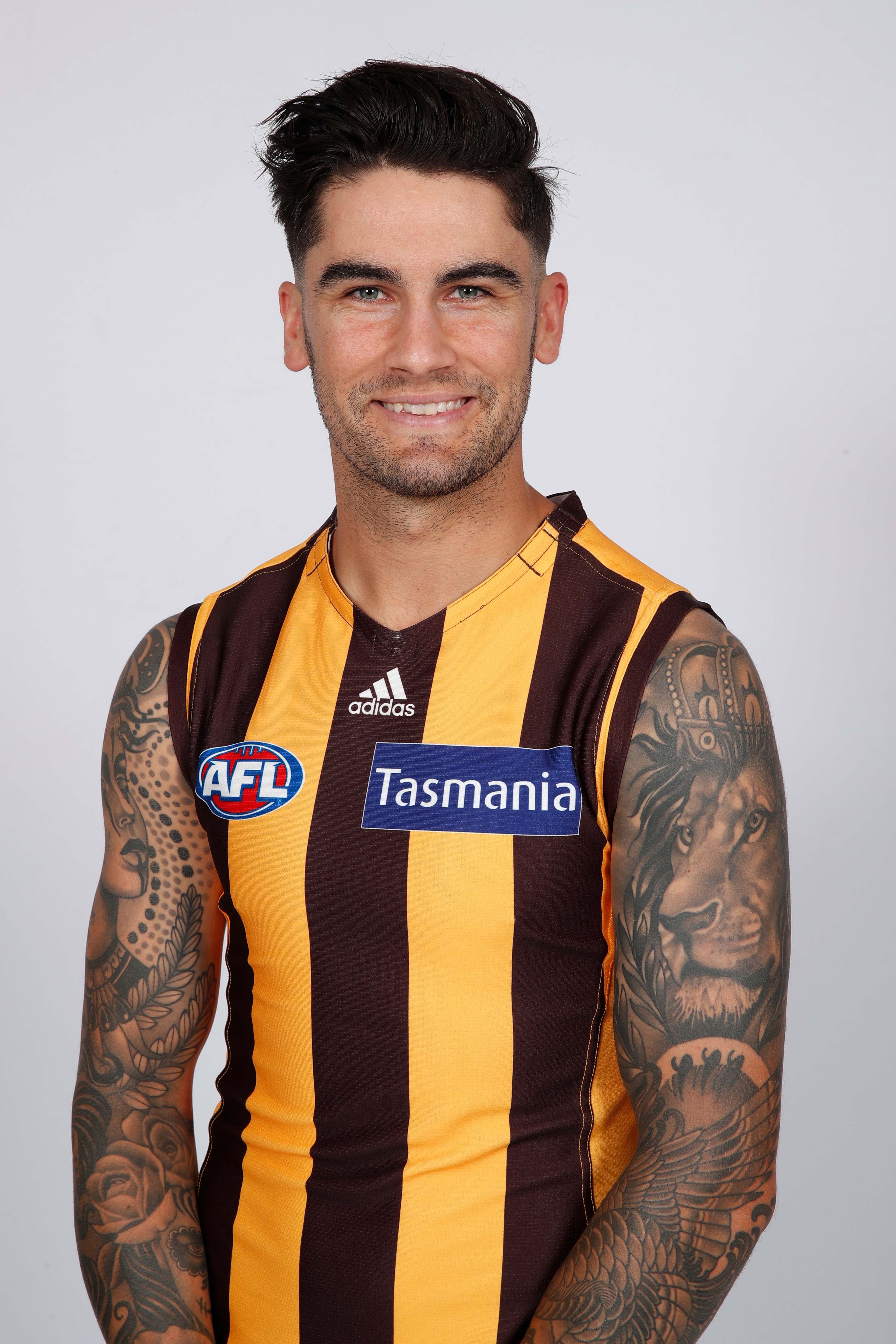 Indigenous Players who played HFC Reserves / Box Hill (2000 onwards)
Willie Rioli 1991 Reserve Games 17
Djaran Whyman (Rookie listed 2002, returned to country football later that season)
Later played 3 AFL Games North Melbourne Kangaroos 2007
Amos Frank (Rookie listed 2011, returned to South Australia after two seasons)
Box Hill Games 21, Box Hill Reserves 4
Dayle Garlett (National Draft 2013, returned to Western Australia early 2014)
Mathew Walker (National Draft 2018) Box Hill Games 4
Note, two indigenous players, the Saunders brothers, played with the Under 17s in 1973 and with the Under 19s in 1975.