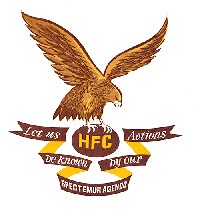 Spectemur Agendo
Spectemur Agendo has been the motto of the Hawthorn Football Club since 1966.
It is a Latin motto, which translates to Let us be known by our actions.
The motto was originally suggested at a club committee meeting in 1965 by Garry Young, who played in the 1961 premiership.
Then President, Dr Sandy Ferguson had invited Young to form a committee to come up with some potential mottos for the club. Young and fellow committeeman, Harry McCurry visited the local library consulting various books before landing on Spectemur Agendo, a statement they felt represented the values of Hawthorn Football Club. The motto was accepted and first used on the cover of the club's 1966 Annual Report. The motto featured on the club's logo until 1982.
The Hawthorn Past Players and Officials Association still feature the motto on their logo.
Most recently, club Legend John Kennedy Senior cited the club's Latin motto following the announcement that the club's new training and administrative base at Dingley will be named after he and his family.
"Hawthorn has been very kind to the Kennedy family over many years and all of our family are honoured to be remembered in this way," Kennedy snr said.
"However, we must not become lost in the past; Spectemur Agendo."
In 2018 the club launched its finals campaign under the banner of Spectemur Agendo – Let us be known by our actions, visit the Finals Hub.