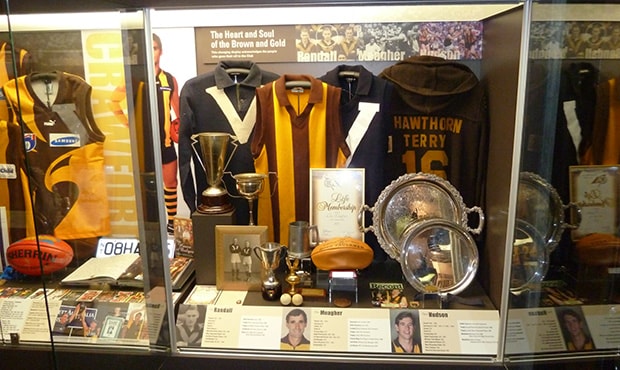 Each year the Hawks Museum acknowledges three players who typified the spirit of the brown and gold.  They are the players who supporters believed could inspire the team to victory, could be counted on to give their all no matter the odds, the players that the supporters adopted as cult figures. 
The three players honoured for 2013 also forged outstanding coaching careers.  Randall and Meagher would coach and develop junior players at Hawthorn; Hudson as an assistant coach at AFL level with Brisbane, Collingwood and St Kilda.
This tribute to the three players features memorabilia from their respective family collections.  You can view Viv Randall's State Guernsey worn in 1937, this is the oldest known Guernsey worn by a hawthorn player, Des Meagher 1971 Premiership trophies and Paul Hudson's Duffle Coat complete with Terry Wallace's number that he wore as a young fan to the football.
Recruited from Caulfield, Randall was a small and wiry wingman who appealed to the fans with his flair for the spectacular.  Randall made his senior appearance in 1935 in round 11 against St Kilda and his tenacious and creative play enabled him to become a permanent member of the team. 
He played the next 73 games from a possible 85 winning the Most Improved player award in his second season.  His importance to the team was underlined by being named as Hawthorn's leading Brownlow vote winner in both 1935 and 1936.  Randall's gained further recognition when he was named to represent Victoria against the VFA in 1936 then against South Australia the following year. 
Randall joined the Army at the advent of the Second World War.  He served as a gunner in New Guinea for four years.  When he returned home in 1945 Randall resumed his football career with his local team Murrumbeena as captain and coach till 1954. 
His son Trevor was now playing football with Murrumbeena Under 16s and without a regular coach.  Having previously coached the senior team, Randall offered his assistance and was to enjoy his first Premiership success in 1956.
While addressing his son's team prior to the Grand Final, a recruiting officer with Hawthorn was listening to Randall's speaking to the junior players and was impressed.  He invited Randall to apply for the vacant Hawthorn position with Under 19s.
In 1957 Randall re-joined Hawthorn as coach of the Under 19s and assistant to the coach of the Reserves Team, Tubby Edmonds.   Hawthorn's fortunes were on the rise and Randall was to play an important role, training the younger players. 
The Reserves won the Premierships in 1958 and 1959 with a number of these players going onto the big stage in 1961.  Garry Young, Phil and Sted Hay, John McArthur, John Fisher, Malcolm Hill and Cam McPherson all benefited from Randall's coaching, graduating to the senior side.  Together they played in the Hawthorn's first senior Premiership in 1961.
Meagher was a very talented sports person and would later develop into an outstanding coach.  He initially excelled in water polo with the Surrey Park Swimming Club participating in their premierships, 1961 and 1962.  After leaving school he played for Old Xaverians in the Victorian Amateur Football Association.  Such were his talents that he represented Victoria in both sports.
Meagher was introduced to Hawthorn by Peter Rhoden making his debut in 1966, and was widely acclaimed as one of the best first year players in the VFL.  Tall and slender, he could fill a variety of positions, but was best suited to the wing.
Noted for his swiftness off the mark as well as his long left foot kicks Meagher was one of the best players in the 1971 Grand Final defeat of St Kilda.  Meagher was a telling factor in the Hawks resurgent last quarter coming from 28 pints down to win. 
He was on the bench in the 1975 Grand Final loss to North Melbourne and he played in the second semi-final the following season.  The tough realities of football saw him being left out of the side that beat North Melbourne in the 1976 Grand Final. 
Meagher represented Victoria three times and was a member of the victorious Gaelic World Tour to Ireland in 1968.
Meagher was appointed Reserves coach in 1977 a position he held for 14 years taking the team to seven successive finals series, 1982-1988, including the 1985 Reserves Premiership.  He was an assistant to senior coaches, David Parkin, Allan Jeans and Alan Joyce. 
His contribution cannot be underestimated he played an important role in Hawthorn's dominance of the 1980s.  Many of the club's great players at the time, including Dermott Brereton, Gary Ayres, Chris Langford, Peter Schwab, Jason Dunstall, Greg and Paul Dear, Andy Collins, Peter Curran and Anthony Condon, amongst others, served the classic Hawthorn apprenticeship and played a season or more reserves football under Meagher.
In 1995 Meagher returned to his grassroots in the Victorian Amateur Football League as coach of Whitefrairs Old Collegians Football Club retiring from football in 2000.  He led them to premierships in 1998 and 1999.
Born to play for Hawthorn, Paul was the son of the legendary full forward Peter Hudson.  Football was never going to be an easy road for Hudson Jnr.  He had his critics along the way, but if his career is assessed on its own merits rather than by any comparison to his famous father then he was a success. 
Hudson joined the club in 1989 and received a sound grounding in the Reserves winning their Best and Fairest in 1990.  He came of age in 1991 coming fifth in the Brownlow Medal.  He relished the role of being the sixth forward in attack that boasted the likes of Jason Dunstall, Dermott Brereton, Tony Hall and Darren Jarman. 
Hudson's goal sense was one of his most distinctive traits.  A nine-goal bag against Collingwood was the biggest haul in a season total of more than 60 goals.  A season topped of with a premiership. 
In 1991 the Grand Final was played at Waverley and after a sluggish start when the Eagles jumped the Hawks to lead by two goals at quarter time the Hawks regrouped and playing tough bruising and scintillating football won by 53 points. Hudson chipped in with 2 goals. 
This was a very important event for the Hudson family, Peter played in the 1971 Premiership with son Paul now a Premiership player they are the only father and son premiership players at Hawthorn.
More success was to follow for the young Hudson.  He played an outstanding game kicking five goals as a ruck rover in the 1992 Foster's Cup Grand Final when the Hawks defeated Fitzroy by 65 points.  Club Legend Michael Tuck had retired after the 1991 Premiership and the medal for Best on Ground in a Night Grand Final was now named in his honour.  Hudson is the first AFL player to win this prestigious honour.
 
Vivian Randall
Born: March 7 1914 - Died September 7 1985
Played: 1934 - 1938
Guernsey: 7
Games: 73
Goals: 4
State Games: 2
Most Brownlow votes: 1935, 1936
Most Improved player: 1935
2nd Most Popular player: 1936
Life Member: 1961
Coach U19s: 1957 - 1961
Des Meagher
Born: March 7 1944 – died March 9 2011
Played: 1966 – 1976
Guernsey: 30
Games: 198
Goals: 96
Premiership: 1971
Night Premiership: 1968, 1969
3rd Best and Fairest: 1966, 1968, 1972
Life Member: 1973
Reserves coach: 1979 - 1993
Reserves Premiership: 1985
Paul Hudson
Born: July 20 1970
Played: 1990 – 1996
Guernsey: 33 (1988-1991), 17 (1992-96)
Games: 134
Goals: 264
Premiership: 1991
Night Premiership: 1991, 1992
Michael Tuck Medal: 1992
Most Improved player: 1991
Most Brownlow votes: 1991
Reserves Best and Fairest: 1990