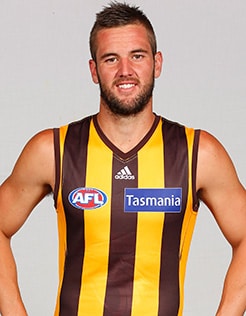 Hawthorn defender Matt Suckling has signed a new contract keeping him at Hawthorn until the end of 2015.
It has been a long road for the 25 year old - from country New South Wales to Melbourne, the deadly left-footer has endured more than most footballers have in their careers, having battled injury from his first year on Hawthorn's list, in 2007.
Knee and thigh injuries saw him spend his first two years as a Hawthorn rookie on the sidelines, trying to overcome his physical limitations to impress in the VFL.
After two years on the list, he finally made his AFL debut in Round 1, 2009 where gathered 14 disposals in his team's loss to Geelong. He was dropped after that game and didn't play another game that year.
At the end of that season, he was delisted by the Club and told he needed to impress at training to get another chance.
"It was a long three years, I was injured in my first three years and at the time, it was pretty tough given I'd come from the country so I had a few doubts," he told hawthornfc.com.au
"I missed home, especially when I was injured.
"When I got cut at the end of my third year, I wasn't too sure what was going to happen.
"The Club said if I keep training and train well, they'd give me another chance and fortunately enough they did."
He was re-drafted and elevated to the senior list at the end of 2009, but that wasn't the end of his long road to becoming a bona fide AFL player.
He reappeared in Round 1, 2010, but was dropped for Round 2 and was in and out of the side for the remainder of the year.
A poor game in Round 19 against Sydney, where he gathered just four possessions had him planning for 2011 and life after football on the plane back to Melbourne.
He was convinced his short career was over, having played just six career games.
"On the flight back home, I was probably thinking what I was going to do next year, because I thought they'd given me one more year and I've played four or five games that year and hadn't done much," he said.
"I thought this is probably the end for me."
Suckling was told he needed a big finals series in the VFL to be retained for season 2011.
Lucky for him and for Hawthorn, he was named consistently in the best throughout the VFL finals and earned himself another year at the Hawks.
"After the Sydney game I got dropped and they said after that I needed a pretty big finals series to have a chance to stay on the list the next year," he recalled.
"I knew I didn't to play pretty special and lucky enough, I actually had a pretty good series…I played some VFL and got best on ground in a couple of finals, which sort of set me up for the next year – it was pretty lucky in the end."
The injuries he'd sustained in his first three years on an AFL list, however, had left him with scars.
Suckling doubted his body and doubted his ability to make it at the elite level.
But a big and injury-free pre-season ahead of the 2011 season renewed the faith he had in himself.
"The first few years I was injured and didn't get to train as much as I would have liked, I was always scared of my body breaking down so I'd kind of just sit at the back of packs and coast through training so I didn't get injured," he revealed.
"Chris Fagan (Head of Coaching and Development) and Brendon Bolton (Assistant Coach) really pushed me hard in that pre-season so I've got them to thank as well as 'Jack' (Andrew Russell), the fitness coach for getting my fitness up and preparing my body to be able to play AFL."
Belief and hope are important in AFL football and Matt Suckling is living proof.
The pre-season he spent getting back the confidence in his body and his skill ahead of 2011 prepared him for what would turn out to be his breakout year.
His Round 2 performance against Melbourne, in which he gathered 32 disposals and kicked three goals had his teammates, coaches and most importantly, himself believing he had what it takes.
Suckling played 23 games, including the team's three finals matches and cites maturity as the key to his success in 2011.
"I was 21 or 22 by then, a few years out of the country lifestyle and settled in I guess into Melbourne life," he said.
"I'd done it pretty tough in the first few years, so I had to grow up and mature a fair bit.
"I had a big pre-season, I played Round 1 but didn't play too well over in Adelaide and we got beaten – I had been dropped after the last two Round 1 games so I was hoping that wasn't going to happen again, lucky enough I got picked for Round 2.
"That was the game against Melbourne where I had over 30 touches and kicked a couple of goals, which really gave me confidence and the boys got around me.
"From then on, it's just kind of flowed on, which has been good.
"Everyone was pretty happy I'd had that breakout game, they said that's what they'd been looking for from me and now that it's happened, it's important to have another couple of good games in the weeks following."
He averaged 21.3 disposals and six marks in 2011, a year that would set him up for season 2012, in which he became a key in Hawthorn's Grand Final year.
His lethal left foot at times, left fans in awe of his talent and his importance to Hawthorn and Coach Alastair Clarkson's plans for 2012 was unmeasurable.
He played 25 of a possible 25 matches – his injury curse was behind him. Finally, he had achieved continuity.
Another big pre-season ahead of 2013 had him feeling in career-best shape, but a ruptured anterior cruciate ligament ruined any chance of him adding to his 54 career games.
A shattering injury sustained in week three of the NAB Cup, he says though, it was made easier by the support received from his teammates, coaches and staff at the Club.
He says the culture Hawthorn has built makes it a "special" club to be part of.
"Something I take a lot of pride in is being a good bloke and getting around all the boys and I suppose that came back to me when I got injured, I had a lot of support around me," he said.
"It really helps when you're training and doing your rehab because there are a lot of hard days and days where you probably don't want to turn up but knowing there's people out there with number four on their back makes it pretty easy.
"The drafting process at this club is to first draft good blokes and the talent will come second, so with that, when anything like a bad injury, everyone is there to support you through the tough times, there's always heaps of people you can ring.
"It's nearly like being back at school, you've got the close mates that you love hanging around with and you're excited to get to the Club every day.
"I consider myself really luck to be part of such a special club."
It is that culture and mateship within the playing group that made his decision to sign a new contract to remain at Hawthorn an easy one, and he hopes to play out his career in brown and gold.
"It's very exciting, Hawthorn was the club to give me my opportunity when I was just a kid so I'm pretty excited to get a new contract, especially after the year I've had this year.
"Ever since I've come to the Club, I've wanted to stay here. This will take me to the end of my ninth year and hopefully I can play 10 plus years at this one club.
"It's good to get that behind me and focus on the future."
So what does the future hold for Matt Suckling?
A positive outlook and approach to his rehab he hopes, will make him a better footballer for season 2014 and beyond.
"I just want to be a better player than I was pre-injury," he revealed.
"I've already started running so I see it as a bit of a head start on next year because I've already started that pre-season running and the feel of pre-season.
"I've got a few months head start and just working on a few things that come about to make me a better athlete, which will hopefully make me a better footballer."