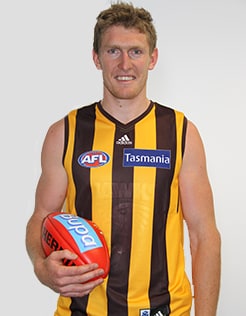 IT HAS BEEN a whirlwind couple of days for Ben McEvoy since he made the decision to leave St Kilda for Hawthorn.
Holidaying in Cambodia and Thailand, it was 3am when he received the call from his manager to tell him a potential move from the Saints to the Hawks was on the cards.
Unsurprisingly, the news shocked the 24 year old ruckman who had played 91 games for the Saints and was a member of their leadership group.
He described it as his career being "tipped on its head" and when you think about it, it really was.
McEvoy had been asleep for only two hours when his phone rang and was barely able to process what he'd just been told.
What followed was a 90 minute phone conversation with potential new coach Alastair Clarkson and soon after, the decision was made to leave St Kilda for Hawthorn.
The trade was completed in probably world record time for the AFL as the Hawks traded its first round pick, currently number 17 overall and midfielder Shane Savage.
By 9am Thursday morning, he was a Hawthorn player.
"It has been a bit of a crazy couple of days," McEvoy told hawthornfc.com.au on his first visit to the Ricoh Centre.
"It's still a bit surreal but it has been fantastic to come here and have a look around and meet a few people, it's been great."
Adding to the shock of his move to the Hawks was the fact his first meeting with his new skipper was in another country.
He ran into Luke Hodge in Thailand and was welcomed to the Hawks in the humid heat rarely seen in Melbourne.
He's excited about the opportunity to play for the reigning premiers, but McEvoy can't help but feel emotional about his departure from the Club in which he'd become a leader and with whom he's experienced a Grand Final.
"It was really hard ( to decide) and I'm still terribly sad to be leaving – I hadn't thought about it at all and hoped I'd be at the Saints for a while longer," he admitted.
"I just had to weigh up the option and the fact that the Hawthorn footy club wanted me to play for them; I was very flattered and really excited to be here now.
"It's a great opportunity for me."
The 200cm ruckman will be Hawthorn's number one big man after the retirement of Premiership player, Max Bailey.
Bailey shouldered the majority of the ruck load this season with David Hale as support.
The set up will be similar in 2014 but with McEvoy the Hawks' number one man.
He is a powerful runner whose courage and marking ability are strengths of his game and will be a great addition to the premiership side.
He took more contested marks in 2013 than any other ruckman and his centre square work is impressive.
McEvoy is ready for the challenge and to add another element to Hawthorn's ruck division.
"A big hole to fill, Max is I think by all accounts – I certainly had an enormous amount of respect for him," he said.
"I'm privileged to be asked by the Hawthorn footy club to come here and try and play that role and hold down the ruck position.
"I'll try and use my strength around the ground if I can as well as my running ability and I can catch it sometimes so hopefully I can put that to use."
Before he begins to make a mark on field though, McEvoy wants to make his mark off it by earning the respect of his new teammates during pre-season.
"It seems a long way away at the moment actually playing games," he said.
"I just want to settle in, get to know everyone and try and earn respect around the place."
But he can't wait to begin the hard work.
"It's still pretty raw but I've been rewarded with an exceptional opportunity to come play for what is a highly regarded footy club," he said.
"I'm sad to be leaving the Saints but can't wait to get stuck into things here."