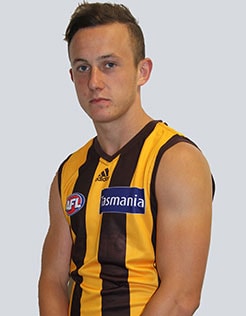 At the 2013 National and Rookie drafts, Hawthorn welcomed eight new players to the Club, with three selected to join the primary list and four to the rookie list.
Over the Christmas period, hawthornfc.com.au is giving you the chance to get to know the Club's new players on both a football and personal level.
Getting to know: Billy Hartung (Primary list, pick 24 in National Draft)
What kind of player are you: I'm a type of player like Bradley Hill or Isaac Smith. I'm that outside running player with a bit of speed who can also push forward at times.
What are your strengths: My strengths would be my skills, my run and carry, endurance and probably decision making. I think that's what I can bring to the team.
What can you work on: I can work on my size, I'm not a big frame at the moment so that's something I'm working on at the moment in the gym. I can also work on my defensive side and that's something I'll do over this pre-season.
Team supported growing up: Richmond. I didn't get to see them play finals too often.
Childhood or current sporting hero (non-AFL): No one really in particular, I follow too many sports to have that one favourite athlete.
AFL hero: I really liked Trent Cotchin. He's almost the perfect player because he's got good leadership and just plays the game well. Even though he's only been in the AFL system for five or so years, he's one of the top players in the game.
Player you believe you play like most: I think I play like Bradley Hill and Isaac Smith. I've watched them pretty closely over the last couple of years.
Favourite food: Easily Mexican. I love it.
Favourite meal: Tacos. I really love Mexican. I don't know if too many people know exactly how much I love it.
What is your pump-up song before games: I like to listen to House, Progressive House. So something like Swedish House Mafia.
Favourite band or performer: Swedish House Mafia. I saw them when they came down to Melbourne at the start of the year and I haven't forgotten that show. It was probably the best two hours of my life.
Best band or performer you've seen live: Swedish House Mafia. I've been to a few but they're by far the best. Even if you don't like them, I'd recommend you go see them.
Favourite TV show: Bones. A lot of people might think it's not that good but I love it. When season 8 came out on DVD, I was lining up waiting for it but the funny thing was, no one was even there lining up for it so there was 100 copies there.
Favourite character in a TV show and why: I like Family Guy and I think Peter Griffin is pretty funny. He's dumb in everything that he says and you can't tell if he's serious or not. He's probably the funniest character.
Do you have any hobbies: I like to DJ a little bit. I don't take it seriously or anything like that but it's just good fun.
What is your favourite thing to do when you're at home: I get the table tennis table out. I had an injury at the start of the year and I bought a table tennis table but couldn't use my left hand. So I just played with my right for about two months and ever since then I love the competition of it.
Favourite movie and why: I don't have a favourite movie but anything with Will Ferrell in it is pretty funny. If I see his name in a movie, I don't watch the trailer I'll just go and see it straight away.
Ideal holiday destination: I'd love to go over to America and into Miami. I'd love to go to the Ultra Music Festival, which is in the summer over there.
Best country or city you have visited and why: I went to London at the start of the year and that was pretty good, it's not overpriced. I went to Milan the year before and Copenhagen as well and it was overpriced for what it is compared to London, which is a bit like home. It's also a pretty busy city, I just love everything about it.
Chocolate or vanilla: Definitely a chocolate person.
Fruit or vegetables: Definitely fruit.
iphone or Android: I used to have an Android but I've switched to the iPhone. Pretty much everyone has one so it's easy to use.
Summer or winter: Definitely summer. I can't stand winter.
When the season is over, which food to you go for first: Probably just any takeaway I guess but you still have to watch the skinfolds so not too often do I get the chance.
What are your goals for 2014: I want to work hard during the pre-season and getting to know the game plan is probably my number one priority. I want to at least try and play a game next year, that's probably my main goal, to get a senior game.