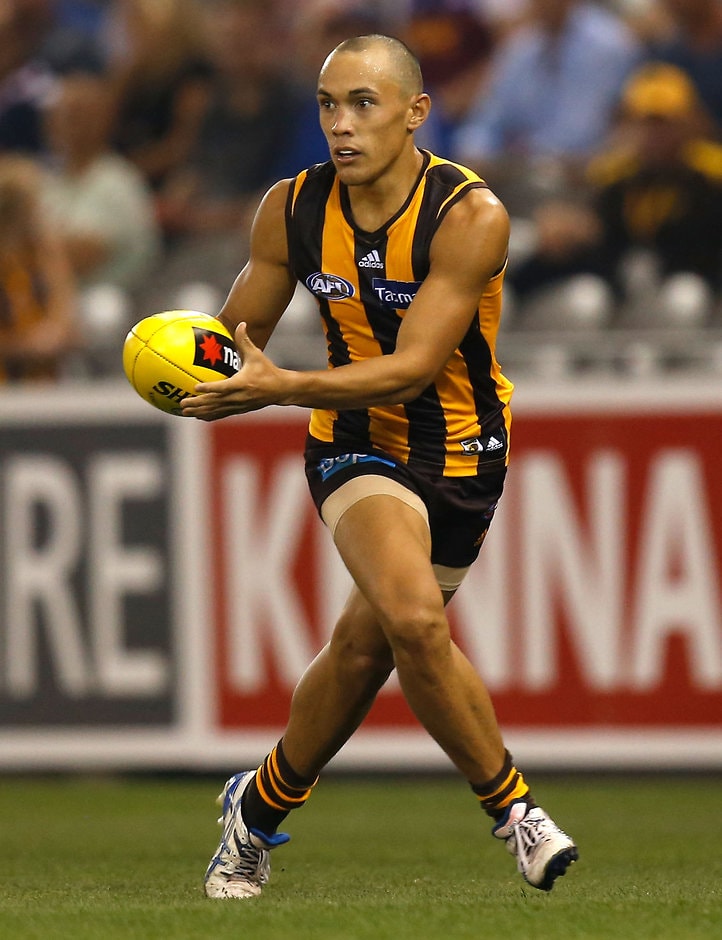 PRESSURE for spots will be hot at Hawthorn again in 2014, with Coach Alastair Clarkson nominating a number of young players ready to step into the senior side.
One of Hawthorn's biggest strength's last season was its ability to cover injuries to key players like Matt Suckling and Ryan Schoenmakers who missed the most of the season with knee injuries and Cyril Rioli and Grant Birchall who spent a large portion of the year on the sidelines.
Those injuries allowed players like Taylor Duryea, Jonathan Simpkin, Jed Anderson and Sam Grimley to step into the senior side and show they're more than capable at the elite level.
Clarkson expects his premiership-winning team will again feel the selection pressure this season, naming youngsters Will Langford, Alex Woodward, Luke Lowden and draftee Billy Hartung among the players ready to step up.
Langford in particular was one to impress during the NAB Challenge and was among the best in Hawthorn's 56-point win over North Melbourne with 19 disposals, three goals and six tackles.
"We've had a series of young guys that have done particularly well (this summer)," Clarkson told HawksTV's #ChatToClarko segment.
"It's probably the guys who have been in our system for three, four or five years like Luke Lowden who has had a really good summer and looks like he's going to step up.
"Will Langford has had a great summer, Kurt Heatherley who you've probably seen play in some of the games in the NAB (Challenge)… Alex Woodward is back from his knee injuries and he's had a really great summer.
"We're hoping that a lot of these guys will play some footy in the not-too-distant future for us and help the Hawks get back up the top of the ladder again in season 2014."

Watch the first episode of #ChatToClarko in the player above.
The attitude and improvement in the young players will drive Hawthorn forward in 2014 as it attempts to achieve one of the AFL's toughest tasks – winning back-to-back flags.  
But rather than focus on the competition's biggest goal, Clarkson is concentrating more on getting the Hawks back into a position to even challenge for another premiership.
Unlike 2009, where the Hawks failed to make the finals after winning the 2008 flag, Clarkson and the Hawks are determined to not let history repeat.
The signs are good so far, with the Hawks among the sides to impress during the NAB Challenge with big wins over Brisbane (131 points), North Melbourne (56 points) and Melbourne (110 points).
Those results are a reflection, Clarkson says of the hard work and positive attitude of the players towards training over the summer.
"Our players have come back in really good condition, they're really motivated to perform well again," Clarkson said.
"We're really pleased with what we've been able to do in the games to date, but we know Round 1 against Brisbane next week is going to be a really big challenge.
"The motivation for us this year is to not do in 2014 what we did after our premiership in 2008, and that's have a pretty disappointing season and miss the finals."
Watch the first episode of #ChatToClarko in the player above.