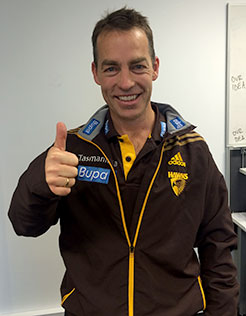 WHILE Alastair Clarkson is excited to resume his senior coaching position, his five-week layoff with illness allowed him to experience a different side of football.
Diagnosed with Guillain-Barre syndrome following the Round 10 loss to Port Adelaide, Clarkson relinquished his position to focus on his health but he was never too far from his Hawks.
He was a constant presence around the club, where he was able to make use of the facilities for his rehab, an important part of which was in his ability to get out and exercise.
Clarkson made use of the exercise bikes but in particular the pool, where he would walk laps and build on his strength.
Of course, he'd also take the opportunity to cast an eye over his team as they hit the track to prepare for their upcoming game.
Once well enough after receiving treatment in hospital and completing his rehab, Clarkson assumed the role as Hawthorn supporter, taking along his kids for a night and day out at the footy.

Alastair Clarkson completes his rehab while watching training at the Ricoh Centre.
He was first spotted at Hawthorn's Round 12 win over Carlton and sat in the "nosebleeds", in row V of the Olympic stand.
It was a different experience for Clarkson, who after 10 years as a player and 15 as a coach hasn't had the opportunity to just spend a day at the footy.
"It was great to go to the footy and see it from a different perspective – I've watched a lot of games but when your team is the one participating in the game, to do that from an at-length type of perspective was a really bizarre but quite unique experience," Clarkson told hawthornfc.com.au
"I got to see what it's like for my wife, my children and also for all the wives and children of our players and staff that work for our club, particularly in a coaching capacity.
"I got to see what the feelings are like, what the emotions are in riding every kick, every goal, the comeback by the opposition and every win or loss.
"The experience, the empathy of what they go through is really unique and hopefully that somehow turns me into a better coach, better father and better husband."

Clarkson continues his rehab in the pool at the Ricoh Centre.
Of course, he was spotted in the Hawthorn rooms after the victory and the general consensus was that it was great to see him up and about but then when he was spotted again, this time walking across the MCG after Hawthorn beat Collingwood by 29 points, the question was posed, when would he be back?
But what no one knows if what led up to that point, how did he get onto the MCG?
The answer is simple – he was looking for a quick way to get to his car after stopping for some photos with passionate Hawthorn fans happy with another victory.
But it wasn't all smooth sailing, for after just four weeks out of the game, some had forgotten who Alastair Clarkson was.
He jumped the fence to get onto the ground and was immediately beset upon by security, who assumed he was a field invader.
Luckily some Hawks fans came to the rescue.
"These couple of security men had nabbed me from behind," he laughed. "They started to march me off the ground and the supporters were going nuts says 'he's the coach! He's the coach! You can't do that!
"I had 'Hodgey's' young fella Cooper with me, my young fella Matthew and Andrew Russell's (Head of Fitness) young guy Jasper with me, so they eventually allowed us to walk across the ground."

Clarkson walks across the MCG with Cooper, Matthew and Jasper.
On Friday night he will again go to the footy but this time in a familiar role, as Senior Coach of the Hawks, hoping to extend his team's winning streak to six with a win over North Melbourne at Etihad Stadium.
He hopes his experience away from footy will help him in the coaches box.
"In a really strange sort of way, this has been a good experience to go through – I've learnt a lot about myself over the last five or six weeks," he said.
"Hopefully that can somehow transfer productively into my role at the footy club.
"I'm excited to be back doing what I love to do and try to help young men be the best that they can possibly be at this great game of ours and particularly at a super club like Hawthorn where it's not difficult to get yourself prepared to come back to work, that's for sure."
Clarkson to resume coaching duties
We've grown as a club: Clarkson