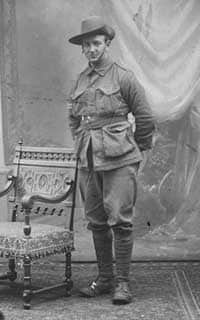 As Australia prepares to commemorate the 100th anniversary of the first landing at Gallipoli it is important to remember those who served and lost their lives.
Matt, Jack and Tim Collins are just one example of men and brothers who fought for their country and who happened to be from the Hawthorn fold.
Believed to be the first trio of brothers to play for the Club, they competed together in 1906 – the year that Matt Collins won the trophy for the Most Consistent Player, now known as the Matt Collins Cup.
Their mate ship and comradery on the football field was carried into a very different arena when all three brothers joined the army at the advent of the First World War.
Serving in France, only two of the brothers returned with Sgt. John Joseph (Jack) Collins listed as missing on September 2, 1917 at Westhoek Ridge, near Ypres in Belguim.
Jack served in the 8th Battalion and his name is listed as 'Among the Missing' on the Menin Gate, the famous War Memorial in Belgium.
Matt Collins joined the Australian Army Medical Corps in 1916 and served with the 2nd Field Ambulance in England and France. He returned home as Staff Sergeant Collins in August 1919.
The youngest of the three, Tim, served in Company A of the 39th Battalion, a Third Division unit and was the Quartermaster Sergeant of his Battalion. He was commissioned in 1917 and promoted to full Lieutenant in 1918. He served in France and returned home for discharge in January 1919.
The Collins family has enjoyed a five-generation association with the brown and gold with Matt Collins, his sons Don and John, John's son Chris, Chris's son Trent and his children Lachlan and Ellie all Hawthorn supporters.
The Collins family will forever be intrinsically tied to the Hawthorn Football Club but more importantly the message of Anzacs.
Lest we forget.
The museum records for the years the Club played in the MJFA 1902 – 1913 are not complete, what we do know for the Collins brothers is as follows;
Matt Collins
Played 1905 – 1908,
Games 50
Goals 16
Most Consistent player 1906
Jack Collins
Played 1907 - 1908
Games 18
Goals 34
Tim Collins
Played 1907 - 1913
Games 53
Goals 27
Captain 1913
Melbourne Football Club
Played 1914-1915
Games 20
Goal 20
The Hawks Museum is seeking any additional information on players from when the Club formed in 1902 to 1924, the years when we competed in the MJFA and the VFA prior to joining the VFL in 1925, who served in the Armed Services.
Died on Active Service World War 1
Sergeant John Joseph Collins (MJFA*)
Lieutenant Don McConville, M.M. (VFA*)
Captain Joe Slater (MJFA*)
Lieutenant Joseph Austin Sorby (VFA*)
Served World War 1
Lieutenant Aubrey Bickford (VFA*)
Private Matthew Joseph Collins (MJFA*)
Lieutenant Timothy James Collins (MJFA*)
Trooper Thomas Crowe (VFA*)
Lieutenant Neil Henry Gibson, M.M.
Corporal Frank Hanna (VFA*)
A Johnson (VFA*)
Corporal John Edward Renouf (MJFA*)
A Robinson (VFA*)
G Spencer (VFA*)
Lance Corporal John Thomas Stagoll (VFA*)
*MJFA - Metropolitan Junior Football Association
* VFA - Victorian Football Association

RELATED
Round 4, Match-day information