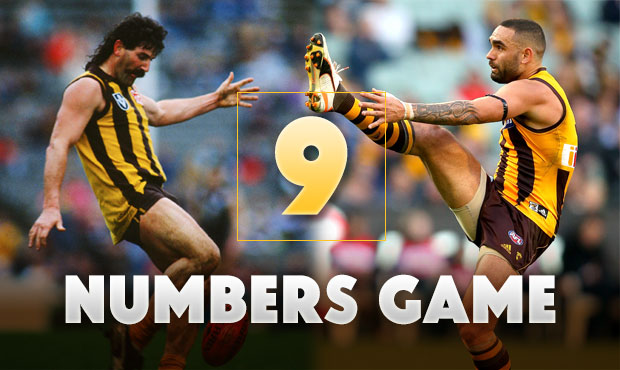 WINS and losses, goals and points, kicks and handballs, and guernsey numbers made famous by the feats of footballers wearing them in September.
There's no denying football is a numbers game.
Hawthorn has had plenty of players deliver in big finals over the years, and the current crop of Hawks will be striving to bring more success and silverware to the club in 2015.
hawthornfc.com.au caught up with a number of former Hawks greats, who talk about finals football and the player currently wearing the guernsey number they enjoyed success in.


***


"I'm always watching where the number nine is – when Shane Crawford played it was exactly the same."
Robert 'Dipper' DiPierdomenico knows all about playing in and winning finals.
Renowned for his competitiveness and toughness, the much-loved former Hawk played in five VFL premierships, in 1978, 1983, 1986 and the club's first back-to-back flags, in 1988 and 1989.
The AFL Hall of Fame member and 1986 Brownlow Medal winner is undoubtedly one of the game's most successful players to wear the number nine, playing in the most successful decade in the club's history.
"(The highlight was) just playing for the jumper," DiPierdomenico told hawthornfc.com.au.
"I mean it was awesome just being able to play week-in week-out with great friends in an enormous club and along the way we achieved some things… but just to put that jumper, on especially the number nine, it was a great time to be doing it.
"I was one of those players who could put his head over the ball.
"I wasn't very skilful, but as I went along over the years I got a lot more skilful and became part of that club and I just think I could run all day being a big fella, and I could tackle all day, and then I became quite skilful at the end."
The number nine now belongs to Hawks star Shaun Burgoyne, who will play his 29th AFL final this week, taking him to equal third on the all-time list.
DiPierdomenico says the skilful Burgoyne doesn't need much of the ball to play his role for the Hawks and have a big influence on matches.
"We know what Shaun Burgoyne's all about, his name's Silk – he doesn't need many touches but (it's) what he does with it.
"He's always a player who's been able to take control of the situation.
"Watching Shaun Burgoyne, he's just an amazing player to watch. He rarely gets beaten.
"Just the way he splits the pack by his kicking or his choices – he can make a choice by hand or by foot that can really make him look super quick. He's a hard tackler; he's the perfect package – the perfect number nine (laughs)."
Getting to grand finals is hard, and winning them even harder, as DiPierdomenico knows.
While there's plenty of work ahead of the Hawks, he believes the team has a great opportunity to "make a bit of history for the club".
"If they did three in a row, they would be the ultimate Hawthorn team," DiPierdomenico said.

RELATED
Hunger for success still strong

The views in this article are those of the author and not necessarily those of the AFL or its clubs