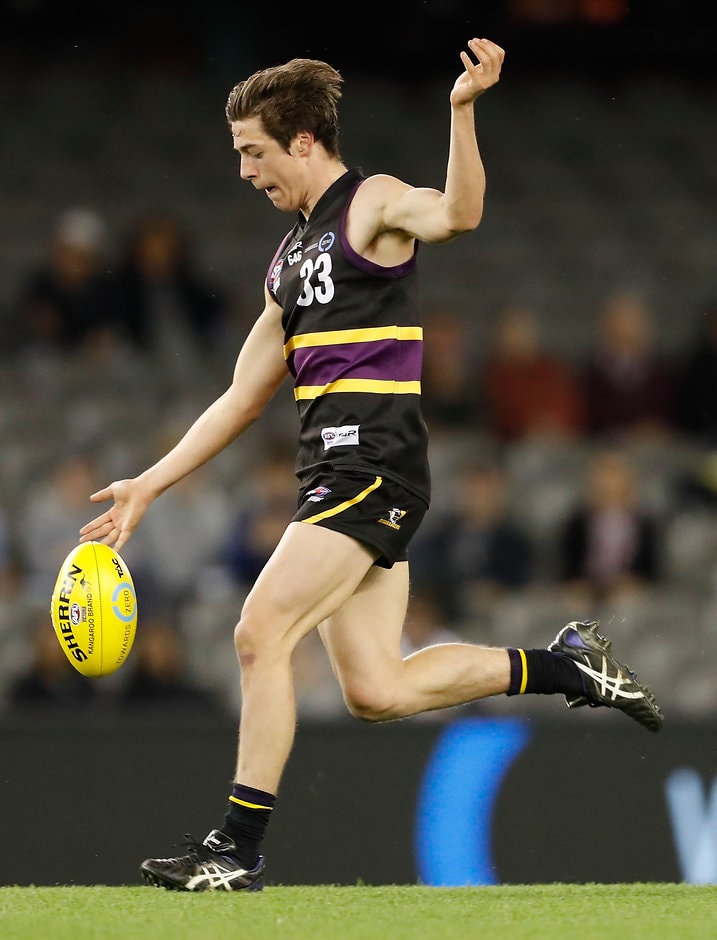 Hawthorn has utilised all three of its selections in the 2017 AFL Rookie Draft.
The Hawks added Oliver Hanrahan (Pick 14), Jack Fitzpatrick (Pick 31) and James Cousins (Pick 46) as the club finalised its list this afternoon.
Despite not following the traditional TAC Cup path, Hanrahan landed at the Hawks after an impressive seaons with St. Kevin's College, Melbourne.
The Hawks used their final selection in the Rookie draft on James Cousins, a product of the Murray Bushrangers.
Standing 185cm, Cousins was named on the interchange bench in the TAC Cup Team of the Year.
He averaged 24.3 disposals, 4.7 tackles and almost a goal a game.
The Hawks also took the opportunity to redraft Jack Fitzpatrick, after he was delisted at the end of the 2016 season.
Recruiting and List Manager Graham Wright said:
"Oliver is an athletic half forward/midfielder who played with St. Kevin's College all season.
"He also played in the APS v AGSV game and AFL Victoria Young Guns game earlier this year.
"We were impressed with his speed, kicking and decision making.
"He is only lightly framed and will take some time to develop.
"James is a tough inside midfielder who had an excellent year with Murray Bushrangers.
"He's a high possession winner, good stoppage player, with excellent endurance.
"He is a good sized midfielder at 185cm and 80kg."
Wright said the club was thrilled to once again have Fitzpatrick back in the brown and gold.
"Our intention all along has been to get Jack back on our list and we are rapt that today we could make it official."
The views in this article are those of the author and not necessarily those of the AFL or its clubs