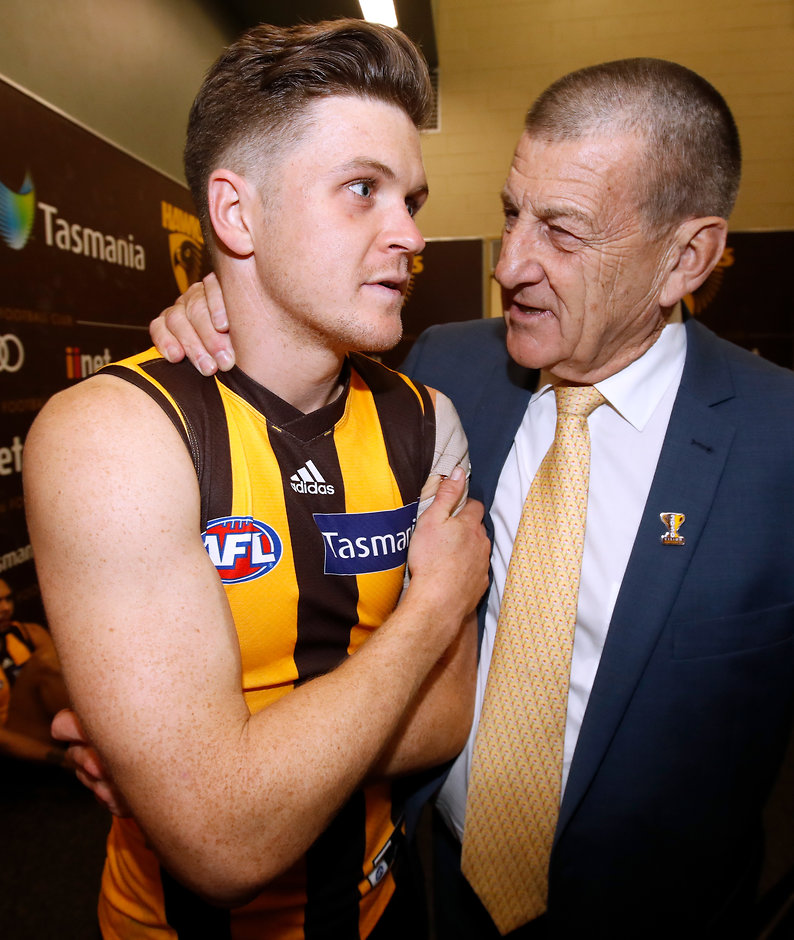 President Jeff Kennett has penned the following letter to members...
I apologise for the delay in writing to you all but there were reasons for not doing so during the trade period.
Particularly as so many of you have emailed me expressing your views on the potential that the club would trade out Ryan Burton.
Before going into the trade outcomes, I would like to again publicly congratulate Tom Mitchell on winning the Brownlow Medal this year. A huge personal achievement, but also recognition he could only achieve by being a member of a classy team.
Of course, earlier this month Tom went on to win our club's Best and Fairest - the Peter Crimmins Medal - for the second year in a row.
Tom has carved out a very impressive record since joining the club in 2017. Two Peter Crimmins Medals, runner up in last year's Brownlow and winner of the Brownlow this year.
Not a bad recruiting decision by our list management team in 2016!
What we need to ensure is that Tom finishes his football career with a few premiership medals around his neck to add to his collection of personal silverware.
Back to the trade period.
The reason I did not answer the many emails I received or talk publicly during the trade period, was because until a deal is done, there is no deal, and I did not want to say anything or have my comments interpreted in such a way that might have disrupted negotiations.
There is another more important reason. While I was aware of the thinking of Graham Wright, our GM – Football, who looks after our list management and trade strategy, I was far from aware of all the intricacies as the discussions took place.
At Hawthorn we have secured the best coach in the competition and the best GM- Football. They are trusted for their expertise, so I and the Board delegate the important responsibility to them, to use their skills on behalf of the club's future best interests.
Not to allow those you employ to use their initiative and skills defeats the purpose of employing quality people. We are an organisation of individuals, with varying experiences and skills, who through their combined efforts deliver great outcomes for Hawthorn. As we have in 2018.
So, to the players themselves.

At the end of the trade period we have secured Tom Scully (27 years) from the Giants, Jack Scrimshaw (20) from Gold Coast and Chad Wingard (25) from Port Adelaide.
Please remember, each of these players were top 10 picks by their original clubs in their respective drafts.
Each comes to us with football experience. Each judged by others to be potentially outstanding players.
They have been selected to add grunt to our playing group in positions recognised as needing extra grunt.
Please remember, only picking up young and untried players in the draft, can mean several years before they reach their contributing best.
Of course, as part of the trades that take place you often lose a player. In our case, Ryan Burton.
I am sorry to see Ryan leave our nest, I thank him for his contribution at Hawthorn, and we wish him well at Port Adelaide. Ryan is a very talented young player and I hope this move will bring out the best in Ryan and allow him to perform to his, and many of our members', expectations.
Finally, I want to say a big thank you to Taylor Duryea. Taylor has left Hawthorn to go to the Western Bulldogs in a deal that will give him a longer contract than we were able to offer him. Again, that is unfortunately part of football, but we at Hawthorn must always put good governance at the top of our collective responsibilities.
I first met Taylor in 2009 when we trekked Kokoda together with the football team. I was impressed with the way he conducted himself on that trip. The intensity in his eyes, thighs that made him appear as Gary Ablett's double.
Taylor leaves the club having played 118 games. He leaves wearing two premiership medals around his neck. At the Peter Crimmins Medal he was awarded the Best Clubman Award, an indication of the way he conducts himself, and is highly valued by his peers.
We will miss Taylor, but he goes with our blessing and best wishes. He will always be brown and gold and always welcome back at our club.
Well that about wraps it for today. My message is we must always be prepared to have confidence in those we have employed at the club when exercising the delegation we have given them.
Sometimes those of us without the same skills pass judgement, critical and supportive, and that is fine and only natural, but those we have employed have served our interests very well since 2005, with four premierships. No other club comes anywhere close to that performance.
Of course, that is history, but I and the Board have every confidence in our prospects for the future, with a team of people who are, in our opinion, the best in the game and exercising their responsibilities carefully and creatively.
Hopefully there will be one or two more morsels of good information I can share with you before Christmas.
For now, welcome our new players into our family club.
Cheers
Jeff Kennett
President
The views in this article are those of the author and not necessarily those of the AFL or its clubs