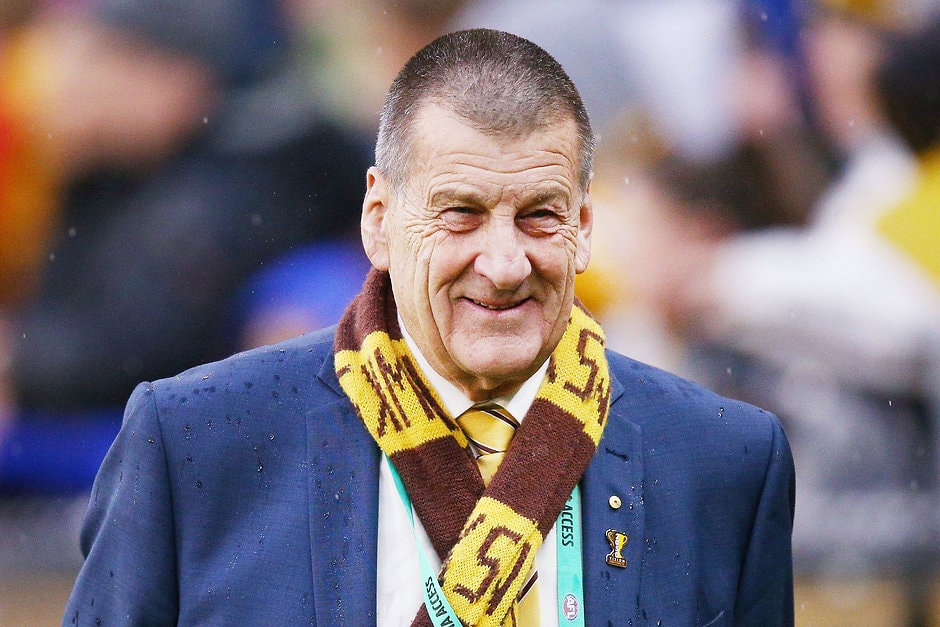 President Jeff Kennett has penned this letter to members following a busy past few weeks.
Dear fellow Hawkers,
A lot has been happening with the AFL list lodgement deadline, including a couple of our more experienced players leaving the nest.
Brendan Whitecross and Will Langford are two of our more senior players that have been announced as exiting this week. Both men have given us extraordinary service and we will miss them at the club, however, time marches on for all of us.
Brendan has had a troublesome career with injuries, most notably two season ending ACL injuries that prevented him from playing in our premiership teams. Despite this, Brendan never looked back and never sulked, always remaining focused on the future and rehabilitation.
This year he was part of the VFL premiership team and leaves the club with a significant medal around his neck. He leaves with the knowledge that his performancenot only kept Box Hill in the finals, but assisted them greatly in their premiership victory.
Will too, has had problems with injuries over his career, as I guess most footballers do at one time or another.He will be remembered by many Hawthorn fans for that wonderful game in the 2014 Grand Final, which helped us secure back-to-back premierships for the club.
Of course, Will is part of a very important Hawthorn family, the Langford's, and we have seen him , follow in the footsteps of his father Chris who was such an important part of our club in the 80's.
Will, who departs the Hawks with a premiership, decided to end his career as a one club player, even though he could have played on elsewhere. A rare decision these days!
So, to both Brendan and Will, thank you for your contribution to the Hawthorn family. You will always be welcome at Hawthorn and we wish you well and hope you stay connected to the club.
In other news, the fixture for next year has been announced and as always, some things are good, and others prove challenging.
Firstly, to Tasmania.
On Saturday 9 March the AFL have scheduled, as the last of the JLT series matches, a game between the Hawks and Tigers at UTAS Stadium in Launceston. This is a fantastic opportunity for many AFL lovers to see two 2018 finalists in their last hit out before the season proper commences, so lock it in your diaries.
We will then play our first home game of the regular season at UTAS stadium, against Carlton in Round 6.
It will be great for Carlton's Tasmanian supporters to see their club in action, playing for premiership points against the mighty Hawks.
It should be an interesting battle; given Carlton's senior coach and now their fitness person, Andrew Russell, are former Hawthorn people.
Our remaining games in Tasmania will be against Port Adelaide, Brisbane (against whom we have something to prove after our two losses to them in 2018) and Fremantle.
On the mainland, our 2019 season opener is against Adelaide at Adelaide Oval. Fun times!
We follow Round 1 with two home games at the MCG, against the Bulldogs and North Melbourne respectively.
Easter Monday will see us take on Geelong again in our traditional rivalry clash. Bring it on I say!
Another highlight is a Friday night clash with Collingwood in Round 16 as well as meeting this year's Premiers, West Coast, in Round 15 at the MCG.
As I mentioned earlier, no draw is ever perfect for any team. However, we feel the 2019 fixture does not entirely respect our great club, what it has done for the AFL and our success over the last 11 years.
We have only been allocated one Friday night home game and no Thursday night encounters.
That said, we must deal with what we have, and the best way to do that is to attend each game, fill the stands and hopefully take home the win.
Moving onto our VFLW side and our AFLW ambitions. Despite winning the VFLW Premiership in 2018, the AFL has still not granted Hawthorn entry into the AFLW, nor given us a date of entry. We will continue to argue for a 2020 entry, a right we feel we have earnt given our commitment to the VFLW competition and our on-field success this year.
In fantastic news for North Melbourne supporters, the league has granted their club an AFLW licence for 2019 and has scheduled one of their games at our UTAS ground in Launceston. An opportunity we too, would have loved to offer our Tassie members.
We can't help but feel, given the AFL's move to increase the number of North Melbourne home games in Tasmania and the move to play one of their AFLW games on our ground in Launceston, that perhaps the league is looking to force us out of Tasmania.
Just another example of the challenges faced as a financially independent club, as the AFL seek to boost support for those that are not so well placed financially.
The 2019 season is already off to an exciting start both on and off the field. You will be hearing a lot more from the club and I as the new season unfolds.
Above all, we continue to develop the Kennedy Community Centre at Dingley and we continue to Dare to be Different.
Have a good day,
Jeff Kennett
President
The views in this article are those of the author and not necessarily those of the AFL or its clubs