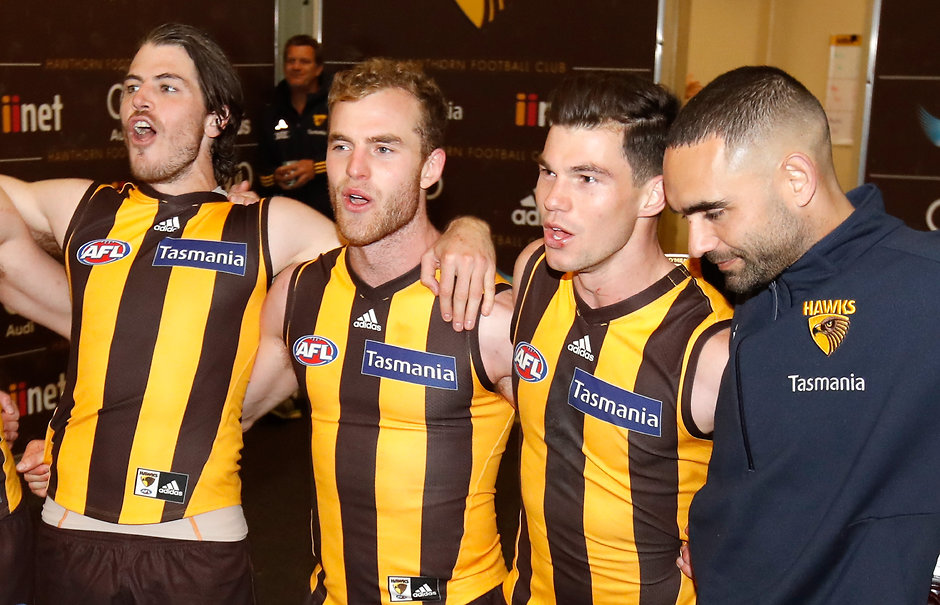 It's the race that stops the nation so we thought we'd join in on the fun.
We've taken a look at the entire field racing in Tuesday's Melbourne Cup and compared each horse to a Hawk.
We figure it might even help you pick the winner!
Before you start, it must be said that we acknowledge we have drawn a long (Hugh) Bow(man) on a few of these!
Best Solution- Shaun Burgoyne
An easy one to kick off proceedings. Shaun Burgoyne has been Hawthorn coach Alastair Clarkson's best solution ever since he arrived at the club in 2010. The Burgoyne is a true Mr Fix-it who has consistently proved the answer to so many of the Hawks' problems over the years . The comparison doesn't stop there either with Best Solution winning each of his past four starts- a true performer on the big stage. Sound familiar?
The Cliffsofmoher- Conor Glass
A classy galloper out of Ireland with a strong turn of speed. This horse quickly acclimatised to the Australian lifestyle, finishing fourth in his Australian debut and third a week later in the Caulfield Cup. Now a VFL premiership player, Glass too hasn't had too many issues familiarising himself with the Land Down Under.
Magic Circle- Ricky Henderson
Ricky Henderson grew up in Trentham, Victoria. At the age of 21, he was drafted by the Crows where he played for seven years and 90 games in Adelaide. Following the 2016 season, Henderson returned to Victoria to pull on the brown and gold. Completing the circle. The Magic Circle, if you like.
Chestnut Coat- Jaeger O'Meara
A wonderful looking horse with a strong name. After a few issues over previous years, both of these racehorses are looking to give their respective competitions a real shake in the near future. Has shown the potential to become part of the cream of the crop.
Muntahaa- Conor Nash
An Irish boy who has had a fantastic year in 2018. A win in the Cup would cap off an outstanding season for this Irish contingent. It's Muntahaa's first go at the 3200m distance, but a year of firsts didn't seem to perturb Nash this year, for what that's worth!
Sound Check- Ben Stratton
By virtue of his musical ways, the resident Hawks DJ lays claim to the pairing with this German stallion. Sound Check has a strong staying pedigree and has shown little fear in mixing it with some of the Betts… best in the world. Watch for this one to emerge out of the Ben(d) and explode into the Stratt(on).
Who Shot Thebarman- Grant Birchall
One of the veterans of the field. This will be this horse's fourth attempt at a win on the first Tuesday in November- the same number of premiership medals that Birch has tucked away at home. The gelding out of New Zealand will become just the eighth 10-year-old to start in the race and the first of that age or older since Magistrate ran as an 11-year-old in 1982. But, don't you worry, trainers and coaches alike will attest to this fan favourite having a lot more left in the tank.
Ace High- Olly Hanrahan
One that is untried at the next level, having yet to race at the distance, but one that has given every indication that he will be capable. One of only four Australian-bred horses in the field, Ace High won the Spring Champion Stakes and Victoria Derby last year at Flemington. Hanrahan showed a comparable level of class throughout the VFL finals for eventual premiers Box Hill.
Marmelo- Dylan Moore
The Moore this one hits the track, the better he gets. Both of these stayers entered the spring in scintillating form. Marmelo has recorded two wins and two second places from his last four starts, while Moore's four outings in the Hawks' VFL finals series saw him named in the best each time.
Avilius- Jarryd Roughead
The name Avilius is derived from the Hebrew meaning "strong and capable father". Therefore Roughy, a proud and loving father, is a perfect selection to partner with this British gelding. He made an immediate impression upon arriving on Aussie soil this year, not dissimilar to the way our skipper introduced himself to the big league. Not without a chance on Tuesday, this Roughy is one to watch.
Yucatan- Tom Mitchell
The pick of the bunch. Yucatan has dealt with Cup favouritism in the lead up to the race for a long time now. If the pressure has got to the five-year-old stallion at all, he could always give our outstanding on-baller a bell, who seemed to deal with the pressure and expectation of becoming a Brownlow Medallist this year reasonably well.
Auvray- David Mirra
This horse has not been without its doubters for a while now. Age has continued to become a factor, as that lack of an ultimate prize has yet to be realised. Age is not on this eight-year-old gelding's side, with only two eight-year-olds having won the cup in history and none since 1938. But he is an honest horse who won't die wondering.
Finche- Will Langford
Both came with the backing of having a champion father. Finche, whose sire is the undefeated legend Frankel, is a tenacious horse who is tipped to challenge for this year's Cup. The stallion's first career win was in his third start. Will's premiership win was in his third year at the Hawks.
Red Cardinal- Tim O'Brien
Red Cardinal goes to our red-headed racehorse, Tim O'Brien. With a name like O'Brien and hair of that nature, we can safely assume the tall forward and this Irish gelding share the same fatherland.
Vengeur Masque- James Worpel
Another one out of Ireland, this horse will ring a bell with punters after it saluted in last year's Geelong Cup. Perhaps our Geelong Falcons product was there that day watching on, learning those winning ways and executing them almost exactly a month later when he moved up the highway to adopt the brown and gold.
Ventura Storm- Daniel Howe
The big question mark over this gelding heading into Tuesday's race is: Howe will he fare over the distance? On two previous occasions, he has failed at the distance in Australia. So, there is certainly a query on Howe he will travel at the Cup.
A Prince of Arran- Tom Scully
Remember when we admitted to drawing a long bow on a few of these? Here's one. One of our newest recruits, Tom Scully hails from Narre Warren in Melbourne's south-east. The former number one draft pick surely holds some status in the suburb. Maybe as far as royal status?
Nakeeta- Darren Minchington
The latest addition to the field. Nakeeta was first removed from the race a few weeks ago before getting a late call-up back into the mix on Saturday following the omission of Red Vernon. All will be hoping that both Nakeeta and Minchington can take their renewed opportunity with two hands. Or four hoofs.
Sir Charles Road- Chad Wingard
A talent from across the border. This New Zealander's jockey will be donning silks with five stars on the front. Like our new five-star recruit, this five-year-old has class and a turn of pace. Punters believe Sir Charles will not be put off by the big stage. Punters also believe Sir Chad will likewise have little issue with that environment.
Zacada- Paul Puopolo
The longest of bows coming right up! Stick with us. So, one of the only words in the English language that rhymes with Zacada is cicada. Cicadas are insects that buzz around and make a big impact despite their diminutive stature. G'day, Poppy!
Runaway- Isaac Smith
An endurance machine that likes to lead from the front and not let go. This is also a tactic of our co-vice-captain come time trial day when he invariably leads the pack out and sees everyone again at the finish line. A Geelong Cup winner and a rare native representative, like Issie, this will be a popular choice with the average punter.
Youngstar- James Sicily
Really self-explanatory, this one. One of not only the Hawks' young stars, but a young star of the competition, we get the feeling Sis would back himself in amongst this Melbourne Cup field. In this mare's short time on the circuit, she has made a big impression.
Cross Counter- Ben McEvoy
We doubt there is a relation given that there is about two feet of height and 60 kilograms of weight that separate the pair. But McEvoy lands this partnership based on his namesake, Kerrin McEvoy, saddling up this four-year-old gelding on Tuesday.
Rostropovich- Jackson Ross
Another that gets the nod based off his name. We feel like Rossy might be putting his superstitious bet on this Irish stallion and just crossing his fingers that it turns out as well as his first year at the Ricoh Centre.
The views in this article are those of the author and not necessarily those of the AFL or its clubs