Ahead of Hawthorn's clash with Collingwood for the beyondblue Cup, Hawthorn player Brendan Whitecross sat down with former Hawk, current Eatern Football League (EFL) player and beyondblue ambassador Nathan Thompson to raise awareness about the impact and symptoms of anxiety and depression.
Thompson was affected by depression during his AFL career, and spoke to Whitecross about his experiences dealing with its effects.
Also this year, the Club connected Major Community Partner beyondblue with the EFL, who hosted the inaugural EFL beyondblue Cup.
Aimed at promoting messages of depression and anxiety across their league to help reduce stigma, a flagship match was held on Queen's birthday weekend between Balwyn and Noble Park Football clubs.
Whitecross was in attendance as both teams got into the spirit by wearing specially designed jumpers in a match that saw Balwyn victors of the inaugural EFL beyondblue Cup.
The following week, clubs right across the league joined in and helped raise funds and awareness for this great cause.
Find out more about beyondblue.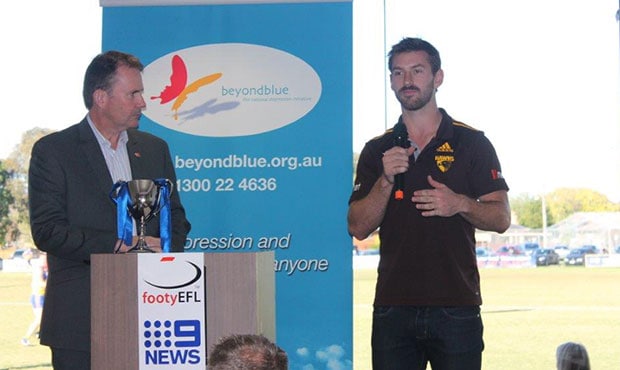 Brendan Whitecross speaks to EFL players, supporters, families, staff and the general community about beyondblue, the EFL and Hawthorn's involvement.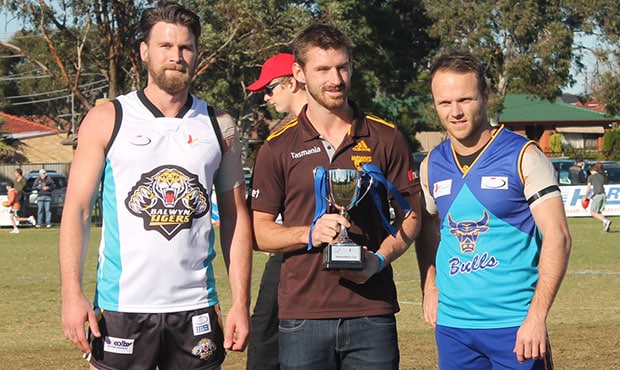 Whitecross with the beyondblue EFL Cup and the captains of both sides before the match.