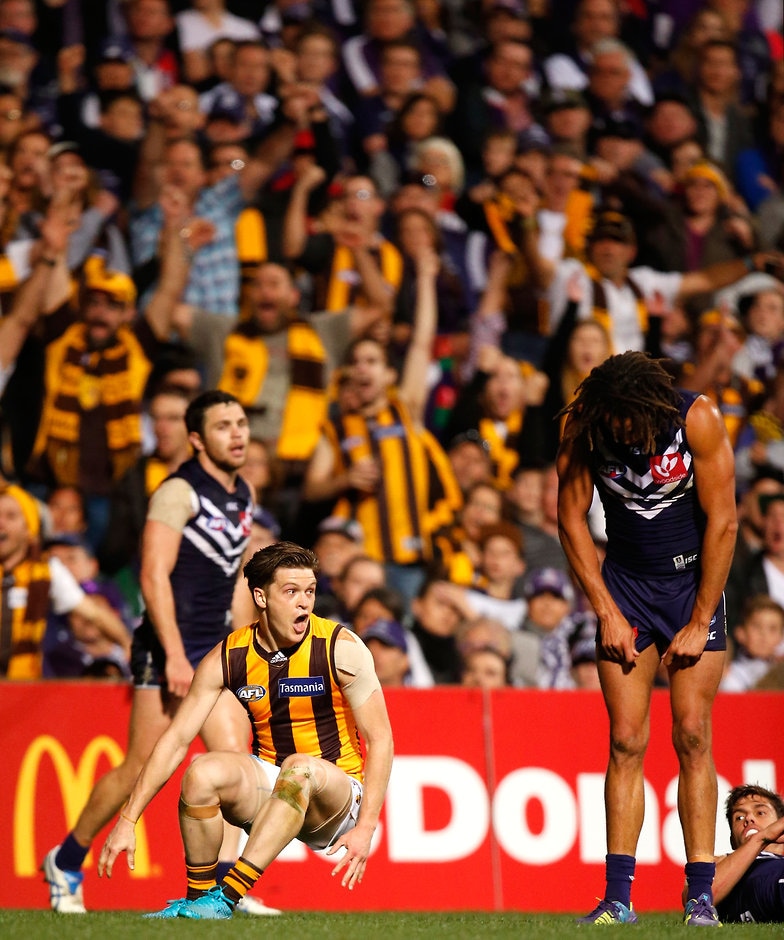 DESPITE being one of the best players on the ground in Hawthorn's preliminary final win over Fremantle, defender Taylor Duryea still doesn't feel his spot in the Hawks' team is secure for the Grand Final.
Duryea was outstanding in the Hawks' 27-point win over Fremantle on Friday night at Domain Stadium.
Sent to Hayden Ballantyne from the opening bounce, Duryea kept the mercurial small forward to one goal while racking up 26 disposals himself at 84.6 per cent efficiency.
To cap off his night, Duryea kicked a goal at the 18-minute mark of the final quarter that put the Hawks 26 points up and all but sealed their place in the Grand Final.
From the outside, the 24-year-old, who has played 21 games this season including all three of Hawthorn's finals, seems an almost certain selection for Saturday's premiership decider against West Coast.
But Duryea told AFL.com.au he was taking nothing for granted.
"You never feel secure, especially in my position, I've been on the fringe most of the year really to be honest, so for me I'm always on edge," Duryea said.
"I always know that I have to play my role and play really hard and put all I can out there on the field.
"That for me is the easiest part of my role, knowing that if I just work defensively and just really put it all out there then I'm probably going to hold my spot in the side.
"In terms of selection this week, you just do what you can. You play well on the weekend and then you just try and train and prepare the best you can and selection takes care of itself really."
Duryea's reluctance to pencil himself into the Hawks' Grand Final team is, in some ways, understandable.
In Hawthorn's 2013 premiership year, he made his debut in round three against Collingwood and played 18 of the Hawks' last 20 home and away games.
But Duryea was dropped for the Hawks' opening final against the Sydney Swans and watched their entire September campaign from the sidelines.
An emergency for the Grand Final against Fremantle, Duryea concedes that when he looked at Hawthorn's 22 that day, there wasn't anyone he felt he should have been picked ahead of.
But to come so close to a premiership medallion spurred him on last season.
"To be emergency was great but I guess in a way that was motivation for me to try and do what I could to cement a spot the following year, and fortunately for me that happened," Duryea said.
The former Murray Bushranger would win a spot in the Hawthorn team that went into last year's Grand Final against the Sydney Swans as a slight underdog – but only just.
After starting in the Hawks' finals wins over Geelong and Port Adelaide, Duryea was relegated to the substitute's green vest as Cyril Rioli returned after 11 weeks on the sidelines with a serious hamstring injury.
Defying his lack of match fitness, Rioli was an important contributor before being substituted out of the game early in the final quarter.
By that stage, the Hawks had all but won the flag, so Duryea could "just go out there and enjoy it, run around and try to get some kicks".
Duryea didn't waste his opportunity. In just 18 per cent game time, he had nine disposals, three inside 50s, one goal assist and, remarkably, the second-most running bounces of any player – five, behind Bradley Hill's seven.
"I was grateful Cyril was able to have a real impact – the defensive work he put in was awesome – and then give me my opportunity late in the game," he said.
In last Friday night's preliminary final, Duryea was happy to keep Ballantyne to one goal, but modestly deflected much of the credit to his fellow defenders, who, he said, had covered for him whenever he got caught out of position.
But the defender conceded he had enjoyed his last-quarter goal.
"I just initially tried to spoil the ball and thought it was going to go out of bounds, but it stayed in – I just made it up from there," he said.
"I saw an opportunity to kick a goal and wouldn't usually (have a shot) from there, but once I saw it go through I just let a bit of emotion out.
"That's not to say that I thought it was the sealer but I thought it was a really important goal and I just really gave it something in the celebration.
"Fortunately for us, we managed to lock down and control the tempo of the game after that."
The Hawks will almost certainly entrust Duryea to lock down one of the Eagles' small forwards on Saturday, with Mark LeCras, Josh Hill and Jamie Cripps among his possible opponents.
Duryea wasn't giving anything away about which of that trio he's likely to be sent to.
He'll be aiming to give even less away to LeCras, Hill or Cripps on Saturday.

RELATED
Can Mitchell win the Brownlow?

Finals experience a factor, says Roughead

The views in this article are those of the author and not necessarily those of the AFL or its clubs