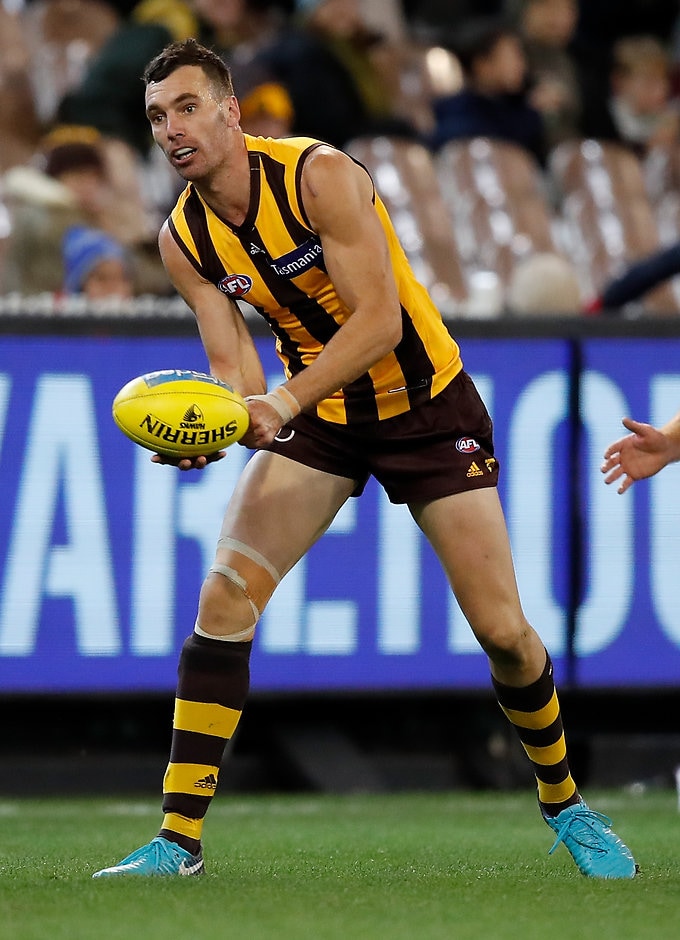 Once again, Alastair Clarkson has successfully rejigged on the run at Hawthorn.

The return of 204cm giant Jonathon Ceglar from more than 18 months out with a knee injury has given the Hawks coach a surplus of tall options going forward.

Having reintroduced Ceglar back into the senior fold three games ago, Clarkson trialled him alongside the likes of Jarryd Roughead and Jack Gunston inside 50 against West Coast.

Read: Match report - Hawthorn v Adelaide

A week later, Ceglar remained forward alongside Roughead against Port Adelaide, but Gunston had shifted back into the defensive role he held down impressively late last season.

That mix was persisted with in Hawthorn's 56-point victory over Adelaide on Friday night, with the Hawks seeing more success and perhaps a long-term plan unfolding in the process.

Ceglar kicked one goal from 12 disposals and 19 hit-outs, but looked an imposing opponent for Adelaide's defenders every time Hawthorn managed to move the ball forward.

As the 27-year-old continues to improve his fitness base, he expects to spend more time in the ruck alongside Ben McEvoy. But for now, he's just enjoying being back on the field.

"I'll play wherever Clarko tells me to play," Ceglar told AFL.com.au.

"If the team needs me to play forward, I'll play forward. If I need to play ruck, I'll play ruck.

That's the great thing about this team, everyone does what's needed of them.

"As a natural ruckman, I need to be able to play forward in this competition. Otherwise you can't play two big blokes. It is something I'm continually working on.

"But the coaches have put the faith in me to play forward, so hopefully I can repay the faith a bit, hit the scoreboard and compete."

Despite Ceglar's return, McEvoy is expected to remain as Hawthorn's first-choice ruckman having established himself as one of the game's most dominant big men in recent years.

But the pair have a strong relationship that Ceglar believes is growing with each passing week, saying the two talls are "open-minded" in terms of how they work in the future.

"It'll differ from week to week in terms of how we split it," Ceglar said.

"Some weeks, he'll have an advantage over an opponent. Some weeks, I will. We're both really open-minded about it and we both like playing forward.

"We help each other. We chat all week about the game gone and the game coming up.

During the game, we chat about how we're going. If one is struggling, the other gives them a chop-out here and there.

"That's only my third game back. We've still got a bit of work to do on gelling. He's been one-out for a long time, so the way he plays changes a bit with me back in the side. We'll keep working on it through the second half of the year."

As for Gunston, he has relished going back into a defensive role upon Ceglar's return.

On Saturday night, he won 27 disposals and seven marks and finished as one of the game's best and most influential players. He even snuck higher up the field to kick a handy goal early in the third quarter.

According to Ceglar, his teammate's impressive output in his non-preferred position is a credit to his attitude and his ability.

"He plays wherever it's needed," Ceglar said.

"He can play forward, back or on a wing. He's an elite ball user, he's elite overhead and if we need him forward, we know we can bring him forward. He's kicked 50 or 60 goals in a season.

"He's a pretty handy player to just put wherever we want. That's a credit to his attitude, wherever he goes, he never complains. He just does his team role. That's all you can ask."
The views in this article are those of the author and not necessarily those of the AFL or its clubs