Located at Waverley Park, Hawthorn's state-of-the-art facility is not only the home to the clubs elite footballers but also to its dedicated and experienced administration staff.
Our driven teams include specialists in finance, membership, commercial operations, digital media and community.
Our office in Launceston houses a driven team who run the operations and corporate sales for the area.
Working for Hawthorn means living by our values: Respect All, Open and Honest, Selfless, Dynamic and Relentless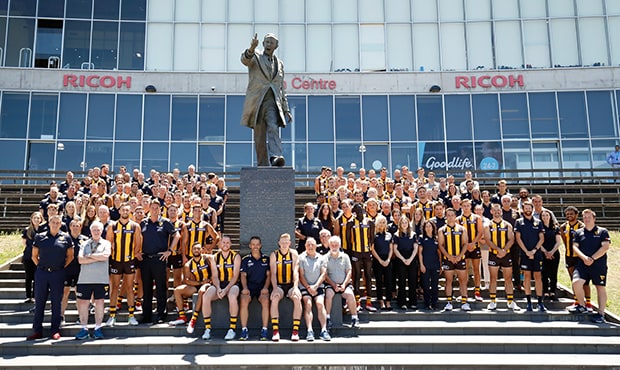 If you are interested in joining our family club, please see current vacancies listed here.
We do receive a high volume of applications which means unfortunately we can't respond to every candidate, but we value your interest and appreciate the time taken to show your dedication to making our club great.
Current vacancies
IT Systems Support Analyst – Fixed Term Contract
Reporting to the Manager – IT & Facility, this role will act as a technical expert and trusted advisor. You will be responsible for providing operational support to the Club and its affiliated entities, including hospitality venues.
For more information and to apply, please click here 
Applications close June 11.
Membership Communications Coordinator
Reporting to the Membership and Ticketing Operations Manager, this role will work collaboratively with internal stakeholders to develop, implement and execute the communications strategy for membership and ticketing operations, and support the delivery of the overall membership strategy. This role will have a strong operational element including monitoring and answering the membership hotline and responding to emails and mail.
For more information and to apply, please click here
Applications close 18 June.
Unfortunately Indeed.com have been advertising unauthorised job posts, falsely representing Hawthorn Football Club. Please do not apply for jobs on Indeed that claims to be for Hawthorn Football Club. 



Work Experience and Work Placement
Hawthorn Football Club receives an overwhelming number of expressions of interest from enthusiastic candidates requesting to undertake work experience or work placement at the club.

If positions do become available, the club will post them on hawthornfc.com.au.

Please do not be discouraged if you do not hear back from the club. As you can appreciate, Hawthorn receives a high volume of applications and unfortunately cannot reply to every one of them.
"If you embrace Hawthorn, Hawthorn will embrace you" - Dr. Sandy Ferguson