Hawks Pride
Hawks Pride aims to provide an inclusive LGBTIQ supporter group that welcomes and embraces all members of the community.
The group will host regular social events, watch games together and connect with the club.
The group was created by three die-hard Hawthorn Football Club fans in 2017. The group welcomes members from diverse sexuality, gender and cultural backgrounds.
Hawks Pride will join with similar groups at other AFL clubs to form a collective organisation to represent LGBTIQ AFL supporters.
Facebook: facebook.com/HawksPride
Twitter: @HawksPrideGroup
Insta: @hawks.pride

Law Hawks



Established in 2007, the Law Hawks are the Official In-House Lawyers' Supporter Group of the Hawthorn Football Club.
The Law Hawks comprises passionate Hawthorn supporters involved in all areas of the legal profession.
The Law Hawks enables lawyers, their staff and others to interact and network through their common love of football and shared passion for the mighty Hawks. It also gives them the opportunity to entertain guests and clients in a relaxed setting.
Representatives of the Law Hawks include barristers, solicitors, corporate and academic lawyers, members of the judiciary, law students, members of the police force, legal executives, legal secretaries and others engaged in the legal profession.
 
Player Sponsorship
For the past two seasons the Law Hawks have been the official sponsor of star defender Josh "Gibbo" Gibson. Through this sponsorship we have great access to Josh, who attends and hosts all of our functions, and provides personalised memorabilia exclusively for the coterie.
 
What do we do
Each season the Law Hawks host a flagship drinks function where members are invited to meet past and present players, coaches, presidents and Club administrators. The Law Hawks have hosted such notables as:


? Peter Knights (AFL Hall of Fame, Hawthorn Team of the Century, Peter Crimmins Medallist,
   Premiership Player)
? Campbell Brown (Premiership Player, All-Australian)
? Jeff Kennett AC (Hawthorn Football Club President)
? Mark Evans (former Hawks General Manager – Football Operations)
? Andrew Newbold (former Club President)
? Josh Gibson (Premiership player)
In addition to these functions the Law Hawks also host annual tipping and supercoach competitions along with raffles and quizzes with the winners of these receiving autographed memorabilia and 'money can't buy' experiences with the Club on game day.
 
How do I join?
You don't have to be legally qualified to join the Law Hawks although you do need to be connected with the legal profession.
We now have over 200 members, and these numbers continue to grow each season.
If you are eligible and, would like to mix with the like-minded and passionate Law Hawks, your free membership can be arranged by sending your completed membership application form to Andrew Denton at denton@vicbar.com.au 
Download the membership application form here.
 
How can you keep up-to-date?
Follow the Law Hawks on twitter and/or LinkedIn for easy access to all the latest information.
We also update members by e-mail throughout the season.
 
The Executives of the Law Hawks are:
Rebecca Denton, Norgate McLean Dolphin Lawyers - Co–Chairman
Andrew Denton, Victorian Bar – Co-Chairman
Doron Paluch, Burgess Paluch Legal Recruitment - Events
Peter Nankivell, Thomson Geer - Coterie Liaison
Timothy Byrne, Berry Family Law - Finance
Geoff Denton - Immediate Past Chairman
 
Law Hawks Contacts
Andrew Denton denton@vicbar.com.au 


The Hawkers
The Hawkers, comprised of social club members, commenced their monthly lunches at the Glenferrie Social Club.
At each lunch a special guest speaker was invited to entertain members and their guests.
Unfortunately Paul Keating came down on tax-claiming luncheons in 1987 which slowed the Hawkers somewhat until the format was re-started in the early 1990s.
With the closure of the social club, the Hawkers transferred to Hawthorn Receptions and now have moved to the Pavilion at the Box Hill Football ground.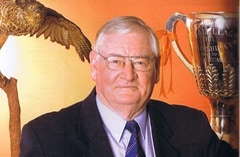 The Pavilion
Box Hill Football Ground
City Oval, Corner Whitehorse and
Middleborough Road, Box Hill
The Hawkers meet at the Pavilion Box Hill on the first Friday of each month, and all football supporters are welcome.
You can register as a Hawker and receive a monthly initiation by contacting Jas on 0413 685 495.

The Luncheons are hosted by 1961 Premiership Captain Graham Arthur.   
Hawkers events
On the first Friday of each month, they meet for lunch, hosted by 1961 Premiership Captain Graham Arthur, at the Pavilion Box Hill City Oval.
Please contact Jasminka for bookings on 0413 685 495 and also register as a Hawker and receive a monthly invitation.


Talk Sport with Mort
Join Graham Arthur and past players along with like minded Hawks members for dinner. Get up close and personal with special guest interviews and more.

Join us 
Talk Sport with Mort 2019
Held at the Glenferrie Hotel on the 3rd Thursday of each month.   

Cost: $30 per person including two-course dinner and guest speaker
Bookings are essential, contact Jasminka on 0413 685 495 for further information and bookings.

Thornbirds

The Thornbirds are celebrating 40 years in 2019 – a fabulous milestone! We are a group of female Hawthorn FC members, supporters and friends. You do not have to be an HFC member to become a Thornbird!We run various social and fundraising activities during the year – day, night, and weekends where possible so everyone is able to join us during the year.The Thornbirds have a Glenferrie Gold membership with the Hawthorn museum; our own paver under the John Kennedy statue and will do any other donating or fundraising as required by the club.We raise funds for the football club through our sponsorship of three senior players – Jack Gunston, Marc Pittonet and Ricky Henderson.We have supported our VFLW team and in 2019 continue sponsoring Sarah Perkins and Rosie Dillon.Also we support many worthwhile charities such as the Good Friday Appeal, Ovarian Cancer, Cancer Council and a Domestic Violence Service in the eastern suburbs of Melbourne, and many others.MEMBERSHIP:If you would like to join us please complete the attached membership form - $35 is the annual fee which includes discount to our functions, regular newsletters and other benefits.You do not have to be a member to attend our activities but members do receive a discounted rate to attend functions.COFFEE MORNINGS:We meet regularly for morning coffee on the LAST FRIDAY OF THE MONTH (except public holidays) from March through to November at:Box Hill Golf Club – Bistro 202 Station Street Box Hill 3128

Please feel free to join us at 10.15am - $10 for coffee and cake in a relaxed atmosphere.
We on these days may also be found upstairs with a "special occasion" morning tea at $20 check the website for updates.Also once a month we venture to Forest Hill Shopping Centre, Canterbury Rd Forest Hill for Hahndorf's coffee! (see calendar of events following!).
To access The Thornbirds' membership form, please follow the link below.
Lyn Sutton
Contact: 0409 863 211 or 9877 4927
Email: suttonfam@bigpond.com
Newsletters for 2019
Newsletters for 2020

Australian Supporter Groups - contacts and live screenings
WA Hawks
Where: Inglewood Hotel, cnr Fifth Ave and Beaufort Street, Mt Lawley
www.inglewoodhotel.com.au
Contact: wahawks@iinet.net.au
Facebook: WA Hawks group
Twitter: twitter.com/WA_Hawks


SA Hawks
Where: Club Marion, 262 Sturt Road, Marion
Contact: sahawks@hawthornfc.com.au
Facebook: Hawks SA group


Canberra Hawks
Where: CSCC, Woden
Contact: canberrahawks@hawthornfc.com.au 
Facebook:Canberra Hawks group


Sydney Hawks
Where: "The Cammy" - Camelia Grove Hotel, 146 Henderson Rd, Alexandria
www.thecammy.com.au
Contact: sydneyhawks@hawthornfc.com.au 
Facebook: Sydney Hawks group


Brisbane Hawks
Where: Pineapple Hotel - Main Bar, 706 Main Street, Kangaroo Point
Contact: brisbanehawks@hawthornfc.com.au 
Facebook:Brisbane Hawks page
Twitter: twitter.com/BrisbaneHawks

Tassie Hawks
Where: The Talbot Hotel, 131 Newtown Road, Newtown
?Hobart Contact: Brett Archer – brettthehawk@gmail.com or 0400 846 394
Launceston Contact: Malcolm Hales - tassiehawks@hawthornfc.com.au
Facebook: Tassie Hawks Hobart group or Tassie Hawks Supporter Group
Live Screenings: 

Darwin Hawks
Where: Globies Bar, 97 Mitchell St, Darwin
Contact: darwinhawks@hawthornfc.com.au
Facebook:Darwin Hawks group
Twitter: twitter.com/DarwinHawks


Sunshine Coast Hawks
Where: Woombye Hotel, Blackall Street, Woombye
Contacts: Grant Palethorpe and Kerri Roland - sunshinecoasthawks@y7mail.com
Facebook: Sunshine Coast Hawks group

Mildura Hawks
Where: Gateway Tavern, Mildura
Contact: Barry Cain - barrycain108@gmail.com
Facebook: Mildura Hawks group
Bendigo Hawks
Contact: pbpg@bigpond.com
Facebook: Bendigo Hawthorn Supporters Club

International Supporter Groups - c
ontacts and live screenings

Jakarta Hawks
Where: Sports Lounge at Eastern Promise, Jl Kemang Raya No 5, Jakarta Selatan, Indonesia
Contact: geoffreygold@footballdynamics.com
Facebook: Asia Hawks Network
Twitter: twitter.com/jakartahawks

 
Singapore Hawks
Where: London on Boat Quay, 55 Boat Quay, Singapore
Contact: singaporehawks@gmail.com
Twitter: Singapore Hawks


London Hawks
Where: Jetlag Sports Bar, 125 Cleveland St, Fitzrovia, London, W1T 6QB
Contact: Richard Tucker - londonhawks@live.com or +44 7450 042 598
Facebook: London Hawks group