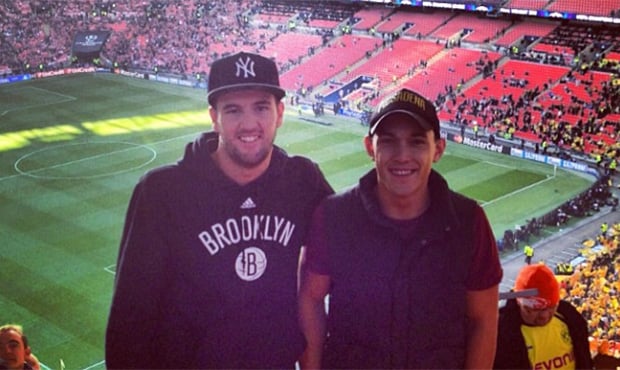 THEY'RE out for the season with serious knee injuries, a year of rehabilitation on the menu, but that doesn't mean Matt Suckling and Alex Woodward aren't keeping things exciting.
The pair have taken their rehabilitation overseas to visit rehabilitation centres in the aim of gaining extra knowledge and tips to fast track their recovery.
Woodward was the first to rupture his anterior cruciate ligament, injuring his knee at a training session during the pre-season.
Soon after, Suckling went down with the same injury in week two of the NAB Cup, when he attempted to change direction.
They have been joined at the hip ever since, embarking on the long road to recovery, watching their teammates prepare for and make an excellent start to the 2013 AFL season.
Before long, they were joined by defender Ryan Schoenmakers who also injured his knee in Tasmania but unfortunately for him, unable to join his teammates overseas given the timing of his injury.
Head of Coaching and Development Chris Fagan says the trip is an important part of the pair's rehab program and has given the Club the tools to further its knowledge and programs to help in the recuperation process from serious injury.
"That's an important part of their rehabilitation because it obviously takes a long time to get over an ACL," Fagan said.
"We thought it would be a good idea to send them away and get some experiences overseas that they normally wouldn't be able to get if they were here during football season.
"While they've been over there, they've been able to visit a couple of really good rehabilitation centres where they've been able to get some excellent advice on how to recuperate their knees.
"Importantly, they're going to be able to bring that knowledge back to our fitness staff who can put some programs into place to hopefully accelerate their recovery."
It's not all work for Woodward and Suckling, however, who have enjoyed some free time while on their journey.
The pair have taken to Twitter and Instagram to capture their adventures as they headed to the Champions League final and will soon venture to Paris to catch some of French Open action.
They have also visited English Premier League side Arsenal, to see how they approach their rehab.

Follow their journey by following Matt Sucking on Twitter and Instagram and Alex Woodward on Twitter and Instagram.

Super keen for 2day @alexwoodward36 Arsenal football club this arvo! ��⚽ See how they do rehab and hopefully pick up a few things!!

— Matt Suckling (@matthewsuckling) May 28, 2013
Tough biathlon session with @matthewsuckling what a way to start the day �� #cooked

— Alex Woodward (@AlexWoodward36) May 10, 2013
Big day of rehab for myself & @matthewsuckling Isokenetic clinic then Arsenal FC, always great to learn something different about recovery ��

— Alex Woodward (@AlexWoodward36) May 28, 2013
Just crazy! Don't know what I could possibly say!!! In awe!! Champions League Final �� twitter.com/matthewsucklin…

— Matt Suckling (@matthewsuckling) May 25, 2013