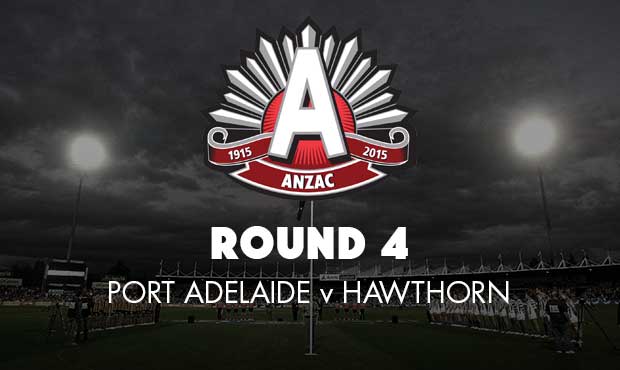 100 years after the Anzacs landed at Gallipoli on 25 April 1915, Hawthorn and Port Adelaide Football Clubs will honour the men and women who have participated in wars, conflicts and peacekeeping operations around the world.

The two clubs will pay tribute to the country's wartime history in their match at Adelaide Oval on Anzac Day, running together through a joint banner featuring the Anzac crest.

Hawthorn Senior Coach Alastair Clarkson acknowledged the club is privileged to be a part of the five-game fixture on Anzac Day.

"We are really excited to be playing on Anzac Day," he said.

"It has usually only been afforded to a very few in AFL footy and by playing on this day we get a great chance to pay our respect to a generation of gentlemen and women who fought for our country and gave us the chance to do what we do today."

Hawthorn players will wear a special event guernsey featuring the Anzac crest which is available for fans to bid on in an online auction with all proceeds going directly to the Return Services League and the Department of Veteran Affairs (DVA).

Hawthorn Football Club, under Senior Coach Alastair Clarkson, has trekked the Kokoda Track on four occasions, sending over 100 club representatives including coaches, players, board members, corporate partners and administrative staff on its four expeditions.

The Hawks continue to embrace the values and qualities inscribed on the four black granite pillars at the Isurava Memorial in Papua New Guinea, which remember those Australian and Papua New Guineans who fought and those who died on the Kokoda Track.

The four pillars, which are enshrined in the club's gymnasium, are: Courage, Endurance, Mateship and Sacrifice.

The AFL first played matches on Anzac Day in 1960, and Hawthorn's first ever Anzac Day appearance was in 1963. Hawthorn has played in twelve Anzac Day matches, winning eight.

The re-match of last year's nail-biting preliminary final that the Hawks won by three points will kick off from 7.10pm at Adelaide Oval.