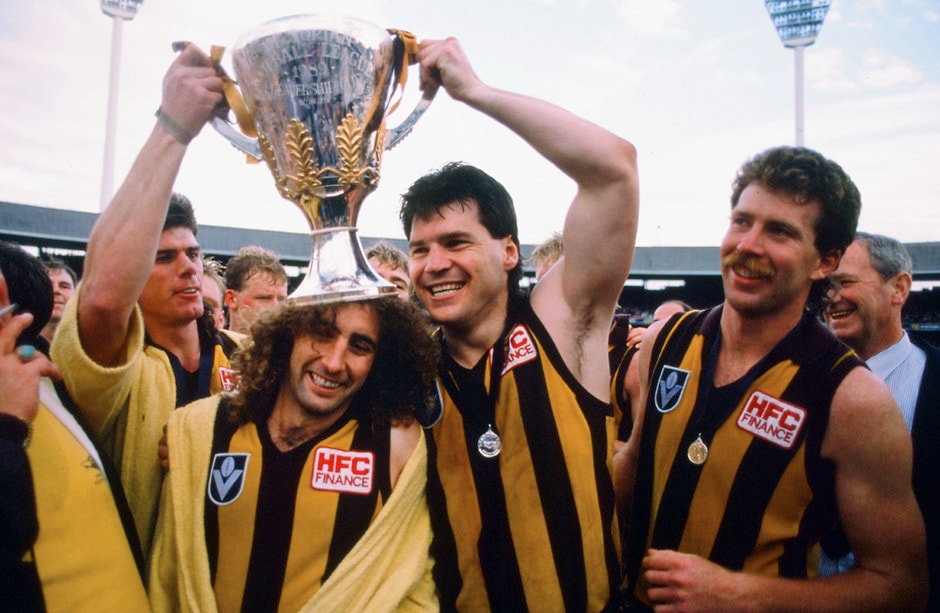 Reflecting on all the topical milestones and achievements, past and present, as we head into Week 2 of the 2018 Finals Series. This is 'Footy Flashbacks'....
History points towards a Hawthorn win this Friday night. Hawthorn has a positive (4-2) record in six previous Finals against Melbourne and an even better 6-1 record in double-chance games after a first up loss in a Finals series.
This week, number 9 will become the second Hawthorn number, after number 2, to be worn in 200 games by three different Hawks.
Robert Dipierdomenico wore number 9 in 239 games from 1978 to 1991 (having worn number 38 in a single game in 1975), and then Shane Crawford carried the number in 305 games (1993-2008). Now, Shaun Burgoyne will join them when he wears 9 for the 200th time, in his 201st Hawthorn game, having worn number 67 in Indigenous Round last season.
The three players to wear number 2 in 200 games have been Graham Arthur, Geoff Ablett and Jarryd Roughead.
Hawthorn was playing in just its second Finals Series when it met Melbourne in the 1961 Second Semi Final. The Hawks' seven-point win not only secured their first ever Grand Final place, but it helped avenge the heavy defeat which Melbourne had inflicted on them in the 1957 Preliminary Final.
In warm, sunny conditions, Melbourne's Finals' experience came to the fore early as it raced to a lead of 25 points, before at the 23-minute mark Garry Young snapped Hawthorn's first goal. The game-changing moment came half-way through the second quarter when star Melbourne centreman Laurie Mithen went down, clearly unsettling the Melbourne players.
For a lengthy period in the last quarter, Hawthorn clung to a one-point lead, until a Morton Browne goal at the Punt Road end sealed victory – 12.8.80 to 11.7.73 - in front of 87,744.
The critics were unanimous about the quality of the game, Bill Twomey in the Sporting Globe describing it as "one of the greatest and hardest fought finals for years ... the game will go down in history as an epic ... it had everything". Garry Young was rated BOG, closely followed by John Peck (4 goals), John Winneke and John Fisher.
The two teams met again in September two years later, in the 1963 Preliminary Final, with the Hawks once again coming out on top, this time by nine points – 11.11.77 to 10.8.68 – with Graham Arthur outstanding.
There was then a gap of 24 years before the two clubs again contested a Final, the memorable Preliminary Final of 1987, played at Waverley before a crowd of 71,298. After trailing by 22 points at three quarter time, Hawthorn produced one of its greatest comebacks, culminating in that 15-metre penalty and the famous Gary Buckenara goal after the siren. The Hawks won 11.14.80 to 10.18.78.
The next Final between the clubs broke the sequence of close games, as in the 1988 Grand Final, Hawthorn won by a then record Grand Final margin of 96 points – 22.20.152 to 6.20.56, with bags of goals to Jason Dunstall (7), Paul Abbott (6) and Dermott Brereton (5) and a second Norm Smith Medal for Gary Ayres.
Read: Hawks, Dees to renew finals rivalry
The most recent final between the clubs was the 1990 Elimination Final which Melbourne won 10.13.73 to 8.16.64, meaning that in its most recent Final against Melbourne, and in its most recent Final last Thursday night, Hawthorn has recorded a score of 64.
In the intervening period, Hawthorn has also recorded 64 in losing Finals in 2010 and 2015. The score in the 2015 Qualifying Final loss was 14.12.96 to 9.10.64, uncannily close to last Thursday night's 13.17.95 to 9.10.64. Let's hope the next three weeks are like 2015 too!
On the seven previous occasions when the Hawks got a second chance after a first-up loss, they have won six times. Two of the first-up defeats were in Second Semi Finals (1963 and 1986), with the Hawks then bouncing back to win Preliminary Final. Five were Qualifying Final defeats (1974, 1982, 2011, 2015 and 2016) and every time, apart from 2016, Hawthorn bounced back with big wins in the Semi Finals.
In 1974, after losing to North Melbourne, Hawthorn thrashed Collingwood by 50 points in the First Semi – 21.12.138 to 13.10.88, setting up the win by outscoring the Magpies by 33 points in the opening term. Leigh Matthews was the star having 21 kicks and kicking seven goals. In 1982, after a Qualifying Final loss to Carlton, Hawthorn thrashed North Melbourne by 52 points – 24.22.166 to 18.6.114. Dermott Brereton made a memorable debut with five goals, but the best player was the same as eight years earlier, with Leigh Matthews having an incredible 37 disposals (29 kicks and 8 handballs) and kicking four goals.
In 2011, Hawthorn beat Sydney by 36 points in a Semi, with Lance Franklin a surprise participant after getting injured the previous week against Geelong. His four goals were supplemented by three from first-year player Paul Puopolo. In 2015, Hawthorn thrashed Adelaide by 74 points, with Luke Breust kicking six goals and Sam Mitchell gathering 33 disposals.
Hawthorn has won 15 of its last 16 games against Melbourne, including 13 consecutive wins from 2007 to 2016. Hawthorn's best sequence of wins against any opponent is the 22 consecutive victories it racked up against Melbourne from 1973 to 1984. The two clubs have played each other 162 times, with the Hawks winning 87 and the Demons 75.
Conor Nash has become the equal least experienced player, with Ryan Burton in 2016, to represent Hawthorn in a Final since Dermott Brereton made his debut in the 1982 First Semi. Nash and Burton played Finals in just their fourth AFL games, one fewer than the previous lowest in the past 35 years which was Nathan Lonie, who in 2001 played a Final in his fifth game.
The leading individual goalkicker for Hawthorn against Melbourne is Peter Hudson who booted 16 goals at Glenferrie in 1969. Three Hawthorn players have kicked eight goals in Finals – Michael Moncrieff (1978), Dermott Brereton (1985) and Lance Franklin (2008).
Read: All the injury updates ahead of our Semi Final show down

The views in this article are those of the author and not necessarily those of the AFL or its clubs