With approximately 3000 people dying by suicide every year, Hawthorn is a loyal advocate for organisations that bring awareness to mental health issues in Australia. Hawthorn's vision is that every Australian will be aware of the necessary tools to tackle anxiety and depression, so they can help themselves and others in the road to recovery.
Key programs include:
Mental Health Ambassadors - Cyril Rioli and Taylor Duryea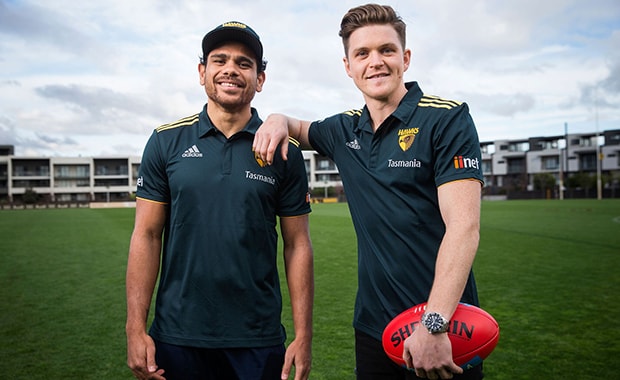 Hawthorn Football Club has extended its commitment to reducing the stigma surrounding mental health with the announcement of Cyril Rioli and Taylor Duryea as the club's Mental Health Program ambassadors.
Rioli and Duryea have been announced as ambassadors ahead of the annual beyondblue cup which will take place against the Sydney Swans in Round 19 at the MCG.
Both Rioli and Duryea are passionate about the need to reduce stigma surrounding mental health conditions and hoped they could use their position as AFL players to raise awareness in this area.
"Anxiety and depression are just like physical injuries – they can affect anyone and most importantly, they're treatable with the right kind of support," Duryea said.
"We're hoping that through the mental health programs the club provides and supports, and the awareness we raise through the beyondblue cup each year we are able to reduce some of the stigma surrounding mental health."
Rioli said he hoped to bring awareness to the support services available and encourage those affected by mental health issues to seek help, particularly in Aboriginal and Torres Strait Island communities.
"Growing up on the Tiwi Islands I've seen first-hand the impact mental health has on Aboriginal and Torres Strait Island communities, so I wanted to do my bit to get people talking about mental health and encourage those affected to seek help," Rioli said.
"People need to be aware that there are services out there, such as beyondblue, that will help you find the right kind of support."
| | |
| --- | --- |
| | |
| beyondblue and Hawthorn Football Club have been working together since 2006 with the aim to create an Australian community that understands anxiety and depression, and empowers every person, at any life stage, to seek help for mental health conditions | Statistics show 1 in 7 primary school children have a mental illness and 1 in 4 primary school children are overweight or obese. With these statistics in mind, Looking After ME aims to improve the physical and mental health of primary school children, helps them to develop an appreciation for themselves and helps students develop an understanding of what they need to help their bodies to function properly. |

Hawthorn and Love Me Love You work closely together with a key focus on youth resilience. Suicide is the biggest killer of young Australians and accounts for the deaths of more young people than car accidents.
With former Hawks player Lance Picioane as its founder and CEO, Love Me Love You strives to empower young adults to help overcome the stigma surrounding mental health and other life hardships.
Love Me Love You take part in the club's Secondary Schools Program where Picioane and Hawthorn players provide resilience training to local secondary schools.