Best All-Rounder - Best & Fairest - Club Champion - The Crimmins Medal
When the Hawthorn Football Club joined the VFL/AFL in 1925 recent research has confirmed that the Best Player Award retained the title Best All-Rounder first introduced in 1902. The title of the award was changed to the Best & Fairest in 1929 when Ernest 'Tich' Utting won the award. The winner was decided by player votes until 1932 when the Club's Committee took over the role. The Coaching Staff now awards the votes.

Leo Murphy was the first player to win the Best & Fairest award back to back, in 1936-37.  Club Legend, Leigh Matthews won the Best & Fairest a record eight times.  The 2012 Brownlow Medalist, Sam Mitchell has won five Crimmins Medals with Club Legends, John Kennedy Snr and Jason Dunstall winning on four occasions - a tally also reached by 1999 Brownlow Medalist, Shane Crawford.
The irrepressible Club Legend, Michael Tuck who won seven Premierships, four as Captain, showed his value as a player placing nine-times in the Best & Fairest, coming second seven times and third, twice. Another consistent performer was the very popular Roy Simmonds from the 1950s. He finished in the top three in seven consecutive seasons. He won this prestigious award in 1956, came second three times and third on three occasions.
In 1976, when Leigh Matthews won the fourth of his eight Best & Fairest Awards, the title the 'Peter Crimmins Perpetual Trophy' was added, honouring former Captain, Peter Crimmins who tragically died from cancer two days after the 1976 Premiership. 
In 1985, when Dermott Brereton won the award, the title of the award was changed to Club Champion, retaining the subtitle, the Peter Crimmins Perpetual Trophy.
The title of the award was renamed the Peter Crimmins Medal in 2004, with Peter Everitt receiving this prestigious award. 

Previous winners 
 
First
Second
Third
1925
Fred Finch
Unknown
Unknown
1926
Unknown
Unknown
Unknown
1927
Ted Pool
Unknown
Unknown
1928
Miles Sellers
Unknown
Unknown
1929
Ernest Utting
Unknown
Unknown
1930
John Sharpley
Unknown
Unknown
1931
Unknown
Unknown
Unknown
1932
Stan Spinks
Unknown
Unknown
1933
Albert Mills
Stan Spinks
Unknown
1934
Ernie Loveless
Unknown
Unknown
1935
Albert Mills
Stan Spinks
Unknown
1936
Leo Murphy
Unknown
Unknown
1937
Leo Murphy
Albert Mills
Unknown
1938
Stan Spinks
Unknown
Unknown
1939
Albert Mills
Len Thomas
Alec Albiston
1940
Andrew Angwin
Stan Spinks
Dudley Bragg
1941
Alec Albiston
Andrew Angwin
Albert Mills
1942
Jack Barker
Andrew Angwin
Jack Burke
1943
Jim Bohan
John Barker
Jack King
1944
Jack Blackman
Jim Bohan
Jack King
1945
Jim Bohan
Jack Blackman
Geoff Barwick
1946
Alec Albiston
Colin Austen
Jim Bohan
1947
Wally Culpitt
Kevin Curren
Don McVilly
1948
Kevin Curren
Alec Albiston
Colin Austen
1949
Colin Austen
Jim Robson
Neil Pearson
1950
John Kennedy Snr
Jim Robson
Peter O'Donohue
1951
John Kennedy Snr
Peter O'Donohue
Roy Simmonds
1952
John Kennedy Snr
Roy Simmonds
Len Crane
1953
Ted Fletcher
Len Crane
Roy Simmonds
1954
John Kennedy Snr
Roy Simmonds
Len Crane
1955
Graham Arthur
John O'Mahony
Roy Simmonds
1956
Roy Simmonds
John Peck
John O'Mahony
1957
Alf Hughes
Brendan Edwards
John Kennedy Snr & Roy Simmonds
1958
Graham Arthur
Brendan Edwards
John Kennedy Snr
1959
Allan Woodley
Brendan Edwards
John Kennedy Snr
1960
Brendan Edwards
John Peck
John Winneke
1961
Ian Law
John Winneke
Brendan Edwards
1962
Graham Arthur
John Peck
Ron Nalder
1963
Ian Law
Colin Youren
John Peck
1964
Ian Law
Phil Hay
John Peck
1965
David Parkin
John Peck
Ron Nalder
1966
Ray Wilson
Kevin McLean
Des Meagher
1967
Robert Keddie
Graham Arthur
John Dunshea
1968
Peter Hudson
Peter Crimmins
Des Meagher
1969
Robert Keddie
Ken Beck
Peter Hudson
1970
Peter Hudson
Kevin Heath
Peter Knights
1971
Leigh Matthews
David Parkin
Peter Crimmins
1972
Leigh Matthews
Peter Crimmins
Des Meagher
1973
Don Scott
Alan Martello
Leigh Matthews
1974
Leigh Matthews
Peter Knights
John Hendrie
1975
Peter Knights
Leigh Matthews
Alan Martello
1976
Leigh Matthews
Michael Tuck
Peter Knights
1977
Leigh Matthews
Michael Tuck
Don Scott
1978
Leigh Matthews & Peter Knights
Not awarded
Michael Tuck
1979
Kelvin Moore
Michael Tuck
Alle de Wolde
1980
Leigh Matthews
Don Scott
Peter Russo
1981
Terry Wallace
Leigh Matthews
Michael Tuck
1982
Leigh Matthews
Michael Tuck
Terry Wallace
1983
Terry Wallace
Michael Tuck
Peter Knights
1984
Russell Greene
Michael Byrne
Robert DiPierdomenico
1985
Dermott Brereton
Chris Mew
Terry Wallace
1986
Gary Ayres
Gary Buckenara
John Platten
1987
John Platten
Michael Tuck
Chris Langford
1988
Jason Dunstall
John Platten
Darrin Pritchard
1989
Jason Dunstall
Gary Ayres
Gary Buckenara & Chris Langford
1990
Andrew Collins
Michael Tuck
Darrin Pritchard
1991
Ben Allan
John Platten
Chris Langford
1992
Jason Dunstall
Darren Jarman
Andrew Collins
1993
Jason Dunstall
Ben Allan
Chris Langford
1994
John Platten
Jason Dunstall
Scott Maginness
1995
Darren Jarman
Shane Crawford & Nick Holland
Not awarded
1996
Paul Salmon
Shane Crawford
Jason Dunstall
1997
Paul Salmon
Daniel Harford & Aaron Lord
Not awarded
1998
Shane Crawford
Luke McCabe
Aaron Lord & Craig Treleven
1999
Shane Crawford
Richard Taylor & Tony Woods
Not awarded
2000
Daniel Chick & Nick Holland
Not awarded
Daniel Harford
2001
Joel Smith
Mark Graham
Shane Crawford, John Barker & Nathan Thompson
2002
Shane Crawford
Simon Cox
Angelo Lekkas
2003
Shane Crawford
Angelo Lekkas
Jade Rawlings
2004
Peter Everitt
Trent Croad
Joel Smith
2005
Luke Hodge
Peter Everitt
Shane Crawford
2006
Sam Mitchell
Luke Hodge
Brad Sewell
2007
Brad Sewell
Campbell Brown
Luke Hodge
2008
Lance Franklin
Sam Mitchell
Luke Hodge
2009
Sam Mitchell
Cyril Rioli
Lance Franklin
2010
Luke Hodge
Lance Franklin
Sam Mitchell
2011
Sam Mitchell
Josh Gibson
Grant Birchall
2012
Sam Mitchell
Brad Sewell
Grant Birchall
2013
Josh Gibson
Jarryd Roughead
Sam Mitchell
2014
Jordan Lewis
Grant Birchall
Jarryd Roughead
2015
Josh Gibson
Cyril Rioli
Sam Mitchell
2016
Sam Mitchell
Jordan Lewis
Shaun Burgoyne
2017
Tom Mitchell 
Ben McEvoy 
Luke Hodge 
2018
Tom Mitchell
Blake Hardwick 
Isaac Smith 
2019
James Worpel
Ricky Henderson 
Jaeger O'Meara 
2020
Jack Gunston
Tom Mitchell
Chad Wingard

 

2021

 

Tom Mitchell
Blake Hardwick
Jaeger O"Meara

 

2022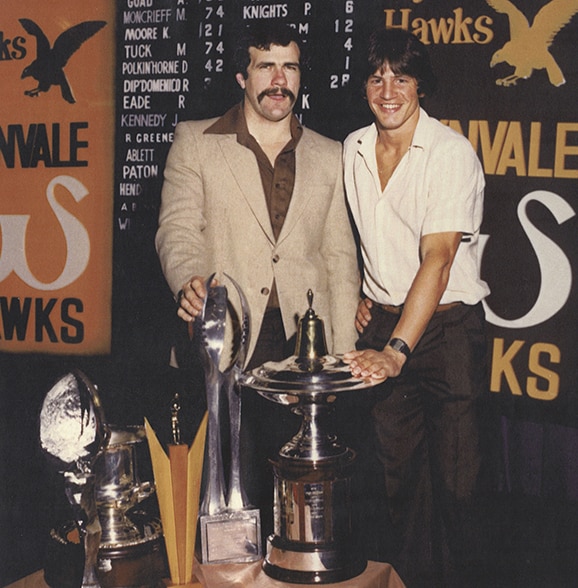 Leigh Matthews and Peter Russo, 1980.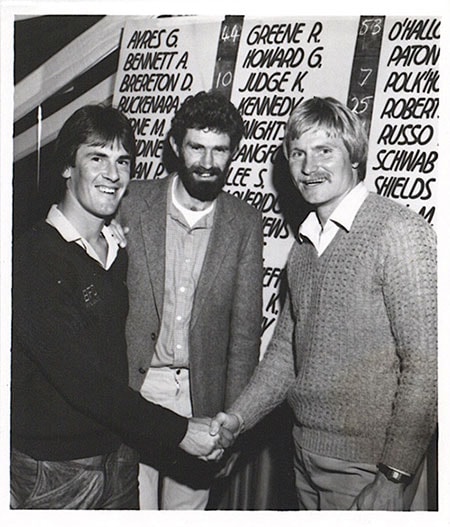 Terry Wallace, Michael Tuck, and Peter Knights, 1983.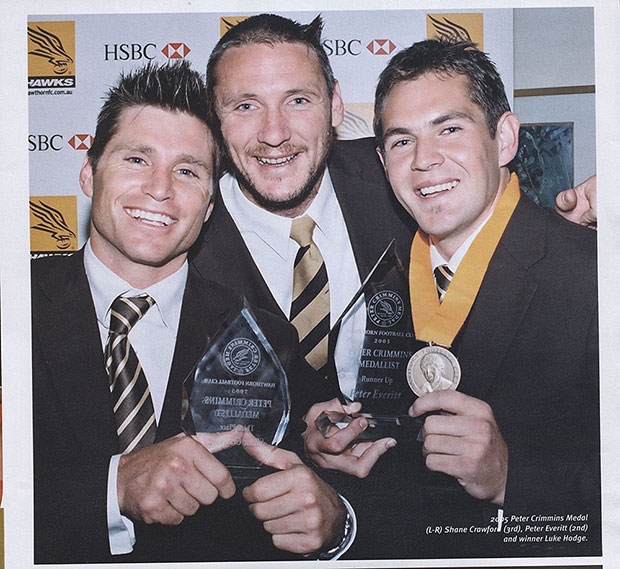 Shane Crawford, Peter Everitt, and Luke Hodge, 2005.