EVERY December and January the AFL world is awash with news about time trials, personal best times run by players and those that are burning up the track.
So at AFL.com.au we have decided to determine who is the fastest middle-distance runner in the competition, as if the victors of the time trials run by the 18 AFL clubs were competing in a race over 2km this week.
The difficulty in putting together an exercise like this is emphasised by the fact that clubs are notoriously secretive of the times their players run, desperate not to give opposition teams any competitive advantage.
Some clubs run their time trials over 2km, while others prefer to test their players' endurance over 3km. Geelong now has its players complete a 15-minute run, where the objective is to cover the most amount of distance in that time period.
Others simply don't run any tests, making comparisons between the clubs tough.
However, it is difficult to look past former athlete and Cats midfielder Mark Blicavs as the competition benchmark given his athletics background and some of the numbers he consistently produces in time trial testing.
Greater Western Sydney running machine Tom Scully and Hawthorn wingman Isaac Smith would serve as Blicavs' biggest competition, while West Coast's Chris Masten is also a supreme runner.
Below is our club-by-club look at each team's time trial king and those retired stars renowned for their efforts across the summer during their careers, and our stab at the top 10.
1. Mark Blicavs (Geel)
2. Tom Scully (GWS)
3. Isaac Smith (Haw)
4. Chris Masten (WCE)
5. Sam Gibson (Adel)
6. Tom Phillips (Coll)
7. Mitch Hibberd (NM)
8. Bradley Hill (Frem)
9. Ed Curnow (Carl)
10. Jarryn Geary (StK)

Former Kangaroo Sam Gibson picked up where he left off at Arden St in winning the Crows' 2km time trial in December, then repeated the dose last week. Jake Kelly and Riley Knight, who beat Kelly in the first-to-fourth-year players' 2km event in late November, were left in Gibson's wake in the most recent time trial.
Previous stars: Nathan van Berlo and Brett Burton were considered time-trial specialists in their time at the club, while current Blue Sam Kerridge ended van Berlo's extended reign – albeit narrowly – with an impressive effort early in 2015. - Marc McGowan
Sam Gibson brought his time trial expertise to Adelaide from the Kangaroos. Picture: AFL Photos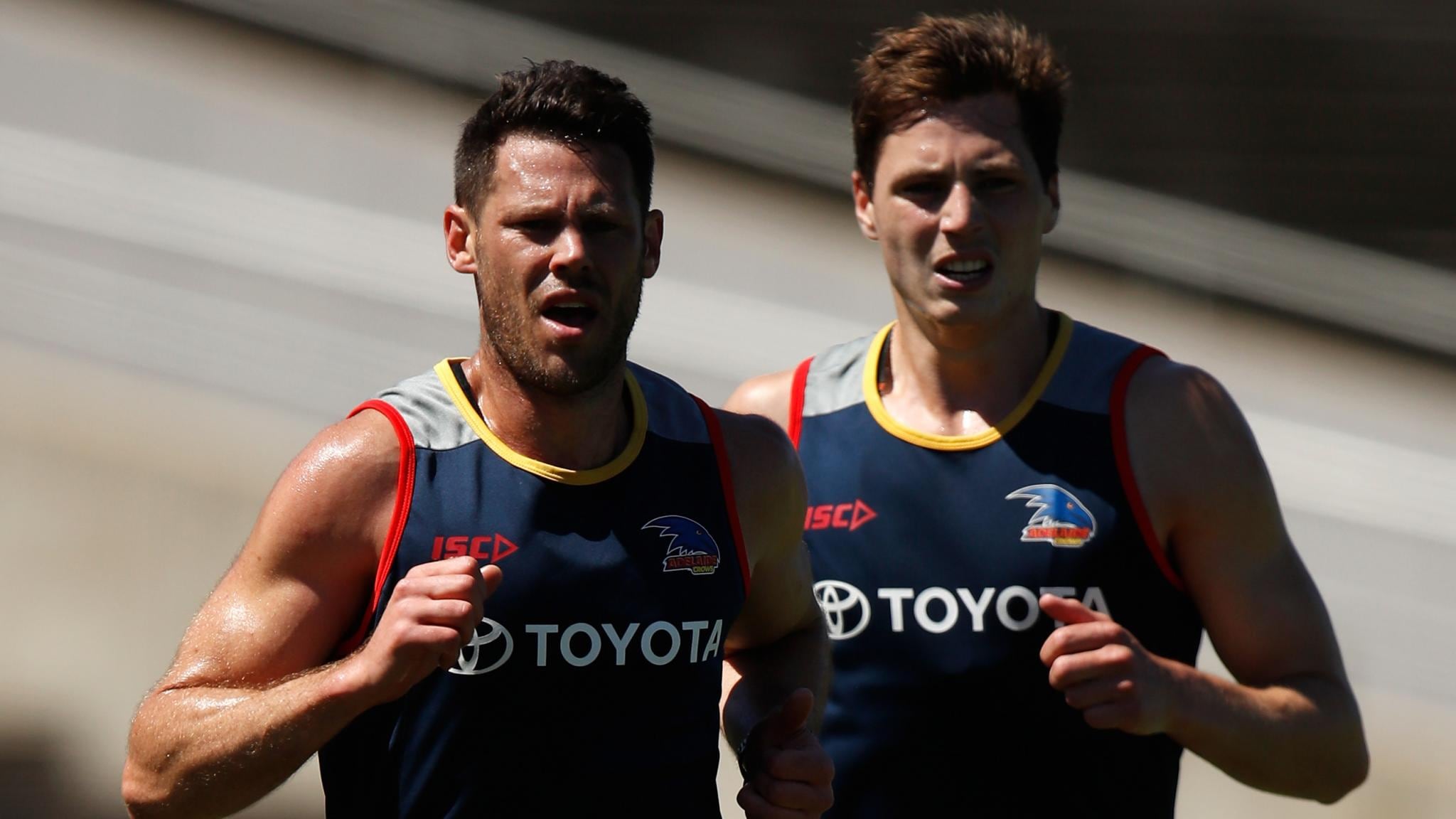 There might be some conjecture about the Lions' top runner, with Irishman Cian Hanley upsetting the club's usual endurance king Nick Robertson in the 2018 time trial on Saturday. Robertson took the honours over Tom Bell in the previous 3km torture test in late November, and his GPS numbers in 2017 were outstanding.
Previous stars: Diminutive ball-winner Shaun Hart set the time trial pace during the Lions' halcyon days from 2001 to 2004, when they won three premierships and lost a Grand Final. Nigel Lappin was also very good, while Robert Copeland succeeded Hart as the Queensland team's best runner. - Marc McGowan

Ed Curnow broke 1987 premiership midfielder Adrian Gleeson's long-standing 3.2km time trial club record in 2013 before the Blues began keeping these results a secret. A challenger to Curnow emerged when ex-Crow Sam Kerridge arrived at Ikon Park in the 2015 Trade Period.
Previous stars: The fact Gleeson was able to hold his record for almost 30 years means he simply must be mentioned here. Andrew Walker, Ian Prendergast and Craig Bradley also warrant a mention. - Marc McGowan

You know you're travelling nicely in the endurance department when, in your first season, you usurp Steele Sidebottom as Collingwood's time trial king. That's exactly what young midfielder Tom Phillips achieved when he arrived at the club at the end of 2015, and he has not been pipped since. Josh Smith pushed Phillips all the way when they ran the test in January, but the 21-year-old retained his crown. Sidebottom was the standout for years after he was drafted to the club at the end of 2008.
Previous stars: Paul Licuria was the pick of the bunch at the Magpies and ran a time of 13 minutes and 24 seconds around the Tan running track in 2004. Nathan Buckley was also a strong performer, clocking a time of 13 minutes and 53 seconds around the 3.84 km track. - Ben Guthrie

Patrick Ambrose is a fine all-round athlete and endurance is one his key strengths. The defender took out the Bombers' 3 x 1km time trial around The Hangar at Tullamarine, holding off young midfielders Kobe Mutch and Dylan Clarke. Ambrose also won last year's test, beating Brent Stanton, when the players completed a 2km course around Princes Park in Carlton.
Previous stars: Newly-retired Brent Stanton was the perennial winner of Essendon's time trial and relished long-distance running during his career. - Ben Guthrie
Paddy Ambrose has taken over from Brent Stanton as Essendon's time trial specialist. Picture: AFL Photos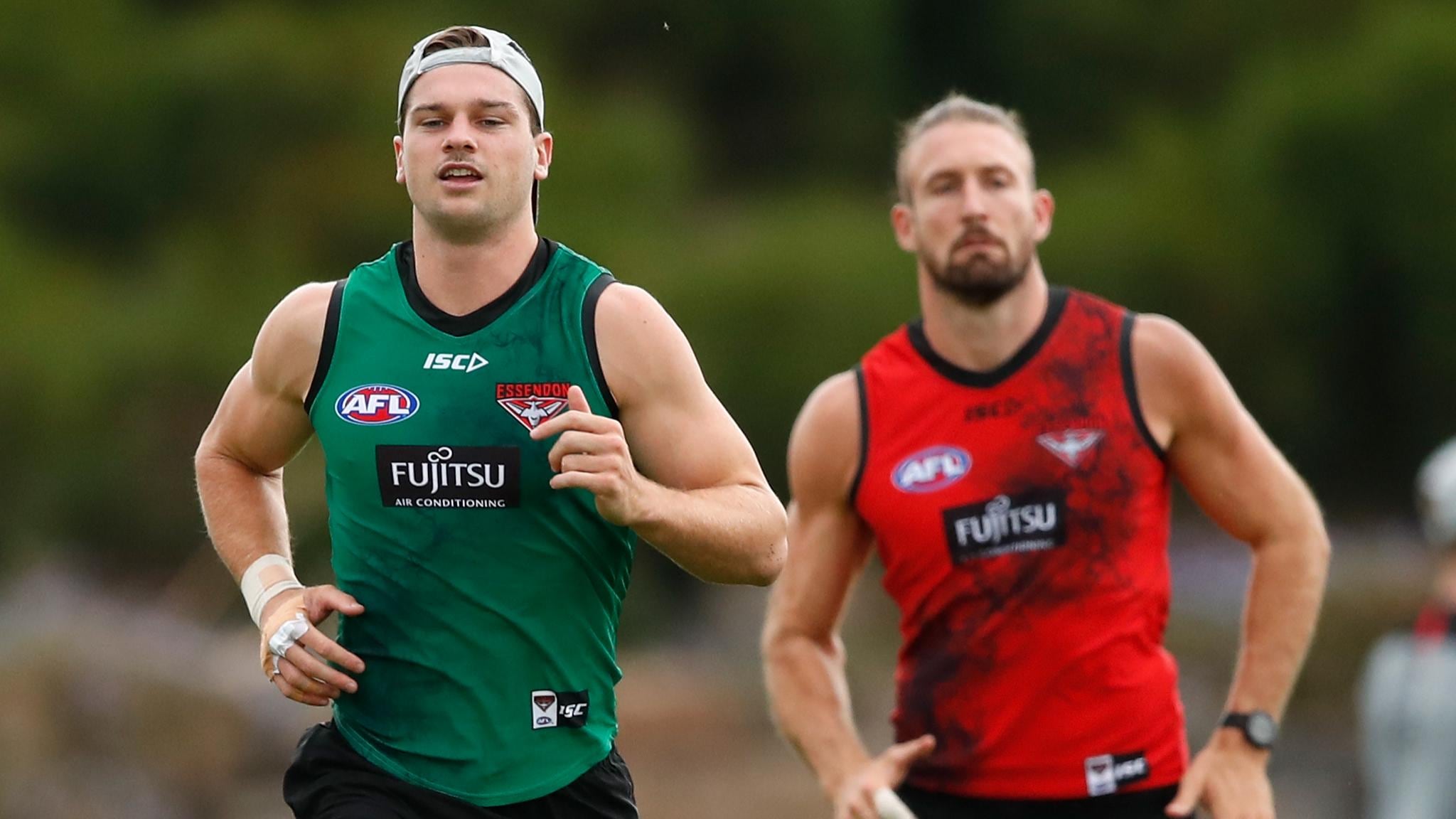 Tommy Sheridan won the opening 2km time trial from rival Cameron Sutcliffe in November, with the pair taking advantage of elite runner Bradley Hill's absence. When it came to January's 3km time trial, however, Hill was available and determined to defend his 2016/17 crown and he did so with a personal best time. Superstar midfielder Nat Fyfe finished fifth in the January run.
Previous stars: Tendai Mzungu was the Dockers' time trial king during his time at the club, often pipping teammates and close friends Matt de Boer and Michael Barlow at the finish line. Former Docker Sam Menegolawas another standout before joining Geelong. - Nathan Schmook

As a former athlete on the verge of qualifying for the Olympics, Mark Blicavs is the best long-distance runner at Geelong and in the entire competition. After missing the Olympic qualifying time in the 1500m by six seconds, Blicavs has consistently burned his competition in his time at the club starting mid-way through 2012. Most midfielders run around six minutes and 30 secs for 2km, with the very elite runners closing in on six minutes. Blicavs' personal best time over that distance during his football career – 5 minutes 39 secs – would blow his competitors away. The Cats now have a 15-minute run as their test of choice, with Blicavs beating Irish teammate Mark O'Connor by 150m when they undertook the test before Christmas.
Previous stars: Premiership captain Cameron Ling was renowned for his endurance during his decorated career, once clocking a time of 13.05 around the Tan running track in Melbourne. Former Cat and Swan David Spriggs ran an impressive time of 12 minutes and 40 seconds around the same track in 2004. - Ben Guthrie

Kade Kolodjashnij has been a time trial specialist since arriving at the Suns and he maintained his crown with wins in both the November and January 2km time trials this pre-season. Michael Barlow was his stiffest competition, while recruit Lachie Weller was among the frontrunners in the January run. Draft bolter Wil Powell made significant gains on his opening time with an exception performance in the most recent 2km trial.
Previous stars: Joel Wilkinson set club records in both the 2km time trial and the bench press, highlighting his freakish athletic qualities. The defender retired abruptly from VFL club the Northern Blues in 2015 to pursue a career in the NFL and enjoyed a brief stint as a contracted player with the Arizona Cardinals. - Nathan Schmook

Tom Scully has had a monopoly on the time trial at GWS since joining the fledgling club as one of its marquee recruits at the end of the 2011 season. The AFL's running machine regularly covers up to 18km per game, running up to 4km at top pace. Scully's running dominance translates into pre-season time trials as well, with the midfielder even starting with a handicap in the club's annual 3.5km pre-Christmas run. He backed it up by winning the Giants' 3km time trial in January, with teammate Matt De Boer labelling him as a "freak". Adam Tomlinson and Lachie Whitfield are also excellent runners, but not in Scully's league.
Previous stars: Scully once ran a time of 9 minutes 26 seconds for 3km while at the Dandenong Stingrays, but unfortunately was unable to test at the Draft Camp/Combine before he was drafted to Melbourne due to a knee issue. - Ben Guthrie



There is only one man here: Isaac Smith. The Hawks' knockabout wingman has proven close to invincible in time trials since joining the club in 2010 and would be a contender to finish runner-up to Mark Blicavs in a League-wide event. Harry Morrison and Dylan Moore are likely to battle it out once Smith departs.
Previous stars: Hawthorn has a strong history of great runners, including John Platten and Shane Crawford and more recently Billy Hartung and Bradley Hill, who are still tearing it up in the running stakes at their new clubs. - Marc McGowan
Read: All the key takeouts from Hawthorn's 2018 time trial
Isaac Smith has won every recent time trial at the Hawks, bar a single defeat in 2015. Picture: AFL Photos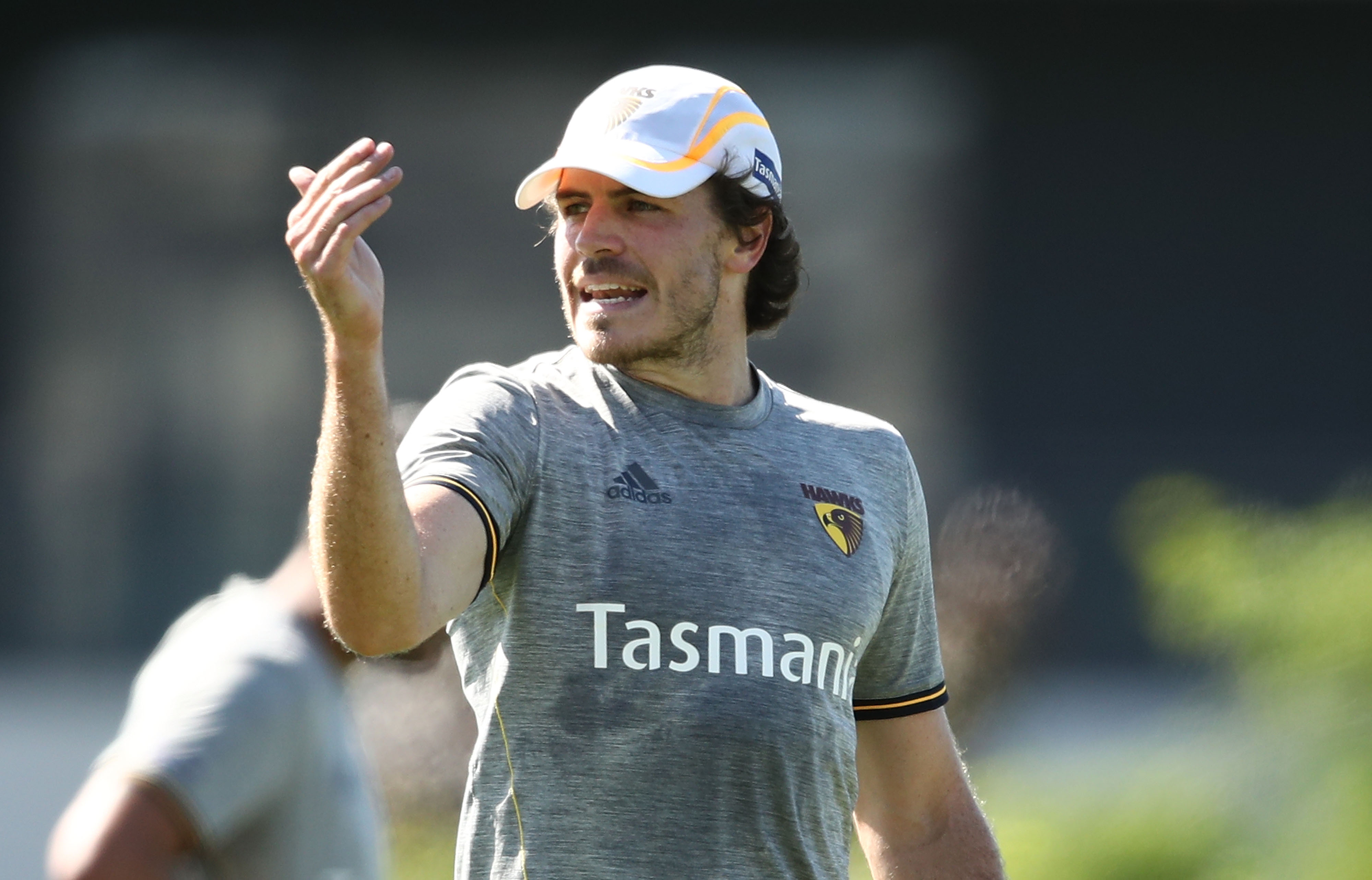 Tom Bugg took out the Demons' post-Christmas 2km time trial, beating Tom McDonald and Alex Neal-Bullen over the line. McDonald has traditionally been Melbourne's time trial leader, but the key defender-turned-forward had surgery on both his ankles at the end of last season and began his pre-season in rehab. Neal-Bullen is an excellent endurance runner, and thrives in the repeat running tests at training and his results underline his improvement as one of the Demons' top high half-forwards.
Previous stars: Midfielder Cameron Bruce was regarded for his efforts in endurance-based tests during his 224 games with Melbourne. Former Demon Rohan Bail was also excellent when it came to time trials. - Ben Guthrie

Mitch Hibberd and former Hawk Billy Hartung duked it out over the summer, sharing the honours in the time trial and Yo-Yo test, respectively. Hartung was long regarded as an elite runner at Waverley Park and once even upset Isaac Smith in a time trial.
Previous stars: Sam Gibson was rarely beaten in time trials during his six years at Arden St and has also set the pace at West Lakes since joining Adelaide in November. Seven-gamer Will Sierakowski was also a strong performer. - Marc McGowan
Billy Hartung has fought it out with Mitch Hibberd at Arden St over summer. Picture: AFL Photos


Young midfielder Karl Amon confirmed his place as the club's new running king after taking the honours in the club's 3 x 1km time trial last week. It follows Amon's victory in the same test when the Power players returned to training in late November. Former Demons Dom Barry and Jack Trengove also performed strongly.
Previous stars: Port champion Kane Cornes was the long-standing, undisputed time trial machine at the Power. His record over 3km, 9 minutes and 14 seconds, still stands today. Former defender Sam Colquhoun came close to breaking Cornes' record, finishing three seconds shy of the mark in January 2016. - Ben Guthrie


Kane Lambert is regarded as the fittest player at Tigerland, but he was beaten to the line in the Tigers' 3km time trial by teammate Brandon Ellis. After an excellent season in defence in 2018, Ellis is doing everything required to improve again and has found a perfect balance with his strength and running ability. Draftee Jack Higgins finished third overall in a sign that he will be pushing for immediate opportunities, while small forward Shai Bolton and premiership hero Jack Graham set personal best times.
Previous stars: Tagger Dan Jackson built his game around discipline and he was a standout runner over many pre-seasons. He built a rivalry with speedster Matt White, with the pair going head-to-head as their time at Richmond crossed over between 2006-13. - Nathan Schmook

Captain Jarryn Geary has set the standard this pre-season, winning the opening 3km time trial in December from Ed Phillips and backing up with another win in January. Midfielder Nathan Freeman finished fourth in the most recent run as he pushes to make his debut in 2018, while wingman Daniel McKenzie pushed up to second.
Previous stars: Ruckman Ben McEvoy has always kept pace with the best distance runners and he pushed Geary in his early years at the club and built a solid reputation that he took to Hawthorn. - Nathan Schmook

The Swans chose not to conduct time trials this pre-season.
Previous stars: Former Geelong and Sydney player David Spriggs set a club record over 3km in 2005, but that was smashed by Ed Barlow in 2010. Premiership heroes Ryan O'Keefe and Brett Kirk were regulars at the front of the pack in pre-season trials. - Nathan Schmook

Elite runner Chris Masten edged out midfielder Liam Duggan to win the Eagles' opening 2km time trial in December, continuing a long run as West Coast's distance specialist. Come January, however, with Masten and fellow frontrunner Andrew Gaff sidelined, the door opened for Jamie Cripps to take the honours over 2km. Among those Eagles to set new personal benchmarks this pre-season are ruckman Nathan Vardy, midfielder Jack Reddenand young forward Willie Rioli. On-baller Mark Hutchings has also made significant improvements, with draftee Brayden Ainsworth identified as the best of the new Eagles over 2km.
Previous stars: Calder Cannons product Damien Cavka made an impression in his first pre-season back in 2014, breaking Masten's club record over 2km with a time of 5min. 56sec. The luckless midfielder never got the chance to showcase his running power at AFL level, however, retiring ahead of the 2016 season because of a degenerative foot injury. - Nathan Schmook
Chris Masten has continued his long tenure as the Eagles' distance specialist. Picture: AFL Photos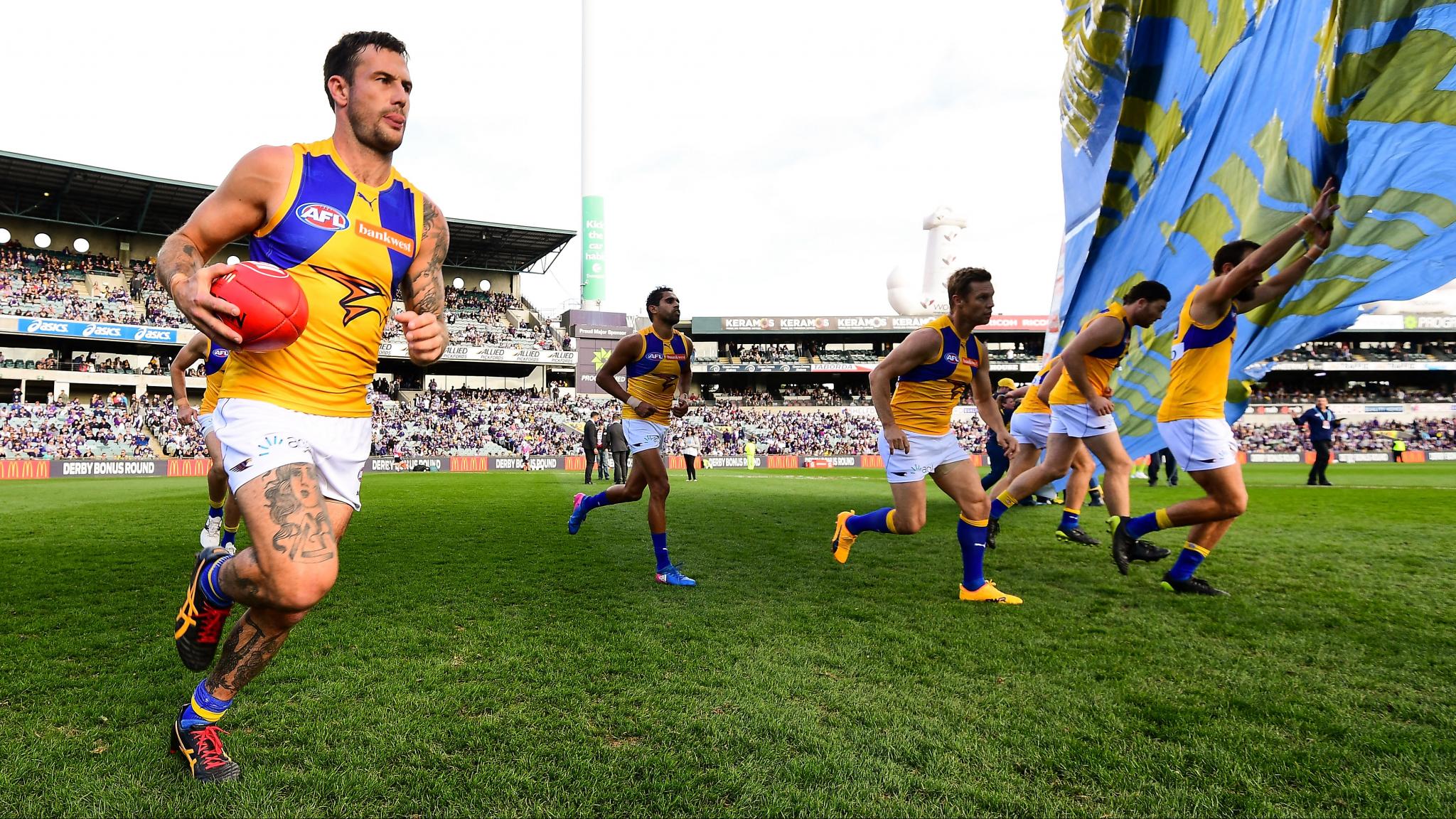 The Bulldogs don't generally hold time trials, although their first-to-fourth-year players did one in November. The GPS numbers from last year suggest Liam Picken, Caleb Daniel and Jackson Macrae are the pacesetters. Teenage defender Lewis Young is also a good runner, particularly given his 197cm height.
Previous stars: Daniel Cross, Farren Ray and the recently retired Matthew Boyd were noted endurance runners from the past at the Kennel. Leon Cameron and Scott West spring to mind as others from further back. - Marc McGowan