Hawthorn's 1976 premiership will always be remembered as 'Crimmo's Cup', named for champion rover and club captain Peter Crimmins, who died from cancer only two days after the game. ASHLEY BROWNE revisits the premiership and the Crimmins legacy with the six teammates who paid him an emotional visit on Grand Final night and posed for one of the most iconic photos in football history.

LIKE all playing groups at all football clubs, the Hawthorn players of the early to mid-1970s were an eclectic bunch. They were everything from teachers to tradies, they came from the bush and the burbs and, in the finest Hawthorn tradition of the time, they were Catholics and Protestants. But the glue which melded this diverse bunch together was Peter Crimmins, the cheeky and garrulous rover, star of the 1971 premiership team and captain since 1974. He was universally regarded as the heart and soul of the club.

Peter Knights: When you come to Hawthorn, you have to serve your apprenticeship and I was a 16-year-old from a dairy farm who came to the city perhaps once a year if I was lucky. I was quiet and shy, but Crimmo was the one who took me under his wing. He had an infectious smile and was a practical joker. He asked no quarter and gave no quarter.
Barry Rowlings: He was full of beans all the time. He would walk past and say hello to everyone.
Alan Martello: He was very chatty on the field. One of my first games was against Essendon and I hit Charlie Payne. I felt bad and went past to him to say sorry. 'Crimmo' came up to me and said, 'Don't you ever say sorry. If you hit 'em, don't worry about 'em.' I was 17.
Bernie Jones: He was the captain and I found him to have a radiating charisma. He was a schoolteacher and then Puma made him national sales manager. Who goes from a school teacher to national sales manager for a big company? You have to be pretty special for them to pick you out like that. He wasn't a normal person.
John Hendrie: We were very close because we worked together at Puma. I got my job there because of Peter. They wanted a young guy to come in and go on the road on the clothing side.
Brian Douge: He was a mentor to me; he didn't stand for anyone inflating their opinion of themselves. He was a great leveler around the club, kept people honest and was as cheeky as could be.

Cancer first struck Crimmins in 1974 and he was forced to miss the finals. It re-emerged six games into 1975 and he missed most of the season. But he returned to training on the eve of the finals and, after playing well in the reserves, declared himself fit and available for the Grand Final against North Melbourne. Coach John Kennedy was faced with a massive team selection decision.

Rowlings: I think everyone around the club had the feeling that Crimmo would get into the side. In the second semi, Shane Murphy came in and did all right, but because Crimmo had been going so well in the seconds, we thought he would be promoted to the seniors.
Knights: He was captain of the club, and an inspiration in how he fought the illness … not withstanding Kennedy, whose one of many sayings was 'there's no sentiment in football'. We didn't realise that would one day come into play.
Douge: In essence, there was a lot of support for him being in the team.
Jones: It's never the players' decision who plays and who doesn't. Even if it is your best friend, that's the way it is. It was a moral decision for John.

And a tough one. In the end, the head ruled the heart and Kennedy left him out, fearful of the consequences if Crimmins got knocked around.

Knights: I understand it was a split decision, but nobody would doubt Kennedy.
Martello: I was disappointed, but then, like now, you don't have any influence over what goes on at match committee. Sentimental stuff doesn't come into it. I would have had him in the team, but unfortunately it didn't happen.
Jones: I would have played him. It didn't matter what happened to him and he wouldn't have cared either what condition he was in when he left the field.
Rowlings: When he came home and told the news to Gwen (his wife), he was devastated. He missed so many games, so to then come back and play in the reserves when he was feeling so well, he was ready to play.

Rowlings was staying with the Crimmins family at the time in Croydon, where several Hawks players lived. He could tell Crimmins was so devastated that he and his wife decamped and moved in with Douge and his wife. Hendrie worked with Crimmins at Puma and wasn't sure whether his friend would show the following morning.

Hendrie: He came into the office and, because I hadn't seen the team, I asked him whether he was playing. He said 'No, but let's get on with it,' and we went off to a business meeting.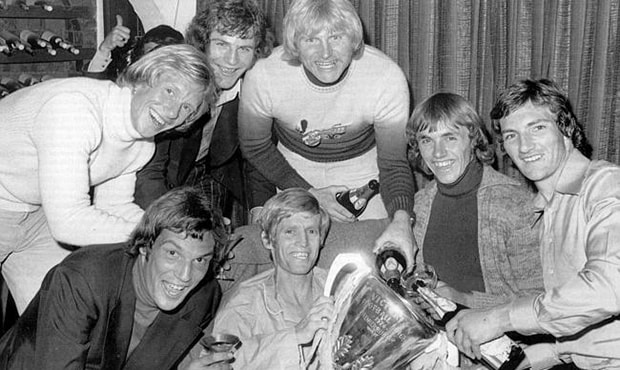 Peter Crimmins is surrounded by Hawthorn premiership stars Bernie Jones, Brian Douge, Ian Bremner, Alan Martello, Peter Knights, Barry Rowlings and John Hendrie.

Crimmins vented his feelings on an audio tape he recorded while driving home from the selection meeting that Thursday evening.

Martello: He was ropeable. He made a tape and he absolutely let fly. He wasn't happy, felt very hard done by and he actually lagged a few people. It was a spur of the moment thing after all the effort he had put in, and I'd be the same. If you're planning to do something and you don't get there, you'd be absolutely pissed off. I've only heard bits of it.

Grand Final day was a disaster. North Melbourne flogged the Hawks by 55 points with seemingly 100,000 of the 110,000 fans at the MCG willing the Kangaroos home. Few at Hawthorn doubt North was the better team on the day, but the question of what would have happened had Crimmins played still lingers.

Hendrie: It went by in a blink and I know I was a bit overawed. We weren't right. I know I wasn't right.
Rowlings: I think once the team was picked, we were all a bit flat. I still believe that if he was picked as 19th or 20th man that we would have won the game. I know we got beaten pretty easily, but his presence, having Crimmo there, we would have played a lot better.
Jones: That's a long call because they beat us fairly comprehensively, but he would have made a big difference, him coming on the ground. It would have lifted the crowd and the team.
Martello: We should have won that game, but we played so poorly. Having him there would have given everyone a lift because we were all hoping he'd get a game.

The seeds for redemption were planted the very next day back at Glenferrie Oval. Kennedy told the players there were Hawthorn people who felt they had stopped trying. But as preparations geared up for 1976, it became increasingly clear Crimmins might not play again.

Rowlings: We started pre-season and he wasn't real well going through treatment.
Knights: The cancer came back to other parts of his body and then we knew he wouldn't play footy again. He became very seriously ill, but we still didn't think it would eat away at him as it did that year.
Martello: Once he started treatment again, it was hard to see him coming back. He'd put such a big effort in the first time, and he fought it so hard. In the end, the illness just took over.
Hendrie: We went to a trade fair in Sydney, but he wasn't his normal self. He just didn't look well and it became a question of not whether he would play footy again, but whether he'd pull through.

The Hawks were a team on a mission in 1976. North coach Ron Barassi said Hawthorn held a vendetta against his team, a term Kennedy said was not strong enough. The Hawks beat North Melbourne twice during the home and away season, again in the qualifying final and also in the Grand Final of the night competition.

Martello: All through the year, the theme was that they weren't going to beat us again. We were pretty confident we were going to win it. But we were thinking about Crimmo a lot because we knew he was very sick. We had to do it for him as well. We were pretty keen about that.
Hendrie: The focus had totally changed. I still get goosebumps thinking about it. We had to win. We were desperate for Crimmo, for our individual reputations and most importantly for the club. We knew he was dying; we didn't think it would happen that quickly.
Rowlings: Training was sensational in the lead-up to the Grand Final and everyone wanted to win it for him because he was so sick.

The Governor of Victoria (and keen Hawk fan) Sir Henry Winneke offered Crimmins a limousine ride to the Grand Final, but he was in no condition to leave his bed.

Douge: Before the game, I ran over to the MCC Members' stand where I thought he'd be sitting, but he wasn't there, so I knew something had gone wrong.

Crimmins sent a telegram to the players, which Kennedy read out to the players. He then reminded them that for all the reasons they needed to win the game, the most important was for 'the little feller'.

Knights: It was sombre. The motivation was there when we got to the Grand Final. But you know what? That motivation was more about Crimmo because we knew how unwell he was and when that telegram was read out, words to the effect of 'it's going to be the toughest 120 minutes' and 'I'll be riding every bump', 'good luck from the little feller', from my point of view the result was going to be a foregone conclusion. There was no way we were going to lose that game.
Martello: We were all very emotional. I tried to take the emotion out of it, but I was disappointed and sad, but I had to lap it up and get on with it. But it did affect a few players.
Jones: I don't remember too much from the actual Grand Final, but I do remember that. Everyone loved him. As Kennedy said, we wanted to win for Pete, but really, we didn't need extra motivation.
Douge: I had devoted the year to Peter. I would go and mow his lawns or just sit and hold his hand, so I was in a zone that was unique. To play a game of football, there are simple tasks at hand so the backdrop of your emotional state needs to be managed. The whole year, every game was for Crimmo. And when I finished the Grand Final, my job was done.

It wasn't a classic Grand Final by any stretch, but the Hawks led all day to win 13.22 (100) to 10.10 (70). It was Hawthorn's third premiership and the jubilant Hawks headed back to Glenferrie Oval to start the party.
But something and someone was missing. Late that night, the decision was made to take the premiership cup to Crimmins. A photographer from The Sun News-Pictorial decided to join them.

Douge: It was probably me in terms of talking to everyone. A few others said 'yes, let's do that'. I was always going to go because he was a close mate and I didn't see any value in being anywhere else. I don't think taking the cup was my idea, nor the photographer, but it is wonderful he came along to capture such a significant moment for Pete and the family.
Knights: I can't remember if we even rang Gwen up, but it was spur of the moment. Can you imagine just taking off with the premiership cup now?
Jones: I was 22 years old, the party was just starting to get going and I said I needed a minute. I decided to go, but I did have to think about it!
Hendrie: Ian Bremner always asks why he wasn't there because he was a Puma player and he regrets it, as do a few of the other guys.

Douge and Martello had visited Crimmins regularly through the year, but others had kept their distance. When they walked through the door, they were startled to see how gaunt he had become.
Knights: I was shocked. He had deteriorated so much. But he put on the wig, got out of bed and cracked that huge smile. For two hours we joked, laughed and re-lived every moment of the game and you can see it in that photo.
Martello: He just wasn't well at all. I asked him how he was travelling and he said, 'Mate, I'm stuffed. But well done today.'
Rowlings: He was still sitting up in his pyjamas giving a bit of cheek and then we had the photo taken. He was so rapt that we won it. He had watched the game on the TV, but he had so many questions and he wanted to know all the ins and outs of what happened. We all had different recollections of the day and he wanted to know the lot.
Jones: Gwen was really happy we came and made everyone feel very good. He was just stoked that we won. And then a day or so later he died. I was very fortunate to get to see him. If you didn't see him on the Sunday, you probably wouldn't have seen him at all. I think he stayed alive for the Grand Final. I totally believe that. I'm so glad I made the decision to go and see him.
Hendrie: He still had that glint in his eye. He was beaming. He had the cheek to have a crack at me for my goalkicking (Hendrie kicked 2.8), so I was pretty shocked when he went on the Monday.
Douge: To walk in the room and see him sitting there watching the footy (replay) with a smile on his face, it still felt like he was still our captain. He weighed 40kg, but he was still in charge of the team. That was the vibe. And that was the last time I saw him.

Crimmins passed away on the Monday night. Hawthorn's 1976 triumph became known as Crimmo's Cup – the premiership win with the sad twist at the end.

Rowlings: It probably took the gloss off when he passed away. But he wouldn't have wanted us to feel like that. He wanted us to enjoy the premiership because you don't win too many.
Martello: I wouldn't say it took away the gloss, but it was tinged with sadness. Like anything, when you see a good friend in that state, you feel really sad that he couldn't be part of it.
Jones: He let us celebrate at Mad Monday and he died after that. He didn't want to spoil the party! I think we were still happy to celebrate the premiership. It would have been a lot worse if we'd lost and then had to go to his funeral. But we won and he saw it, which gave us a good feeling.
Hendrie: It made the premiership more complete and it would have been tragic if we'd lost and he'd died two days later. 1975 was a nightmare and it burnt us, so the Crimmo factor was really important. We had to win.
Douge: Because of the smile on his face when I saw him watching the replay, the premiership meant everything to him. I'd like to think that he felt we'd done it for him. I told him he was part of our agenda and I've never played in a team like that with such extra energy on the ground.

The Hawks played The Sun All Stars in a charity match at VFL Park a few weeks after Crimmins' passing. Funds were raised for his family and the Peter Crimmins Cancer Research Fund was created. Today he remains vivid in the minds of the six mates who appeared in the iconic photo.

Douge: It had an indelible effect on everyone. Hawthorn always had a strong culture. John Kennedy was a wonderful ambassador for what you would say were the simple things. The culture of the club grew with that and for Peter's circumstances to happen within that context meant that it had much more impact on people like me. I think it's wonderful that Sam Mitchell wears his number because that's how Peter played his football – tough, hard and with no frills. That's the way he carried himself on the field and having a captain with that personality around players who were so dynamic was a great stabiliser and kept them on task. The combination of his values and those of John Kennedy were perfect for Hawthorn.

Knights: His passing was sombre and sad. I'll never forget the motorcade and the guard of honour at his funeral and then the game at Waverley and the creation of the fund. He left an enormous legacy and one of my roles at the club is to ensure it lives on. Every new player to this club, every new coach, every new employee and every new board member has to put up with me taking them through a one-hour induction about the Hawthorn Football Club and that includes 10 minutes on Peter Crimmins. Everyone here is aware of his significance and his spirit lives on. 1976 is certainly Crimmo's Cup because his courage, spirit and determination typifies Hawthorn. Perhaps that sounds corny, but that's how we feel.