Hawthorn Football Club has received an extraordinary donation of $1 million over five years for the club's Indigenous program from Epic Good Foundation's co-creators Stuart Giles and Cathie Reid.

The significant financial contribution, which will expand and ensure the sustainability of the club's Indigenous program, was announced at a morning tea on Tuesday attended by Hawthorn President Andrew Newbold, CEO Stuart Fox and the Hawks' five Indigenous stars Shaun Burgoyne, Cyril Rioli, Bradley Hill, Jed Anderson and Jermaine Miller-Lewis.

Stuart and Cathie's generous donation will enable the club to facilitate and cultivate the program for the next five years and beyond through mentorship, lifestyle and participation programs in Indigenous communities.

Hawthorn CEO Stuart Fox thanked Stuart and Cathie for their significant contribution and investment in this important area.

"This new partnership with Stuart and Cathie will enable the club to extend the reach, breadth and growth of our Indigenous programs," he said.

"A five year funding commitment in this space also allows the programs to continue to develop, evolve and grow in this time so we can help affect real change."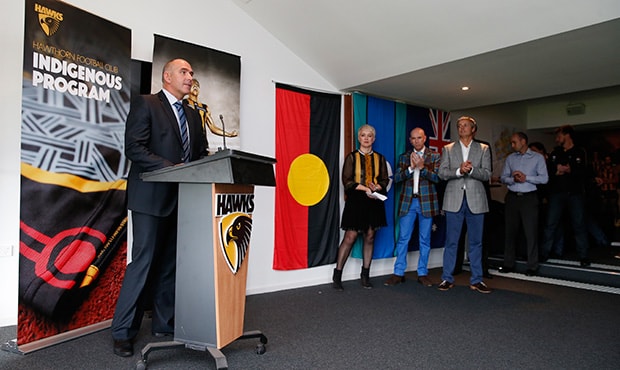 CEO Stuart Fox thanks Stuart Giles and Cathie Reid for their generous donation to Hawthorn's Indigenous program.

Hawthorn's Indigenous ambassadors Shaun Burgoyne and Cyril Rioli will take on roles within the program as mentors.

"I am really excited with the opportunity to strengthen our current program and commitment to the Katherine region where we already have established a strong footprint," Burgoyne said.

"I am looking forward to the mentoring role within the program, though which I'll be able to help develop Indigenous leaders within each community we visit," Rioli said.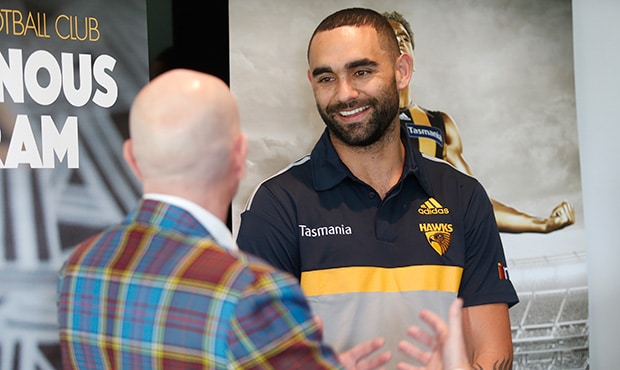 Stuart Giles and Shaun Burgoyne chat following the announcement.

The significant pledge will help the club expand its program through:

• Employing an Indigenous Programs Officer at Waverley Park
• Funding and supporting the Eastern Eaglehawks Under 18 Indigenous football team
• Growing and leveraging a current affiliation with Big River Hawks Under 18 football team from Katherine, NT
• Facilitating a leadership and cultural awareness camp in Melbourne for the Big River Hawks
• Facilitating an annual community camp with specific Indigenous activity in Tasmania
• Providing Indigenous cultural awareness training for all staff and players
• Facilitating an Indigenous Auskick Centre visit from Northern Territory to Melbourne
• Undertaking a community visit to Katherine with a Hawthorn Football Club Indigenous player each year

AFL is an integral part of many Indigenous communities, particularly in the Darwin and Katherine regions where school attendance and a healthy lifestyle are an essential element to joining the football team.

Senior players Cyril Rioli and Brendan Whitecross travelled to Darwin in February this year and experienced this first hand with the Big River Hawks.

Through initiatives such as these, Hawthorn hopes to generate lasting relationships with these communities and help bring about real change in not only the Northern Territory but throughout Indigenous communities nationally.

Cathie and husband Stuart are both Hawks Foundation donors and Epic Good is about supporting greater health outcomes for all Australians. The partnership is a perfect fit.

This partnership and the club's Indigenous program will be celebrated during Round 9 in Launceston when Hawthorn will wear their Indigenous guernsey against Gold Coast SUNS.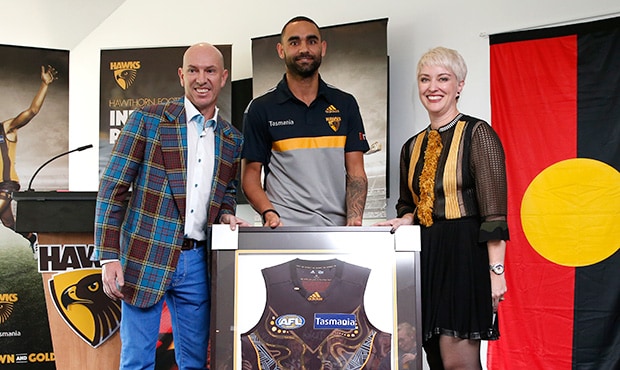 Shaun Burgoyne presents Stuart Giles and Cathie Reid with a commemorative Hawthorn Indgenous guernsey for their generous contribution to the program.



RELATED

Check out Hawthorn's current indigenous range