With the 2014 season now complete, hawthornfc.com.au will review the season of those who played a senior game for the Hawks in 2014 with the help of GM - Football Operations, Chris Fagan.
There's not much you can say about Cyril Rioli's year that no one doesn't already know, particularly that of the second half of the season.
So let's cast our minds back to the beginning of 2014 and the form in which he displayed that many now, have probably forgotten about because of the drama of the finals series.
After playing in his second premiership with the Hawks last year, Rioli missed Round 1 because of a Grand Final suspension but returned in Round 2, when the first of his memorable moments for the year occurred.
Outstanding in the victory over Essendon at Etihad Stadium, Rioli picked up 19 disposals in the thrilling victory and while the stats sheet said he recorded only one tackle, his pressure around the ball was immense.
But it was his two goals that hurt the Bombers, and it was fitting he booted the match-winner in the dying stages – a moment not many Hawks fans will forget anytime soon.
Rioli's start to the season was exciting, it was brilliant, it was all the things we've come to expect from Rioli but even then, it was much more than that.
He was probably in the form of his career before he suffered his first hamstring injury in Round 8.
The 25 year old averaged 15.5 disposals, 4.2 marks, 3.5 tackles and 1.8 goals in his first seven matches – that average even includes the Sydney game, where he was injured moments after half time.
There were highlights everywhere for Rioli early, as there normally is, including his 20-disposal and two goal game against Fremantle in Round 3.
But his masterpiece came in Round 6, when he kicked three goals in an electrifying quarter of footy against the Tigers – a performance that left many in awe of his ability.
In that game, he finished with 17 disposals, six tackles, four marks and four goals.
He was also exceptional in the big win over St Kilda in Round 7 with 24 disposals, seven tackles, six marks and two goals.
Rioli missed three weeks with his first hamstring strain that occurred in Round 8 but returned sooner-than-expected, in Round 12, where he picked up from where he left off.
He averaged 16.5 disposals, 4.8 marks, 4.5 tackles and 1.8 goals per game between rounds 12 and 15 – the same game in which he again hurt his hamstring.
He starred in each of the four games in that time, but his best was probably against the Blues when he had 20 disposals, took five marks, laid three tackles and kicked three goals in Round 13.
Of course, Hawks fans then didn't see Rioli until the Grand Final but given he was outstanding in that game and Hawthorn achieved back-to-back premierships, they're probably not too bothered.
Alastair Clarkson rolled the dice on Rioli on the last Saturday in September and it paid off as the little master put on a pressure clinic in the opening half and was one of Hawthorn's best despite a modest nine disposals.
In fact, the Grand Final was the only game in 2014 Rioli was held goalless but such is the phenomenon that is Cyril Rioli, it was still one of his best games for the year.
The exciting thing is, Rioli is still just 25 years of age and if what he produced in his 12 games for the year is any indication, there are some very exciting times ahead.
What GM – Football Operations Chris Fagan said: "It's pretty well-documented all his hamstring problems this year but when he was in the team, he was arguably in the best form of his career.
"He had a great start to the year, then came back in the middle part to help us when 'Clarko' was ill and we had a few injuries.
"Then when he did his hammy again and missed 10 weeks, we wondered if he was going to get back but he did and we're glad he did. He had nine possessions in the Grand Final, but it was one of the best nine-possession games you'll ever see.
"What we know about Cyril is he doesn't have to have the ball to have an impact – his pressure, his smothers, his ability to make the opposition edgy when they have the ball is outstanding.
"He helped us big time on Grand Final day because when you put him together with 'Breusty' and 'Poppy' in the forward line, our pressure is extreme."

 
Cyril Rioli in the news in 2014
- A premiership full of emotion for Rioli
- From barefoot footy to the MCG, Rioli the boy with a dream
- Rioli declares he's ready
- Rioli ready to fire against Eagles
- Gunston has faith in 'explosive' Rioli
- Rioli a welcome selection headache
- Hawks open to Rioli return
- Rioli to play VFL

Videos featuring Cyril Rioli in 2014
- Rioli speaks after the premiership
- Rioli proud of Indigenous Round
- Rioli excited to play footy again
- #everymoment: Rioli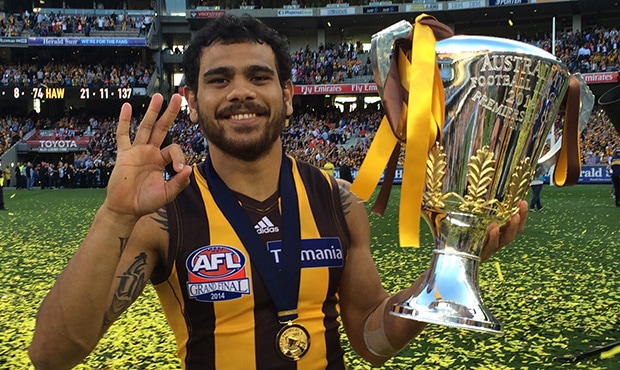 Cyril Rioli was a very happy man as he held up his third premiership cup.