HE'S only just joined Hawthorn but Teia Miles already knows how much hard work it takes to make it in the AFL.
The son of former Collingwood, West Coast Eagles and Geelong player Geoff Miles who played 122 games across the three clubs, Hawthorn's new recruit's ties to the AFL don't end there.
Taken with selection 49 in Thursday night's National Draft, Miles has formed a close bond with his cousin and sister, Demi's, boyfriend who happen to be AFL players.
Not only that, they are two of the game's most exciting emerging talent.
His cousin is impressive Carlton youngster Dylan Buckley and sister's boyfriend and friend, Geelong premiership player Mitch Duncan.
The pair have given Miles, a small defender/forward from Geelong Falcons, an insight into what it takes to become an AFL player.
They have even been with him every step of the way, as his AFL dream gets closer, watching all his matches and reviewing his performances.
Duncan, who played in Geelong's 2011 premiership and is now an emerging star of the competition after a career-best season in which he finished third in the Cats best and fairest, has been particularly important in Miles's development through the TAC Cup.
He and Miles are close – Duncan was even at Miles's home on draft night.
"Throughout the year he has been constantly calling and texting me – he's been fantastic," Miles told hawthornfc.com.au of his friendship with Duncan.
"He's been to all my games and when they're finished he'd text or call me to say how I went.
"Of course it's not always going to be positive, there's going to be some criticism but it's always constructive.
"He's been just as much a part of my journey as my family. He's been there every single day."
The biggest learning Miles has taken from watching Duncan develop into a damaging goal-kicking midfielder and key part of Geelong's team is how much hard work it's taken to arrive at this point.
AFL footy isn't just about turning up to training and going through the routine with your teammates.
Miles has learnt it's about much more than that. It's about the time you put into yourself away from a normal training routine.
"Watching him play and how he's gone about things this year, he's always doing work at the club to get better," Miles said of Duncan.
"He does extras by himself to get fitter and to get better."
Duncan's success has even inspired Miles further to realise his AFL dream.
"I've watched him grow and become the player he is today," he said.
"That's made my hope of making it in the AFL become even bigger. I'm stoked to have him around."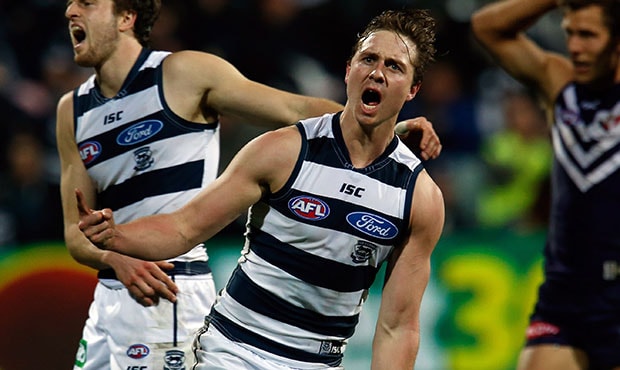 Geelong's Mitch Duncan has been a constant source of advice and guidance for Hawthorn draftee, Teia Miles.
While Buckley is entering just his third AFL season and has taken a different path to Miles – Buckley was a father/son selection for the Blues – his influence and guidance has been equally important.
For the Blues, Buckley is a tenacious half-back who takes the game on and possess good skills.
At 180cm, Miles possesses the same strengths as his cousin, given he is described as a damaging half-back with good skills and endurance who likes to take the game on.
"Dylan is a similar player to me, so I've watched him as well because he's been through everything I've been through," he said.
"He has been to all my games and I've been to all his games as well and watched him closely.
"He's that half-back defender, so I've watched him and learnt a lot from him.
"He's been the same as Mitch in giving me so much advice always calling and texting me."
A level-headed young man, Miles can already see how much impact Buckley and Duncan have had and his AFL dream has only just begun.
"Without them, I don't think I'd be here," he said. "They've just been fantastic."