HE MIGHT have won his third premiership and maiden club best and fairest award last year but Jordan Lewis is already planning on improving on his 2014 efforts.
Already a key cog in the Hawthorn machine and a widely respected midfielder and leader on the AFL landscape, Lewis enhanced his standing in the game with an outstanding season.
In the absence of four-time Peter Crimmins medalist Sam Mitchell, who missed eight weeks mid-year with a hamstring injury, Lewis became Hawthorn's premier ball winner and prime mover.
He led the Hawks for disposals (27.8), clearances (5.7) and centre clearances (2.4) and was even ranked second for inside 50s and fourth for tackles.
Lewis, 28, has already achieved much in his career, including his first All Australian honour in 2014, but he isn't yet satisfied.
He wants to keep taking his game to new levels.
"Every player that is on an AFL list would be stupid not to improve," he told hawthornfc.com.au
"I know I still have some deficiencies but we're working on those and still trying to improve the things I worked on last year as well.
"There are probably two or three things you want to specifically work on – you can't just choose a whole bunch even though everyone has a number of areas they want to improve on."
You need to cut it down to a few things and hopefully, they can take your game to another level."
Part of that improvement will come from becoming a dual position player – something that has been a focus for Hawthorn and Coach Alastair Clarkson in recent times.
"The game is evolving and players need to become versatile," Lewis said.
"If you get pigeon-holed into one position you really limit yourself in being able to play and I think that's what 'Clarko' and the coaches have really drummed into the players here.
"Don't just focus on one position, make sure you have a second position that you can go to if your one wood isn't working at any time."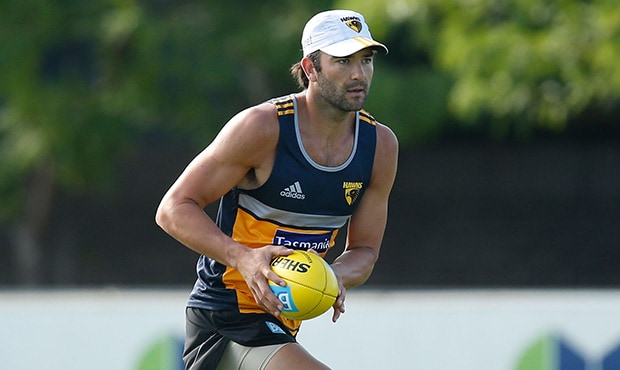 Jordan Lewis in action during a pre-season training session at the Ricoh Centre.
In the past Lewis has been swung forward with great success – bagging five goals against Collingwood in 2012 – but he struggled early last year to make an impact on the scoreboard.
It has been an area of focus for the midfielder for some time, even identifying mid-year in 2014 as an area requiring improvement.
Following the mid-season break in Round 9, having kicked just three goals up until that point, Lewis added 13 in the second half of the year.
It is one area he hopes to continue to make an impact and build on to make himself a more dangerous player.
He says it is that ability to hurt your opposition on the scoreboard that sets the great midfielders apart from the good ones.
"There are a lot of midfielders who can win inside ball but can't get outside ball so I think that's where I've taken my game over the last couple of years," he said.
"I can still win the ball on the outside but when I get an opportunity to push forward I need to put scoreboard pressure on as well.
"I think when you see the dangerous midfielders of the competition, that's what they do so hopefully I can carry that second-half of last year into this season."
Hawthorn opens its pre-season campaign with a NAB Challenge match against Collingwood in Tasmania on Thursday 26 February. Tickets are on sale now.