Hall of Fame inductees


2003
Note – the following players were Inductees to the Hall of Fame in 2003, but have since been elevated to Legend Status: Graham Arthur (2005), Michael Tuck (2008), Peter Hudson (2009), and David Parkin (2013).
Dr. A S 'Sandy' Ferguson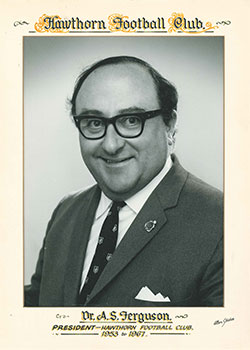 Born: January 13, 1917
- Died May 29, 2008
President: 1953 - 1967
Vice-President: 1952
Club Medical Officer: 1950 - 1979
Life Member: 1957
Premiership: 1961
Hall of Fame Inductee: 2003

VFL/AFL Records
VFL Life Member: 1964
VFL Medical Officer 1949 - 1980
President - VFL Medical Officers Association: 1960 - 1980
Member of the Order of Australia (MA): 1989
Son of Tom Ferguson, Captain of Hawthorn when the Club played in the MJFA in 1906, Dr. Sandy Ferguson was recruited by Dr. Jona for the position of Club Medico in 1950. He was to serve in that position for 29 years. Undertaking the role of Club President in 1953, Dr Ferguson set his aims to create a Club that was respected by all and to win a premiership.1961 saw the fulfillment of that dream and the Ferguson spirit and legacy continues on today with his now famous slogan "If you embrace Hawthorn, Hawthorn will embrace you". He remained a respected voice behind the scenes. 
In 2001 in honour of Dr Ferguson services to Hawthorn, a medal in his name was struck. The medal was presented to the army of volunteers who gave their services willingly to the Club between 1996 - 2001 after the attempted merge between Hawthorn and the Melbourne Football Clubs in 1996.
Dr Jacob Jona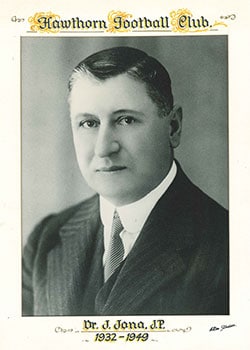 Born: September 26, 1898
- Died January 5, 1961
President: 1932 - 1949
Vice-President: 1926 - 1931
Medical Officer: 1919 - 1949
Life Member: 1935
Hall of Fame: 2003

VFL / AFL Honours
VFL Delegate: 1934 - 1949
VFL Vice President: 1938 - 1949
Life Member: 1945
Dr. Jona was the longest serving president in the Club's history. During the lean times of the Depression years in the 1930s, he guaranteed player payments from his own pocket and also kept the Club alive with similar generosity. He would treat all the injured players at his home after the game on a Saturday night at no expense.
In a visionary move to promote football and to encourage local recruits, he introduced the under 15's school boy competition to play curtain raiser matches at Glenferrie in 1935. This was the forerunner to the Hawthorn Rovers, which started the following year. Many future Hawks would graduate from these teams. Such was his vision.
Allan Jeans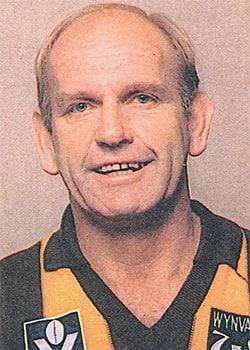 Born: September 21, 1933
- Died July 13, 2011
Coach: 1981 - 1987, 1989 - 990
Games: 221
Premierships: 1983, 1986, 1989
Night Premierships: 1985, 1986
Life Member: 1990
Hall of Fame Inductee: 2003

VFL / AFL Honours
Jock McHale Medal: 1983, 1986, 1989
State Coach: 1984 (2 games)
VFL/AFL Life Member: 1979
AFL Hall of Fame: 1996 (Coach)
Allan Jeans was one of the greatest coaches in the history of the game. He has left a positive lasting legacy with all that have played under his direction. His homespun sayings are legendary. Perhaps the most famous was his comment on coaching teams, "They're like sausages – you can boil them, grill them or curry them, but ultimately they're still sausages."
When Jeans arrived at the Club, discontent was rife. Because of his honesty and willingness to get on with the job, he soon won the confidence of the players and in two years the Hawks were back at the helm.
With Jeans' leadership, the Club enjoyed a decade of unbelievable success. He guided the Hawks into the finals in 1982, followed by the record-breaking win against Essendon to win the 1983 flag. The great rivalry intensified between the two Clubs with the Hawks being runner-up to Essendon in the 1984 and 85 seasons.
Jeans' second flag came after a strong win against Carlton in 1986 only to suffer defeat at the hands of the Blues in the 1987 grand final.
Jeans missed the 1988 season through illness and in his absence Alan Joyce coached the side that easily accounted for Melbourne in the grand final.
Jeans returned in 1989 to lead the team to back-to-back premierships. Many consider this the greatest grand final in living memory as both teams crippled by injury saw the Hawks hang to win by six points. The players credit Jeans' inspirational speech at halftime as the motivation for this success.
In recent years on a Thursday night in the Social Club, Graham Arthur ran the famed Yabbie Cup, named after Jeans. Many of Allan Jeans' former players tried their skills in a game of sporting trivia, often fought out with that dogged determination that Jeans demanded on the field. Players delighted the audience with their efforts in mimicking many of Jeans' speeches such was their affection for him.
Phil Ryan
Born: June 9, 1915
- Died January 7, 2014
Recruited: Xavier College, Kew CYMS
Played: 1941- 1947
Debut Order: 284
First game: Round 1 1941
Final game: Round 4, 1946
Guernsey: (1941) 38, (1942 - 1944) 14, (1945) 13, (1946 - 1947)
Games: 52
Goals: 26
Best Team Player: 1942
President: 1968-1979
Premierships: 1971, 1976, 1978
Vice-President / Committee: 1948 - 1952
Club Selector (including Role of Chairman): 1948 - 1952
Club Treasurer: 1953 - 1967
Life Member: 1951
Hall of Fame Inductee: 2003

VFL / AFL Honours
VFL Delegate
VFL Vice President
VFL Player Payment Commissioner: 1980
VFL/AFL Life Member: 1974
Order of Australia (Community & Sport): 1991
 
Phil Ryan gave 38 years' continuous service to the Club, firstly as a 2nd 18 Player from 1941, until he retired as Club President in 1979. As a player he was a handy forward-cum-ruckman, but he would be best remembered for his role as a Club official. The Annual Report of 1979 reports that, 'Ryan has set a standard as President in his period of office that is without parallel in the history of our great Club; 3 Premierships, 1971, 76, 78 and a consolidation of our financial resources'. He remained a respected voice behind the scenes.
Peter Knights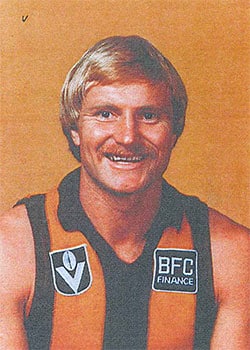 Born: March 30, 1952
Recruited: Longwarry FC
Played: 1969 - 1985
Debut Order: 596
First game: Round 9, 1969
Final game: Preliminary Final, 1985
Games: 264
Goals: 201
Guernsey: 24
Vice Captain: 1981 - 1985
Premierships: 1976, 1978, 1983
Night Premiership: 1969
Best & Fairest: 1975, 1978
2nd Best & Fairest: 1974
3rd Best & Fairest: 1970, 1976, 1983
Leading Goal Kicker: 1972 (46)
Coach: 1994 - 1995 (45 games)
Life Member: 1976
Team of the Century: 2001
Hall of Fame Inductee: 2003
VFL AFL Honours
2nd Brownlow Medal: 1976, 1978
State representative 9
Simpson Medal: 1971
VFL/AFL Life Member: 1999
AFL Hall of Fame: 1996
Peter Knights is one of the all-time greats. He had everything: an electrifying leap, brilliant marking, courage and flair. Injury robbed him of a premiership in 1971 and the Brownlow Medal in 1976. Predominantly a star centre halfback, Knights could also give life to the forward line when sent there, heading the Club goal kicking in 1972.
Appointed coach for two years in 1994, in reflection a very difficult task with the Club headed for its most turbulent times – the merge issues of 1996.
Albert 'Bert' Mills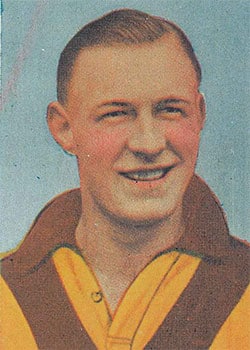 Born: February 16, 1910 - Died May 6, 1984
Recruited: Wangaratta F C
Played: 1930 – 1942
Debut Order: 122
First game: Round 1, 1930
Final game: Round 11, 1942
Games: 196
Goals: 60
Guernsey: 12
Captain: 1932, 1934, 1938, 1940, 1941
Best & Fairest: 1933, 1935, 1939
2nd Best & Fairest: 1937
3rd Best & Fairest: 1941
State Representative 11
Coach: 1940 – 1941
Life Member: 1939
Team of the Century: 2001
Hall of Fame Inductee: 2003

VFL / AFL Honours
State Representative 11
VFL Umpires Board

Bert Mills was considered by all who saw him play to be one of the best from his era in the VFL. He was a popular and brilliant team player who led Hawthorn during the lean 1930s with his sterling efforts in the ruck. Mills possessed an outstanding spring for the tap out and was an excellent mark and kick. 
He was renowned for his loyalty to Hawthorn. He received numerous offers to transfer to more prominent clubs because of his leadership and playing ability, but could never be persuaded to leave his beloved Mayblooms. He later served the VFL as a member of the Umpires Board.
Don Scott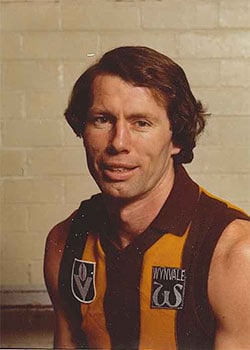 Born: December 20, 1947
Recruited: Box Hill FC
Debut Order: 574
Played: 1967 - 1981
First game: Round 5, 1967
Final game: Round 22, 1981
Guernsey: 23
Games: 302
Goals: 133
Captain: 1976 - 1980
Premierships: 1971, 1976, 1978
Night Premierships: 1969, 1977
Best & Fairest: 1973
2nd Best & Fairest: 1980
3rd Best & Fairest: 1977
Director: 1996 - 2004
Life Member: 1974
Team of the Century: 2001
Hall of Fame Inductee: 2003

VFL / AFL Records
State Captain: 1978
State Representative: 4
VFL/AFL Life Member: 1982
AFL Hall of Fame: 2001

Don Scott was recognised as one of the most fearless ruckmen of his era giving the Hawks tremendous service. He played with enormous courage, doing what was necessary to win with a remorseless, tough mode of attrition, an intimidating competitor.
Considered somewhat an individual, he displayed an added dimension when he rallied the troops to save the Hawks from a fatal merger with Melbourne FC in 1996
2005
Note - Jason Dunstall was a Hall of Fame Inductee in 2005, but elevated to Club Legend in 2014.
Ron Cook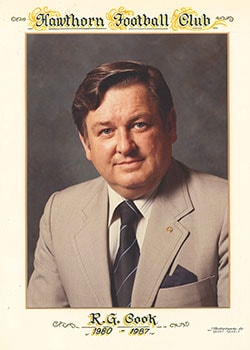 Born: January 23, 1930
- Died December 4, 2004
Hawthorn Rovers: 1945 - 1946
Committee: 1953 - 1987
Chairman of Recruiting
- Secretary: 1961 - 1967
- President: 1980 - 1987
Premierships: 1983, 1986
Life Member: 1960
Hall of Fame Inductee: 2005

VFL / AFL Honours
VFL Delegate
VFL Life Member: 1984

Ron Cook was a pivotal figure in the history of the Club. He was a part of the team of administrators and coaches that saw the Club become a respected power in the VFL, leading to five Premierships, 1961, 1971, 1976, 1978 and 1983.
Cook's renowned vision and determination for success saw him recruit goal-kicking genius Peter Hudson from Tasmania in the mid-1960s. He followed this by being the driving force behind the appointment of coaching legend Allan Jeans, the architect of the Brown and Gold's 1980s boom times. Then in 1996, nine years after he stood down as president, he was instrumental in getting future Club President Ian Dicker to spearhead the successful campaign against the merge attempt with the Melbourne Football Club.
Cook served the Club energetically for 34 consecutive years. He remained a respected force behind the scene and stood firm in the belief that Hawthorn should always retain its own identity and be a power in the AFL.
Kelvin Moore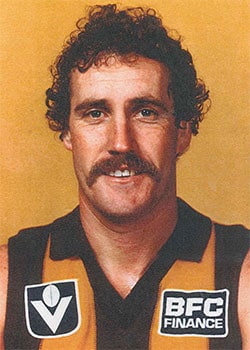 Born: August 15, 1950
Recruited: Frankston Peninsula FC
Played: 1970 - 1984
Debut Order: 608
First game: Round 21, 1970
Last game: Round 22, 1984
Games: 300
Goals: 21
Guernsey: 15
Premierships: 1971, 1976, 1978
Night Premierships: 1977
Best and Fairest: 1979
Director: 1996 - 2000
Chair Match Committee: 1997 - 1999
Assistant Coach: 2000 - 2002
Life Member: 1977
Team of the Century: 2001
Hall of Fame Inductee: 2005

VFL / AFL Honours
State Representative: 13
All-Australian: 1982
VFL/AFL Life Member: 1984
AFL Hall of Fame: 2005

Kelvin Moore was considered one of the best full-backs of his era and was a key member in the Hawks last line of defence for more than a decade.  He became the third player to notch 300 games after Don Scott and Leigh Matthews. 
He joined the Club as a key forward, but with Peter Hudson, Alan Martello and Bob Keddie filling the roles up front, Moore had to adapt to get a regular game.  His height, anticipation and even temperament suggested that full back may suit his style, and so it proved.

Playing in an era of full forwards that included greats such as Doug Wade, (Geelong), Peter McKenna, (Collingwood), Alex Jesaulenko, (Carlton) and Michael Roach, (Richmond), Moore established himself as one of the game's finest defenders of his era.  Along with North Melbourne's David Dench, he pioneered the role of the running full back, and his bouncing dashes from defense set up many Hawthorn attacks through the 1970s.  He was also very strong in the air, taking many a relieving pack mark to turn the tide, then side-step his opponent and drop-punt to position, which became a familiar and much-loved sight for Hawk supporters.
He was a regular Victorian representative during the great days of interstate football, and an outstanding finals performer.  His outstanding defensive game in the 1971 Grand Final may well have resulted in a Norm Smith Medal, had such an award existed at the time.  He also played key roles in the 1976 and 1978 premiership victories.

Moore played at a high level for many years, highlighted by his Best and Fairest win in 1979, his tenth year at the Club, in a team that included the likes of Leigh Matthews, Don Scott, Michael Tuck, Peter Knights, Terry Wallace and Michael Moncrieff.

His final few seasons were impacted by injuries, but he managed to get to 300 games in 1984, his final season.  After retiring from the VFL, he played for Frankston in the VFA, often as a half-forward and later served as a Chairman of Selectors for Frankston and then St Kilda.
He returned to the Hawks in 1996 to serve as a Club Director, Chairman of the Match Committee and as a member of the Coaching Staff lead by Peter Schwab, 2000 - 2002.
Moore was named at fullback in the Hawthorn Team of the Century in 2001 and was an inaugural member of the Hawthorn's Hall of Fame in 2003.  In 2005, Moore was inducted into the Australian Football Hall of Fame.
John Platten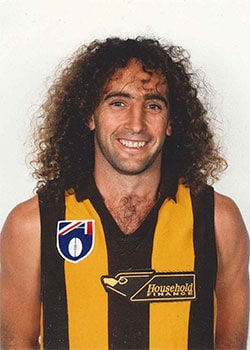 Born: March 17, 1963
Recruited: Central Districts FC, South Australia
Played: 1986 – 1997
Debut Order: 704
First game: Round 1, 1986
Final game: Round 22, 1997
Guernsey: 44
Games: 258
Goals: 228
Premierships: 1986, 1988, 1989, 1991
Night Premierships: 1986, 1988, 1991, 1992
Club Champion: 1987, 1994
2nd Club Champion: 1988, 1991
3rd Club Champion: 1986
Life Member: 1991
Team of the Century: 2001
Hall of Fame Inductee: 2005

VFL / AFL Honours
Brownlow Medal: 1987 (tied with Tony Lockett, St Kilda)
2nd Brownlow Medal: 1989
State Representative 8
All-Australian: 1986, 1987, 1988, 1989, 1992
VFL/AFL Life Member: 1999
AFL Hall of Fame: 2003

John Platten is one of the most unlikely players ever to play VFL/AFL Football. A mere slip of a man, skinny with a great mop of hair, he was blessed with enormous courage and a real talent for playing football at the highest level, as his Brownlow Medal, All-Australian and premiership honours attest.
He had lightning speed and terrific endurance which most taggers had trouble matching. He was also a good mark overhead. He would always burrow under packs, scrounging for the football and loved to kick a goal. Platten was a very determined and courageous on-baller and a major player in the success of the 1986 to 1995 era. A greatly admired teammate and much loved by his adoring fans.
Ted Pool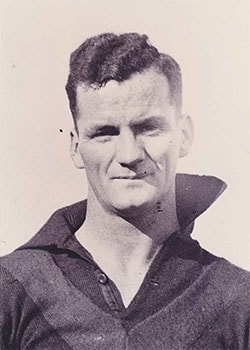 Born: November 9. 1906, Died February 11, 1975
Recruited: Kalgoorlie FC, Western Australia
Played: 1926 - 1938
Debut Order: 40
First game: Round 1, 1926
Last game: Round 9, 1938
Guernsey: 19
Games: 200
Goals: 230
Most Consistent Player: 1933
Life Member: 1936
Hall of Fame Inductee: 2005

VFL / AFL Honours
State Representative 7

Ted Pool was the first player to play 200 games for Hawthorn. He was an outstanding sportsman, excelling at cricket, tennis and swimming. Considered one of the greatest rovers to play the game; he displayed courageous daring, dash and skill, winning high praise from his opponents. He had uncanny ability to read the opposition ruckman's taps enabling him to gain first possession of the ball and then drive the ball forward with well-directed stab kicks. Captain Bert Mills considered Pool to be the best player that he'd seen with the Mayblooms, a marvelous player who kept going year after year.
2007
Gary Ayres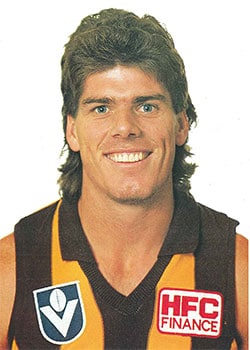 Born: September 28, 1960
Recruited: Warragul FC
Played: 1978 - 1993
Debut Order: 661
First game: Round 18, 1978
Last game: Elimination Final 1993
Guernsey: 7
Games: 269
Goals: 70
Captain: 1992 - 1993
Vice-Captain: 1987 - 1991
Premierships: 1983, 1986, 1988, 1989, 1991
Night Premierships: 1985, 1986, 1988, 1991, 1992
Club Champion: 1986
2nd Club Champion: 1989
Life Member: 1987
Team of the Century: 2001
Hall of Fame Inductee: 2007

VFL / AFL Honours
Norm Smith Medal: 1986, 1988
State Captain: 1989
State Representative 6
All-Australian: 1983, 1986, 1988
VFL/AFL Life Member: 1996
AFL Hall of Fame: 1999

Gary Ayres was one of the toughest, most relentless Hawks, making a name for himself as a solid core defender in the great sides of the 1980s.  Cool in a crisis, coach Allan Jeans paid him the ultimate tribute, "A great driver in heavy traffic" - a tribute to his ability to handle pressure when need be. Ayres was often moved to the centre in difficult games with telling effect. He created history to be the first player to win two Norm Smith medals, named best on ground in the 1986 and 1988 premierships.
Chris Langford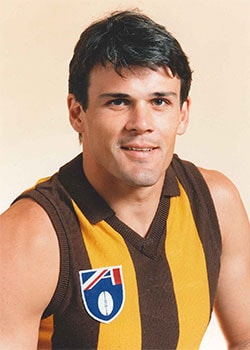 Born: January 2, 1963
Recruited: Melbourne Grammar
Played: 1983 - 1997
Debut Order: 690
First game: Round 10, 1983
Last game: Round 22, 199
Guernsey: 28 (1983 - 1986), 24 (1987 - 1997)
Games: 303
Goals: 33
Captain: 1994
Premierships: 1986, 1988, 1989, 1991
Night Premierships: 1986, 1988, 1991, 1992
3rd Club Champion: 1987, 1989, 1991, 1993
Life Member: 1989
Team of the Century: 2001
Hall of Fame Inductee: 2007

VFL / AFL Records
E J Whitten Medal: 1987, 1993
State Representative 15
All-Australian: 1987, 1988, 1989, 1994
VFL/AFL Life Member: 1996
AFL Hall of Fame: 2009
AFL Commissioner: 1999 - 2015

When Sef Dunn recruited Chris Langford, his observation became Club folklore: 'We have a beauty with young Langers'. Langford who started as a wingman with occasional ruck duties, became one of the game's most outstanding and composed full-backs, playing an important role in four premierships. In the twilight of his career, gained lasting fame when he reminded the club of the importance of its identity. 
Langford thrived with the challenge of playing against the best forwards in the competition. His contests with Stephen Kernahan, Tony Locket and Gary Ablett are etched in the memories of all football lovers. Renowned for his coolness under pressure he was an attacking player, an integral part of the all-conquering sides of the 80's with his frequent dashes through the pack, bouncing the ball before delivering it to a teammate. He led a defensive unit that was the envy of the competition: Chris Mew, Gary Ayres, Andy Collins and Ray Jencke.
His efforts in 1996 demonstrated his great passion for football and for Hawthorn. His day job required him to live in Sydney. Such was his importance of his leadership and all-round football ability to the team, the club wanted him to continue. Something that would be inconceivable in today's football and despite only training with the team occasionally, he would fly to Melbourne to play. He enjoyed one of his best seasons with many outstanding games in defense. 
Following the Hawk's thrilling one-point win over Melbourne at the MCG in round 22, 1996, Langford struck a chord and became immortalized with the Hawk supporters when he raised his Guernsey high in defiance of the proposed merge with Melbourne, thus more than fulfilling Sef Dunn's original remarks. Life after football saw him appointed to the AFL Commission in 1999.
Stan Spinks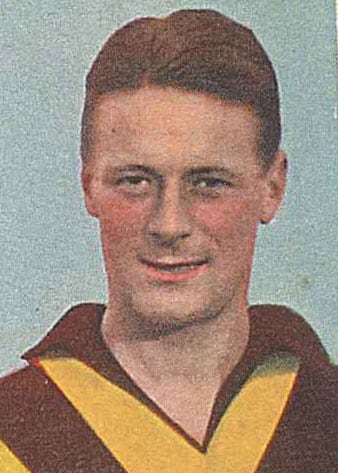 Born: October 16, 1912
- Died October 23, 2003           
Recruited: Auburn FC
Played: 1932 - 1941
Debut Order: 149
First game: Round 18, 1931
Final game: Round 6, 1941
Guernsey: 29 (1932), 8 (1933 - 1941)
Games: 143
Goals: 19
Vice-Captain: 1940
Best & Fairest: 1932, 1938
2nd Best & Fairest: 1933, 1935, 1940
2nd Brownlow Medal: 1938 (to Dick Reynolds, Essendon)
Coach 3rd 18: 1946
Selection Committee
General Committee: 1947, 1951 - 1955
Life Member: 1941
Hall of Fame Inductee: 2007

VFL / AFL Honours
State Representative 4

Stan Spinks earned the reputation as one of the finest centremen in the VFL during his era. Strongly built, he played with ferocious determination and dash. He often beat taller opponents in the air and was considered one of the great wet-weather footballers displaying outstanding skills with his delivery with the wet and greasy ball. 
Triple Brownlow Medallist Hayden Bunton considered Spinks to be one of the hardest opponents that he ever played against. After playing a magnificent game against Bunton at Fitzroy, the HFC supporters took up a collection and presented Spinks with 11 pounds, a rare acknowledgement. 
He was dropped to the reserves for disciplinary reasons, where he played outstanding football but was continually overlooked. Without getting another chance with the seniors, he left disillusioned to play with Camberwell in the VFA. A decision he regretted but such was his love for Hawthorn, that he soon returned, assisting in coaching and team selection and serving on the General Committee.
Robert DiPierdomenico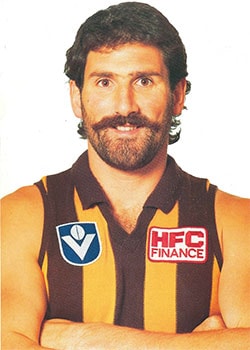 Born: May 5, 1958
Recruited: North Kew FC
Played: 1975 - 1991
Debut Order: 640
First game: Round 18, 1975
Last game: Round 12, 1991
Games: 240
Goals: 130
Guernsey: 38 (1973) 9 (1978 - 1991)
Premierships: 1978, 1983, 1986, 1988, 1989
Night Premierships: 1985, 1986, 1988, 1991
3rd Best & Fairest: 1984
Life Member: 1984
Team of the Century: 2001
Hall of Fame Inductee: 2008

VFL / AFL Honours
Brownlow Medal: 1986 (Tied with Greg Williams, Sydney Swans)
State Representative 6
All-Australian: 1984, 1986, 1987
VFL / AFL Life Member: 2001
AFL Hall of Fame Inductee: 2007

"I was born to play finals" is Dipper's now famous quote after being considered Best on Ground in the 1978 premiership. He played in another four premierships for his beloved Hawks. Dipper, in a sense, represented the essence of Hawthorn. He was a battler who made good, and as such, echoed the story of the Club itself. He was known for his irrepressible spirit, his toughness, his will to win and attack on the ball. 
One of only four players at the Club to win the Brownlow Medal, his undoubted courage displayed in the 1989 premiership will live forever in the hearts of his devoted Hawk supporters.
Ken Goddard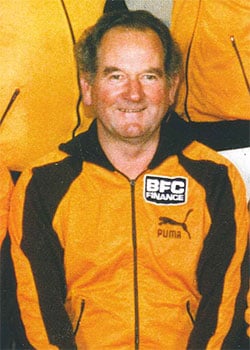 Born: March 10, 1927
Head Trainer: 1970 - 1998
Assistant Trainer: 1962 - 1969, 1999 – 2007
Premierships: 1971, 1976, 1978, 1983, 1986, 1988, 1989, 1991
Night Premierships: 1968, 1969, 1977, 1985, 1986, 1988, 1991, 1992, 1991
Life Member: 1976
Hall of Fame Inductee: 2008

VFL / AFL Honours
Jack Titus Award – Services to Football 1999
Australian Sports Medal – Services to Football 2000

Ken Goddard has assisted in 17 premierships with the Hawks: eight day premierships and nine night premierships - an AFL record. He joined Hawthorn as a trainee trainer in 1962 and was appointed Head Trainer in 1970, succeeding Beau Wallace who had been Head Trainer from 1926 - 1965. 
Goddard possesses an amazing repertoire of stories drawn from his illustrious career with the Hawks continually recounting the feats of his players. His trainers' room has become a part of Hawthorn folklore. The adoring Thursday night crowd would wait for the bell to ring in anticipation of the team selection after Thursday training sessions.  
A close confidant of the players, he stood down as Head Trainer in 1998, but still assisted his beloved Hawks most training sessions, strapping the ankles of the young players until he retired at the end of the 2007 season.
Chris Mew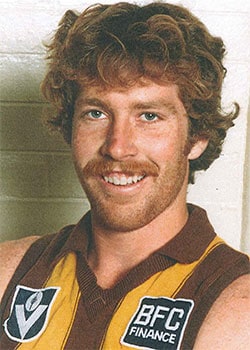 Born: May 7, 1961
Recruited: Rosebud FC
Played: 1980 - 1993
Debut Order: 671
First game: Round 9, 1980
Last game: Elimination Final, 1992
Games: 230
Goals: 21
Guernsey: 46 (1980 - 1983), 2 (1984 - 1993)
Premierships: 1983, 1986, 1988, 1989, 1991
Day Premierships: 1985, 1988, 1991
2nd Club Champion: 1985
Most Consistent Player: 1982, 1983, 1984, 1987
Life Member: 1986
Team of the Century: 2001
Hall of Fame Inductee: 2008

VFL / AFL Honours
State Representative 5
All-Australian 1984

HFC folklore has it that coach Allan Jeans penciled Chris Mew's name in first each Thursday night and the team was built around him. Such was his worth to the team. Mew was the backbone of the all-conquering sides of the 1980s. He played with apparent disregard for the limelight, leaving all that to his more outgoing teammates. A very long kick and strong mark, he had the skill to counter the best opposition forwards in the competition.
Mew retired briefly but was persuaded by the Coach Allan Jeans to return. Renowned for his strong consistency, Mew returned and played a major role in the 1991 premiership, his fifth.
Dermott Brereton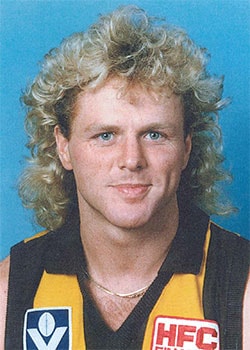 Born: August 19, 1964
Recruited: Frankston Rovers FC
Played: 1982 - 1993
Debut Order: 686
First game: First Semi Final 1982
Last game: Round 19, 1992
Guernsey: 47 (1982), 23 (1983 - 1992)
Games: 189
Goals: 427
Vice-Captain: 1992
Premierships: 1983, 1986, 1988, 1989, 1991
Night Premierships: 1985, 1986, 1989, 1991, 1992
Club Champion: 1985
Leading Goal Kicker: 1985 (58)
Director: 1998 - 2005
Life Member: 1989
Team of the Century: 2001
Hall of Fame Inductee: 2009

VFL / AFL Honours
State Representative 9
All-Australian: 1985, 1986, 1988
AFL Hall of Fame: 1999

Brereton was one of the most exciting players of his era. His flamboyance endeared him to all Hawk fans and infuriated his rivals. He kicked five goals in his first game, the first semi-final against North Melbourne in 1982. Brereton reveled in the heat of battle and would do anything to create a distraction to the opposition. He was capable of turning many a game with his immense talent, contested marking and telling kicks for goal combined with an ability to intimidate his opponents. His combined teamwork up forward with the likes of Jason Dunstall, John Platten and Darrin Pritchard wrong footed many an opponent. 
Such was his love for the Hawks, he returned as a Board Member and assisted with training under coach Peter Schwab.
Brian Coleman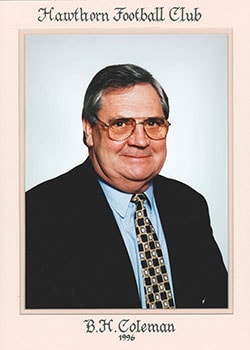 Born: May 28, 1935
Recruited: Camberwell FC
Played: 1956
Debut Order: 496
First game: Round 5, 1959
Last game: Round 12, 1959
Guernsey: 35
Games: 6
Goals: 5
Premiership Reserves: 1959
Coach under 19's: 1969 - 1977
Premiers: 1972
Reserve 18 Team Manager: 1978 - 1979
Match Committee: 1980 - 1995
Chairman of Selectors: 1983 - 1995
Premierships: 1983, 1986, 1988, 1989, 1991
Night Premierships: 1985, 1986, 1988, 1991, 1992
Reserves Premiership: 1985
Director: 1982 - 1996
Vice President: 1987 - 1995
President: 1996
Box Hill Chairman of Selectors: 2000 - 2003
Premiership: 2001
Life Member: 1975
Hall of Fame Inductee: 2009

VFL / AFL Honours
Jack Titus Award Services to Football 2004
VFL Life Member

Coleman was a great stalwart of the Club giving valuable service for over 45 years and being involved in 14 premierships. As a player he gained distinction playing as a rover in the second 18 Premiership in 1959. 
After a number of successful seasons coaching East Malvern, Canterbury and Springvale Coleman was invited back to the Hawks to coach in 1969. He coached the under 19's for nine years, winning the only premiership for the Club at this level in 1972. 
With this valuable grounding, Coleman went on to be the most influential and successful Chairman of Selectors in the Club's history. He achieved the remarkable legacy of five day and five night premierships in the Hawks golden era from 1982 to 1994 - 13 consecutive finals appearances, an AFL record. 
Coleman's loyalty to the Hawks saw him serve as President for one year, 1996. This was an unrewarding task but Coleman displayed a great sense of dignity, enabling the Club to re-group and move forward, thus avoiding the proposed merge with Melbourne. In later years he served the Club with distinction guiding the newly-aligned club, Box Hill to their first premiership in 2001.
Peter Crimmins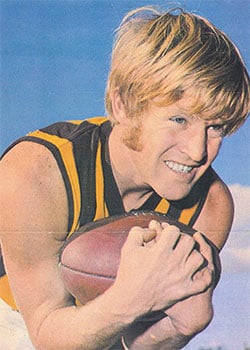 Born: July 8, 1948
- Died September 28, 1976
Recruited: Assumption College
Played: 1966 - 1975
Debut Order: 556
First game: Round 1, 1966
Last game: Round 7, 1975
Guernsey Number: 5
Games: 176
Goals: 231
Captain: 1974 - 1975
Vice Captain: 1970 - 1973
Premiership: 1971
Night Premierships: 1968, 1969
2nd Best & Fairest: 1968, 1972
3rd Best & Fairest: 1971
Played: 1966 - 1975
Life Member: 1973
Hall of Fame Inductee: 2009

VFL / AFL Honours
State Representative 1

The senior partner of one of the great roving combinations in the games history - Crimmins and Matthews. When Crimmins was at his peak in the early '70s, he was one of the finest players in the VFL, brilliant and courageous. A real favourite with Hawks supporters thanks to his great speed, blonde hair flying, his willingness to take on anyone and he was a great shot on goal.
Destined for even greater fame, his career was curtailed by cancer, the illness that would claim his life. He became the inspiration for the 1976 premiership, known within the Club as 'The Cup for Crimmo'. 
Such is the importance of the legend of Crimmo, that the Club Champion was renamed the 'Peter Crimmins Medal' in 2004 in his honour.
John Peck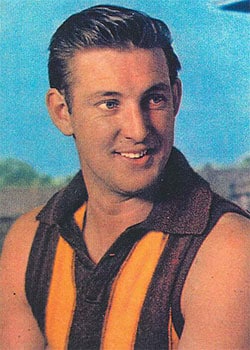 Born: August 7, 1937
- Died February 2, 1993
Recruited: Canterbury Colts FC
Played: 1954-1966
First game: Round 1, 1954
Last game: Round 18, 1966
Guernsey: 23
Games: 213
Goals: 475
Captain: 1965 (Rounds 1 & 2)
Vice-Captain: 1960 - 1966
Premiership: 1961
2nd Best & Fairest: 1956, 1960, 1962, 1965
3rd Best & Fairest: 1963, 1964
Leading Goal Kicker: 1956 (31), 1958 (27), 1961(49), 1962 (38), 1963 (75), 1964 (64),
1965 (56), 1966 (32)
Life Member: 1962

VFL / AFL Honours
Coleman Medalist 1963, 1964, 1965
State Representative 7

Peck was big and strong and holds the distinction of being the youngest Hawk to make his debut when he played his first game at the age of 16.  Hard and tough at the ball, he was a very good mark, a powerful kick and was very fast for his size. 
Initially he made his name as a very mobile ruckman and, when required, proved himself to be very capable at either centre half forward or centre half back. However, when he was moved to full-forward he was an instant success, his strength and cunning brought about many goals.
A very popular cult figure, affectionately known as Speed or Elvis. He gained immortality with the Hawk supporters when he kicked the winning goal enabling the Hawks to beat Collingwood for the first time at Victoria Park in 1960.
2010
Gary Buckenara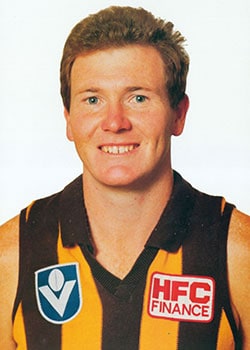 Born: July 3, 1958
Recruited: Subiaco FC, Western Australia
Played: 1982 - 1990
Debut Order: 681
First game: Round 1, 1982
Last game: Round 12, 1990
Games: 154
Goals: 293
Guernsey: 11 (1982 - 1990)
Premierships: 1983, 1986, 1988, 1989
Night Premierships: 1986, 1989
Reserves Premiership: 1985
2nd Best & Fairest: 1986
Equal 3rd Best & Fairest: 1989
Assistant Coach: 2000-2002
Opposition Analyst: 2003
Recruiting Manager: 2004 - 2015
Life Member: 1989
Team of the Century: 2001
Hall of Fame Inductee: 2010

VFL / AFL Honours
All-Australian 1986, 1988

A natural sportsman, Buckenara was very talented at both football and cricket. He was a damaging player either on the ball or on a half forward flank, displaying excellent all-round skills. 
A superb mark, he would thrill the crowd in the manner in which he would throw himself at the ball with spectacular leaps high above the pack or low to the ground not unlike a slips catch. He was a prodigious kick for goal, often off one step and he is fondly remembered by his fans for kicking the winning goal after the siren against Melbourne in the 1987 Preliminary Final. 
Coach Allan Jeans paid him the ultimate tribute, considering him Hawthorn's best big game player in his time as coach of the Hawks. He returned to the Club firstly on the coaching staff in 2000, followed by becoming head of recruiting in 2004. He played a leading role in assembling the lineup of players for the successful premierships in 2008, 2013, 2014 and 2015.
Albert 'Bert' Hyde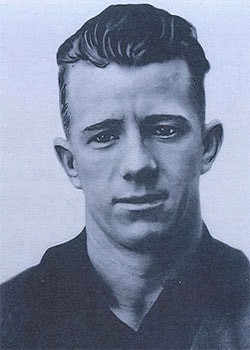 Born: June 3, 1907
- Died October 23, 1989
Recruited: Monbulk FC
Played: 1925 - 1935
Debut Order: 32
First game: Round 12, 1925
Last game: Round 14, 1935
Games: 129
Goals: 269
Guernsey: 32 (1925 - 1926), 20 (1927 - 1935)
Leading Goal Kicker: 1926 (27), 1927 (41), 1928 (62), 1929 (52), 1930 (52)
Supporters Trophy: 1930
Life Member: 1935
Match Committee: 1938 - 1943
President Past Players: 1968 – 19 69
Life Member Past Players & Officials Association
Hall of Fame Inductee: 2010

VFL / AFL Honours
State Representative 6

Hyde gave over 50 years' service to Hawthorn. He led the goal-kicking for five consecutive years with 62 goals in 1928, a record tally until Jack Green kicked 80 goals in 1934. As a forward, he was renowned for his fast leads, high marking and soaring torpedo punts that delighted the crowd. 
He was moved to full-back in 1931 and starred in that position. The only player picked to represent Victoria both at full-forward in 1928 and full-back in 1933, a testament to his versatility and value to a team as a player.
When Hyde retired from playing, he served on many committees - the Club, the Match and Finance Committees and was a Talent Spotter from the late 1930s through to the 1970s. He took a leading role in forming the Past Players Association and was made a Life Member of the PP&OA for his continued activity in raising funds for the health and welfare of retired players. 
He was also held in very high regard by the general football community with his active role in the media, first as a newspaper columnist followed by radio and the early days of television, calling both football and as a popular member of a number of football panel shows.  In these roles he was the voice for Hawthorn, always pushing the Club's cause.
J W Kennon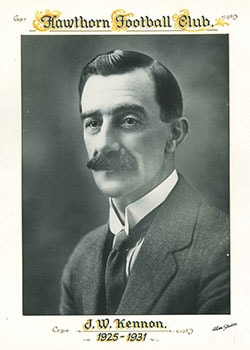 Born: August 11, 1985
- Died March 15, 1945
Played: MJFA, ESFA & Wednesday Trades Team 1902 - 1912
- No complete list exists that gives an accurate count of games or goals, other than Kennon's name which appears often in the above listed teams.
Assistant Secretary: 1912
Club Committee: 1912 - 1931
President: 1921 - 1931
Life Member: 1924
Hall of Fame Inductee: 2010

J W Kennon is one of the most important personalities in the history of Hawthorn. He played in the very first year when the Club was formed in 1902. He then worked tirelessly as an official with the vision that a team representing the suburb of Hawthorn should be in the top football competition.   
He led a steering committee in conjunction with the local Council that saw Hawthorn graduate through the junior ranks of football, the Metropolitan Junior Football Association, then join the Victorian Football Association in 1914 and finally reach the pinnacle in 1925 when Hawthorn was accepted into The Victorian Football League.  
Kennon was forced to retire from serving the Club when he sustained a head injury when playing golf in 1931. For his services to Hawthorn, the original Grandstand at Glenferrie was named jointly in his honour with G W Owen. This grandstand was demolished in 1937 to make way for the Red Brick Stand, later named The Michael Tuck Stand. In more ways than one Kennon could be considered one of the inspirational spiritual leaders of today's highly successful Club.
W. 'Beau' Wallace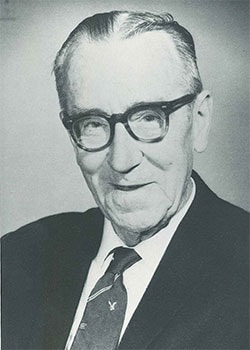 Born: Unknown
- Died August 28, 1970
Honorary Life Head Trainer: 1966-1969
Head trainer: VFA 1923-24, VFL 1926-1965
Assistant Trainer: VFA 1919-1922 and VFL 1925

Beau Wallace joined Hawthorn in 1919 when the Club resumed after being in recess due to the First World War. Hawthorn was then playing in the VFA competition. In 1923 he was appointed Head Trainer.  When Hawthorn entered the VFL in 1925, Beau stepped down to assistant trainer due to work commitments before resuming as Head Trainer in 1926, a position he held with great distinction until 1965.
He served under the Club's first 19 senior coaches, from Jim Jackson in 1925 through to John Kennedy Snr in the mid 1960s. He was a major figure in the continual daily club life of that era. Such was his standing in the wider world of VFL football he was considered one of the public faces of Hawthorn.
He stood down as Head Trainer in 1965 - such was his worth and experience to the Club, he was appointed Honorary Head Trainer for Life to assist the new, younger members of the Training Support Staff.  
Wallace services were also sort after by the VFL for Victorian State Representative Teams. He served the Club for 46 years and was actively involved in fund raising committees, smoke nights and many social gatherings over that period.  Players would often drop into his furniture shop in Burwood Road to receive additional treatment for injuries and to seek advice. The Hawthorn PP&OA named their room the Beau Wallace Room to honor and respect the lifetime devotion that Wallace offered the Club.
2011
Alec Albiston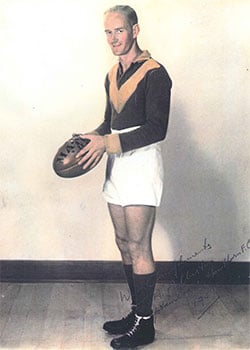 Born: November 16, 1917
- Died April 13, 1998
Recruited: Kew FC
Played: 1936 - 1942, 1945 -1949
Debut Order: 220
First game: Round 11, 1939
Last game: Round 19, 1949
Games: 170
Goals: 383
Guernsey: 5 (1936 - 1940), 17 (1941 - 1942), 4 1945, 5 (1946), 1 (1947 - 1949)
Captain and Coach: 1947 - 1949 (57 games)
Best & Fairest: 1941, 1946
2nd Best & Fairest: 1948
3rd Best & Fairest: 1939
Leading Goal Kicker: 1939 (37), 1941 (57), 1942 (32), 1946 (44)
Most Brownlow votes: 1948
Life Member: 1945
Hall of Fame Inductee: 2011

VFL / AFL Honours
State Captain 1948
State Representative 1

When Alec Albiston joined the Air Force to serve his country in the Second World War he was nearing the peak of his football abilities, being one of the favorites to win the Brownlow Medal in 1942. His three years in the Services denied him this opportunity and of almost certainly achieving 200 games with Hawthorn.  
Albiston was a fitness fanatic. He took great pride in being able to run out a game, to run as fast in the last quarter as the first was one of his personal aims.  His remarkable durability saw him never miss a game through injury.  
Although small in stature, he took on anyone to get to the ball first. He was very skillful rover, fleet of foot and agile playing many brilliant games capable of kicking goals from all angles. He was constantly listed in the Best Players in the press reports of the day.
Albiston topped the Club's goal- kicking four times and won two Best & Fairest Awards. He was the first Hawthorn player to kick 10 goals in a game. He did this in 1940 against North Melbourne, a Club record until Peter Hudson kicked 12 in 1968.
His outstanding leadership saw him appointed Captain and Coach in his last three years with Hawthorn.
Ian Law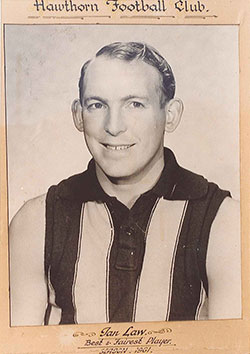 Born: September 27, 1938
Recruited: Old Scotch FC
Played: 1960 - 1969
Debut Order: 511
First game: Round 12, 1960
Last game: Round 19, 1968
Games: 106
Goals: 115
Guernsey: 37 (1960), 7 (1961-1967)
Premiership: 1961
Night Premiership: 1969
Best & Fairest: 1961, 1963, 1964
Most Brownlow Votes: 1961, 1963
Third Brownlow Medal: 1961
Life Member: 1969
Team of the Century: 2001
Hall of Fame Inductee: 2011

VFL / AFL Honours
State Representative 6

Ian Law was a very competitive footballer, very aggressive, eyes only for the ball and didn't care whom he knocked over to get it. Law was a rover who followed a coach's direction without question, being very fast and a good kick on either foot. In the space of less than 100 games he was one of the most effective ever to play for the Hawks winning three Best and Fairest awards, coming third in the Brownlow the year the Club won its first premiership, a real impact player.
He was also an outstanding sportsman representing his State in both football and cricket. At a Club level he introduced the Club magazine HawkTalk in 1968 and was editor for the first two years.
Always interested in sport and the development of sport generally he was instrumental in introducing Gaelic Football, now known as International Rules, first played between Ireland and Australia in 1967. Law was named in Hawthorn's Team of the Century in 2001.
Brendan Edwards
Born: March 18, 1936
Recruited: Sandhurst FC
Played: 1956 - 1961, 1963
Debut Order: 466
First game: Round 1, 1956
Last game: Round 10, 1963
Games: 109
Goals: 29
Guernsey: 29 (1956), 9 (1957 - 1961, 1963)
Premiership: 1961
Best & Fairest: 1960
2nd Best & Fairest: 1957, 1958, 1959
3rd Best & Fairest: 1961
Club Fitness Adviser: 1968 -  1970
Life Member: 1970
Hall of Fame Inductee: 2011

VFL / AFL Honours
Second Brownlow Medal: 1958
State Representative 8

Edwards was a fitness fanatic. Recruited from Sandhurst he was coached by ex-Hawk, Kevin Curran. He was ahead of his time with his personal training, press-ups and knee jumps that strengthened his body enabling him, from a standing start in packs, to shrug off his opponents with ease.  
Edward's personal training methods impressed teammates, John Kennedy, Graham Arthur and Alf Hughes. They followed his methods with their own personal training being rewarded with higher placings in the competitive Best and Fairest Awards in 1957.
The Club then adopted Edwards' circuit training methods when Kennedy took over as coach in 1960.  This was the beginning of a creed of fitness that helped to take the Club to its first Premiership in 1961.
As a player Edwards was brilliant, a ball magnet, constantly driving the ball forward. Playing in the centre he could go all day and he played a sensational game against Footscray in the 1961 Grand Final, amassing over 33 kicks in the Hawk's triumph.
At the relative young age of 25, he shocked the football world when he retired at the start of the 1962 season to concentrate on his physical fitness business. He was talked into a comeback in 1963, but a dislocated knee ended his career mid-season during a game against Richmond. In this game Edwards considered he was on the verge of playing even better football than in 1961, such was his confidence.  It was a major setback to the progress of the team.  
In 1968 coach John Kennedy approached Edwards to refine his earlier circuit training methods. This resulted in the now famous, Kennedy Commando method of training, which lasted three years and was undoubtedly a major factor in the 1971 Premiership.
In 2001, Edwards was selected in the Hawks Team of the Century.
Roy Simmonds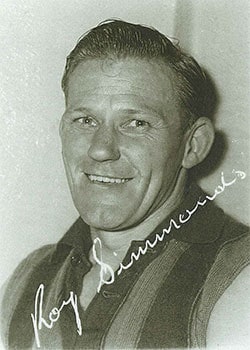 Born: 29 December 1928
- Died August 9, 2008
Recruited: Koondrook FC
Played: 1950 - 1961
Debut Order: 412
First game: Round 12, 1950
Final game: Round 14, 1961
Games: 192
Goals: 78
Guernsey: 27
Vice-Captain: 1955-1958
Best & Fairest: 1956
2nd Best & Fairest: 1952, 1954
3rd Best & Fairest: 1951, 1953, 1955, 1957
Match committee: 1971 - 1973
Reserves Coach: 1972 - 1973
Reserves Premiers: 1972
Life Member: 1959
Team of the Century: 2001
Hall of Fame Inductee: 2011

VFL / AFL Honours
State Representative 4

Roy Simmonds earned a reputation of being one of the great Clubmen of his beloved Hawks. He was very popular with both his teammates and fans alike and gain great fame leading many a rendition of the club song with his banjo.
Simmonds was also one of the most consistent players to pull on a guernsey for the Hawks. He finished in the top three of the Best & Fairest for seven consecutive years, winning the award in 1956. Only Leigh Matthews and Michael Tuck have a better record of consistency at this level.
As a player he was versatile and courageous, being particularly strong and could play with equal effectiveness as a rover or in the back pocket. Simmonds was also quick and being strong would attack the ball fiercely, pushing the opposition aside and lifting the side with his inspiring dashes down the ground.
The year he won the Best & Fairest, 1956 he represented Victoria four times in the VFL Carnival. Sadly, he missed a place in the 1961 premiership through injury. "Simmo", as he was popularly known, was the idol of the Hawks faithful; he became the face, or the voice of Hawthorn through his role as a panel member on the popular radio show, London Stores and the early years of TV's World of Sport.
Simmonds served on the Match Committee for three years and was appointed Coach of the Reserves in 1972, winning the Premiership that year.  
He was one of a group of former players who continued to give ongoing service to the Club from the time they joined in the early 1950s. They attended training sessions weekly to 'watch over their boys', as they put it and only offered their encouragement when asked.  
His status as a team-player was rewarded when he as named on the Inter-change bench in Hawthorn's Team of the Century in 2001.
2013
Jack Hale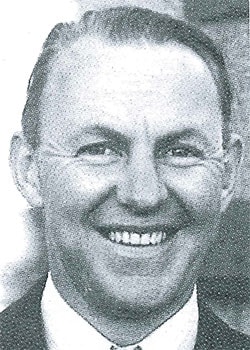 Born: 2 January 1913
- Died June 25, 2001
Reserves Coach: 1950
Senior Coach: 1952 - 1959 (Games 146)
Life Member: 1959
Hall of Fame Inductee: 2013

VFL / AFL Records
VFL/AFL Life Member: 1978

As a player Hale played as a rover at Carlton, 1933 – 1941, including the 1938 premiership and only retired when he broke his leg.  After coaching for two years with South Melbourne, Hale was appointed coach of the Hawthorn Reserves in 1950.  He took over the senior coaching position from an ailing Bob McCaskill in 1952.  As the first person to coach 100 games with Hawthorn, he is credited in putting the fight and spirit into the Hawks, which saw them rise from last in 1952 to playing in their first finals appearance in 1957, thereby laying the foundations for the club's first premiership in 1961.  
It was often said that he taught the Hawks to hate defeat. He was also responsible for introducing the good-natured Protestant v Catholics banter at the Club that endured through a succession of coaches and typified the spirit that the Club built in later years. Considered by many of the playing group that he coached as the person along with his wife as the driving force responsible for creating and forging the values for which Hawthorn, the Family Club became renowned.
Harry E. Miller
Born: 1894
- Died 1985
Club Trainer / Physiotherapist: 1925-1978
Life Member: 1947
Hall of Fame Inductee: 2013

Miller was one of the longest serving servants of the Club. He was a very loyal and diligent worker for over 50 years, the greater part of it in the chopping-block era when Hawthorn joined the VFL in 1925 through to the late 1950s, a time during which the Club experienced virtually no success.
A veteran from Gallipoli where he was wounded and lost an eye during the First World War, Miller offered his services to the Hawthorn Football Club in 1924, the last year that the Club played in the Victorian Football Association.  
Miller was a great favorite with the players, renowned for his feathery touch when rubbing out the aches and pains of many a player. Somewhat of a father confessor, he always had a bag of lollies in his pocket, ready to be offered to relax "his boys", as he referred to the players, when they came for his specialized treatment.
Of interest, the Hawks Museum has Miller's rub down table, saved for prosperity by Club Identity, Andy Angwin, and Miller's 1925 membership ticket donated by his daughter-in-law, Jean Miller. Both items are on permanent display.
Ernest 'Tich' Utting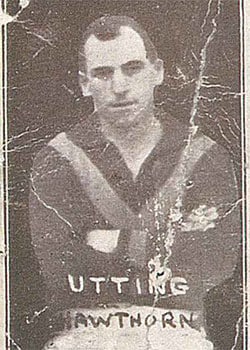 Born: October 31 1897
- Died November 21, 1948
Recruited: Preston FC
Debut Order: 15
Played: 1923 - 1932
First game: VFL Round 1 1925
Last game: Round 17, 1932
Played: 1923 – 1932
Guernsey: 26 (1923-24), 12 (1925-27), 2 (1928,30), 20 (1929), 28 (1931-32)
Games: VFA 26, VFL 101
Goals: VFA 17, VFL 28
Best & Fairest: 1927, 1929
Reserves Playing Coach: 1933
Third 18 Coach: 1938 - 1941
Premiership: 1941
Life Member: 1933
Hall of Fame Inductee: 2011

VFL / AFL Honours
Gardiner Medal 1933

Ernest 'Tich' Utting was recruited from Preston in 1923, when Hawthorn competed in the VFA prior to joining the VFL in 1925. He previously played 16 games with Collingwood in the VFL from 1919 - 1922.  
He was a member of the team that played against Richmond in Hawthorn's first game in the VFL at Glenferrie in 1925. Playing in the back pocket, the nuggety Utting was known for his great anticipation and tenacious attack at the ball. His balding head and bowed legs made him a real favourite with the supporters as he guarded the opposition goals with fierce determination.  
Utting was the first player to win the Best & Fairest twice, first in 1927 then in 1929, playing his last game at the age of 34. Utting was also the first player to be accorded a Club Testimonial in recognition for valued services to the Club held in the Hawthorn Town Hall on August 20, 1932.
Utting was appointed Playing Coach of the Reserve 18 in 1933.  The team narrowly missed the finals by percentage. However, he gained some reward winning the Gardiner Medal for Best Player in the Reserves Competition being the second Hawthorn player to achieve this award.  
Forever the epitome of the ideal Clubman, Utting continued to assist with the development of the younger players, coaching the Hawthorn Colts for four years, winning the Premiership in 1941, the Club's first premiership at any level since joining the VFL in 1925. Stepping down as coach, he continued to offer his assistance with training and the recruiting of potential players until his early passing in 1948.
2015
Jack Elmer
Born: November 27, 1922
- Died March 29, 1992
Committee: 1952 - 1979
Assistant Treasurer: 1953 - 1958
Vice President: 1959 - 1965, 1971 - 1976
Treasurer: 1968 - 1979
Match Committee - Premiership: 1961
Chairman of Social and Fund Raising: 1953 - 1975
Life Member: 1959
Hall of Fame Inductee: 2015

VFL / AFL Honours
The Jack Titus Award – Services to Football 1978

Max Elmer was born in Deloraine, Tasmania and attended Launceston High School. With the advent of World War 2, Elmer moved to Melbourne to join the RAAF where he met Jack McLeod who was a star rover with Hawthorn. It was McLeod's enthusiasm that kindled Elmer interest in following the Hawks. His long serving involvement at Hawthorn began in 1951 when he was asked by Arthur Dunning to take on the task of Honorary Ticket (Membership) Secretary.  
In 1950, Elmer gained employment first as an accountant at the radio station 3DB, then as Station Manager and became a member at Hawthorn.  1956 saw the beginnings of the new exciting medium of Television. Elmer joined the fledging Channel 7 and worked closely with Ron Casey on the Football Show that was to gain legendary status in the eyes of the football public.  
His genial and considerate nature opened many doors enabling the Hawks to receive much needed publicity on radio and TV as the Club gained success with its first finals appearance in 1957 followed by the 1961 Premiership.
Considered one of the finest ambassadors for the Hawthorn Football Club, Max served on the committee for 27 years. Known for his wisdom, loyalty and business acumen, his contribution reflected the success both on the field and the Club's sound financial position.

Achievements that Max identified in a recorded Interview with the late Harry Gordon:

• Most import achievement - appointing John Kennedy as Coach.
• Recruiting Peter Hudson with Ron Cook.
• Established regional recruitment officers in Hawthorn's zones.
• Established the Hawthorn District Junior League for recruiting with Bill Wallace.
• Played a leading role in establishing the Social Club in 1962 as a meeting place for members and as an important venue for raising Club revenue.
• Introduced testimonials for players who had played 10 years or 150 games. Roy Simmonds was the first recipient. Testimonials continued till 2002 when Shane Crawford and Mark Graham were honoured.
• Supervised Club dinners after each home game with wife, Jess.
• Established the first souvenir stall selling Club memorabilia.
Russell Greene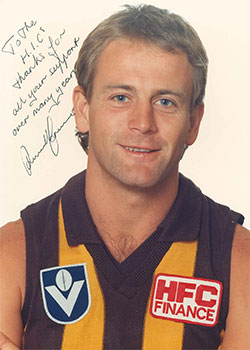 Born: May 30, 1957
Recruited: St Kilda FC
Played: 1980 - 1988
Debut Order: 670
First Game: Round 9, 1980
Last Game: Grand Final 1988
Games: 184
Goals: 82
Guernsey: 29
Premierships: 1983, 1986, 1988
Night Premiership: 1988
Best & Fairest: 1984
Best Team Player: 1983
Best Clubman: 1982, 1985
Deputy Vice-Captain: 1986
Under 19's Coach: 1989 – 1991*
*(Final year of Under 19's Competition)
Life Member: 1986
Hall of Fame Inductee: 2015 
VFL / AFL Honours
State Captain: 1984
State Representative: 5 (includes 1 with St Kilda)
All-Australian: 1983, 1984, 1985
AFLPA MVP: 1984
Hayden Bunton Medal: 1984 (Sporting Globe award)
VFL / AFL Life Member: 1988

Russell Greene had a very unusual introduction to Hawthorn. He was chosen on Thursday to play with St. Kilda (his former club), traded to the Hawks on the Friday and played with his new team that weekend against North Melbourne. His friend Steven Icke, a North Melbourne player, saw him in the car park prior to the game and asked whether he was at the wrong game!  
Greene initially debuted with St Kilda as a 16-year-old in 1974 and made his name as a nimble wingman and occasional ruckman. After 120 games with the Saints he was traded to the Hawks prior to Round 9, 1980.
The move made him a more disciplined footballer and, in time, he became one of the game's most respected players due to his non-stop running capacity either on the wing or as a ruck-rover. Greene was to typify the Hawks 80's style of running from the backline.  
He made the most of his second opportunity, playing in six consecutive grand finals for three premierships, 1983, 1986 and 1988. Greene had a standout year in 1984, chosen to Captain Victoria and winning Hawthorn's Best and Fairest Award. Towards the end of his career he would come off the interchange bench and spark the team with his great run and enthusiasm.
A very popular clubman and leader, on retirement he coached the under 19's, helping to groom future Hawks. His son Steven played for the Hawks (2001-2005) having been recruited under the father-son rule.
Greene has made a very positive contribution with young people being a dedicated teacher first at Melbourne Grammar for many years and currently, Marnebek College enriching the lives of students with his embracing attitude. His students look forward to visiting the museum each year to learn more about personal commitment and the value of team play.
Shane Crawford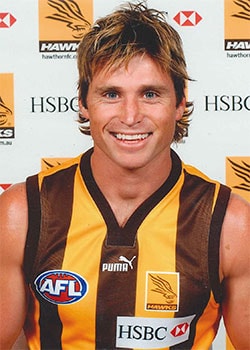 Born: September 9 1974
Recruited: Finley / Assumption College
Drafted: Selected at number 13 in 1991 National Draft
First game: Round 1, 1993
Last game: Grand Final, 2008
Debut Order: 742
Games: 305
Goals: 224
Guernsey: 9
Premiership: 2008
Pre-season / Night Premiership: 1999
Captain: 1999-2004
Club Champion: 1998, 1999, 2002, 2003
2nd Club Champion: 1995 (equal), 1996
3rd Club Champion: 2001 (equal), 2005
Life Member: 2001
2015 Hall of Fame Inductee

VFL / AFL Honours
Brownlow Medal: 1999
2nd Brownlow Medal: 2003 (tied with Ben Cousins, WCE & Gavin Wanganeen, PA)
All-Australian: 1996, 1998, 1999, 2002
International Rules: 1998, 1999, 2002-2003 (captain)
Jesaulenko Medal: 1998
AFLPA MVP: 1999
Rising Star Nominee: 1993
VFL/AFL Life Member: 2006

A genuine champion of the game, for seventeen years Crawford was the heart and soul and the face of the Club, especially during the turbulent 1990s. A fitness fanatic, he was capable of playing as an on-baller for an entire game becoming the sixth player to pass 300 games for the Hawks.
Crawford spent his childhood in Finley, NSW and played his junior football with the Finley Football Club. He joined Hawthorn via Assumption College in Kilmore when he was selected as No 13 in the 1991 draft, making his debut in Round 1 against Melbourne in 1993. He developed quickly and demonstrated a remarkable ability to cover plenty of ground.
He won the Best and Fairest four times, equaling John Kennedy Snr, Jason Dunstall and current star, Sam Mitchell as the most decorated group of players behind the legendary Leigh Matthews, who won eight Best and Fairest Awards.
Crawford underwent a dramatic change with his appointment as Captain in 1999 developing into an inspiring leader with his dedication to fitness. His form improved as the season progressed leading the Club to its ninth night premiership and in the last two months of the season he was virtually unstoppable winning football's highest honour, the Brownlow Medal. He was the first Hawk to win the Brownlow outright. His acceptance speech was memorable for the tribute he paid to his mother, who raised her three sons as a single parent.  
Very popular with the media, Crawford became a TV star on the Footy Show. It placed him under intense scrutiny, however he continued to play well coming equal second in the Brownlow in 2003.   At the end of the 2004 he stood down from the Captaincy. A new broom was sweeping through the Club; Alastair Clarkson was appointed, with Richie Vandenberg the new captain. Crawford, now the elder statesman of the team, continued to play inspiring football, being used more as a defender with one more burning ambition.
At the age of 34, in his 305th game, the longest wait in VFL/AFL history to win a flag, he achieved his dream to play in a Premiership with the Hawks.  He was offered another year but announced his retirement, wanting to go out on a high note, he is now remembered as one of the greatest midfielders in the modern era of AFL football.  In 2012 Crawford was inducted into the Australian Football Hall of Fame.
He is currently an Australian television personality who appears regularly on the Nine Network shows, the AFL Footy Show, Getaway and Postcards.
2017
Miles Alfred 'Bob' Sellars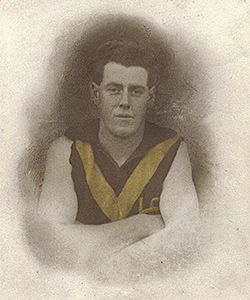 Born February 23, 1905,
Died September 10, 1971
Recruited Box Hill
Guernsey 25 (1925-27), 8 (1928-31), not known (1932, 1934)
Debut Order 13
Played 1925-1932, 1934
First Game Round 1 1925
Last Game Round 18 1934
Games 98
Goals 65
Captain 1928
Best All-Rounder 1928 (Best & Fairest)
State Games 7
Life Member 1956
VFL Goal Umpire 1944-1952
Games 131
HFC Time Keeper 1954-1971 
Sellers was born in St Kilda, the eldest child of Alfred Thomas Sellers and Florence Pearce.  After commencing his football career with Ferntree Gully he joined Box Hill for a season before playing in Hawthorn's first game in their inaugural season in the VFL in 1925 until 1934, as a follower and forward.  He had a stand out season in 1928, he was named captain, won the award of Best All-Rounder (Best & Fairest) and was equal first for Hawthorn Brownlow votes tying with John Sharpley. 
In what might be considered somewhat unusual, in 1934 Sellers returned to Hawthorn to play what was believed at the time his 100th Game in the final round of the season.  He had been serving as captain and coach of the local Auburn Football Club having just won the Best & Fairest Award that year.  
Retiring as a player, Sellers returned to Hawthorn and contributed outstanding sterling service as a coach and team manager of the under age teams and assisted with recruiting and talent spotting for the senior sides. 
He played District cricket for eight years with Hawthorn East Melbourne and in 1944 he returned to the VFL as a goal umpire and officiated in 131 games till then end of the 1952 season.  Sellers remained an an active member at Hawthorn including the Past Players & Officials association, receiving Life Membership in 1956.  He was a Timekeeper with both the 1st and 2nd 18's from 1954 until he passed away in 1971.
John O'Mahony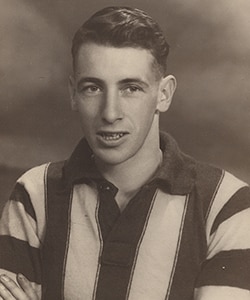 Born December 7, 1931
Recruited Camberwell Juniors
Guernsey 3
Debut Order 417
Played 1951-1960
First Game Round 14, 1951
Last Game Round 12, 1960
Games 112
Night Games 6
Goals 28
2nd Best & Fairest 1955
3rd Best & Fairest 1956
Most Consistent Player 1953
Reserves Best & Fairest 1951
Life Member 1960
Australian Sports Medal – Services to Football 2000
Committee 1971 - January 1976
Chairman of Selectors 1972-1974
Selection Committee 1971-1975, 1977-1978
Reserves Coach 1975, 1977-1978
Specialist Coach 1976
Premierships 1971, 1976, 1978
Operation Payback - Treasurer 1996
Membership Funds Manager 1996 – 1997 (as volunteer until Club reclaimed that role)
Hall of Fame Selection Committee (Foundation Member) 2003 - on
Life Members Committee (Foundation Chairman) 2007 - on
Recruited from Camberwell Juniors in 1950, O'Mahony won the Reserves Best & Fairest in his first year with the Hawks.   Graduating to the senior side in 1951 he was an instant star playing initially as a half back then making his name in the centre where he proved to be an elusive and clever performer who marked and kicked well to position.  He suffered a punctured lung early in 1957 and ended in Hospital for 3 months missing Hawthorn's first ever finals appearance.  A gifted player, he was an unselfish footballer and his creative team play was reflected in him coming second in the Best and Fairest in 1955 then third in 1956.
He later became assistant coach for two stints and the Hawk's Chairman of Selectors. O'Mahony's deep passion of the fortunes of the Club saw his step up in time of need and play an important role as treasurer to Operation Payback led by formed Captain Don Scott. 
In 2003 he was invited to be a member of the selection panel for the Club's Hall of Fame and in 2008 became the Chairperson for the newly formed Life Members Committee.
Always the faithful Club member, O'Mahony as been a financial member of the Past Players since he retired in 1960, has attended on a regular basis, Graham Arthur's famed Hawka's Lunches since the 1980s and had been a regular attendee watching training with his fellow teammates, John Kennedy Snr and the late Roy Simmonds.  His grandson Jarryd Blair plays for the Collingwood Football Club and was a member of their 2010 Premiership.
Brian Kann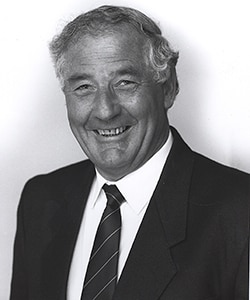 Born July 21, 1933 - Died May 21, 2019
Hawthorn U15 - 1948
Hawthorn U17 - 1949-1951 (known as the Colts also payed some games with U19s)
Captain (Colts) 1950-1951
Premiers (Colts) 1950, 1951
Hawthorn City* / 2nd 18 1952-1953 (* Hawthorn City 2nd 18 to 2nd 18 team, Metropolitan League)
Recruited Hawthorn Colts
Played 1954-1959
Debut Order 452
First Game Round 13, 1954
Last Game Round 12, 1959
Games 57
Goals Nil
Guernsey 22
Most Unselfish Player 1955
Special Trophy Brown Brothers Award 1956
2nd 18 Best Player Grand Final 1958
Best Player in Finals 1957 (note HFC's first appearance in a senior VFL final)
Reserves Captain 1958, 1959
Reserves Premierships 1958, 1959
HFC Board 1976-1993
AFL Director 1988-1993
HFC Social Club Committee 1984-1993, 1996-2006
HFC Social Club President 1997-2001
HFC Life Member 1981
HFC Hall of Fame Inductee 2017 
Brian Kann has a very unique playing record at Hawthorn. He is the only player to have started with the Under 15 in 1948 then move through the ranks of the Under 17, Under 19, Hawthorn City, 2nd 18 then the senior 18. 
Kann was a strongly built defender who graduated from the Hawthorn Colts.  He was not afraid to use his vigour, playing on the half-back line in the Hawk's first senior finals series in 1957.  He was captain of the Reserves consecutive flags, 1958 and 1959.  
He was invited to join the Committee, later known as the Board of Management of the Club in 1976.  He had the role of Chairman of the recruiting Committee, 1976-1977, Chairman of the Hawks Family Day, introducing the Hawk Talk to the members in 1978.  He played a major role with the ongoing development of the Social Club serving of many Sub-Committees and acting as Club host on numerous Thursday and Saturday nights.
Kann's great love of Hawthorn saw him take a leading role in Operation Payback enabling the Club to continue on in its own right.  Together with Ron Cook he introduced Ian Dicker to the Club inviting Dicker to present a five-year plan which led him to become the new President at the end of 1996.  Kann resumed his active role with the Social Club.  He served as President till 2001 when the Club took over the responsibility of the Social Club until it closed in 2006.
Kann has now been a paid up member of the Club for 72 years and a member of the PP&OA for 59 years, a very valued servant of the Brown 'n Gold.
Footnote:  When Hawks Forever began the task of building the Club Collection to be displayed in a future museum in 1992, Brian was the first former player to pass on a Guernsey at a time when the Club held no guernseys of its former players.  Brian actions gave Hawks Forever the confidence needed to build the Club Collection that can be seen in the Hawks Museum in 2019.
John Kennedy Jnr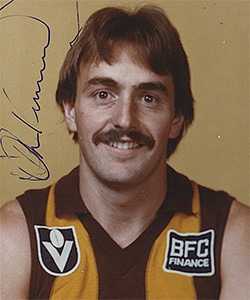 Born November 22, 1959
Recruited De La Salle College
Guernsey 34
Played 1979 – 1991
Debut Order 665
First Game Round 6, 1979
Last Game Round 5, 1991
Games 241 
Goals 211
Premierships 1983, 1986, 1988, 1989
Night Premierships 1985, 1986
Most Improved Player 1984
Most Determined Player 1986
Best Team Player 1987, 1990
State Representative 2
Life Member 1985
Assistant Coach 1994-1995
Board Member 1994-1996
PP&OA President 2008 - on
A player who over-came the problems of having a famous father, Club Legend, John Kennedy Snr. Recruited from De La Sale College, Kennedy Jnr established a fine reputation in his own right playing his first game aged 19.  He became an integral member of the all conquering Hawks playing a telling role in the Premierships of 1983, 1986, 1988 and 1989.  His own son, Josh Kennedy plays for the Sydney Swans and was a member of the Swans 2012 Premiership. 
A versatile, running player who was the ideal type for his era, he represented the State in 1984.  His career looked over in 1988 when a heartbeat irregularity sidelined him, but he fought back and was part of a flag side at the end of the season.  Not a flashy player, but had a purple patch in a 1984 game against Carlton when he kicked five of the Hawks' 10 first quarter goals.
A committee Clubman, he returned to the coaching staff as an assistant to Peter Knights and as a member of the Board.  He became President of the Past Players and Officials Association in 2008 and has been an integral role in the welfare of his peer group for the last nine years.
2019
Ian Dicker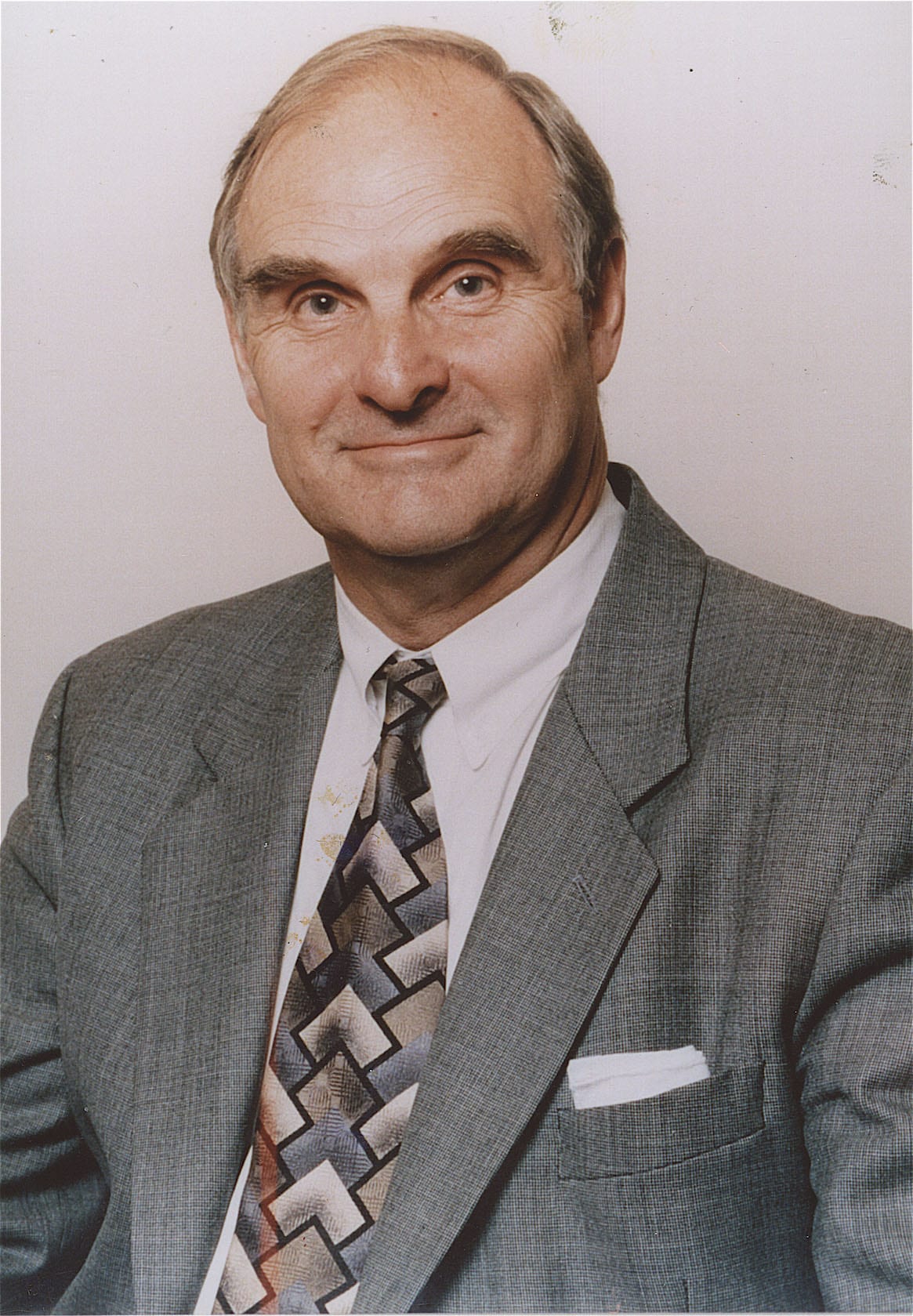 Born: 1939
President: 1996 – 2005
Hawks Forever - The Historical Committee of the HFC: 2005 – 2008
Life Member: 2005
AFL Life Member: 2008
AM General Division of the Order of Australia for service to the community of Victoria, to Australian Rules Football, and to business: 2010
Hall of Fame Inductee: 2019
Ian Dicker's love for the Hawks began in 1962.  Like so many supporters he was another face in the outer who took great pleasure and pride in watching the team each year, win, lose or draw.
All this changed in August 1996.  Ian was in the United States when he received a fax telling him that there was to be a meeting that would involve the merger of the Hawks.  He rang Ron Cook to let him know he was prepared to assist with any fight to save Hawthorn's identity. 
Ron Cook referred Ian to Don Scott who was the leader of the group that was endeavoring to save the club.  In August that year, Ian joined the group with the intent of developing a business plan for the future success of the Hawks.
Ron Cook announced at the Merger Meeting on September 16 that Ian Dicker would be the next President of the HFC and was duly elected in December.  Ian was to go on and serve the club for nine years and three months.
When Ian's presidency started, the club's membership stood at 12,000 members and by the end of 1997 the membership had risen to 27,000, recording a profit of $301,000 after having sustained a loss of $1.1 million the previous year.   An amazing effort given that it was volunteer driven under Ian's leadership.
The strategic plan that Ian presented was:
● To focus on the south and south-east of Melbourne
● To build a national presence
● To build a community-based club
● To grow long-term support through community programs
● To build on past successes particularly through the Past Players Association
● To continue to raise the club's profitability enabling HFC to compete with the strongest club's in the AFL 
Under the Dicker regime, Waverley Park became fortress Hawthorn.  In 1999 when the ground closed due to AFL ground rationalization, Hawthorn's home crowds had jumped 8.36 %.  The last game attracted 72,103 people; such was the club spirit that Ian Dicker had inspired. 
With the loss of Waverley, Dicker won a substantial compensation package from the AFL then brokered the deal of a lifetime when he gained access back to Waverley Park as an administration base and training centre for the peppercorn price of $1.
Notable Achievements
● Building the all important membership base which now sits beyond 41,000
● Home games relocated to the MCG ensuring a continuing family atmosphere and growing crowds with a better economic return
● Cleared all bank debt and set up safe income earning investments streams
● With the players becoming fulltime, instilled a program of educational and life skill programs for life after football
● Joint relations with Box Hill Hawks, Premiers 2001, Runners Up 2003
● Sponsorship with the Tasmanian Government with four home games a year played in Launceston
● The appointment of Alastair Clarkson as coach which has been proved to be an inspired choice
● From a personal level recognized with HFC Life Membership 2005
● Has been a significant benefactor for the Hawks Museum (14 Glenferrie Golds) and assisted with key donations of memorabilia for the Club Collection
● Donated his extensive Memorabilia Collection to the HFC December, 2018